Normally I like to start off an article like this by talking about the history of the deck or the theme we're looking at, but there's not much to say about today's strategy from a historical perspective. Gogogo monsters have never made an impact before, and with no real life tournaments running right now, we haven't seen how well Adamancipators will do offline at Regional Qualifiers and beyond.
Recently, Koty Angeloff - one of the hottest names in Yu-Gi-Oh! for the last few years - won an online tournament sponsored by Pro-Play Games, piloting a deck that's effectively brand new. It was a big achievement and I don't want to downplay that, but in such a limited format, it's hard to say exactly how the deck should be played going forward. In a few weeks the consensus version could be entirely different!
Furthermore, the deck may have been a Gogogo and Adamancipator hybrid, but you'll notice Angeloff didn't use all the cards you might expect to see when you hear either of those names. Is the deck that versatile? Yes. Are we in a lawless wasteland with no rules? Yes. Will Konami EVER print more Fabled cards to make them competitive? No.
Take a look at the list below to see which cards Angeloff kept from each of the two themes; it might shock you!
Yu-Gi-Oh! TCG Deck - Gogogo Adamancipators by Koty Angeloff
'Gogogo Adamancipators' - constructed deck list and prices for the Yu-Gi-Oh! Trading Card Game from TCGplayer Infinite!
Created By: Koty Angeloff
Event:
Rank:
Advanced
Market Price: $134.12
Cards
Unlike my Melodious deck or Alien deck, Angeloff's Gogogo Adamancipator build isn't the most budget friendly strategy out there. Jason's Market Watch from last week shows how the secondary market reacted to Angeloff's success, with nine of the ten cards in the Top 10 being found in Angeloff's build; make of that what you will.
Gogogogadget, Shape Of, "The Best Deck"
Looking at the deck, I'll admit that the strategy doesn't seem like it does anything besides self-duplicate. I'm not saying the cards are bad, but most of them spam more cards ad nauseum with no clear focal point in the Main Deck. Don't worry, I promise there's a cohesive theme here.
Consider the Adamancipator Tuners: Adamanciaptor Analyzer, Adamanciaptor Seeker, and Adamanciaptor Researcher - all of them have a way to get themselves to the field for free and then Special Summon an excavated Rock monster, so the barriers to entry are low getting stuff off the ground.
Angeloff's aims for that excavation effect are Adamancipator Crystal - Dragite, Doki Doki, Dododowarf Gogogoglove, and Gogogo Gigas. What do those cards all do? They either draw more cards, summon other monsters, or summon themselves. Heck, Gogogo Giant can even summon two Gogogo cards, so you're getting the ball rolling with lots of monsters on the field. I promise we're going somewhere with this...
While none of the monsters are 100% interchangeable, laying out combos for someone who's completely inexperienced with either of the two big themes here can get confusing pretty fast. Depending on what you have in your hand and what you'll excavate, the order of operations for any "end" board changes, whatever that end goal may be. With all of the variability and unknowns that come from the excavation mechanic, it's easier to highlight an example combo than to talk about every permutation of your options.
It's a blessing and a curse that many of the smaller pieces to these combos are so interchangeable, but I still want to highlight some of the crazy things the deck can do. Let me show you what I'm talking about…
For simplicity's sake, let's say you start with Adamancipator Analyzer, Dodododwarf Gogogoglove, and Adamancipator Signs in hand for this first combo.
-Normal Summon Adamancipator Analyzer, and excavate the top 5 cards from your deck. Let's say you hit Doki Doki and summon it
-Use Doki Doki's effect and discard Dodododwarf Gogogoglove, summoning Gogogo Gigas from your deck
-Summon the discarded Dodododwarf with its own ability, then Xyz Summon Gallant Granite by overlaying both Gogogo monsters. Use Gallant's effect to search Adamancipator Seeker from your deck to your hand
-Synchro Summon Adamancipator Risen - Raptite with Doki Doki and Adamancipator Analyzer. Use Raptite to excavate 5 cards, and say you hit and summon another Dodododwarf Gogogoglove
-I know, I know, it's a lot of "say you hit this," and "imagine you hit that," but since the play sequence is so flexible and many of the cards are so similar, we can just roll with it. I DID warn you about this going in.
-So, with an Adamancipator on board, summon Adamancipator Seeker and use its effect to summon another Gogogo Gigas
-Link Summon Crystron Halqifibrax and Special Summon your last Adamancipator Tuner, Adamancipator Researcher. With its effect negated, Synchro Summon Adamancipator Risen - Dragite with your Researcher and Adamancipator Risen - Raptite
-Finally, activate your Adamancipator Signs and revive your yarded Amancipator Researcher. Use its effect, and for simplicity's sake, say you excavate and summon another Dodododwarf.
-Use Dodododwarf Gogogoglove, Halqifibrax and Adamancipator Researcher to Link Summon Apollousa, Bow of the Goddess
-Now make Abyss Dweller with both Gagaga monsters to finish out
With three negations from Apollousa, Bow of the Goddess, plus Abyss Dweller shutting down the graveyard and Adamancipator Risen - Dragite, the next turn's going to be an uphill battle for your opponent. Keep in mind, Dragite's effect is live with Halqifibrax in the graveyard!
Keep in mind that's only one combo, but encountering other cards along the way would make the same field; access to Doki Doki in your opening hand, or scoring Dodododwarf Gogogoglove from the deck, or even switching which Tuner is summoned during the combo can present slightly different options that can all lead you down different paths.
So Why's The Deck Good?
First of all, the Gogogo Adamancipator deck's pretty unique in that it excels going both first and second. Not many decks are blessed with that gift, but Angeloff's build is certainly one of the few that can make that claim. The above combo is something you could easily do going first, but going second the deck could make the same combo or swap around a few Extra Deck cards to really capitalize.
Take a look at Angeloff's Extra Deck. Tornado Dragon, Knightmare Unicorn, Knightmare Phoenix, Toplogic Trisbaena, Knightmare Cerberus… you caan insert one of those cards into the above combo to pick apart your opponent as needed and then go into your defensive board. Spamming monsters is incredibly easy with Gogogo Adamancipators, so any detours needed won't usually hinder your final plays.
And of course, having three copies of D.D. Crow and Nibiru, the Primal Being doesn't hurt either. Both are amazing going first, but still work in the late game as well. And since Gallant Granite can search Nibiru, the Primal Being, well, that's another detour too.
Piggybacking off my first point, the deck's extremely quick to adapt, a strength that's often overlooked for in other strategies. Powerful head-turning combos may be pretty, but if they're glass cannons, there's little potential for recovery and that means the deck will have poor longevity in tournaments. Angeloff's deck isn't like that; it's extremely sturdy and can play through almost any hand trap just by launching its onslaught of more cards.
Since all the Adamancipator Tuners have free ways to summon themselves, stopping one isn't going to end your turn. Gogogo Gigas and Dodododwarf Gogogoglove effectively field an extra monster even if your opponent stops one, and Gogogo Giant and Utopic Onomatopeia each summon several other monsters with no commitment. It's a non-stop wave of just… more and more combo pieces.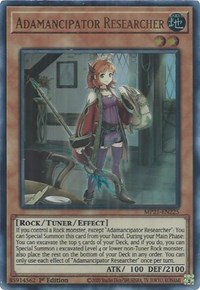 Block Dragon, Doki Doki, Gigantes, Adamancipator Signs… it seems like everything in the deck fields an "extra" monster even if Plans A, B, and C all fall through. Even if your opponent uses Ash Blossom & Joyous Spring on Onomatopaira and knocks you down to three cards, you can still bounce back from devastating blows like that. The resiliency of this thing is off the charts, and it's all thanks to the deck's level of redundancy.
Sure, Adamancipator Seeker and Adamancipator Researcher have slightly different summoning conditions, but they're basically the same card. Onomatopaira searches a third of your deck, and Onomatopickup is a search card for Onomatopaira, while Dodododowarf Gogogoglove and Gogogog Gigas are basically two sides of the same coin.
As far as consistency goes, it doesn't get much better than having search cards that search other search cards.
Looking Ahead To… Stuff?
While we don't know when the next in-person tournaments will be held around the world, I can confidently say some amalgamation of Gogogos and Adamancipators will see competitive success. With an uncanny ability to go first or second, incredible interchangeability and impressive adaptability, the only thing that may need to change over time is the Extra Deck.
The end board I laid out is very specific, but most Link Monsters and Rank 4s are possible here. It's a simple effort to tailor the Extra Deck to beat your metagame, whatever that happens to be.
It's pretty rare for a deck to have all those factors going for it, and easy access to Crystron Halqifibrax, but the Gogogo Adamancipator strategy does it all. With no defined weaknesses and an open toolbox, I'm excited to see what the deck can do moving forward.
Just remember: beat your opponents before they beat you.
-Loukas Peterson