We're back again with another look at the competitive Speed Duel Scene!
The latest Remote Del Extravaganza hosted more than 30 Win-A-Mat Speed Duel flights, and the trends we saw last time were in full effect once again. The current Speed Duel scene's dominated by a triangle of three different decks, where the Union Combination deck with XYZ-Dragon Cannon punishes Inner Conflict builds; the Inner Conflict variants routinely beat up Perfectly Ultimate Great Moth strategies with Cocoon of Ultra Evolution (Skill Card); and the Moth decks beat XYZ-Dragon Cannon in turn.
But this time around we did see one deck of the three at a disadvantage, in large part due to the tournament format: since Win-A-Mat tournaments are played single elimination, the Union Combination decks lose a bit of their edge; a single Moth matchup guarantees elimination from the tournament. That made XYZ-Dragon Cannon a tough deck to commit to, and after the last Extravaganza it seemed far fewer players were running it.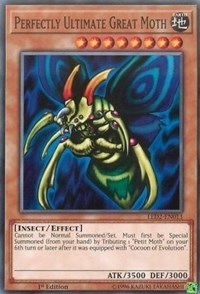 I went into this tournament with a fully powered Moth deck myself, knowing that it was all single elimination. I was able to win quite a few mats over the course of the weekend piloting a slightly modified version of the deck. I also developed a new strategy I called the 'cheese' deck, a sort of Zoma the Spirit Burn which I gave to my brother. He won one of his flights too, and came 2nd Place in another.
Without having to worry about XYZ-Dragon Cannon, we could prepare for the Inner Conflict deck more aggressively. Here's the Moth list I used; it's very standard.
I chose not to play an Extra Deck, so my opponents would be more likely to use their copies of Breaker the Magical Warrior to destroy my backrow cards, instead of fearing Waking the Dragon and holding back. If my opponent's Breaker the Magical Warrior is at 1600 ATK, it's much more manageable than it would be at 1900 ATK. Encouraging an opponent to play fast and loose could make them quicker to Night Beam too, and if they aren't holding that Night Beam in hand, that's one less card I have to wonder about when I consider whether or not I might be swinging into a Sphere Kuriboh.
Managing the Inner Conflict deck's defense is a big concern for Moth, and Inner Conflict players continue to innovate the strategy. Matthew Rivera took a 1st Place finish with this version of the deck, maining Soul Exchange to switch up the pace and surprise his opponents.
The idea here is that Soul Exchange makes it easier and faster to summon your big tribute monsters. In this case that's usually Jinzo, Gaap the Divine Soldier, or the sided Dark Ruler Ha Des. But you can even pair Soul Exchange with Inner Conflict to tribute for a Level 7+ monster, which in this deck means Charging Gaia the Fierce Knight.
Charging Gaia the Fierce Knight an excellent card here, and the best Level 7+ in my mind, since it's never dead in your hand - at worst, you can always just Normal Summon it with 1900 ATK. Better yet, if your opponent blocks it with Book of Moon, it just comes back even stronger off the Flip Summon.
After the April Extravaganza me and some friends devised a strategy to handle what we were experiencing at that event, and we noticed that both the Moth deck and the Inner Conflict deck share a similar approach: they take opposing monsters and turn them into win conditions.
With that information in mind we built a bit of a cheesy strategy that aimed to abuse the shared trend; a deck that simply never left any monsters on the field for opponents to exploit. With the overwhelmingly powerful Zoma the Spirit, the goal was to just not let the opponent play until we were ready to win the game.
Here's what the winning build of that deck looks like.
With cards like Exiled Force that don't stay on the board, and Zoma the Spirit that can wait until the right moment to appear, your opponent can do very little beyond playing a Breaker the Magical Warrior. When you're up against the Moth deck you have to flip Waboku instantly, or you'll risk losing it to Night Beam, but this deck runs so much backrow that it can afford to burn the Waboku early. It's usually pretty safe.
Twister stops opposing copies of Zoma the Spirit, Parasite Paranoid, and more. Gaap the Divine Soldier stops Sphere Kuriboh and Book of Moon, and it lets you summon your Zoma the Spirit right into attack mode instead of forcing you to activate them earlier. It also stops the Apprentice Magician and Old Viindictive Magician line from functioning, keeping your opponent from hiding from your attacks.
Mask of Brutality great: play them on your opponent's monsters and Zoma the Spirit can deal an absolutely unreal amount of damage. Mind Crush was a very cute card too, with some pretty impressive applications.
Moving on, the Inner Conflict deck always puts in TONS of work, both with and without Apprentice Magician. Believe it or not, my father was able to win an event with a version of Inner Conflict that ran a bigger decklist, optimized to punish opponents for holding back. The other weakness of Moth and Inner Conflict Monarch decks is that they generally wait for the opponent to commit to a play before they can steal something.
That just doesn't work against something like this.
I'm curious to see how the Speed Duels went at the UK Extravaganza this past weekend, as players largely take Speed duels much more seriously in Europe. I have some other pretty cool ideas I want to explore in this card pool.
For instance I'm a pretty big fan of using Foolish Burial to put Zolga into the graveyard, reviving it with the new Ishizu Skill Rise of the Fallen to summon it and gain 1700 life points, and then tributing it to summon Dark Ruler Ha Des, Gaap the Divine Soldier, or Kaiser Glider, gaining 2000 more. Having 7700 Life Points means you survive an awful lot from the Moth deck, buying you time and opportunities so you don't have to rely so much on drawing Sphere Kuriboh.
I hope we keep seeing continued growth in the Speed Duel world! This Extravaganza was the biggest yet, and there are more in June, so I'll see you all there.