Greetings everyone! The new format's officially a week old, and we've already started seeing shifts in the competitive landscape.
This last weekend, over a hundred players battled it out in two RDI Qualifiers, all vying for their chance at a seat in April's Remote Duel Invitational. The sixteen duelists who secured their spots had to play through six rounds of Swiss, proving that their decks could make it in longer tournaments, everyone fighting tooth and nail for the coveted chance to become the next King of Games.
The interesting thing about the top decks from this weekend - both Group A and Group B - is that while Dragon Link was the most represented strategy with six seats in the Top Cut, the other ten qualifying decks were all unique. Those competitors were fighting an uphill battle the whole weekend, but they each won just enough matches to secure their invite.
Even though those ten decks were different, the players who piloted with them were all applying the same principals to find success. Here's how they did it.
Play For The Grind Game
Combo decks often win by unleashing a flurry of plays, either setting up a board with multiple points of interaction to mess with your opponent, or immediately attacking for game-winning damage. Dragon Link's the perfect example, and it's certainly the biggest deck-to-beat right now.
Here's Sean Pittman's 1st Place list from Group A if you still need to get up to speed.
Yu-Gi-Oh! TCG Deck - Dragon Link by Sean Pittman
'Dragon Link' - constructed deck list and prices for the Yu-Gi-Oh! Trading Card Game from TCGplayer Infinite!
Created By: Sean Pittman
Event: Remote Duel Invitational Qualifier Group A
Rank: 1st
Advanced
Market Price: $725.31
Cards
What many players often overlook when they pick up a combo deck, is what happens when you set up your board full of interruptions, and your opponent not only refuses to concede, but plays straight on through and builds up their own field in response. Having to play past Turn 3 is a rare thing these days, sure. But when it happens, you need to know how to manage your resources to grind efficiently, and still o pick your spots and push for damage when it's time to go for the win.
Dragon Link has an interesting line of play nowadays: you'll often see a Dragon Link player end their first turn controlling Hieratic Seal of the Heavenly Spheres, with Dragonmaid Tidying face-down. That's usually the minimum of what they'll put on the field, giving them two powerful points of interruption without using many resources. That set-up allows the Dragon player to keep their opponent under control and then be more aggressive on their second turn when they can attack, often churning out a Borreload Savage Dragon and a Borrelsword Dragon to secure the game. If the Dragon Link player's feeling more adventurous on their first turn and they don't fear Nibiru, the Primal Being they can also end on Hot Red Dragon Archfiend Abyss as an extra negation.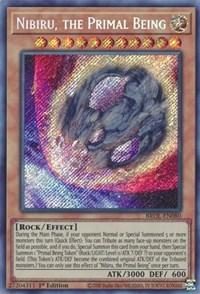 Dragon Link does an excellent job of grinding out wins; I saw a game this weekend where a player used Dragonmaid Tidying to bounce a Nibiru, the Primal Being and then proceeded to play the rest of the game without summoning more than four times per turn. The Dragon player won that match without any crazy combos, because they knew how to grind for a win and optimize their plays for the best value.
Dragon Link's not the only deck that can take this approach. Three of the most successful decks from the weekend are known for dictating tempo and playing the game at their own pace. Eldlich, Burning Abyss, and Stun are all great examples of strategies that control the pace of the game. Eldlich and Burning Abyss both rely on maintaining card economy with self-replacing monsters and powerful trap cards like Ice Dragon's Prison and Paleozoic Dinomischus.
Meanwhile Stun decks have their own way of controlling tempo, by summoning monsters with powerful lockdown effects like Banisher of the Radiance and Fossil Dyna Pachycephalo. Those lockdown monsters are then protected with trap cards like Storming Mirror Force, Phantom Knights' Wing, and There Can Be Only One. Stun strategies layer floodgate type effects over the game until it's shaped the way they want, and the opponent's range of options are extremely limited.
Piloting a deck designed to win in one turn and playing a longer game with it requires practice; stretching games out over more turns can be hard to do, even just in casual play with your friends. But if you take the time to learn this type of playstyle you'll open up entirely new avenues of success, and that versatility will pay off in tournaments.
Respect Your Opponent's Natural Counters
I'm sure you've probably seen crazy combo videos on YouTube that use all fifteen cards in the Extra Deck to make a seemingly unbreakable board. I know I'm guilty of seeing those decks and wanting to play them in tournaments - they're hella fun looking - only to lose to cards specifically played to stop those types of over-invested strategies, like Dark Ruler No More. I don't think I can even count how many times I've made boards that just imploded under Dark Ruler No More, and it usually costs me the game, because that one combo took all my resources.
Invoked variants, Lyrilusc Tri-Brigade, and Dinosaurs were three of the most represented decks from the weekend's RDIQs. And all three have one card that serves as their kryptonite: Artifact Lancea. If Artifact Lancea resolves against these decks, it's often strong enough to end the turn entirely. Dinosaurs rely on Miscellaneousaurus to bring out Animadorned Archosaur, searching Double Evolution Pill. Invoked decks banish from the graveyard for their Fusion Summons, and Tri-Brigade uses their monsters in the grave as fuel for their Link Summons.
If your deck relies on banishing cards for your combos, I'm sure you're aware of just how popular Artifact Lancea is right now. Some decks still have ways of playing around it to generate subpar boards, but it's hard to do with the types of hands these decks actually want to see: often, it's awkward monster-heavy hands that play best under Artifact Lancea. The catch-22 is that you're probably optimizing your build to avoid those types of hands in the first place.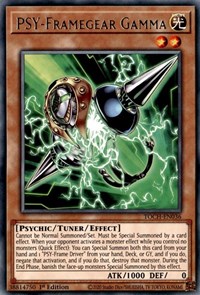 PSY-Framegear Gamma and Nibiru the Primal Being are both insane right now and many players are maxing out on both between their Main and Side Decks to help deal with Dragon Link. The great thing about combining them together is that you take cards like Borreload Savage Dragon or Apollousa, Bow of the Goddess out of the equation. While many decks can play through Nibiru, the Primal Being, removing those key negation cards from your opponent's end board is often enough to make an oppressive field subpar, and easier to beat.
One of the coolest things when you're looking at the RDIQ lists, is seeing how some players chose to adapt for their weakest matchup. Example? Dragon Link usually loses to El Shaddoll Winda like there's no tomorrow, but Ryan Levine and Esala Wathuthantrige both played a nearly identical Dragon Link list. In the past, we've seen players run cards like Cyber Dragon Nova and Elder Entity N'Tss as an out to Dogmatika Maximus. Ryan and Esala had a different strategy in mind: countering Winda.
Esala played one copy of Predaplant Chimerafflesia in his Extra Deck, and another in his Side Deck, so he could have copies for the Shaddoll matchup. Those were his picks when his opponent played Dogmatika Maximus, beacuse he also sided two copies of De-Fusion. See what he did? Esala could send Predaplant Chimerafflesia to the graveyard under Dogmatika Maximus, search De-Fusion, and de-fuse his opponent's El Shaddoll Winda to turn off El Shaddoll Winda restrictions and Special Summon as normal.
If Esala was paired up with a Dogmatika player who tried to resolve Maximus in Game 1, he'd send two other monsters from his Extra Deck to the grave to keep his hidden tech from his opponent for a blowout in Games 2 and 3. Ryan had something else in mind for his opponents...
When I talked with Ryan about his list, he said that it was almost identical to Esala's… except he couldn't find any Predaplant Chimerafflesia. Instead, Ryan played a lone copy of Elder Entity N'Tss in his Extra Deck and sided some Shaddolls himself! He opted for one copy each of Naelshaddoll Ariel and El Shaddoll Apkallone. That gave Ryan active Dogmatika Maximus targets in Games 1 and 2, so he could use El Shaddoll Apkallone to fetch Naelshaddoll Ariel from his deck and then discard it.
The discard would trigger Naelshaddoll Ariel banishing effect to get rid of all the Shaddoll monsters from the opponent's graveyard, turning off Shaddoll Schism in the process. Respecting one of their deck's biggest counters helped lead Esala and Ryan to Top Cut finishes.
Face The Facts
Let's face it, you aren't always going to draw the most broken hand imaginable for your deck. I'm pretty sure Dan or Jason could do the math for me, but realistically we've all been there; you don't always get what you want.
The best deck of the format usually ends up being the one with the highest chance of opening with an overpowered hand. Currently, in my opinion, the decks that offer that are Dinosaur and Dragon Link. With Dinosaurs you're essentially playing six copies of both Miscellaneousaurus and Souleating Oviraptor thanks to Fossil Dig. And don't even get me started on how many starter cards Dragon Link has.
If you aren't playing one of those decks, you might find that you don't have optimal hands as often as you want, unless you've taken some serious time to tailor your deck for a balance of grind game, respecting counters, and consistency. That's not easy to do.
You have to accept that sometimes your opening hand might have a golden ticket, and other times you might get a ticket to Brick City. It happens. What you should do is adjust your perspective on playtesting when it does. Look at those games in your testing sessions, not as a loss to whatever deck beat you, but as a loss to bricking. Mentally, it'll help you avoid feeling as if the matchup was the problem, and help you come to better testing conclusions. You didn't lose because the matchup favored your opponent; you lost because you didn't even get a chance to play.
This last week I competed in three Remote Duel tournaments, and my combined record for all three was two wins and five losses. I played a Level 8 Tri-Brigade deck that Zach's lovingly named "Beastdown 2021 Edition" for two of the tournaments, going 0-2 drop in one and 2-1 in the other. For the last tournament, I played Adamancipators and went 0-2 drop. My losses with the Adamancipator deck were both due to bricking. The losses with Beastdown 2021 Edition were due to me not respecting my deck's hardest counter - Artifact Lancea. I hadn't learned enough about the deck to know how to grind through Artifact Lancea and I took Called By the Grave out of my deck at the last minute. Big mistake.
If I'd made sure to respect my counters and learn to play the grind game more with my particular decks, I might've done better in those tournaments. Thankfully they were locals and not an Extravaganza Main Event or an RDIQ! This weekend there's a Remote Duel Extravaganza hosted by Shadow Realm Games where I'll be judging. Hopefully you can take these next few days of playtesting to work on what we talked about here, and I can see you finish strong in the Main Event.
Until next time!