I'll be honest, Dawn of Majesty isn't a competition-swerving powerhouse that's going to send established metagames reeling. But it's a very neat set, and its legacy will probably come down the new support cards for Synchros and Fusions, including the new Despia theme. Besides the Despia stuff though, there is another Fusion card in the set. It just wasn't made to support Fusion summoning exclusively.
Ready Fusion one of my favorite cards in Dawn of Majesty, and I'd recommend that everyone invest in a playset, since it's so flexible and generic.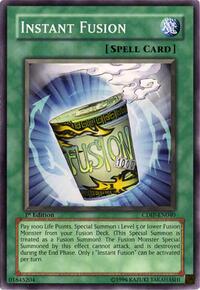 Ready Fusion very similar to its predecessor, Instant Fusion. You pay 1000 Life Points, and when it resolves you Special Summon a Level 6 or lower non-Effect Fusion Monster from your Extra Deck. That's treated as a Fusion Summon, so the monster's considered to be properly summoned. But that Fusion Monster can't attack, and it's destroyed during the End Phase. You can only activate one copy per turn.
Comparing Ready Fusion to Instant Fusion, the biggest difference is that Ready Fusion can summon monsters up to Level 6 while Instant Fusion caps out at Level 5. In return, you're limited to non-Effect Fusions: there's no room for shenanigans with stuff like Thousand-Eyes Restrict or Millennium-Eyes Restrict.
We've seen Instant Fusion played in countless tournament-winning strategies because it was so flexible and fit it into so many different decks. It was finally limited in the April 2020 banlist, and it largely fell out of favor around that time.
Since Instant Fusion can summon powerful Effect Monsters, Limiting it was an inevitability. As long as that card exists, it's probably hard for R&D to justify designing Level 5 or lower Fusions with powerful abilities, since any card in that range needs to be designed with the knowledge that it could be cheated into play. Will Instant Fusion finally get banned since Ready Fusion now in play? Only time will tell.
But today, I'm here to talk about Ready Fusion! And to fully understand its potential, you first need to know all the monsters it can summon. So bookmark this page! Here's all the compatible Fusion Monsters, sorted by their levels.
Level 1
There aren't any...YET! Moving on...
Level 2
Level 3
Level 4
Level 5
Level 6
In total, there's 44 monsters you can summon with Ready Fusion! The only monster types we're missing are Reptile, Cyberse, Wyrm, and of course Divine-Beast.
So what do you actually do with Ready Fusion? Well, when you're building a combo deck that requires a specific Level of monster for key plays, maybe you would want this card to make those combos more consistent. Or if you're playing a deck that needs specific monster types, Ready Fusion can do that too. And if you only need a specific Attribute, Ready Fusion can cover that as well! If you need to hit any of those three benchmarks, you can use the list above as a quick reference for your deck building.
Ready Fusion isn't supposed to be a card you always want to see. Off the top of my head, the only deck where I think it's absolutely clutch is Thunder Dragons, where it lets you field Kaminari Attack to help summon Thunder Dragon Titan. But in most decks, Ready Fusion just a nice free body that gets you a summon when you happen to draw it. Not many decks really need to rely on it for a key combo.
Besides the three main card features - Level, type and attribute - there are currently two Tuners you can summon with Ready Fusion as well: Sea Monster of Theseus and a new card from Dawn of Majesty, Allvain the Essence of Vanity.
If you need a Tuner, then Ready Fusion can provide a Level 2 or Level 5 Tuner right away to combine with your non-Tuner Monster for a Synchro Summon! Alternatively, you can Link Summon Crystron Halqifibrax instead; all it takes to get you there is at least one Tuner and any monster, so Ready Fusion takes care of the tougher part.
With all that said, here are some decklists I've made to test out Ready Fusion myself.
Pranking With Halqifibrax
If you follow events, or read my articles regularly you might know how much I enjoy playing Prank-Kids. If you're not familiar, you can check out my play record in the deck archive. I've played a lot of Prank-Kids this year, and I've tried a lot of different approaches to the stratetgy. Some worked! Some did not.
One of the concepts I tried in the past, but ended up scrapping was to splash Quick Launch into the deck, using Rokket Tracer for what was essentially a 1-card Borreload Savage Dragon. It didn't work at the time, but Ready Fusion breathes new life into the idea.
In this new build, I'm playing Quick Launch along with Ready Fusion and Instant Fusion, just to summon out Sea Monster of Theseus. It helps you either make a Level 8 Synchros with the Level 3 Prank-Kids Lampsies, or you can follow up a regular Prank-Kids combo make a Crystron Halqifibrax play when your initial Prank-Kid combo gets stumped by a hand trap like Ash Blossom & Joyous Spring.
I've simplified the combo, and created a build where the only bricks are Deskbot 001 and Mecha Phantom Beast Coltwing. You don't want to draw the Mecha Phantom Beast Coltwing since you want to Special Summon it from the deck with Mecha Phantom Beast Auroradon. But drawing Deskbot 001 is still fine, since you can summon it from your hand with Crystron Halqifibrax.
After summoning the Deskbot with Crystron Halqifibrax and then climbing into Mecha Phantom Beast Auroradon, you'll spawn the tokens with its effect, revive Deskbot 001, and then make Herald of the Arc Light with one of the tokens.
You'll finish by Synchro Summoning a Level 8 Synchro such as Borreload Savage Dragon with the Mecha Phantom Beast Coltwing, to end on a couple of omni negates.
Level 5 Warrior Combo
Chronomaly Vimana was another new card from Dawn of Majesy that caught my eye. It's a generic Xyz that takes any two Level 5's to make. If you draw any three of Ready Fusion, Instant Fusion, Super Quantum Red Layer, or Joker's Knight, you can make Chronomaly Vimana before you summon Isolde, Two Tales of the Noble Knights.
Even if you don't draw a combination of those cards, they're still good standalone extenders that can keep your combos going, without bricking your hand. Here's he build I've been working on.
Because you want to make the Rank 5 before you combo off into Isolde, Two Tales of the Noble Knights, that does mean that you'll have fewer cards reserved for your core combo. That means cards that can make Isolde, Two Tales of the Noble Knights all on their own have more value here than they would in more conventional builds. That's why this deck runs Sublimation Knight, and its partner Squeaknight.
I chose to play Sea Monster of Theseus over Flame Swordsman so I could have a little more access to Tuners. But Flame Swordsman could still work since it's a Fire Warrior: it's got a little more synergy with the Infernoble Warriors.
I've only tested this build a few times but it looks like it works pretty well. I understand that other Warrior Combo players like to run Phantom Knight cards, because it helps make Apollousa, Bow of the Goddess before you go for Crystron Halqifibrax, and that could actually be correct, and more consistent. But with new cards and new options I wanted to try something different, and so far I'm liking it!
Cyber Light Fusion
I think Cyber Dragon one of the stronger decks that can fully leverage Ready Fusion. Having the option to summon Cyber Saurus as a Level 5 Machine to help make Cyber Dragon Nova, or Giltia the D. Knight as a Level 5 Light for Constellar Pleiades is really flexible, making the deck more consistent and giving you more opportunities to craft your plays for your matchup.
If you haven't seen it yet, James Jung ma de Top 32 at the Remote Duel YCS with Cyber Dragons. I've taken some inspiration from his list to help try and showcase what Ready Fusion could bring to the strategy.
Instant Water!
Remember my Toad Turbo deck from March? Now that there are more ways to summon Rare Fish, it's even easier to make Bahamut Shark! If you can field two copies, you can overlay them for Number F0: Utopic Future and play Number F0: Utopic Draco Future for an additional monster effect negation along with your two copies of Toadally Awesome!
That play really ups the power level of this deck. Here's what it looks like.
Again, if you want to learn more about how this strategy works and which plays it aims for, be sure to check out my previous article. I created the original build back when Structure Deck: Freezing Chains dropped, so it's pretty cool that it's worth revisiting now.
There are lots of decks out there that can splash Ready Fusion as another amazing extender. Dragunities would love to see a Level 4 or Level 6 Winged Beast to help make their Synchros. Kwagar Hercules got bought out from what I can only assume is hype for the new Beetrooper Insect deck, and the new Inzektor support that's waiting in the wings. Expect to see crfeative deck crafters tripping over themselves to experiment with Ready Fusion in the coming months.
As for me, I picked up both Pragtical and Bracchio-raidus since they're both Dinosaurs, and I'm excited to try them out in some sort of Dino deck. They might be worth playing, even just as fuel to help summon Ultimate Conductor Tyranno.
Are YOU Ready?
Overall, if your deck has room, Ready Fusion may let you run Crystron Halqifibrax and its related combo pieces. If that's the case, you can add some easy interruptions to your regular game plan with just a couple cards.
Ready Fusion might not have seen much action in the latest Remote Duel Extravaganza, but that could just be because players haven't picked up the new cards yet. Or even the old ones that a lot of decks would need; some of those Fusion Monsters can be tricky to find on short notice. But now that you've read this, I hope you'll want to experiment with Ready Fusion in your deck. Ready Fusion can help you find new plays, and help your existing plays become stronger, and more consistent.