Lots of competitors at the October Remote Duel Extravaganza last weekend made it to the Top 32 with trap-heavy decks. Though a trap deck didn't win the entire event, it was an encouraging sign at a time when it feels like real defensive traps have long been on the way out. Hand traps might not be totally taking over just yet.
Why Depend On Trap Cards?
I ran Trap Eldlich at the Extravaganza, and it probably begs the question: why play a trap deck over a combo deck? Crossout Designator was just released, so surely combo decks are going to shine, right?
That's not wrong. And while I could probably figure out a really long and totally believable explanation, the truth is, I just haven't got my Crossout Designator in the mail yet! If had them, I probably would've been experimenting with them.
In all honesty, I don't own a ton of different fully built decks, and while the 2021 Tin of Ancient Battles makes Tri-Brigade more affordable, their playstyle's never appealed to me.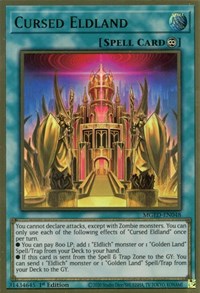 After looking at the decks my friends have been successful with at some recent locals that were pretty big, I noticed that Pak Pamornsut - the Remote Duel YCS Champion - went undefeated in Swiss at a recent 3v3 event with his Eldlich Dogmatika deck. I saw the list and agreed with a lot of the meta calls Pamornsut had made, and I happened to have all of the cards.

Of course, metagame trends change very quickly, and a control player must constantly study those trends and adapt in order to keep the upper hand. One of the problems with playing trap decks is that once one person has success with it, other players will have a rough idea of what traps to expect when they face you, provided they're keeping themselves informed. So it's a good idea to try and switch it up a bit, even if it's just a few cards.
Acknowledging Dragoon Again
Another problem was that Red-Eyes Dark Dragoon was markedly more popular, with lots of players splashing it into anything they could. I've even seen popular Yugituber Gage Poijak hyping up his Tri-Brigade build lately, because it plays the Predaplant Verte Anaconda package with Red-Eyes Fusion. I think Red-Eyes Dark Dragoon actually pretty optimal in that deck too, since the effects of Tri-Brigade Ferrijit the Barren Blossom and Tri-Brigade Bearbrumm the Rampant Rampager both let you place a card in your hand back to your deck. If you ever happen to draw one of the Normal Monsters you need for Red-Eyes Dark Dragoon, or Red-Eyes Fusion, it's not a problem since you can put them back where you need them.
So we've got Drytrons playing Red-Eyes Dark Dragoon with Predaplant Verte Anaconda, Tri-Brigades too, and Virtual World using Muddy Mudragon to make it with Ultimaya Tzolkin. I honestly won't be surprised if Dragon-Link players start playing Red-Eyes Dark Dragoon too.
The good news is that you can deal with that threat. As long as you either stop Predaplant Verte Anaconda from resolving, or pressure your opponent enough that they run out of cards to discard for the Red-Eyes Dark Dragoon negation, you have a chance to defeat it. That was a big factor on my mind heading into the Extravaganza weekend.
How I Ran It
So with my initial thoughts out of the way, here's the decklist I played the past weekend. I ended up coming in 7th after Swiss, but lost out in the Top 32 after Day 2.
The Main Deck is very similar to Pak's build, since a majority of the deck's card choices were relatively safe to play against a wide range of decks, while also keeping up a good level of synergy.
The only thing I didn't agree with was Trap Trick in a trap deck. While Trap Trick does search for another Normal Trap, I find the fact that it limits you to just one trap activation the turn it resolves, to be too restrictive. And while that disadvantage isn't always a problem, I find that the risk isn't necessary. If you use it preemptively it feels a lot like playing Red Reboot on yourself, while also letting your opponent know what trap to expect. That's just my opinion, but it's enough to make me not want to run it.
Divine Arsenal AA-ZEUS - Sky Thunder

The whole essence of a trap deck is that it presents your opponent with some element of mystery. You want your opponent to play into scenarios that are incredibly favorable for you, and making them play a game of incomplete information is a big part of that. So I took out the Trap Trick, considered the rising popularity of Red-Eyes Dark Dragoon, and thought to myself, Storming Mirror Force helps deal with Red-Eyes Dark Dragoon especially if I have multiples.
A Mirror Force type of trap was exactly what the deck needed, especially heading into an event where not many duelists expected it. Storming Mirror Force not only pressures Red-Eyes Dark Dragoon, but also helps keep certain decks off Divine Arsenal AA-ZEUS - Sky Thunder. A lot of players are making indestructible Xyz Monsters these days, so Storming Mirror Force is really helpful.
Giant Beetrooper Invincible Atlas
Indestructible Xyz are just the beginning. One of the highlights of my Extravaganza run saw me up against Insects, and using Storming Mirror Force to bounce Giant Beetrooper Invincible Atlas back to the deck. In a Dinosaur matchup, I bounced back two copies of Ultimate Conductor Tyranno to win the game the following turn.
But is Storming Mirror Force really optimal? The problem is that once the secret's out, opponents will be wary of it. So I still think it's good, but I do side out some copies when I know my opponent has seen me play it.
Overall I'm happy with how the Main Deck turned out.
The Side Deck Theory
After Pak's recent success, players expect this type of deck to side with the same kinds of cards. They expected Inspector Boarder going first, Lava Golem or Sphere Mode, with maybe Broken Line. And that's the problem. They expect it.
Lightning Storm
Many players would now keep Infinite Impermanence in for the Eldlich matchup if they have nothing else to side out, since it can negate a Continuous Trap, and even the expected Inspector Boarder. Not to mention that they'll also be siding into generic backrow wipes like Lightning Storm, Evenly Matched and Harpie's Feather Duster.
So yes, Inspector Boarder is good, especially with so many trap cards to defend it. But it doesn't answer the cards that your opponent's siding in, and it's not something that the deck always needs to see. So instead of playing more copies of Inspector Boarder, I opted to play only one, because I never wanted multiple copies in my opening hand anyways.
Apart from that, I also chose not to play Nadir Servant, but opted for another set of cards that help the deck go second and break boards. It also helps save the deck when I go first, and need to negate the opponent's plays or board wipes.
Red-Eyes Fusion
Red-Eyes Dark Dragoon
Yup, Red-Eyes Fusion was my only answer.
Not only does this deck have to respect and defeat Red-Eyes Dark Dragoon, but it can play it as well. And why not? Not every deck out there can deal with Red-Eyes Dark Dragoon, so it really helps to have it in those matchups. Especially the games where a certain set of trap cards in my Main Deck are just less optimal.
For example, say I'm playing against Sky Strikers: Ice Dragon's Prison isn't that great in the Striker matchup, and I know Strikers need to work hard to beat Red-Eyes Dark Dragoon. Plus, it often sides into Twin Twisters. In the Red-Eyes Dark Dragoon goes, and once it hits the field the game ends really fast.
But unfortunately it may not have been the best idea to run Pot of Extravagance with the Red-Eyes Fusion and only one copy of Red-Eyes Dark Dragoon. As luck would have it, there's a huge chance to banish the only copy of Red-Eyes Dark Dragoon in your Extra Deck if you use Pot of Extravagance before you play the Fusion Spell, and sadly Pot of Extravagance must be played as the first action in your Main Phase. And yeah, that happened in my final game. Did I regret it? Not really, since I felt comfortable with the rest of the opener. I took the risk and played the cards I was dealt.
Moving on, back to the topic of my Side Deck. Going second against Drytron is not easy. They can get out a Herald of Ultimateness or Herald of Perfection with multiple Fairy monsters in their hand, and they can also make Red-Eyes Dark Dragoon. How do you deal with it?
Well, Lava Golem turned out to be the safest choice. The Winged Dragon of Ra - Sphere Mode is too easy to play around since they don't need to commit Red-Eyes Dark Dragoon early. But it's almost guaranteed that they'll have a Herald Ritual Monster with something else beside it in the early game, like an I:P Masquerena and another monster. A set-up like that gives them the option of Link Summoning Knightmare Unicorn on my turn.
With that being said, Broken Line was amazing in theory, but the fact that so many players now know about it makes it very lackluster. Setting any card in the same column as their Herald is too obvious. And keeping the Broken Line in your hand and anticipating that your opponent will make a Knightmare Unicorn to spin it away is too risky.
But what other cards can you play? Do you just have to hope to draw Solemn Strike? If you've read my recent article on underrated cards from Dawn of Majesty, you'll know that I'm keen on a card called Stall Turn.
Stall Turn a Counter Trap that negates and SHUFFLES back any card that would negate the activation of a card you're playing, for the mere cost of banishing the top three cards of your deck face-down. So while it isn't the exact same as Broken Line negating something that just "activates", it does SHUFFLE instead of destroy, meaning that it answers Red-Eyes Dark Dragoon and can also shuffle back a Herald, so your opponent can't just summon it again with Meteonis Drytron. They'll have to search it again with Drytron Alpha Thuban.
Situational as it may be, Stall Turn does have the element of surprise and it isn't something players were expecting, such as Broken Line. In my playtesting, I've played against Cyber Dragons and it was helpful at dealing with not only Cyber Dragon Infinity, but also the Red-Eyes Dark Dragoon. I fully believe it was one of my best picks for this event, helping to counter decks that put up end boards with Herald Red-Eyes Dark Dragoon, as well as any other deck that splashes Red-Eyes Dark Dragoon just because they can.
Overall, I think the theory was very safe. Trap cards are still good in these early stages of the format, especially since players aren't respecting them as much with their Side Deck choices. But that was also the problem; plenty of players were expecting something similar to what Pak played.
But with a bit of change and the element of surprise, cards like Storming Mirror Force, siding into Red-Eyes Dark Dragoon when they keep Infinite Impermanence, and siding more cards like Stall Turn to help deal with the opposing Red-Eyes Dark Dragoon worked out well. Will it work out again now, when players expect it? Who knows.
Enough about my deck, though. There were several others who played trap-heavy decks too, and made it to the Top Cut of the Extravaganza!
Lightsworn And Zombies!
I wasn't the only player who topped with an Eldlich variant: Calvin Jin also scored a Top 32 finish with his Lightsworn Zombie World Eldlich deck. While I've played Zombie World in Eldlich before, a couple things caught my attention when I looked at Jin's build.
Here's what he ran; see what stands out to you.
Firstly, he's playing one of the most powerful spells in the game, Charge of the Light Brigade. Charge only searches for a Normal Summon, but the fact that it mills three cards from your deck as a cost is really good. The mill is guaranteed to happen, and Jin played more Elixir cards and Golden Land trap monsters, as well as the Zombies he wants to mill. That gave him a high chance to gain a lot of value right away, just from activating Charge of the Light Brigade.
Secondly, he also played Zombie World alongside three copies of the counter trap Golden Land Forever! That was good, but I'm kinda surprised he didn't Main Deck the Rivalry of Warlords as well, since it's so strong with Zombie World. Still, that aside, leveraging the searchable Golden Land counter trap to protect Zombie World probably won Jin a good number of matches over the course of the weekend.
As far as trap-heavy decks go, Eldlich was just the beginning.
Spellcaster Control
One of my Montreal friends, Dave Trepanier, topped this Extravaganza with his Altergeist deck, teched with Dogmatika. Even though Dogmatika cards lock you out of your Extra Deck for a turn, the amount of flexibility and card advantage you get from them is worth it in the long run. Here's what he ran.
I mentioned Altergeist as one of the most underrated decks of the format in one of my "Best Rogue Deck" articles back in March. And though I've seen lots of other players top with pure Altergeist since, I haven't seen many attempt a Dogmatika Altergeist hybrid.
The key synergy here is that any of your Altergeist monsters can become Artemis, the Magistus Moon Maiden or other Link 1 monsters, so you can Special Summon Dogmatika Ecclesia, the Virtuous with her effect. Ideally you'd Normal Summon Altergeist Meluseek, turn it into a Linkuriboh and then search for Altergeist Multifaker. Afterwards you'd activate Nadir Servant, or if you already have Dogmatika Ecclesia, the Virtuous, you'd Special Summon her to get the trap card Dogmatika Punishment. From there you're set up with a trap card and Altergeist Multifaker to stop your opponent's plays, and advance your own position.
Dogmatika Ecclesia, the Virtuous


That's just one of the ways these themes work together. There are other small details too, like sending Toadally Awesome to the graveyard to get back Altergeist Meluseek, or how Dogmatika Ecclesia, the Virtuous another Spellcaster to keep Secret Village of the Spellcasters up. Even just the sheer amount of card advantage you can get from resolving Nadir Servant and Dogmatika Punishment might make it worth your while to pass on Altergeist Hexstia depending on your matchup.
Another thing I noticed that differs from a standard Altergeist deck is the lack of Infinite Impermanence. While drawing Infinite Impermanence and Altergeist Multifaker together is usually an auto win, perhaps it's better to play Altergeist without relying on an inconsistent 2-card combo moving forward?
Something Trepanier does mention is that in current competition, a single Infinite Impermanence alone isn't enough to stop a turn completely. So if you're going to run that card, you'll also need other hand traps to complement it, which could eat up a lot of deck space. Since he's using the Dogmatika cards, there isn't that much room for low impact hand traps.
So Trepanier opted for this kind of Main Deck and it worked out for him! You can see that he still Side Decks some really high impact hand traps such as Dimension Shifter, Droll & Lock Bird and even Contact "C" for specific matchups.
There are many other things I find intriguing about this Altergeist list, but what's even crazier is that somehow, Lair of Darkness also made it to the Top 32 in the Extravaganza!
Looking at Julian Demeritte's list makes my head spin. The ratios are unexplainable to me, but there's a key strategy that I'm seeing, and it's Lair of Darkness with Red-Eyes Dark Dragoon. It also runs a lot of powerful and high impact cards such as Summon Limit, Eradicator Epidemic Virus, and even Mystic Mine.
Once Demeritte gets Lair of Darkness up, he can freely tribute any of his opponent's face-up dark monsters for his card effects, as a cost! Combine that with Lilith, Lady of Lament, Ahrima, the Wicked Warden or Darkest Diabolos, Lord of the Lair, and he'll be wiping… err, I mean, tributing your monsters away before you can do anything else with them. Combining that with Red-Eyes Dark Dragoon ability to destroy even face-down monsters can be pretty devastating. It leaves the opponent wide open for attacks.
Whenever you're up against Lair of Darkness, you'll want to side in backrow removal like Lightning Storm and Harpie's Feather Duster to get rid of the Field Spell and any other traps. But because Demeritte's also siding two copies of Waking the Dragon, he could set up a Lilith, Lady of Lament on his field; if you activate those board wipe spells, he can chain Lilith, Lady of Lament in response and set Waking the Dragon for you to destroy. Then he can freely summon some auto-win level threats, like The Last Warrior from Another Planet or Raidraptor - Ultimate Falcon.
What Does All Of This Mean For Trap Decks?
So after seeing all these trap-heavy decks in a competitive Top 32, what does it mean? Are trap decks viable to win tournaments? Or are we stuck, barely making the cut and winding up at Top 32 forever?
Well, the thing about trap decks - and trap cards in general - is that they're usually situational and reactive. Even though I can set five good trap cards, my deck doesn't win if I don't have a way to summon monsters and attack.
So honestly, the average performance of this type of deck depends on a lot more luck than other types of strategies; the situation you're in often determines whether or not you can combo off, and how strongly you can push for your win condition. What your opponent opens with and what plays their cards make have a higher degree of influence on your end results.
You can almost say that trap cards are all 2 to 3-card combos. You effectively rely on one or even two of your opponent's cards, combined with one of your own traps, and you have to play your card with correct timing to either make an equal trade or initiate a favorable exchange. That can be especially difficult when certain trap cards need to combo with one another; think playing Eldlixir of Scarlet Sanguine to summon the Eldlich the Golden Lord, and setting Conquistador of the Golden Land.
The actual pilot is another hurdle that can keep trap decks from being successfully. The person playing the deck needs to have extensive knowledge of how other strategies work; if you don't know the weaknesses and choke points of your opponent's deck, you can't time your trap cards for maximum value. That means you have to do a lot more playtesting and consider even more theory to make sure you have the upper hand.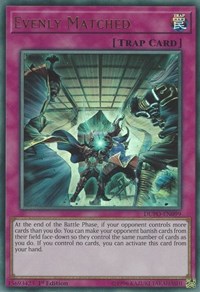 Divine Arsenal AA-ZEUS - Sky Thunder

And of course, the problems that every trap deck must solve beforehand: are your traps predictable? How do you beat Red-Eyes Dark Dragoon in this format, or any other generic board wipe that other decks play, such as Lightning Storm or Evenly Matched, and even Divine Arsenal AA-ZEUS - Sky Thunder?
I personally think my Eldlich build did its best to solve those problems. But once people know about the cards I played, the element of surprise will be gone and with it, one of the biggest advantages.
I don't know if I'll play Eldlich again, but it was a very good meta call for last weekend, and I recommend that you try it out if you want to play a trap deck for the current format. My only losses were games that saw me draw multiple sub-optimal cards, such as Rivalry of Warlords and Gozen Match in the Hero matchup in Game 1. Even then, the clincher was that I didn't have a Solemn Judgment for my opponent's Red Reboot the following game. A Harpie's Feather Duster took game two from me in another round, but I won Game 3 in the end.
And finally, not drawing any Dogmatika or Eldlich cards in the final game of the Top 32 was the end of the line for me. But that kind of variance just happens.
Last But Not Least, Thank You!
The October Remote Duel Extravaganza was really awesome! I really enjoyed it much more than the ones I've played in previously, and I honestly can't wait for the next one with this same kind of tournament structure and prizing! The judges were really quick reacting to calls, too, and they were very well coordinated.
Thank you to all of the judges, and the tournament staff at The Side Deck! Make sure to check out their OTS discord here, and I'll see you all at the next event!