Greetings, duelists! I'm back today with something a little different. Throughout this game's storied history there have been lots of decks that nobody liked playing against. For one reason or another, those decks just pushed that button inside us all, leading countless competitors to brandish blunt objects yelling things like, "WHY WOULD YOU PLAY THAT!?" and, "DO YOU HATE JOY!?!?"
If you're reading this you probably know what I mean. That special kind of deck that leaves you screaming on the inside every time it pops up.
Don't get me wrong, over the last two decades there have been plenty of decks that fit that description, even if they only lasted a few weeks. But today we're going to talk about the absolute worst of the worst, the ones that stood head and shoulders above the rest. These are the types of decks that leave a genuinely acrid taste in your mouth post-match, the stuff you never even wanted to playtest against, let alone see in a tournament.
Today, I want to dive into my own personal well of anguish and bring you the Top 5 most hated Yu-Gi-Oh decks of all time, at least as far as I ragefully remember them.
Seriously, worst ever. Nobody liked these. If you ever sat across the table from one of these decks, this is probably how you felt…
Teleport Dark Armed Dragon (AKA, TeleDAD)
So here's the backstory. When Emergency Teleport Dark Armed Dragon was all the rage in 2008 and 2009, I was but a lad in highschool, who had the good fortune to own the entire deck. But most duelists weren't so lucky, especially many less competitive players. If you weren't trying to win a SHONEN JUMP Championship (SJCs) - the predecessor to the Yu-Gi-Oh Championship Series (the current YCS circuit) - there wasn't really incentive to go out of your way to spend $1200 USD to build this thing.
You had to be hyper-dedicated to competitive play to commit to this deck, and if you weren't, it just meant that you'd get run over every time it came up in your locals or Regionals.
As a sidenote, I see a lot of people discussing card prices and how much TeleDAD cost back in its heyday. I promise you, it was $1000-1200 on average, not the crazy numbers people often state. (Unless you were playing prize cards, in which case it was literally thousands of dollars more.) Other decks eventually rose up to compete with it, but for a long while in 2008 and 2009, it was common for TeleDAD to take as many as all 16 spots in an SJC Top Cut. What we call "one deck formats" now don't even compare to how it used to be.
For those who've never seen it, here's what the "standard" build for the deck looked like. The Duelist Genesis dropped in September 2008, making this deck possible, but I snagged the winning list from SJC San Francisco in 2009, to show you a full-strength build.
Compared to the decks of today, this is relatively tame. Your best opening would be a Level 8 Synchro with either Trap Dustshoot or Crush Card Virus (which was more vicious before its errata… and debuted as a prize card that often cost $2k or more). However, compared to the other decks at the time - chiefly Gladiator Beasts and Lightsworn, - TeleDAD was on another level. Furthermore, those other two decks? They were also $800-1000. On top of that, neither deck had the power or the consistency to do more against TeleDAD than give you a chance to win that was slightly above zero.
Nowaday's TeleDAD's often hailed as one of the best formats, and best decks, of all time. It was a skill-driven mirror match format played at a time when SJCs were smaller, and were often held every two or three weeks. Week over week, tiny tech innovations could make all the difference, so competitive insight was constantly rewarded. It was an intense era of competition for the most elite players.
But during the time of its reign, TeleDAD was the bane of budget and casual players everywhere. It wasn't fun to sit down knowing you didn't have a ghost of a chance against this powerhouse, and that was the reality of the situation for tens of thousands of duelists.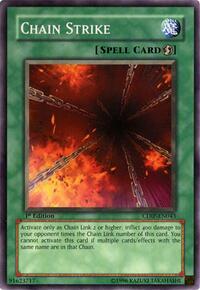 Chain Burn
Very few decks in history are as affordable, and potentially powerful as Chain Burn. Named for its key mechanic of chain resolution, this deck aimed to build lengthy chains of 3, 4, or even 5 or more chain links, gaining massive advantage and dealing big damage for each chain link due to Chain Strike.
I firmly believe that every aspiring duelist should pilot some version of Chainn Burn at some point, and everyone should be forced to play against it, as it teaches some of the most core fundamentals in the game. Managing a power ceiling that literally doesn't exist, and knowing your entire path to victory is reliant on perfect play and maximizing the value of each card is key. For example…
This isn't a perfect build by any means, but you can get the basic premise. Shoutout to the random list I found online.
Playing against Chain Burn's a whole other ordeal. You can't make mistakes, nor can you wastefully activate cards. You need to be precise in all your moves and understand how to maximize your plays while doing the bare minimum the majority of the time. Many players fall victim to the idea of summoning a large swath of monsters to do as much damage as possible, trying to end the matchup early. But that's a great way to lose the game! Cards like Blazing Mirror Force, Just Desserts, and Secret Barrel beat you if you just feed monsters into them.
If you're not familiar with Chain Burn, give it a shot; you'll be surprised at how fun it can be to play, and to play against. It's extremely rewarding either way and it can make you a better competitor. But in a tournament setting, it can be massively frustrating if you're not well schooled in how to deal with it.
Switching it up again, let's shift from punishing you with chain links, to beating you over the head with the ability to stop you from playing at all....
Danger Darkworld FTK
I'll be honest, I wasn't sure which first-turn kill deck to put on this list (FTK). There have been an obscene numbers of FTK's in Yu-Gi-Oh over the years. But very few have managed to be as powerful, and surprisingly challenging to play, as Danger Darkworld.
This deck focuses on combining the Danger monsters' ability to rip through your deck, with Darkworld monsters that rake in bonus effects whenever they're sent to the graveyard. Add in some draw spells, and a loop involving Cannon Soldier, Firewall Dragon, and Grapha, Dragon Lord of Darkworld to infinitely loop for burn damage, you had a deck that was utterly horrifying to face. Check out this build from Jonas Koschell at YCS London in 2018.
This deck was a powerhouse when it was legal, and the scariest thing about it was that even if you couldn't FTK your opponent, you could just win games anyway. Floodgates which were easy to find thanks to Curious, the Lightsworn Dominion and Knightmare Gryphon, or you could simply beat your opponent over the head with giant Danger monsters.
Thankfully, this deck was addressed pretty swiftly when Firewall Dragon was Forbidden, but joke's on you! The deck evolved into a Slash Draw FTK deck still using the Danger engine, which was equally as terrifying, but even harder to pilot. That particular deck would end the game by having multiple monsters on the field, and would destroy them with Slash Draw, assuming you drew another copy of Slash Draw off the first; easy to do when you resolved multiple copies of Saryuja Skull Dread to change the order of the cards on the bottom of your deck. Luckily that was short-lived too, as the Slash Draw deck was swiftly handled on the Forbidden & Limited list.
Qliphort
Switching gears from an FTK, we have the other end of the "no fun" spectrum. Qliphort was infamous for being a "floodgate deck", exploiting continuous cards that seek only to reduce your opponent's ability to play, such as Mystic Mine. While it was technically a pendulum deck, I don't think anyone really played Qliphorts that way. Paired with cards like Skill Drain, Lose 1 Turn, and Rivalry of Warlords, you were often just forced to sit down and hope you could draw a solid combination of engine and removal cards to handle the deck.
Check out this build from an old Regional for an example.
Qliphort Scout was the flagship card of the Qliphort strategy. Originally released in The New Challengers, it had a Pendulum Effect that let you pay 800 LP to search for any Qliphort card you could wanted. The cards you could search offered monster destruction, spell and trap destruction, as well as the ability to just end games out of nowhere. Oh, and you could search Qliphort Scout with Summoner's Art.
Playing Yu-Gi-Oh while this strategy existed was just a bad time, because you'd often have to build to beat control decks like Qliphort, or combo decks like Nekroz. It was almost impossible to have sufficient matchup coverage against both types of strategy, signing yourself up for a lot of near-impossible matchups no matter what you chose.
Finally...
Gouki
If you played during the Summer of 2018, you know exactly what I'm talking about.
The Gouki Extra Link was already bad enough, but things got even worse when Summon Sorceress and Topologic Gumblar Dragon were introduced into the format. It was already hard enough to combat the power of a full Extra Link, which the Gouki player could assemble for just two cards. But to add to it, Gouki could rip apart your hand as well thanks to Topologic Gumblar Dragon. From there, you were forced to try and grind out against a deck that had a full field and a loaded graveyard, while you were literally top decking.
Take a look at the winning build from the 2018 NAWCQ, piloted by Gabriel Vargas.
The worst part about facing off against Gouki was knowing that you were stuck in a format where you had to either prepare for Gouki, or prepare for literally everything else; the format was so polarizing due to the strength of the Gouki combo, the consistency of Sky Strikers, and Trickstar decks being all over the place.
That's it for me, but check out my YouTube and Twitter over the course of the week as I'll be doing a lot of thankfulness exercises and trying to be more communicative with you all! Until next time.