What is the Pre-Prerelease? Well, it's this:
We got our first look at Amonkhet Limited last Friday, courtesy of Wizards of the Coast and the amazing crew at LoadingReadyRun. Pro Tour Champ Steve Rubin gave us a great breakdown of the mechanics and themes that matter for Amonkhet Limited, and with that in mind we can look wider at what we learned from the Pre-Prerelease.
Below I've broken down a little more detail about what we learned, and added a sheet of all the instant tricks that you can expect to see during combat (or at the end of turns).
What We Learned: Ground Stalls
There are plenty of ways to block on the ground in Amonkhet. In fact, it's pretty easy to gum up the ground with plenty of Zombie Tokens and embalmed creatures. Breaking stalemates, or avoiding them altogether, will be important in Sealed – like the Prerelease this weekend.
Two ways to handle it are pretty straightforward. The first is to find evasion. Oketra's Attendant. Winged Shepherd. Angler Drake. Aven Initiate. Bone Picker. Emberhorn Minotaur. Pathmaker Initiate. Greater Sandwurm. Limiting your opponents' chances to block isn't just good planning, it's a plan you need to have.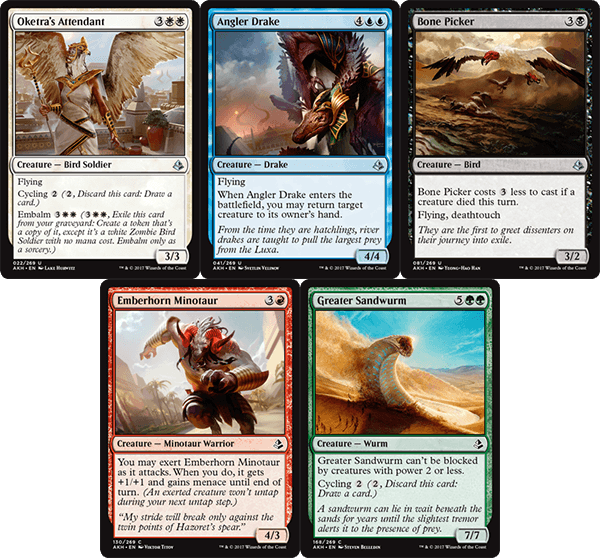 The other way to get by opponents is to go wider. Tah-Crop Elite. Lord of the Accursed. Making tokens and then making them bigger is a tried-and-true way to play Magic. There are a few ways to pump up a big army of creatures, so planning ahead – or being a bit faster to the punch – is important.
Menace and trample are both around as well to help keep things moving, but being bigger or flying higher are almost always better thanks to all the tools available for those plans.
What We Learned: Track the Graveyards
The graveyard is an important place when playing with Amonkhet. The embalm mechanic means creatures are often hitting the battlefield twice. Coming back as a token isn't as large a drawback in Limited where everyone can't be in blue playing Winds of Rebuke, but it's a huge advantage to Sealed decks since they'll be extra creatures in every game.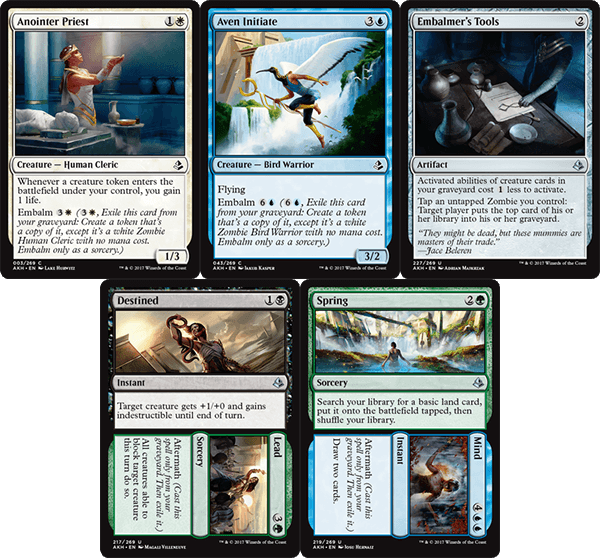 Additionally, almost all of the aftermath cards have a sorcery option for later. After the instant trick does its thing, understanding what an opponent might set up means not only tracking embalm but the sorceries that, too, can come back out of the graveyard.
Following along to see the "on board" tricks in the opponent's graveyard is half the battle – don't forget you have these too! Getting caught up in the moment and forgetting about the extra creatures and spells you can play from your graveyard is an easy mistake to make.
I lost an Innistrad draft match to Aaron Forsythe where he clobbered me with Rotting Fensnake in the decisive game. At the end, he pointed to the Geistflame that sat in my graveyard the entire time. Don't be like me!
What We Learned: Cycling Matters
As Steve Rubin shared in his Limited look: "Unless you have a focused cycling deck, 'because it cycles' is not a reason to put a card in your deck." This is true, and always has been. However, this doesn't mean you ignore cycling either.
The best feature of cycling is the most obvious: You can just cycle the card away. If you're light on lands, need a specific answer, or want to put something into your graveyard then cycling is there for you. It's tempting to hold onto Cast Out or Hieroglyphic Illumination to "get the most value out of it" but it's moot if you never find that third and fourth land.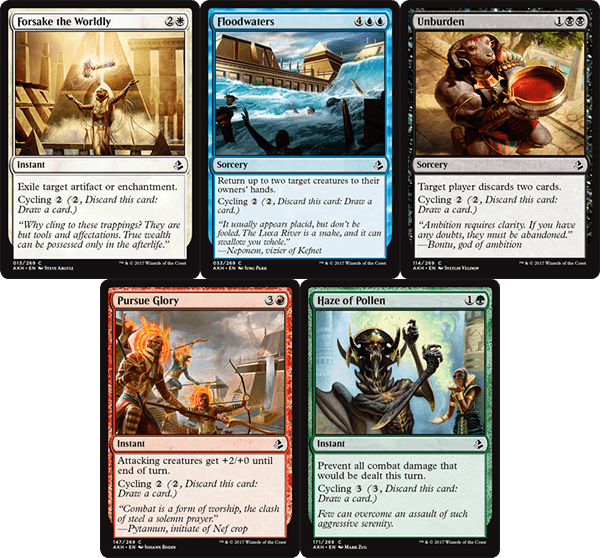 Taking that idea out further, you can count on hitting more lands if you have enough cycling cards. Blue had the most, but your pool might just turn out with more than you expect. Having a mana sink, playing a splash color, or gambling on a higher power deck with one less land than usual are all great ways to take advantage of extra cycling cards.
Finally, the last benefit to cycling is how much easier it is to sideboard into narrower answers. Censor is fine in a generic blue deck, but Forsake the Worldly is not. Once you know your opponent has some incredible artifacts or enchantments, like Anointed Procession or Drake Haven or Throne of the God-Pharaoh, you can bring in Forsake the Worldly. There's a whopping 32 enchantment cards in Amonkhet, which may make Forsake the Worldly good enough for your main deck in Sealed, like Prereleases.
#####CARDID=127174#####
I hope you're as ready as I am to dive into the Prerelease this weekend. Be sure to give the thumbs up to LoadingReadyRun for their amazing work sharing Amonkhet with the rest of us!