In my halcyon days of playing Magic, I was very competitive. If I missed Top 8ing a PTQ or failed to convert a finish it would put me in a bad mood. This was because I was young and stupid.
One of my best friends named John told me about this new format that had been taking Florida by storm—EDH, or Commander as it is known now. He had built a Nath of the Gilt-Leaf deck and told me to play it at a Grand Prix we were attending with some of his friends who had also gotten involved in the format. The whole purpose was to sling ridiculous spells at each other, play long and intricate games, and generally have fun.
Obviously, I had to ruin this.
I did some research into the format and decided I would build one of my favorite legends of all time, Azusa, Lost but Seeking. This card never shined in Standard, but in Commander she could be gross. This was the Sol Ring and Mana Crypt world, baby, and Azusa was living in it.
Found you, bae.
What made Azusa so powerful was that you could churn out a ton of mana super quickly and overwhelm a table with Eldrazi before they even had a chance to get in the game. Eventually you'd establish a loop with High Market and Eye of Ugin where you could cast Emrakul, the Aeons Torn and kill people with infinite turns. Boy howdy, that sure does sound fun!
And it was!
I still remember my first pod with her. I had the table dead by turn four. One guy threw a tantrum, so I decided to pass the turn without killing anyone. Surprise, he combo'd the table out next turn and said, "Them's the breaks!" I learned at that moment to destroy anyone who complains. I was Cobra Kai.
No Mercy.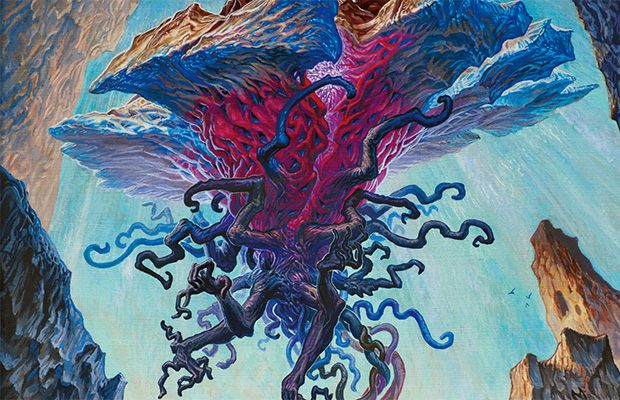 For a few years Azusa, Lost but Seeking was the bane of my local stores. She would consistently wreck everyone she played against, but like all good things, that came to an end. Azusa locked up too many games to be fun anymore. As time passed, so did Azusa's viability. She became worse as the power creep continued with various commanders they began to print. Eventually she was out-classed by Bant generals and fell to the wayside.
But then I felt nostalgic.
I missed her, and I wanted to put her back together again. I wanted her as she was, minus the banned cards like Rofellos, Llanowar Emissary and big, bad Emrakul, the Aeons Torn. Instead we'd play different strong cards. The deck even got a few upgrades! I thought she could be just as good as she used to be, and guess what? I was right.
Magic: The Gathering TCG Deck - Azusa, Lost but Seeking by Mark Nestico
'Azusa, Lost but Seeking' - constructed deck list and prices for the Magic: The Gathering Trading Card Game from TCGplayer Infinite!
Created By: Mark Nestico
Event:
Rank:
Commander
Market Price: $1312.79
Cards
Now, we aren't necessarily here to mess around, but a lot of this deck can be much cheaper due to green being the most busted color in all of Commander.
With my version you can see that not only does she hit hard, but she hits fast. Cards like Horn of Greed let you churn through your deck very quickly, and almost every creature provides some measure of value once they get going.
World Breaker is a house, Vorinclex, Voice of Hunger is broken, and the entire engine works as a symbiotic machine. Your lands all pull double duty to work with each other, from Thespian's Stage and Dark Depths to Eye of Ugin and HELLO ELDRAZI FRIENDS. They become cheaper with Eldrazi Temple.
In truth, this deck brings back old school power to an age where the current decks aren't ready for this kind of brute force anymore. Many decks rely on finesse or combos that happen deep in the game. Azusa is Rocky Balboa fighting Mason "The Line" Dixon. You can't compete with speed, but you can become a slab of iron that other decks bounce off of until your superior strength kicks in. Eventually Emrakul, the Promised End is screwing up opponents, and your endgame taking everyone's turns is unbeatable. She doesn't kill on turn four anymore, but she really doesn't have to.
There's no reason this deck can't be for everyone. The beauty of green is that it offers many avenues of really good deck building, but it doesn't have to be as expensive as the above build. You can put together an amazing Azusa, Lost but Seeking deck for under $200. If that's too much, there are plenty of cards you can sub out. Let us take a look!
Magic: The Gathering TCG Deck - Budget Azusa by Mark Nestico
'Budget Azusa' - constructed deck list and prices for the Magic: The Gathering Trading Card Game from TCGplayer Infinite!
Created By: Mark Nestico
Event:
Rank:
Commander
Market Price: $201.88
Cards
With the reprinting of Azusa, Lost but Seeking in M21, her price has dropped significantly to the point where you can get this legendary creature for only $6-7! With this build, we're still playing some of the best cards from the expensive build, but cutting out costly Eldrazi and utility lands that make the deck slower, albeit more consistent and vicious. But we don't need that!
If you're in a more casual environment, Azusa can be very good without being oppressive, and that's what is important overall to some groups. You pack a ton of card draw with this version. Regal Force, Soul of the Harvest and Horn of Greed all work together to keep your hand full, and you play so much ramp that pushing out creatures with Avenger of Zendikar, Rampaging Baloths or Hydra Broodmaster will be a breeze.
Sylvan Awakening is my favorite way to kill people. They never see it coming. If you want to be even cheekier, play Rude Awakening and give your opponents its namesake.
I hope you have as much fun piloting Azusa, Lost but Seeking as I do. She brings me so much joy that I had to share her with you. Sleeve her up today and show people that old school is still cool.
That was a really lame way to end an article. Oh well.