It would be an understatement to say that the reaction to the June Forbidden & Limited List update has been controversial. Some players wanted more hits to the top strategies, others wanted more cards released from the list entirely, and some are patiently waiting for events to start up again.
I believe that all of those opinions are completely valid. Still, it's the official F&L List, and until September our format's pretty much set in stone. There are tons of new releases coming: we're getting Toon Chaos, Legendary Duelists: Season 1, Structure Deck: Sacred Beasts, Battles of Legend: Armageddon, and so much more in the coming months. I know a lot of players are sick of Crystron Halqifibrax combos but for now it's just the way it is.
That said, one of the three changes on the new list got me really excited! Altergeists are one of my favorite decks in Yu-Gi-Oh and I was ecstatic to see Altergeist Multifaker back at three copies per deck. Altergeist players currently have three altergeist multifakers and three Solemn Judgments at the same time, something we've never seen before the TCG. I'm not going to pretend that three altergeist multifakers suddenly makes the deck capable of destroying Adamancipators and Eldlich match after match, but it certainly does help the theme compete as a strong rogue deck.
A lot of duelists have predicted that this change foreshadows the introduction of Altergeist Pookuery, perhaps in that upcoming Battles of Legend release, but for today's article I want to focus on the here and now.
Three Multifaker Is Better Than One Multifaker
It's pretty obvious, but having three copies of one of the best cards in the deck is a big improvement over just a single copy. I'll admit that having only one altergeist multifaker absolutely forced me to play better in terms of resource management, but it's not a card that you'd ever consider playing fewer than three copies of now that it's Unlimited.
Here's the weird part: having extra copies of Altergeist Multifaker doesn't technically help with many of the combos. altergeist multifaker's a hard once-per-turn effect, so having more than one available won't drastically change any of your regular ending boards.
But it will make a big impact in several important areas. For starters, you no longer instantly lose to a random D.D. Crow, a Called by the Grave or Huaquero of the Golden Land. When you only had one altergeist multifaker there were some fringe scenarios where you could still win if your opponent used one of those cards on it, but generally speaking it was almost always a loss. With three copies that shouldn't be an issue anymore.
Furthermore, while you didn't need the extra copies for your combos to function, you'll definitely appreciate the extra safety net. Ideally you'll combo off when your opponent doesn't have many interruptions, often because you stopped their plays with hand traps, but occasionally a single well-timed Ash Blossom & Joyous Spring on your Altergeist Meluseek would mess everything up. Altergeist Multifaker's used in almost all of the Altergeist deck's bigger combos, which meant that it would end up in the graveyard.
The way you got around that was to get it back with Altergeist Primebanshee near the end of your combo, but sometimes your opponent would shut you down you before you even got to that point. In those cases you'd have to make a difficult decision between ending on Altergeist Hexstia and Altergeist Protocol, or altergeist hexstia and Altergeist Manifestation. That might not seem like a huge difference, but with a control deck such as Altergeists you want to establish as many interruptions as possible.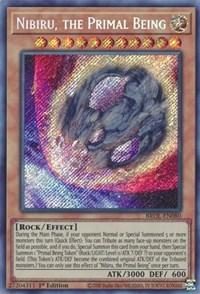 Overall though, consistency might be the biggest difference. If you've watched any of my Altergeist deck profiles you may remember that I frequently struggled to find the 39th and 40th cards for my Main Deck. There's all sorts of decent options, but none of them were as good as the lost altergeist multifakers. Sangan got the job done occasionally, but it set you up for more brick hands if you drew too many monsters. Playing more trap cards was decent too, but then you risked not drawing a single monster card. Realistically, finding two cards that did the same thing as altergeist multifaker was never possible. Now you don't have to worry about it.
So why bother playing Altergeists right now? There's a lot of reasons. As a rogue strategy, the main advantage is that you can catch your opponents off-guard. Hand traps are huge right now, and Altergeists don't really have to care about the most popular ones. Commonly played cards like Effect Veiler, Infinite Impermanence and Nibiru, the Primal Being are all pretty ineffective against Altergeists. Ash Blossom & Joyous Spring hurts, but your opponent might not know the best time to use it, and in a lot of cases you'll be able to stop it anyway.
As more players run more and more anti-combo cards in their Main and Side Deck, they might not have room for as much backrow removal. Altergeists—in my opinion, at least–have historically had a good matchup against decks that were monster-heavy, and the current most popular combos have some breakpoints that are extremely exploitable.
The format probably hasn't changed much with the new F&L List, but every week players are finding new tech options and new ways to refine their decks. You can modify this deck list in several ways for whatever your expected metagame is looking like, but I believe it's a great starting point for anyone looking to try out Altergeists with the newly Unlimited altergeist multifaker.
Yu-Gi-Oh! TCG Deck - Doug's Altergeists by Doug Zeeff
'Doug's Altergeists' - constructed deck list and prices for the Yu-Gi-Oh! Trading Card Game from TCGplayer Infinite!
Created By: Doug Zeeff
Event:
Rank:
Advanced
Market Price: $342.98
Cards
If it's been a while since you've played Altergeists you may notice a few new cards in the Extra Deck. Relinquished Anima can potentially equip an opponent's monster, and you can use it in a pinch if you banish all of your Linkuribohs.
Crystron Halqifibrax, Selene, Queen of the Master Magicians, and Accesscode Talker are all involved in some pretty powerful Link climbing combos during turns where you're not planning to use Altergeist Multifaker's effect. By playing all three you can instantly make Accesscode Talker if you have a monster on the field and draw any of your hand trap Tuners. All you need is thee three spells for Selene, Queen of the Master Magicians's effect.
Linkross is definitely the most impactful addition to the Extra Deck, and I'm tempted to play a full three copies. You're not using it for the crazy combos you'll see in other decks; here, it's just a way to take Altergeist Hexstia off the field to trigger its graveyard effect. Under ideal circumstances you won't have to do that, but sometimes your only play is making a lone Altergeist Hexstia. In the past the best case would be triggering it with Altergeist Protocol, but now Linkross saves the day.
If you've been following Altergeists for any amount of time you're likely familiar with the basic interactions and combos, but I'll mention my favorite combo in the whole deck. When I play Altergeists my entire goal is to stun my opponent for one turn with the traps, and then perform this combo. In that way, it reminds me of how Shaddolls use El Shaddoll Winda to stop their opponent, and then combo off with Borrelsword Dragon to OTK.
Because Altergeists are more of a reactive deck you'll have to find different ways to start this combo, but I'll show you the one that happens the most often. The idea here is that you want to start your turn with altergeist multifaker and altergeist meluseek on the field already, which you can do by finding opportunities where you don't need to summon the altergeist silquitous for an interruption.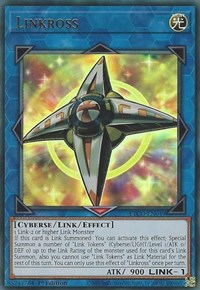 Sometimes you'll be able to flip up an Altergeist Protocol in your opponent's End Phase to trigger your altergeist multifaker, other times you'll have to take a risk and summon altergeist meluseek after making a judgment call on whether or not your opponent has an extender. Like I said, there are plenty of other ways to start this combo, but this is the one that happens at least once a match in most situations:
Have Altergeist Multifaker and Altergeist Meluseek on your field when the turn starts
Use both to summon Altergeist Hexstia, and search Altergeist Marionetter with altergeist meluseek
Summon altergeist marionetter to set Altergeist Protocol or altergeist manifestation
Send altergeist marionetter to the graveyard with its own effect to revive altergeist multifaker
Use altergeist multifaker to summon an Altergeist from the deck (it doesn't really matter which one)
Use altergeist multifaker and altergeist hexstia to make Altergeist Primebanshee
altergeist hexstia will get. you ALTERGEIST PROTOCOL or altergeist manifestation, whichever you don't have. If you have both, get altergeist kunquery instead
Use altergeist primebanshee and the Altergeist you summoned from deck to make altergeist hexstia
altergeist primebanshee adds back altergeist multifaker
Set ALTERGEIST PROTOCOL and altergeist manifestation
In your opponent's Draw Phase, use altergeist manifestation to revive Altergeist Hexstia
Trigger altergeist multifaker and summon altergeist silquitous from your deck
With this combo, you turned your two cards into two spell/trap negations, a bounce with altergeist silquitous, and a monster effect negation with ALTERGEIST PROTOCOL. Remember that if you did this combo it means your traps stopped your opponent's initial plays, which means they might not even have enough cards to bait all of the negations, let alone play through them.
What's even better is that you can change specific parts to deal with different situations. At the altergeist primebanshee step, for example, you could tribute the Altergeist you summoned from the deck with altergeist multifaker to summon a altergeist meluseek, which could then send one of your opponent's cards to the graveyard. Alternatively you can skip the altergeist primebanshee entirely if you already have access to ALTERGEIST PROTOCOL, altergeist manifestation, or altergeist multifaker. The only reason altergeist primebanshee matters is because it lets your altergeist hexstia search something besides altergeist multifaker, but if already have an extra altergeist multifaker in hand, or a Personal Spoofing, then the altergeist primebanshee isn't necessary.
My goal when playing Altergeists is to rush my opponent down to a simplified game state, and then unleash that combo or a variation of it to secure the win. I'm well aware that Altergeists have a reputation as a slow control deck, but at least when I play it I'm trying to find the fastest way to a big combo like that one.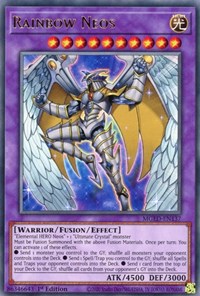 Things To Consider
Like I mentioned, you can change this deck list in many ways to adapt to your expected matchups. You can also build it more for going first if you think you're really good at rock paper scissors. Personally I prepare for the worst, so you'll find ten hand traps in this version, but you can cut them back if you want to play other options.
One engine that's gained a lot of popularity recently is Neos Fusion to make Rainbow Neos. It sounds crazy, but Rainbow Neos is insanely powerful when you can make it for free. The engine's advantages are pretty straightforward: Rainbow Neos gives you a ton of removal going second. The downside is that you have to play two Garnets. Still, I think this small five-card engine of three Neos Fusion, one Elemental HERO Neos and one Rainbow Dragon could be a great choice for many players.
Altergeist Haunted Rock could be included as a one-of if you want to start your games with some extremely strong opening boards. If you happen to draw altergeist marionetter and any other Altergeist monster (even another altergeist marionetter), then the altergeist haunted rock can get you to Altergeist Hexstia. You can then use the altergeist hexstia for Linkross to search altergeist multifaker on Turn 1. If you happened to draw altergeist marionetter and altergeist multifaker the opening gets even better because now you don't even have to make the Linkross, you can just do your regular combo. Just like in the case of Neos Fusion, the downside here is that you're forced to play a nearly useless Garnet, which lowers your consistency.
If you're feeling lucky you could drop a few of the hand traps for conventional traps. Lost Wind, Compulsory Evacuation Device, and Solemn Warning are all fantastic cards for going first. This part's completely up to you, because everyone has a different way of approaching risk management. I've played Altergeists in a lot of formats and I find myself wanting to build the most well-rounded deck lists, but small changes can easily make the deck better in certain situations.
At this point, Altergeists are a bit outdated. Many of the cards have been around for years, and it's going to be an uphill battle against the top strategies. That being said though, two more altergeist multifakers are a huge help, and a potential Altergeist Pookuery release in the future could really shake things up. Altergeists might not be new, but sometimes it's nice to wreck some Eldlich and Adamancipator players with ol' reliable.