Spweegerms!
…It's been a long week.
My mind refuses to remember this theme's name, and from talking to other people, it's actually a pretty common problem. The most popular misnomer I've heard so far is "Spriggums", which isn't too far off from the actual TCG name "Springans." But it's still wrong.
To be honest it took me a solid two minutes of searching online until I could find the English name of this new archetype, arriving next week in Blazing Vortex. It wasn't a great sign for my mental stability when I realized I was so far down the rabbit hole that I was googling for "Spang-Bops."
Springans are the third theme following the wacky adventures of Fallen of Albaz, expanding the Dogmatika universe. I get serious Mad Max vibes from the Springans, but I've heard people comparing them to Jawas, and Legend of Zelda over the last few dayys.
I really overlooked Springans at first, simply because the name was stupid. That's a pretty lame reason to write off an entire theme, but in the case of Springans, it was extra lame because Springans are actually really fun to play, breaking the conventions of Xyz Summons to add some serious spice to your plays.
Pew Pew Pew, But In Desert Form
Springans didn't redefine summoning from the Extra Deck in any cheeky ways, but the whole strategy hinges on summoning their Xyz Monsters via special means. The theme only has on Xyz in Blazing Vortex, Springans Ship - Exblowrer, but any future Xyz Monsters will hit the field most easily and most often via the Field Spell, Great Sand Sea - Gold Golgonda.
Let's back up. Great Sand Sea - Gold Golgonda basically how the deck functions, or at the very least it's central to the strategy's cheekiest moves. It's a highly searchable Field Spell that turns Springans cards in your hand into free Springans from your Extra Deck at the sweet exchange rate of 1-to-1.
While the Xyz monsters you bring out via Great Sand Sea - Gold Golgonda come out with no materials, the Main Deck Springans pick up the slack. Springans Captain Sargas and Springans Branga are both Level 8s that largely serve the purpose of attaching themselves to your Special Summoned Springans Ship - Exblowrer, but they can likewise search cards and directly pop your opponent's cards from the graveyard and field.
But the main draw is reloading your Xyz. If Captain Sargas and Branga are in the hand, field, or GY, poof, you have materials for Springans Ship - Exblowrer. Both Level 8s attach as Xyz Materils, so they're great fuel to help Springans Ship - Exblowrer do its dirty work; they really help circumvent the "downside" of Great Sand Sea - Gold Golgonda summon effect.
Springans Ship - Exblowrer quite literally a "once-per-turn-just-ruin-your-opponent's-life" card. You detach materials from it and blow up that many cards. If you're concerned about your Springans Ship - Exblowrer not surviving until the following turn, don't worry, because that's where its second effect comes in: Springans Ship - Exblowrer can actually banish itself until the End Phase. Then, when it's your turn, you'll just attach both Level 8s as materials gain, blow stuff up, and rinse and repeat.
In short, you get to slap your opponent every turn with that destruction effect, and Springans Ship - Exblowrer runs away to save itself.
There's More?
I'd wager Springans would still be effective even if they only had three cards, but the supporting cast for Springans takes it all a few steps further. Even the "worst" card, in my opinion, is still useful. Every card works to cover a different weakness of the strategy, and if nothing else, they're all discard fodder for Great Sand Sea - Gold Golgonda.
For example, Springans Rockey gets you back a Great Sand Sea - Gold Golgonda or any Springans monsters from your graveyard when you summon it. You can also attach it as material to a Springans Xyz, from your hand, field, or most importantly graveyard. Even better, Springans Pedor can Special Summon a Springans monster, so you don't have to rely on just feeding Springans Ship - Exblowrer.
Springans Watch is basically Terraforming, Reinforcement of the Army, and Foolish Burial wrapped up into one, while Springans Call! and Springans Blast! revive monsters and negate their effects, respectively.
One of the things I really appreciate about Springans is the theme's commitment to the boss monster, and how it draws off the rest of the theme's cards. Some strategies don't really maket the most of many of their cards (cough Dogmatika cough), or they cheat a bit with their end goal (stupid Virtual World and their shiny True King of All Calamities). But Springans are all-in on Springans Ship - Exblowrer, and you're actually rewarded for playing the deck that way.
Even if all you draw is a bunch of Springans cards, you can make Springans Ship - Exblowrer pretty easily and aim four deadly bullets at your opponent. With a Springans Blast! in the mix to negate your opponent's retort, you're not even in a bad position. That's pretty impressive for a self-contained strategy.
Mashing In Some Machina
No disrespect to Dogmatika as an ancillary strategy, but it's a bit overdone when you mash it up with Springans. Granted, Dogmatika was effectively built to merge with the Tri-Brigade and Springans themes, but since when have I ever taken the conventional approach? With this build, I wanted to do something that wasn't so predictable.
Machina Fortress is one of my biggest old school favorites, and anytime it seems easy to throw it onto the field with Machines, I'm going to try and squeeze it in somehow. Springans don't care if they're on the field, in the hand, or in the graveyard when it comes time to load up Springans Ship - Exblowrer with Xyz Materials. In fact, Springans Branga actually benefits from being in the graveyard, so Machina Fortress can actually accelerate your Springans combos. Simply put, Machinas allow the deck to expand beyond Springans Ship - Exblowrer.
Don't get me wrong - Springans Ship - Exblowrer can straight up blow past your opponent with its powerful control effect. It's great. But adding more layers to the strategy can bail you out of some tough spots. If all you have is Springans Ship - Exblowrer, well, let's just say it's not an instant win button.
It's not fancy, but Machina Fortress works really well in some fundamental ways. For starters, it's a big body that can smack your opponent for 2500 damage or take down a tougher monster in battle. But it's also another body for Link plays in a pinch. Using Machina Fortress means an excuse to run Machina Redeployment, giving the deck a much needed boost that hinges around a Field Spell.
The Machina component also leads into Machina Unclaspare, another body that works in tandem with Machina Fortress. When you search it with Machina Redeployment, Machina Unclaspare heads straight to the field and sends Machina Fortress to the graveyard, meaning a high-Level Springan plus Machina Redeployment puts two Machina monsters on the field without using your Normal Summon.
That play limits you to Machine summons, but it just happens that Springans' blind spots are covered by Machine-type Link Monsters, most specifically Qliphort Genius and the new Steel Star Regulator.
Destroying things is easy, but dealing with things the "pew pew pew" approach can't address? That's where Qliphort Genius comes in, with its handy negation effect. Springans Blast! is great, but it's a trap card, meaning it can't solve problems as quickly as you might like. Qliphort Genius fills that gap, offering a faster, slightly more proactive option.
But Steel Star Regulator even better!
Since most of your plays revolve around Springans Ship - Exblowrer, I wouldn't say it's uncommon to beef it up with Great Sand Sea - Gold Golgonda and Springans Captain Sargas, but the ability to pop a monster and burn for potentially lethal damage is the last nail in the coffin when you can't just bash your way to victory. Steel Star Regulator also does the whole "pew pew pew" thing, but adds an extra layer of burn damage that's sorely missing from Springans' frontal assault.
I think a lot of us can still hear it in our nightmares: "Cowboy for game?"
Getting… Sandy?
While I wouldn't quite go so far as to include Set Rotation and Into the Void here, I will say your Field Spell is pretty gosh darn important for this deck, and there's one underused card that's actually better than its traditional status of "bad."
Typically, draw-and-then-discard cards aren't great nowadays. Unless you can make them work in your favor and laugh in the face of Ash Blossom & Joyous Spring, I'd suggest staying away from them. But since Springans don't care if they're in the hand, field, or GY, I've made an exception for Trade-In.
Hopefully you'll draw what you need and get to Great Sand Sea - Gold Golgonda. The risk is worth the reward, and I'll be the first to admit it's an uphill battle without that card, because a hand of pure Springans monsters isn't exactly what you're looking for.
And if it wasn't obvious, that's why Machina Redeployment such a great call: you want to fill up that graveyard with at least one of each Springans monster! Machina Redeployment doesn't search Great Sand Sea - Gold Golgonda or anything, but when you need to make Machina plays, it's there for you.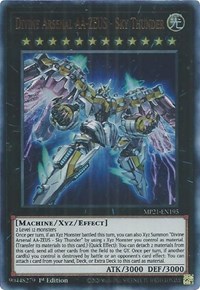 The Ol' Razzle Dazzle
And since I'm, well, me, I wanted to make a few additions; some tweaks and tricks that can bail you out of some bad situations on one hand, and quite literally steal games on the other.
I've joked that some decks can't get over Black Garden force feeding them five Rose Tokens, but there are plenty of more common situations that popular strategies have absolutely no answer for. Or at the very least, the responses that those decks do have are overly complicated or require help from the Side Deck.
While it's technically not unbeatable, want to know what two cards can and will ruin your opponent's day? That is, if they survived Springans Ship - Exblowrer blowing up four cards a turn? They're Divine Arsenal AA-ZEUS - Sky Thunder and Infinitrack Fortress Megaclops.
Divine Arsenal AA-ZEUS - Sky Thunder wipes the board, circumventing cards that can't be destroyed by sending them to the graveyard instead. If you don't have the resources for a good Springans play, you can easily make Heavy Armored Train Ironwolf, attack directly, and then overlay for Divine Arsenal AA-ZEUS - Sky Thunder to seal the deal.
Both monsters are Machines, too; Machina Unclaspare restriction won't keep you from wiping the board in that case, which is super satisfying when your opponent thinks, "Gee, only Machines, I've got this in the bag!"
And if board wipes aren't what you need, how about making a Link that has almost no weaknesses? Infinitrack Fortress Megaclops is so close to being invincible, and it's actually not that hard to summon in this deck thanks to Zoodiacs and the Great Sand Sea - Gold Golgonda.
Obviously, Great Sand Sea - Gold Golgonda turns a Springans in your hand into an Xyz, sure. But it's also fodder for Zoodiac Drident in a zero-sum situation. Just naturally summon Zoodiac Chakanine with two materials, overlay for Zoodiac Drident, detach Zoodiac Chakanine to pop Great Sand Sea - Gold Golgonda, stick Zoodiac Chakanine on top and revive Zoodiac Drident.
Poof, now you have three Xyz Megaclops. Here's what the deck looks like.
Yu-Gi-Oh! TCG Deck - Loukas' Machina Springans by Loukas Peterson
'Loukas' Machina Springans' - constructed deck list and prices for the Yu-Gi-Oh! Trading Card Game from TCGplayer Infinite!
Created By: Loukas Peterson
Event:
Rank:
Advanced
Market Price: $48.99
Cards
I normally don't like to look ahead at future cards literally before the first wave is released, but the core set after Blazing Vortex, June's Lightning Overdrive, has four new Springans cards that make everything that much more consistent.
Want to see your Field Spell more often? Springans Booty has you covered. A fifth monster to attach as Xyz material? Springans Brothers is there for you. Free Level 8 monsters? Supreme Archserpent Golgonda exists, because why not? And Springans Merry-Maker is another Rank 4 right up your alley.
I think there are plenty of ways to leverage the whole "being in the graveyard" thing for Springans, and Machines have a lot of support on top of that. It won't be the easiest little package to squeeze into every deck, but don't be surprised to see Springans popping up as a supporting cast, as well as the main course, in numerous strategies down the road.
Just remember: beat your opponents before they beat you.
-Loukas Peterson