Hello there, duelists! The summer's really starting to heat up with the release of Rise of the Duelist, bringing forth the new Dogmatika deck, a Spellcaster theme that works fantastically in tandem with existing strategies. Historically speaking, Spellcasters have often stood at the forefront of competitive play, and the Dogmatika cards are no different! Combining tons of utility, consistency and free summons, Dogmatika are poised to take the summer format by storm.
You can build a Dogmatika deck in a few different ways, but before we dive into the various builds it's important we cover the theme's most commonly played cards. Like most archetypes, there are some cards that simply don't get played because they're less efficient and less impactful, but we're going to skip those and focus on the must-runs.
Up first: Dogmatika Ecclesia, the Virtuous. You can special summon it from your hand for free, any time a monster that was summoned from the Extra Deck is on the field. That's already awesome on its own since Dogmatika Ecclesia, the Virtuous a Level 4 – it can serve as an extender in lots of different scenarios – but that's not all.
If Dogmatika Ecclesia, the Virtuous Normal or Special Summoned, you can search any "Dogmatika" card from your deck to your hand except another Ecclesia, and then you're locked out from using your Extra Deck for the remainder of the turn. Dogmatika Ecclesia, the Virtuous helps build lots of consistency and stability in conjunction with Nadir Servant, giving you six cards total that can search Dogmatika cards from your deck. That means you'll hard draw a search effect in your opening five cards in just over 50% of your games, and that number goes up as you start to add more search effects and draw power.
Nadir Servant fills the same basic role as Dogmatika Ecclesia, the Virtuous, giving you searches by sending a monster from your Extra Deck to the graveyard and letting you get a "Dogmatika" monster or Fallen of Albaz from your deck as long as the ATK of whatever you search, is less than the monster you sent.
Next up, we've got Dogmatika Fleurdelis, the Knighted. Wielding a hefty 2500 ATK, as well as a quick effect that lets you summon it from your hand during either Main Phase if a monster that was summoned from the Extra Deck is face-up on the field, its basic effects would make it a pretty solid card.
However, the real value in Dogmatika Fleurdelis, the Knighted is its ability to target a monster on the field and negate its effect. You have to control another Dogmatika monster on the field to activate that powerful defensive ability, but it's not a tall order. And if having a free 2500 ATK body with negation wasn't enough, Dogmatika Fleurdelis, the Knighted boosts all of your Dogmatika monsters by 500 attack points when you declare an attack with a Dogmatika. Anything short of 3000 ATK won't clear Dogmatika Fleurdelis, the Knighted from the field, and the negation effects makes shutting them down even harder.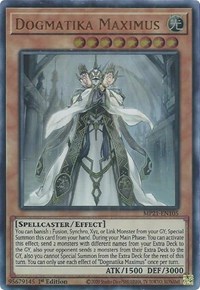 The final Main Deck monster you'll want to look at is Dogmatika Maximus. A level 8 with 1500 ATK might not seem great at first glance, but once you read the effects that this behemoth is packing it all sort of clicks. You can Special Summon Dogmatika Maximus by banishing a Fusion, an Xyz, a Synchro, or a Link Monster from your graveyard, which is pretty neat.
But the real gas is the second effect. Once per turn you can send two monsters with different names from your Extra Deck to the graveyard, to force your opponent to do the same. Picking apart your opponent's Extra Deck can be enough to win the game outright, if they aren't extremely careful about what to toss. But on top of that, Dogmatika Maximus gives you crazy synergy with cards like Cyber Dragon Nova and El Shaddoll Apkallone, triggering their effects when they're sent to the grave.
The Nova play's particularly interesting as it allows you to counter opposing copies of Dogmatika Maximus by summoning an Invoked Mechaba for free. Titaniklad the Ash Dragon's another monster you'll commonly hurl into the graveyard off of Dogmatika Maximus, giving you a Scarm, Malebranche of the Burning Abyss effect to either add a Dogmatika monster to your hand or Special Summon that monster from your deck in the End Phase. It all adds up to even more disruption and advantage from that single Dogmatika Maximus resolution.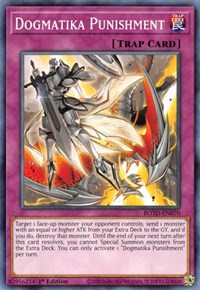 The final weapon in the Dogmatika theme's Swiss army knife of options is Dogmatika Punishment. By targeting a monster on your opponent's field and sending another monster from your Extra Deck to your graveyard with higher ATK than the monster you targeted, you destroy the opposing monster. Then, any sort of graveyard trigger on the card you sent comes online.
In terms of raw card economy, Dogmatika Punishment takes a simple 1-for-1 trade and throws that out the door, brandishing the bonus effects of whatever Extra Deck monsters you've decided to sleeve up, like a honeybee wields their menacing stinger. Yes, I just added bees into today's article, because I'm afraid of them. Before you ask, yes, I'm equally afraid of the insanity that is possible due to this card being in the deck.
I digress.
Dogmatika Supplicants
Now that you're more familiar with the most competitively viable Dogmatika cards, we can get to the good stuff! Since the Dogmatika are Light monsters, they naturally pair well with the Invoked engine. Aleister the Invoker's been plaguing the game since 2017, and it looks like this swaggy sorcerer's here to stay. One of the long-standing challenges to the Invoked deck is that they've often struggled to find good Light monsters that won't clog their Normal Summon. Well that's a problem no longer, since you now have an incredibly strong suite of cards that not only offer extenders, but defensive interruption as well.
That kind of power is what often leads to formats where one particular engine ends up being played in everything. Remember Zoodiacs? While Dogmatikas aren't nearly as ridiculous, the flexibility both themes share definitely begs the comparison.
Sam did a great deck profile last week showcasing the Invoked Dogmatika pairing together, in a terrifyingly concise, efficient deck as seen below.
Yu-Gi-Oh! TCG Deck - Sam's Dogmatika Deck by Sam Arunnaveesiri
'Sam's Dogmatika Deck' - constructed deck list and prices for the Yu-Gi-Oh! Trading Card Game from TCGplayer Infinite!
Created By: Sam Arunnaveesiri
Event:
Rank:
Advanced
Market Price: $654.24
Cards
Wrapped up in a clean 40-card package, this deck has the foundation of what could become a format-defining strategy. The addition of the new trap card Shaddoll Schism gives you even more disruption than before, letting you play El Shaddoll Winda on your opponent's turn. Knowing you can only Special Summon once per turn is frustrating, but knowing you're your opponent can choose exactly when to spring that sort of control on you feels even worse; that's the level that this deck is operating at.
Sam showcased a pretty sweet combo with this build, starting with nothing but a single copy of Nadir Servant:
From the singular Nadir Servant, you get an El Shaddoll Winda holding your opponent to a single Special Summon; if they have a Dark monster on the field, Shaddoll Schism can send that to the graveyard. You have Dogmatika Fleurdelis, the Knighted in hand which you can Special Summon during your opponent's Main Phase, since El Shaddoll Winda was summoned from the Extra Deck. You can also negate the effects of one other face-up monster on the field as well. That effect doesn't even target, so your oppnent must chain before you select which monster will be negated.
Golden Lord? More Like "Get Out Your Gold Card"
The Invoked Dogmatika strategy is concise and pretty easy to play, but you can also run a more combo-centric build using the Eldlich cards and the Crystron Halqifibrax engine. The result is a terrifying mix of power and consistency.
While it might seem like a mishmash of engines, Eldlich Dogmatika's a deceptively cohesive deck that can approach games from a variety of angles. Check out this build from an online tournament over the past weekend.
Yu-Gi-Oh! TCG Deck - Zach's Eldlich Dogmatika Deck by Zachariah Butler
'Zach's Eldlich Dogmatika Deck' - constructed deck list and prices for the Yu-Gi-Oh! Trading Card Game from TCGplayer Infinite!
Created By: Zachariah Butler
Event:
Rank:
Advanced
Market Price: $403.46
Cards
Take a moment to appreciate just how ridiculously expensive these decks are.
…Okay, now that you've had a cardiac episode over the sheer cost of this thing, let's move on.
Personally, I feel this is probably the most powerful way to play the Dogmatika engine, since it lets you grind out games with the efficiency of the Eldlich cards, along with the combo plays of the Synchro package. I'm not going to go over the standard Crystron Halqifibrax combo since we've seen it everywhere for months, but you can easily end on Borreload Savage Dragon and Herald of the Arc Light with other forms of interruption thanks to the Eldlich and Dogmatika cards.
While I don't expect to see this version too often in remote duels, since you'll need to own the cards to play it in those tournaments, it's certainly worth respecting going forward. If you have a chance to face a deck like this, or even just watch it in action, you should!
Honorable Mentions
While I haven't seen any of the following, the general consensus is that basically any deck with consistent access to a Link 1 can use the most common Dogmatika cards.
Salamangreat comes to mind, as their small core engine offers a lot of room for innovation. Like the Eldlich suite, you're going to have lots of deck slots for hand traps and other defensive cards. Dogmatika might be the new way to play Salamangreat Gazelle and friends going forward, as they've struggled for relevance in the fast-hitting formats of the summer.
Dragon Link's another possible pairing, given how easy it is to make Striker Dragon. From there you can simply do your combos, and if anything's stopped you can just drop Dogmatika Ecclesia, the Virtuous for more disruptions. Crusadia could be an interesting pairing as well, since any Crusadia monster can become Crusadia Magius, and Dogmatika Ecclesia, the Virtuous can serve as an extender to trigger it.
While it's probably not a competitive idea, it's certainly cool to see that level of splashability in a newer theme. Even Magical Musketeers could work with Dogmatika! Summoning Magical Musketeer Max, then dropping Dogmatika Ecclesia, the Virtuous toward the end of the turn sounds pretty cool to me.
When I first sat down to read the Dogmatika cards, I was actually pretty uninterested. But by the end of my research I was hooked. The level of flexibility, utility, and random synergies make the marquis theme of Rise of the Duelist one of the coolest to hit tables this year. Hopefully we see a lot of innovation and experimentation; now's the best time to try new ideas.
Let me know over on Twitter if you've found any success with some crazy ideas of your own. I know I'll be trying some when I get my hands on these cards. Until next time!