Hey there, duelists! Blazing Vortex drops next week, and it's set to shake things up a bit with some snazzy new cards. Personally, I'm hoping to see the new free agent cards get some love.
Underdog effectively a more balanced version of Skill Drain; you can use it to proactively shut down your opponent's cards, but also to bypass the negative restrictions on cards like El Shaddoll Winda on your turn. Heavenly Zephyr - Miradora stops powerful boss monsters like a 3-material Apollousa, Bow of the Goddess. Angel Statue - Azurune gives decks like Eldich even more removal, without requiring cards like Eldlich the Golden Lord to be on the field, and it gives Uria, Lord of Searing Flames decks more agency. I don't even need to get started on Pot of Prosperity.
That said, the card I'm most excited about is the new Eldlich Fusion, Eldlich the Mad Golden Lord. It's a stellar addition to the theme, and it changes everything for the Eldlich deck. You summon it by fusing Eldlich the Golden Lord with a Level 5 or higher Zombie, and while its effect is short and sweet, it really packs a punch.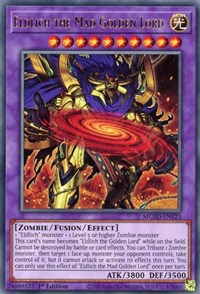 Eldlich the Mad Golden Lord treated as Eldlich the Golden Lord when it's on the field, and it can't be destroyed by battle or card effects. Once per turn you can tribute a Zombie, then target a face-up monster and take control of it. The monster you take can't attack or activate effects for the turn, but it's out of your way, and apart from those two restrictions you're free to do whatever you want with it. If the monster survives, the restriction's lifted at the end of the turn.
Because Eldlich the Mad Golden Lord a Fusion Monster, I'm excited to play a more Zombie focused variant of Eldlich: specifically a build that leverages all the familiar Eldlich power plays, but also runs cards like Super Polymerization for new blowouts the deck didn't have before. Those cards open up new moves that can help you bypass negation cards like Red-Eyes Dark Dragoon.
Here's what I came up with.
Yu-Gi-Oh! TCG Deck - Zach's Fusion Eldlich by Zachariah Butler
'Zach's Fusion Eldlich' - constructed deck list and prices for the Yu-Gi-Oh! Trading Card Game from TCGplayer Infinite!
Created By: Zachariah Butler
Event:
Rank:
Advanced
Market Price: $222.61
Cards
This is a rough look at the concept, and I didn't include Pot of Prosperity, which would make this strategy even more consistent. Pot of Prosperity going to give you more room for flex spots in the Extra Deck, it's just going to cost an arm and a leg on release, and frankly I need my limbs.
The basic plan's really easy to remember: Eldlich the Mad Golden Lord is good. Seven Realms of the Golden Land is a cool card, since it's a searchable fusion spell. But I'd hesitate to play it. Super Polymerization is just so much more powerful and pushes your engine forward, whereas Seven Realms of the Golden Land is more limited in its impact.
Proactive Power
Super Polymerization is SERIOUSLY cool in conjunction with Zombie World. Dragonecro Nethersoul Dragon an underappreciated bit of removal in any pure Zombie strategy, thanks to Super Polymerization and Zombie World.
All it requires is any two Zombies, and Zombie World luckily turns everything into them. Eldlich the Mad Golden Lord is the mainstay of the Extra Deck, and you can summon it with Super Polymerization if either player summons a Eldlich the Golden Lord, or a Level 5 or higher Zombie when you control your own Eldlich the Golden Lord.
One of the neatest things that Eldlich the Mad Golden Lord changes in the Eldlich deck, is that Super Polymerization becomes a game shot threat if your opponent lets you attack with a Huaquero of the Golden Land and a Eldlich the Golden Lord. Eldlich's an amazing strategy with a respected pedigree, but the deck has trouble closing out games due to the lack of fast, effect-driven threats. Now, one Huaquero of the Golden Land and a Eldlich the Golden Lord - not even a boosted one! - can end the game. Clocking in at 3800 ATK, Eldlich the Mad Golden Lord can win the duel against anyone who leaves their field open.
Cards like Uni-Zombie, Shiranui Solitaire, the Rokkets, and Pot of Extravagance create a powerful Turn 1 with low investment costs, only requiring one or two cards to land you on multiple traps, or even a copy of Chaos Ruler, the Chaotic Magical Dragon along with those threats.
The Rokkets here chiefly to give your Turn 1 a strong "curve," helping you consistently create a powerful set-up, and then they become Zombies you can revive later (which is hilariously cool). It's the same concept I pushed for in my previous Zombie Rokket Eldlich deck, and the same theory applies here, only with more flexibility and more power.
Niche Points
Another interesting things that comes up in this build is the ability to dodge removal due to the flexibility of Super Polymerization; cards like Ice Dragon's Prison become less efficient at removing your Eldlich the Golden Lord, which is a big boon. In a cool way, it also makes your copies of Ice Dragon's Prison even more powerful, because everything's a Zombie.
Necro Fusion a big card to consider too, which makes it even easier to summon the Eldlich the Mad Golden Lord; cards like Chaos Ruler, the Chaotic Magical Dragon give you a recurring Level 8 body that can load the graveyard with a myriad of spells, traps, and even Eldlich the Golden Lord itself!
Vampire Sucker gains huge viability thanks to the higher monster count in this build, granting you additional draw cards as well as targets to create Dragonecro Nethersoul Dragon more easily. By merely existing in the Extra Deck, you get a higher level of threat and utility than the deck had previously, opening up plays I'm sure I haven't even encountered yet.
I'm thoroughly enjoying playing Doomking Balerdroch again too, offerinng removal and negation all wrapped into one neat little package. It's highly accessible via Glow-Up Bloom and Uni-Zombie, creating a much more consistent and flexible engine; something I always strive for in competitive strategies.
This is a quick build of a concept I've had in my head for a short time, but I really like the idea! If you have any suggestions for the deck, let me know over on Twitter, or the Yu-Gi-Oh Infinite page on facebook! I'd absolutely love to see this kind of concept succeed and get more attention, because there are so many underexplored cards that get to shine here.