Battles of Legend: Armageddon launched last week with a fascinating line-up of reprints, OCG promo imports, and new themes like Appliancers and Numerons. With all the hype surrounding Ten Thousand Dragon and Chaos Emperor, the Dragon of Armageddon it's no surprise that a pair of lowly Insect cards went mostly unnoticed. But Number 3: Cicada King made its debut in this set alongside a reprint of Galaxy Worm – both cards that hint at a new set of tools for Insect and Rank 3 strategies.
There are plenty of potential homes for Number 3: Cicada King and its monster effect negation, but you'll get the most out of it in Insect themes. You could play it in Level 3-heavy Insect decks like Inzektors or Digital Bugs, or use it to give Battlewasps some much-needed defensive options. But all of those decks suffer from a single, unavoidable flaw.
They're not the insane, absurd, so-bad-it's-good strategy that is Giant Ballpark.
Soul Fusion introduced new Insect support that gave rise to a brand-new strategy: Giant Ballpark Insects. The deck looked to resolve the first effect of Giant Ballpark and flood the field with Insect-type Normal Monsters, while abusing the summoning power and monster removal effect of Gokipole. Giant Ballpark's traditionally been a Rank 4 strategy, but with some tweaks you can take advantage of Rank 3s like Number 3: Cicada King just as easily.
'Insects Playing Baseball' Is A Real Yu-Gi-Oh Deck
Let's get this out of the way: Giant Ballpark decks aren't winning Championships any time soon, but that doesn't mean it's a 'bad' strategy. In fact, the deck has dedicated communities on social media and Discord, and builds have been carefully refined to extract as much performance from the strategy as possible. It's also incredibly affordable – the sleeves you use for your Main Deck will probably cost more than the actual cards themselves.
So what does Giant Ballpark do, exactly? The Field Spell has two effects that summon Normal Monsters, with the first effect being the most important. Let's say you attack your opponent directly with a monster while Giant Ballpark's on the field. You can use Giant Ballpark to nullify any damage they would have taken from that attack and send a Level 4 or lower Insect from your deck to the graveyard.
The real fun starts when you send a Normal Monster. In that case, you can then summon monsters from nearly everywhere – your hand, deck, or graveyard. – that have the same name as the monster you sent. Essentially, Giant Ballpark lets you summon three Level 4 or lower Insect Normal Monsters from nearly anywhere by giving up Battle Damage.
Even damage you would have taken.
The sheer volume of summoning power offered by Giant Ballpark is impressive, especially because it can activate on either player's turn. And it gets better: Giant Ballpark's second effect lets you summon an Insect Normal Monster from your graveyard whenever any monster you control is destroyed by an opponent's card effect. Lost an Xyz Monster to a destruction effect? No problem, summon one of your materials right back and make another. Did your Insect bite the dust when it declared an attack? Don't worry, Giant Ballpark's got you covered.
Giant Ballpark can also send Effect Monsters from the deck to the graveyard, including Gokipole. Sending Gokipole won't let you summon three Normal Monsters, but there are situations where you'll want to trade summoning power for Gokipole's search effect. When Gokipole hits the graveyard it lets you search a Level 4 – and only a Level 4 – Insect monster from your deck to your hand. If you get a Normal Monster you can also Special Summon it, then optionally destroy a monster on the field with an ATK greater than or equal to your Insect. You're still getting at least one summon with Giant Ballpark, but you're trading an extra one or two Summons for straight monster removal.
Between Giant Ballpark and Gokipole you can summon Normal Monsters to effortlessly fuel Link and Xyz Summons. However, you can't use Giant Ballpark effectively on the first turn, and it requires you to take most of your actions during the Battle Phase. Relying on effects that require successful attacks can easily backfire, and this deck is definitely not equipped to go first. Number 3: Cicada King won't make you want to play first, but it will keep you from losing outright when you're forced to.
Cicada King Joins The Ball Game
Number 3: Cicada King might be a 'fake' Number monster – Number 3: Numeron Gate Trini is the real one – but it's a welcome addition to the Giant Ballpark arsenal. Number 3: Cicada King can negate the effect of a monster that activates on the field by targeting it, then change its own battle position to trigger its first effect. It forms a nice loop where you'll negate a monster, switch Number 3: Cicada King's position, and then summon an Insect from your hand or graveyard.
Switching Number 3: Cicada King to attack is risky, but Giant Ballpark will punish your opponent for attacking you. You can very quickly replenish your board with Giant Ballpark, so baiting your opponent into attacking you isn't a bad idea. Number 3: Cicada King's perfect for the job, and its first effect will help you build up even more field presence while forcing your opponent to blow through more resources.
Number 3: Cicada King joins the ranks of other defensive monsters that are typically found in Giant Ballpark strategies, stuff like Number 41: Bagooska the Terribly Tired Tapir and Naturia Beast. None of those monsters are a complete stopgap, but they don't have to be. This deck thrives on its OTK potential and monster removal, so baiting your opponent into building up field presence usually works in your favor.
If your opponent activates a monster effect you'll get a free card from Number 3: Cicada King. If they attack you'll get three free cards, or one free card and a free destruction effect. If they destroy your monster you'll get a free card too. There's so many opportunities to punish your opponent for doing anything, and a whole lot of hurt coming their way when your turn rolls back around.
Yu-Gi-Oh! TCG Deck - Kelly's Giant Ballpark Deck by Kelly Locke
'Kelly's Giant Ballpark Deck' - constructed deck list and prices for the Yu-Gi-Oh! Trading Card Game from TCGplayer Infinite!
Created By: Kelly Locke
Event:
Rank:
Advanced
Market Price: $62.09
Cards
At the start of the duel you'll want to carve a path for your monsters to attack your opponent. You'll likely have an uphill battle against interruption effects, negation bodies, traps, and hand traps. Giant Ballpark's activation conditions are easy to meet: just attack your opponent with any of your monsters. The challenge is actually getting your cards to survive long enough to d that, and dealing with any threats to your Field Spell along the way. Giant Ballpark's second effect helps with that by replacing a monster on the field with an Insect from the graveyard.
This build doesn't spend a lot of time trying to play around interruption. Instead, it's designed to brute force its way through your opponent's set-up by fielding as many individual attackers as possible. Aztekipede, the Worm Warrior, the Tenyi monsters, Gokipole, Doom Dozer and Danger! Mothman! are all capable of Special Summoning themselves or another monster without using your Normal Summon. Each one can be an enormous threat to your opponent if Giant Ballpark's on the table, so their individual stats don't really matter much here.
You'll want to break out the Kaijus against more durable threats. Interrupted Kaiju Slumber is fantastic, of course, and you can actually search the individual Kaijus with Resonance Insect. Speaking of which, Resonance Insect has a fantastic interaction with Aztekipede, the Worm Warrior and Doom Dozer, and it's also the reason you're seeing Gold Sarcophagus in this build. When Resonance Insect is sent the graveyard for a Link or Synchro Summon you can search a Kaiju or Doom Dozer, then banish it with Aztekipede, the Worm Warrior or Doom Dozer to load up Gokipole.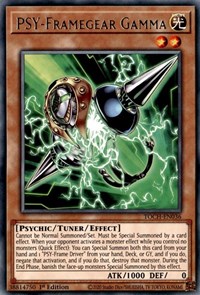 Playing first is a much more difficult position to be in, but you can still activate Giant Ballpark to discourage your opponent from attacking. A Defense Position Number 41: Bagooska the Terribly Tired Tapir can sometimes hold the line, and thanks to Tenyi Spirit - Adhara you also have access to Naturia Beast. Alinsection's probably never been included in a deck list in the history of the game until very recently, and it's a perfectly fine pull for Rescue Rabbit, Gokipole, or Giant Ballpark to access Rank 3s like Number 3: Cicada King and The Phantom Knights of Break Sword.
This build is designed to be as budget-friendly as possible, but there are some simple upgrades that can make it drastically more effective. For starters, hand traps are fantastic here since you're already planning to play second. Nibiru, the Primal Being, Ash Blossom & Joyous Spring and PSY-Framegear Gamma are all excellent additions that can help you stay in the game and keep your opponent from building an insurmountable lead. Lightning Storm's arguably a better pick over Twin Twisters, and Black Luster Soldier - Soldier of Chaos is awesome in the Extra Deck.
Giant Ballpark is hilariously fun and surprisingly competitive despite running as many as nine Normal Monsters. There's definitely something interesting going on with Insects – Gokipole and Giant Ballpark have opened up a new set of possibilities for Insect builds, and it's only a matter of time until a truly great Insect theme can fully exploit them.
Until next time then