There was a time when Machinas were downright unfair.
Thanks to Machina Fortress and Machina Gearframe, Machinas made an immediate impact when they first appeared in the Machina Mayhem Structure Deck way back in 2010, and its influence in tournaments stretched over the next several years. Machina bounced between a meta deck and a tough rogue pick thanks largely to the splashability and the high-for-its time power level of Fortress; not only did it have an insanely easy summoning condition, but it took down your opponent when it fell, in battle or not. At a time when small, flexible engines weren't the norm, Machinas occupied a unique role.
Oh, how times have changed…
Whether it's the Machina Gadget deck or Karakuri Machina Plants of the early 2010s, or even more recent builds like Bobby Kenny's Top 16 finish at the UDS Invitational in 2019, Machina Fortress and Machina Gearframe were solid picks that either brought more power to an existing deck, or acted as a centrepiece anchoring a strategy all on their own.
And it turns out, getting a few more cards makes the Machina deck really good.
Structure Decks Can Be The Meta
When Machina Mayhem first dropped, you could count the number of actual "useful" Machina cards on the fingers of one hand. Now in 2020, the Mechanized Mayhem Strructure Deck introduced a staggering seven new Machina cards, makibng the Machina theme something to contend with. And that's not all: a few more Machina cards are coming our way soon.
I know it's been a crazy few months, but remember Shaddoll Showdown? You could mash-up another strategy with Shaddolls, and the Invoked Shadoll deck ended up being wildly popular last format. But even on their own, three Structure Decks by themselves made a pretty amazing 40-card deck, that even came with the building blocks of a solid 15-card Extra Deck.
If you're not familiar with the new Machina cards, most of them are different forms of search power or Special Summoning to support other Machina, culminating in the new boss monster Machina Citadel. Machina Gearframe searches a Machina from your deck, Machina Air Raider Summons a Machina from your deck, and Machina Overdrive recycles fallen Machina. But the main feature is definitely the Citadel, which blows up everything your opponent has on the board. It literally weaponizes other monsters into little shrapnel bombs and then physically chucks them at your opponent, which is pretty killer flavor-wise.
Mechanized Mayhem mirrors Shaddolls in terms of in-house functionality, but with no Machina Extra Deck, building a budget Machina deck with only three copies of the sealed product is pretty straightforward. You want to flood the field with Machina monsters, try for an OTK, and use Machina Citadel as much as you can.
With the goal of building to a budget in mind, check out this first Machina deck. It works a bit with the Extra Deck to keep you running on all cylinders, but there's nothing here that'll threaten your future kid's college fund.
Yu-Gi-Oh! TCG Deck - Loukas' Budget Machines by Loukas Peterson
'Loukas' Budget Machines' - constructed deck list and prices for the Yu-Gi-Oh! Trading Card Game from TCGplayer Infinite!
Created By: Loukas Peterson
Event:
Rank:
Advanced
Market Price: $81.05
Cards
While I tried to keep everything as cheap as possible, some cards in this build DO cost more than a quarter. But those cards are all pretty common across a wide array of decks, and thanks to their various reprints I can still call Pot of Desires, Knightmare Phoenix, and Naturia Beast "budget". If you've been playing for more than a month or you have… like, friends?... chances are you have those cards already.
Virtually every budget Machina deck you'll see focuses on Machina Citadel and that's it. But with the help of a few extra cards and choosing to go second, you can make this Machina variant cheap, versatile, and good, and you can probably do it without dropping cash on any extra cards. If you're a Machina skeptic this is a great way to give the theme a try.
For starters, this version does everything that cheap Machina decks do but with a little added flair. Machina Cannon, Machina Fortress, Machina Irradiator, and Machina Air Raider all require you to throw away extra monsters to hit the field, so with Iron Draw, Pot of Desires and the extra card economy of going second, you'll have those extra cards you need to power your monsters along, whether you need to attack or make a Rank 8.
In terms of good Normal Summons, keeping Deskbot 003 from the Structure Deck keeps you out of the trap of total reliance on Machina Gearframe, even though it's searchable by Machina Redeployment. Summon Deskbot 003, Special Summon Deskbot 001 and make Ancient Gear Ballista. Ballista searches Ancient Gear Box which searches Machina Peacekeeper, giving you more fodder in your hand to summon your bigger Machina Monsters.
A Few Good Cards Make All The Difference
I want to reiterate that this deck can do all the cheap OTK Machina stuff, but the Extra Deck rounds out your strategy to deal with cards that a single Machina Citadel can't. The aforementioned Ancient Gear Ballista turns the strongest monsters into 0 ATK weaklings, but you have other options for both aggressive and defensive surges that won't break the bank either. Consider this combo of Deskbot 003 and Machina Redeployment.
-Activate Machina Redeployment to search Machina Fortress and Machina Gearframe
-Normal Summon Deskbot 003 and Special Summon Deskbot 001
-Special Summon Machina Fortress from your hand, sending Machina Megaform to the graveyard in the process
-Synchro Summon Karakuri Steel Shogun MDL 00X "Bureido" and Special Summon Karakuri Barrel MDL 96 "Shinkuro" from your deck. Get back Machina Megaform back from your graveyard
-Synchro Summon Naturia Beast with Deskbot 003 and Karakuri Barrel MDL 96 "Shinkuro"
-Tribute Machina Megaform to summon Machina Citadel from your deck
If you were forced to go first, then Naturia Beast stops spells and you have a way to blow up your opponent's monsters. But consider the other low-cost options that Multiply your range of plays. Factor in Scrap Dragon and you can destroy your opponent's cards while reviving your Citadel, or shuffle around the order of plays and you can make a Rank 8 instead.
Heck, even some weirder cards like Armory Arm and Akashic Magician come in handy. One makes your OTKs that much easier emanating from a single Deskbot 003, and the other is generic monster removal when all you have is leftover Machines. Good stuff.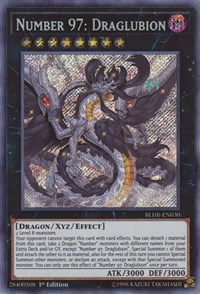 Budget Isn't Always An Issue
I'm not saying every deck list is the same, but pretty much every non-budget competitive version of Machina I've seen boils down to a single card: that's Number 97: Draglubion. I'm not discounting it, but it's a huge commitment of Extra Deck space that really brings little to the discussion.
The non-budget version's great because the deck generates Rank 8s extremely easily and OTKs your opponent, but there's no one standard for the deck moving forward. If you really want to focus on Number 97: Draglubion that's fine, but there's more to life than summoning a field-clearing Number 92: Heart-eartH Dragon or Number 100: Numeron Dragon, all "nearly infinite ATK" aside.
Yu-Gi-Oh! TCG Deck - Loukas' Non-Budget Machinas by Loukas Peterson
'Loukas' Non-Budget Machinas' - constructed deck list and prices for the Yu-Gi-Oh! Trading Card Game from TCGplayer Infinite!
Created By: Loukas Peterson
Event:
Rank:
Advanced
Market Price: $208.10
Cards
If you hadn't considered it, Revolving Switchyard and Urgent Schedule are absolutely insane in Machina decks. Urgent Schedule summons two Machines for free, and with Ruffian Railcar and Super Express Bullet Train they're the gifts that keep on giving. Revolving Switchyard is a slower version of that, but it either fields free monsters or searches the Level 10s that you need. As long as they don't make your deck less consistent, having more options really raises the ceiling on your plays.
I'm all about versatility, and adding a handful of Train cards takes things way beyond the limitations of Rank 8s and Machina Citadel alone. I've noticed that many Machina decks tend to run out of steam since you're always discarding cards to summon things like Machina Irradiator and Machina Air Raider, so having consistent ways to get to "starter" cards that also offer recursion is a huge blessing.
Consider Machina Citadel with a Revolving Switchyard on your field. Summon the Citadel and you'll Special Summon Flying Pegasus Railroad Stampede, reviving a Machine from your graveyard. Revolving Switchyard just turned a standard play into a Rank 4, a Rank 10, or a Link Monster, and next turn you'll garner even more of an advantage.
Sadly, Machinas will pretty much crumble if they're forced to go first and you lose Machina Redeployment to an Ash Blossom & Joyous Spring. It's not always correct to play in fear of a possible counter but you should always have a Plan B, so keep that in mind.
Easy Combos? Check
With Urgent Schedule, a Train-flavored Machina deck works better going second, but there are still plenty of ways to make amazing boards on your first turn. You'll notice that while Scrap Recycler comes in the Structure Deck, I excluded it from the budget version because Scrap Golem's more than chump change and chances are you probably don't have one laying around. That said, consider this combo with it, starting with Scrap Recycler, Machina Redeployment, and Urgent Schedule:
-Normal Summon Scrap Recycler and load your graveyard with Machina Citadel
-Activate Machina Redeployment to search Machina Irradiator and Machina Possesstorage, then discard Machina Possesstorage to Summon Machina Irradiator from your hand
-Use Machina Irradiator's effect, target itself and Special Summon Possesstorage from your graveyard. That will also summon Machina Citadel and Machina Irradiator from your graveyard
-Set Urgent Schedule, then Link Summon Scrap Wyvern with Scrap Recycler and Possesstorage. You'll summon Scrap Recycler back, but destroy it and Special Summon Scrap Golem from your deck to destroy your set Urgent Schedule
-Urgent Schedule triggers and lets you search Heavy Freight Train Derricrane
-Use Scrap Golem and summon the Scrap Recycler back from your graveyard, bringing out Heavy Freight Train Derricrane from your hand. Load your graveyard with Gizmek Orochi, the Serpentron Sky Slasher with Scrap Recycler
-Link Summon Apollousa, Bow of the Goddess with Scrap Golem, Scrap Recycler, Heavy Freight Train Derricrane, and Scrap Wyvern
-Summon Gizmek Orochi and use it to Xyz Summon Number 97: Draglubion, Use its effect to Special Summon Number 38: Hope Harbinger Dragon Titanic Galaxy
The combo doesn't need Urgent Schedule, but I wanted to highlight that even going first, it's not a dead card thanks to Scrap Wyvern. It's well worth playing if you're willing to commit to a pricier build.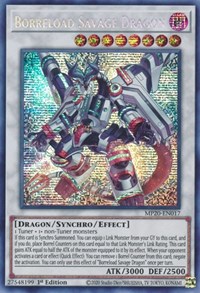 Other Non-Budget Negates
You may have noticed that most of the good Machina monsters are Level 4, Level 8 or Level 10, but Machina Fortress sticks out at Level 7. As in the above combo you can make Level 8 Synchros easily, but in the non-budget list, Scrap Recycler's gives you access to even more cards.
I really like Jet Synchron, probably too much for the average person, but it lets you summon out Borreload Savage Dragon mid-combo for an added Level of negation after you've used Apollousa, Bow of the Goddess in combos like that last one up there. Keep in mind, opening with any Machina cards plus Machina Redeployment multiplies your combo options.
Because Jet Synchron and Machina Fortress can both be sent to the graveyard with Scrap Recycler, and you can summon either of them by discarding a high Level Machine, adding a sneaky Borreload Savage Dragon is seamless in your overall strategy. I know the hype's around Rank 8s and Machina Citadel clearing the way, but don't forget about that extra push your deck's capable of, budget or otherwise.
Just remember: beat your opponents before they beat you.
-Loukas Peterson