Remember when you'd Normal Summon Elemental HERO Prisma, send Dark Magician from your deck to your graveyard, activate Thousand Knives, and attack for 1700 damage?
You might laugh now, but man, those were the days!
Dark Magician and the decks based around it have come a long way over the years, and I mean an extremely, almost unbelievably long way. product-hover id="228256" arrived in April, and Dark Magician was one of the set's chase Ghost Rares. He was one of the pack-front cover monsters too, along with Blue-Eyes Alternative White Dragon and Black Luster Soldier - Soldier of Chaos, modern updates of some of the game's most popular monsters.
Needless to say, April was a heavy hit of nostalgia: I was pumped to see Dark Magician get that royal treatment. He deserves the spotlight, as well as all those amazing cards that back him up. Today we're going to put them to work in a new build.
So Easy, It's Like Magic
One of the biggest strengths of the Dark Magician deck is that you can search pretty much everything in it, either to your hand, or directly to your field via Special Summon. That wasn't always the case, but these days there aren't many exceptions. The two effects of Soul Servant basically function as an upgraded version of Reinforcement of the Army, getting you the card you need and sometimes drawing extra cards in the process.
All in all, there are so many options that it can be difficult to figure out what to run. It's rare that a theme has so many cards that are this useful. Dark Magician decks have the capacity to break boards and put tons of big monsters on the field really easily, but it's usually better to focus on disrupting your opponent than overwhelming them with sheer force. It's not like Quintet Magician is easy to summon, y'all.
Trust me, I wanted to play almost every Dark Magician card that exists when I started working on this deck, but some of the cards here turn from "neat" in fringe situations, to "oh my gosh I am so stupid why am I stupid enough to play this card" if you draw them when you don't control Dark Magician on the field. Trust me, I've been there. In the end that was the dividing line that helped me decide which cards to leave on the cutting room floor.
One card that I'll heavily defend is Dark Magic Attack. Yes, drawing it naturally is about as fun as walking face-first into a beehive, but whether you're competitive or casual, a searchable card that lets you deal with backrow-heavy decks is nothing to scoff at. Soul Servant and Eternal Soul both get you Dark Magic Attack for free, and I've lost more games because I couldn't get to it, than I have from drawing it prematurely.
Check out which cards made the cut.
Yu-Gi-Oh! TCG Deck - The Best Dark Magician Deck by Loukas Peterson
'The Best Dark Magician Deck' - constructed deck list and prices for the Yu-Gi-Oh! Trading Card Game from TCGplayer Infinite!
Created By: Loukas Peterson
Event:
Rank:
Advanced
Market Price: $763.68
Cards
It's important to understand where this type of deck stands in the spectrum of Yu-Gi-Oh deck building: Dark Magician isn't really a combo deck. Yeah, there are cards that offer combo-type play sequences, but for the deck's entire history, the strategy's revolved around placing Dark Magician or a Dark Magician proxy on the field and going from there. That's different from how most modern combo decks work; you'll do better with it if you adjust your mindset.
In ye olden days, succeeding with this strategy meant activating something like Thousand Knives. But today it's more about combining Dark Magical Circle and Eternal Soul for multiple Dark Magician summons, popping cards each turn in a relentless flurry of destruction.
Like I said, we've come a long way.
Ignoring Red-Eyes Dark Dragoon for a second, you'll want to establish control of the board with Dark Magician as fast as possible, which usually means sending Dark Magician to the graveyard and reviving it with Eternal Soul.
Magicians' Souls is one of the best ways to do that early on: you'll Special Summon it from your hand by sending Dark Magician from your deck to the graveyard, then use Magicians' Souls other effect to trade away spells and traps for more draws, hunting for Dark Magical Circle or Eternal Soul.
That's also why Magician's Rod is so important to the deck. You're dead in the water if you can't start bringing back Dark Magician to banish cards on the field with Dark Magical Circle, so it's best to have another way to search the spells and traps you need. The deck's a slow burn, but it snowballs out of control really quickly, and seeing the right mix of cards in the early game is the key to unlocking the deck's success.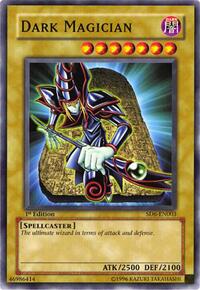 The biggest problem is that once your opponent gets familiar, the strategy can become pretty predictable. By no means is Dark Magical Circle bad, but it's not exactly a surprise when it banishes yet another card, turn after turn.
Ultimately that's why I like Magicians' Combination: it adds some variety to the deck and opens up some other options. The goal is to get Dark Magician on the field as quickly as possible, and Magicians' Combination is the extra spice that your opponent won't see coming. I've had to re-read the card a dozen times to really get it, but the gist is that it's basically a counter to anything.
And hey, if you're going to play Dark Magician Girl to capitalize on Soul Servant, you might as well go big, right? Magicians' Combination an added layer of protection for your field, and barring the luckiest hand, your opponent won't be able to play through your myriad of responses.
Worst case scenario, you should be able to survive with Solemn Judgment, Solemn Strike, and Ash Blossom & Joyous Spring. Hey, we can't have Dark Magician flavored cards for everything, right?
The Question Of Dragoon
I don't think it's a secret that Red-Eyes Dark Dragoon is one of the scariest cards to deal with right now, and Dark Magician decks can take full advantage of it… if you have the cards to do so.
It might be a controversial choice, but this deck is one of the best places for Red-Eyes Dark Dragoon to shine. Most strategies that want to run it bank on Predaplant Verte Anaconda ability to mimic Red-Eyes Fusion, sticking you with three cards in your deck that you don't want to actually play: a Dark Magician, a Red-Eyes Fusion, and a Red-Eyes Black Dragon.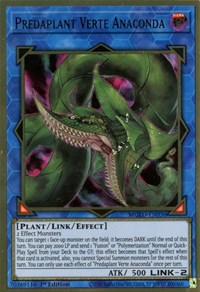 Dark Magician baked into the cake on this one, and that means hard drawing Red-Eyes Fusion isn't a bad thing. You'll just activate it, putting a Dark Magician into the graveyard where you want it anyway for plays later on. The only "bad" card is Red-Eyes Black Dragon, and avoiding one card is easier than avoiding three. The math doesn't lie on this one: it's a match made in heaven.
I considered running Keeper of Dragon Magic over Red-Eyes Black Dragon to ensure your dead draw had some use, but I found it weakened the deck overall . If I wanted another Normal Summon that fed into something cool, I'd be better off with Spellbook Magician of Prophecy, World Chalice Guardragon, or even The Black Stone of Legend; they open up interesting possibilities for deck thinning, recursion, Red-Eyes Dark Dragoon fodder, and Xyz plays.
But yeah, those ideas really take us off the beaten path. Let's just stick to Red-Eyes Black Dragon for now.
To see Red-Eyes Dark Dragoon faster, fielding multiple monsters for Predaplant Verte Anaconda or accelerating through your deck to draw Red-Eyes Fusion should be a priority. There are tons of ways to put two monsters on the field, but in keeping things as close to pure Dark Magicians as possibly, Magicians' Souls and Apprentice Illusion Magician seemed the best.
To reiterate: you want to summon Dark Magician as early as possible. You don't want it enough to play Illusion Magic, but you want Dark Magician on the field, in your hand, or in your graveyard before Turn 1 even starts. Magicians' Souls and Apprentice Illusion Magician do that, so in a vacuum they're objectively good cards here. The fact that you can summon them for free to make Predaplant Verte Anaconda is what clinches their spots in this deck. Between that, and the option hard draw Red-Eyes Fusion, Red-Eyes Dark Dragoon really consistent it here, and it helps lock in your snowballing control over the duel once it's in place.
A Spellbinding Finale?
Because this deck largely functions as a control strategy, you don't have a lot of flashy ways to end the game. Whether your swinging on an open field, or you're just shotgunning damage because time's about to be called for the round, sometimes throwing all your cards on the table is a necessary evil and you just have to hope it works out.
And no, stop asking me to play Quintet Magician, you'll never actually summon it.
Since Magicians' Souls alone takes this deck well out of budget territory, I figured we might as well go big. Having Accesscode Talker in your back pocket is great way to finish the game if you've reached down far enough, and it helps you build off the Link potential of things like Apprentice Illusion Magician and Magicians' Souls. After all, you need to follow up Predaplant Verte Anaconda somehow, right?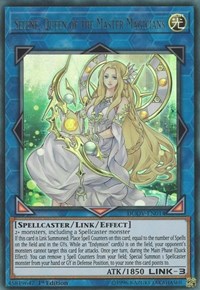 Selene, Queen of the Master Magicians fits is your segue into Accesscode Talker but since Accesscode Talker isn't always what you need, Selene's a double threat that can revive any ol' Spellcaster you see fit.
Red-Eyes Dark Dragoon, anyone?
And I know I keep circling back to Apprentice Illusion Magician, but she once again comes in clutch thanks to her secondary effect. A boost of 2000 ATK and DEF can be huge, and lets Dark Magician punch over almost anything, even an opposing buffed up Red-Eyes Dark Dragoon. If you have the cards, definitely give this deck a try - it's a blast!
Just remember: beat your opponents before they beat you.