Lightning Overdrive is upon us! And as we get closer to the full release on Friday, it's time to get ready for the Tri-Brigade takeover.
Since Phantom Rage dropped late last year, Tri-Brigade decks have been comfortably positioned as a deck you should expect to see, and that you should respect in your deck building, but it wasn't necessarily the best deck in the room. Data from the most recent Remote Duel Extravaganza shows that the Tri-Brigade deck was hugely popular, taking up 25% of the Top 16.
Now that Lightning Overdrive's here it's time to look at the NEW version of Tri-Brigade. Here in the TCG, the Tri-Brigade deck's almost caught up to the OCG version over in Japan, give or take the differences between the two Forbidden & Limited Lists. Tri-Brigade's been the deck-to-beat in the OCG for a while now, thanks to Tri-Brigade Bearbrumm the Rampant Rampager.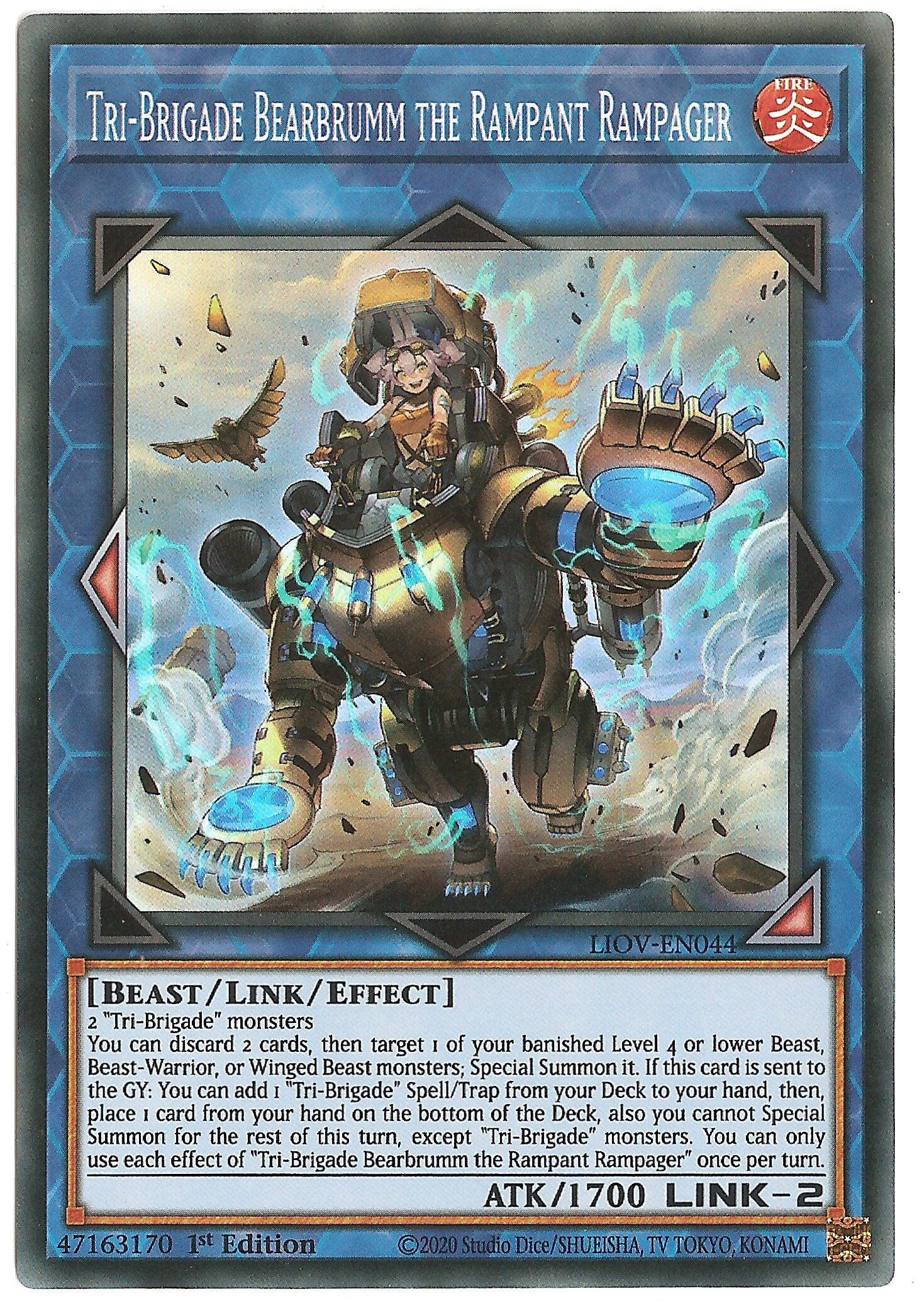 Tri-Brigade Bearbrumm the Rampant Rampager a brand-new Link 2 for the Tri-Brigade strategy with, similar to each of the other Tri-Brigade monsters, two different effects, each of which can only be used once per turn. Its first effect lets you Special Summon one of your banished Level 4 or lower "Tri-Beast" monsters at the cost of two cards in your hand. The challenge with this effect is its hefty cost: two cards from your hand is a lot, and you can't always justify in in your early turns (aside from using it to get extra material for Apollousa, Bow of the Goddess). But it can be nice to bring out a Tri-Brigade with an effect you haven't used yet!
The second effect is the one responsible for all the hype:
If this card is sent to the GY: You can add 1 "Tri-Brigade" Spell/Trap from your Deck to your hand, then, place 1 card from your hand on the bottom of the Deck, also you cannot Special Summon for the rest of this turn, except "Tri-Brigade" monsters.
Can I just start off by saying how ridiculous this effect is? It literally says "go get the best card in your deck". Tri-Brigade Bearbrumm the Rampant Rampager gives Tri-Brigade that extra push it needed, by giving the deck the ability to search out your on-theme spells and traps.Tri-Brigade Revolt a very powerful card; triggering all of your Tri-Brigade grave effects AND summoning Tri-Brigade Shuraig the Ominous Omen on your opponent's turn makes everything a little better. For you, I mean. Not your opponent.
It makes things much, much worse for your opponent.
We've had an idea of how to build the Tri-Brigade Zoodiac deck for a while now, but how does it look with Lightning Overdrive? Here's a list I've been working with that I feel comfortable with:
Yu-Gi-Oh! TCG Deck - Anthony's LIOV Tri-Brigade Deck by Anthony Tachella
'Anthony's LIOV Tri-Brigade Deck' - constructed deck list and prices for the Yu-Gi-Oh! Trading Card Game from TCGplayer Infinite!
Created By: Anthony Tachella
Event:
Rank:
Advanced
Market Price: $605.89
Cards
This is a pretty straightforward, pretty standard list to start with. Unfortunately, Tri-Brigade isn't one of those decks that fits our criteria for a "budget" strategy, since you need three copies of Tri-Brigade Fraktall and it's currently sitting at $25. Three copies of it brings the deck to a minimum of $75, plus two copies of Tri-Brigade Shuraig the Ominous Omen breaks that $100 price ceiling that we try to avoid making budget decks.
The rest of the Extra Deck is a whole other story too, thanks to Accesscode Talker and Divine Arsenal AA-ZEUS - Sky Thunder. It's hard to find wallet-friendly alternatives for those cards.
How To Play It
The great thing about the Tri-Brigade Zoodiac deck is that it's pretty easy to understand. Typically, to make your typical go-to board on Turn 1, you'll need either Fire Formation - Tenki or Zoodiac Ratpier plus any two Tri-Brigade monsters.
Your board should now be Zoodiac Chakanine, Zoodiac Drident, and Zoodiac Tigermortar. If you were playing Pure Zoodiac you'd make Infinitrack Fortress Megaclops right here. But since you're playing Tri-Brigade you're going to take Zoodiac Chakanine and Zoodiac Tigermortar and make Tri-Brigade Ferrijit the Barren Blossom instead.
This makes your board a minimum of: Apollousa, Bow of the Goddess with 2400 ATK, Ancient Warriors Oath - Double Dragon Lords, and Tri-Brigade Revolt. That gives you five points of interaction with your opponent. FIVE. Not to mention cards like Solemn Strike or Ice Dragon's Prison which you might have for further follow-ups.
That's a very powerful Turn 1 board. The fact that Tri-Brigade Revolt now so searchable is what makes Tri-Brigade so good. Again, that was just a barebones combo. Obviously you won't always have the perfect hand, and your opponent might have interruptions to try and stop your plays. Speaking of which…
How To Stop Tri-Brigade
There's a decent number of cards that that are popular in competition right now, that happen to counter Tri-Brigade. That said, there are some counters that are more likely to see play in the coming weeks.
Ghost Belle & Haunted Mansion is a wonderful card that Hanko discussed in depth last week. This card works wonders against Tri-Brigade since it stops Tri-Brigade Revolt. That means the Tri-Brigade player won't be able to recoup the resources they spent making their board, and might have to play a bit of catch-up on tempo. The great thing about Ghost Belle & Haunted Mansion is that it already has plenty of applications against other decks as well.
Fantastical Dragon Phantazmay a great card to play for the Tri-Brigade matchup, since it's good against Dragon Link as well. There should almost always be a point in a Tri-Brigade player's turn where they summon a Link Monster, while they already control one, so your Fantastical Dragon Phantazmay will almost always let you cycle through three or more cards.
Ghost Belle & Haunted Mansion
Based on the combo I explained above, the best time to drop Fantastical Dragon Phantazmay on your opponent is after they Special Summon Ancient Warriors Oath - Double Dragon Lords in the arrow the Nibiru, the Primal Being and gives you a monster that's strong enough to crash with their 3-material Apollousa, Bow of the Goddess or force the banish from their Tri-Brigade Shuraig the Ominous Omen.
Artifact Lancea interesting because there are moments where it can almost end the Tri-Brigade player's turn, and at the same time there are moments where it does nothing. Depending on the hand, Tri-Brigade can still combo through an Artifact Lancea, they just won't get to cheat out any of their Tri-Beast Links. It does make their end board a little less optimal, but sometimes that is all you need.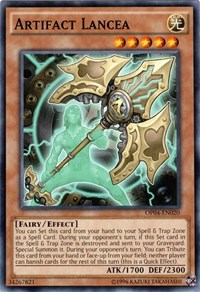 I don't think I need to explain how good Nibiru, the Primal Being is in the matchup, just be careful! In the early game, Tri-Brigade decks have a hard time playing around Nibiru, the Primal Being while setting up their board; as you get later into the game it actually gets easier and easier to play around. If you can, the best time to Nibiru, the Primal Being is before Tri-Brigade Bearbrumm the Rampant Rampager hits the board, that way they can' search out their Tri-Brigade Revolt.
You should start siding Red Reboot if you don't already. I know many players have started to cut it in favor extra copies of other power cards, but it's still one of those cards that if you can resolve it when you go for game, you're gonna win.
As proven in the OCG, as well as at the Extravaganza last weekend, the Tri-Brigade deck is very powerful. Lightning Overdrive's only going to make it better, but hopefully with this you can have an idea of what to expect when you sign up for your next tournament. If it's your first time playing against Tri-Brigade, take your and make sure you understand how your opponent is piloting the deck; try and get a read on how much of a follow up they might have, before you make your attempt to interrupt them.
That's it for now! If you have any more questions on the Tri-Brigade deck, feel free to send me a message on Twitter or Facebook and I'll be sure to respond! I'm always happy to talk deck theory.