After months of waiting, the new Pokémon TCG set is finally here! Sword & Shield—Chilling Reign releases on June 18th and introduces new cards based on the Sword & Shield DLC, The Crown Tundra.
Chilling Reign builds on the mechanics introduced in Battle Styles with new trainers, items, and (most importantly) new Pokémon that improve the Rapid Strike and Single Strike playstyles. In addition to new powerful cards for players, there are a lot of shiny alternative-art and high rarity cards to keep collectors opening this set for quite a while. Let's take a look at what Chilling Reign has to offer and how you can get the most out of your time in the Tundra!
Unsealing the Sealed Product
Opening booster packs is the most exciting thing you can do in the trading card game hobby, but it usually carries the question of, "can I make my money back on this?" Today we'll cover all the new products for Chilling Reign so you can spend less time worrying about your budget and more time collecting cool, rare cards!
$150 for 36 packs = $4.17 per pack.
The full booster box is the easiest way to fill your home with Chilling Reign cards and plastic wrapping. At the time of writing, these booster boxes are sitting around a price point of $150 per box, which is only a few dollars higher than the MSRP of buying 36 packs at your local big box retailer. If you have the money and don't want to just pick up singles, the booster box is the best way to kickstart your Chilling Reign collection!
$50 for 10 packs = $5.00 per pack.
Like the Elite Trainer Bundles from Battle Styles, there are two different ETBs to choose from this time. The only difference between these two products is the color scheme (purple or light blue) and the artwork of Ice Rider Calyrex or Shadow Rider Calyrex on the side of the box and on the included card sleeves.
During presale, these products have oscillated between the $46-$52 while the MSRP of this product is $49.99. If you're fast, you might be able to pick this up right under MSRP and get a fancy collector's box to go with your ten packs of Chilling Reign!
$50 for 4 packs = $13.75 per pack.
While the other sealed products carrying Chilling Reign have been holding around the MSRP, the Promo Boxes featuring Shadow Rider Calyrex and Ice Rider Calyrex have managed to stay a little pricier. Even though these products have a nice design and cool promotional versions of Calyrex, it is hard to justify the current price tag. If you really, really, really want the promotional versions of Calyrex, you might want to wait until the product hits shelves first.
Top Cards From Chilling Reign
Now that you've gotten your hands on some booster packs, let's start opening them and see what we are looking for!
Alternate Art Pokémon
Like Battle Styles, Chilling Reign continues the trend of alternate art versions of popular Pokémon. This time around, however, we're getting an awesome set of alternate arts including product-hover id="241768".
The alternate art cards in these sets typically hold the highest presale prices, but, as we saw with Battle Styles, will start to settle down over the next few weeks. When cracking packs this week, keep an eye on these cards as they are the ones we expect to carry the most value as time passes.
241673|| 241740|| 241703
Blaziken may be one of the most well-loved fire starters (right behind Charizard), so any high rarity version of the Pokémon will carry a high price, while Calyrex can maintain their kingly prices by being the face cards of the set.
241768|| 241747|| 241719 || 241872
The other high-end cards in this set are Galarian versions of fan favorite Pokémon from Generation 1, including the Legendary Birds in art styles rarely seen in other Pokémon cards. While the competitive scene continues to shake out as rotation gets closer and closer, expect to gain a lot more value off of cards that hold collector value instead of playability.
Full-Art Supporters
Full-art supporters are some of the most sought after cards for collectors, especially when they have artwork this cool! Chilling Reign brings 25 new full art or secret rare versions of trainers found in this set, and even though secret rares are typically worth less, opening these can help you make your money back on the boosters you bought. To get the most value out of your packs, these are the ones you want to find:
241845|| 241833|| 241821 || 241842
As a type-agnostic version of Nessa (swsh4-157), product-hover id="241844" is an improvement for decks looking to reuse specific Pokémon from their discard pile or those that need ways to pull extra energy back to hand to pay the costs of attacks (like a certain legendary Dragon Pokémon making his way to the game in the near future). product-hover id="241832" and product-hover id="241841" can both fit into Single Strike strategies as those decks continue to improve their game plan with new cards.
Unlike the others, product-hover id="241820" is... okay at best in game, but this new full-art version of a fan favorite character can find a home in any collector's binder.
Gold Secret Rares
The last type of card to be on the lookout for are the secret rare "gold" cards that include Items, Pokémon that don't have a rule box, and basic energy cards.
241879|| 241878|| 241880
While the items and Pokémon may vary in price depending on their value in the game, the Gold Basic Energy cards are sure to hold their value for players and collectors alike! During presale, these gold basics are worth around $40 each and have a high chance of being this set's best-selling cards once released.
product-hover id="241875" has shown up in plenty of decks since it was released as a way to refill your hand on setup turns, and will continue to do so even after Standard rotation later this year. For players looking to play the highest rarity version of their deck, picking up the Gold Snorlax is a one-time investment that makes your deck cooler than any others at an event.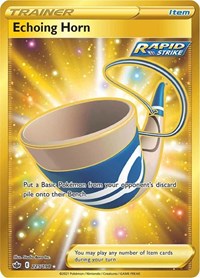 Though it hasn't had a time to shine just yet, product-hover id="241828" could be an incredible tempo piece for decks trying to throw off their opponents or sneak out extra prizes by repeatedly knocking out the opponent's weakest Pokémon.
Chilling Reign Dollar Bets
The cards mentioned above are some of the most valuable cards in the entire set, but they aren't the only ones worth setting aside to show off in your collection or sell on the marketplace. If you are looking for cards that can help turn a booster box opening from a defeat to a victory, these are the cards to pull from your bulk that you might not have noticed on your first pass.
product-hover id="241835"
product-hover id="241851"
product-hover id="241847"
product-hover id="241725"
product-hover id="241716"
product-hover id="241710"
product-hover id="241796"
product-hover id="241803"
Though these cards won't bring in the same value as the cards above, you are going to get at least a few in your packs and they can help ease the pain of not getting an product-hover id="241768".
Chilling Reign marks the return of playing in-store and booster packs in big box stores like Target, which could bring on the hype that seemingly dissipated in the slump between releases. No matter how you enjoy the Pokémon TCG, there are plenty of cards in this set that will make you feel as happy as you were when you set out on your first Pokémon journey!
Card prices will likely shift once the cards are in the hands of players and collectors, so stay ahead of the curve with TCGplayer Infinite or follow me on Twitter where I talk about my experiences with trying to keep up with all of the popular TCGs!