With cards like Apollousa, Bow of the Goddess (Alternate Art), Red-Eyes Dark Dragoon, and Borreload Savage Dragon defending set-ups and keeping duelists from playing the game, it's harder than ever to break boards. Hand traps and new tech cards like Forbidden Droplet and Triple Tactics Talent have helped to level the playing field, but none of them are perfect solutions. Forbidden Droplet and Triple Tactics Talent aren't cheap, and hand traps sometimes help your opponent by simplifying the state of the duel.
Like Mekk-Knights, Cyber Dragon represent one of the game's few current going-second strategies. I wrote about Cyber Dragons earlier this year just after Orcust Harp Horror hit the Forbidden List – a change that made pure Cyber Dragon strategies the best variant for competitive play. Today's Cyber Dragon decks are a huge threat to established set-ups: armed with serious OTK potential, access to board-busting Extra Deck monsters like Chimeratech Megafleet Dragon and Chimeratech Overdragon, and stacked with Special Summons to outplay interruption. Oh, and it plays Machine Duplication, so that's cool.
I'm not talking about pure Cyber Dragons this week, but if you're interested I highly recommend checking out TeamSamuraiX1's list from last month. I think OTK-focused builds are still the optimal choice for competitive play, so that's the route I'd suggest if you want to win games by summoning Cyber Dragon Infinity as often as possible. That said, the Cyber Dragon engine is pretty flexible. There's room to incorporate other Machine themes while avoiding summoning restrictions from Cyber Dragon Nachster and Cyber Dragon Herz.
The actual 'core' of the Cyber Dragon deck is rather small. You can get away with playing a single copy of the original Cyber Dragon if you're not playing Machine Duplication, which immediately frees up five Main Deck slots. From there you can change a few hand traps around and drop unnecessary Cybernetic traps to shrink the engine down to around fifteen cards. That's a lot of extra room for hand traps and, potentially, an entirely separate engine that operates both independently and synergistically with the Cyber Dragon engine.
Fueling Up The Dragon Buster With Chimeratech Rampage Dragon
Originally I didn't like the idea of mixing Cyber Dragons with Machine themes that used Normal Summons. There's already a perfect Normal Summon for the Cyber Dragon strategy: Cyber Dragon Core. You'll almost never want to use your Normal Summon on anything other than Cyber Dragon Core, so cards like Machina Gearframe could easily get stuck in your hand with nowhere to go.

ABC-Dragon Buster are almost the exact opposite of what I was looking for in a hybrid build. The deck's extremely reliant on achieving a successful Normal Summon with Union Hangar on the field, but that play conflicts with Cyber Dragon Core. The two themes don't seem to mesh together – at least not at first glance.

I started warming up to the idea of playing ABC-Dragon Buster when I went looking for Light Machine monsters to send to the graveyard with Chimeratech Rampage Dragon. Fusion Summoning Chimeratech Rampage Dragon is incredibly easy these days thanks to Predaplant Verte Anaconda, so why not take full advantage of Chimeratech Rampage Dragon double Foolish Burial for Light Machines?

Cyber Dragon Herz is an ideal target for its effect, but sending two missing ABC monsters is potentially an even better play. Typically you won't summon ABC-Dragon Buster on the same turn you summon Chimeratech Rampage Dragon, so it ends up being a fantastic insurance card if you can't knock your opponent out of the game.

Yu-Gi-Oh! TCG Deck - Kelly's ABC Cyber Dragon Deck by Kelly Locke

'Kelly's ABC Cyber Dragon Deck' - constructed deck list and prices for the Yu-Gi-Oh! Trading Card Game from TCGplayer Infinite!

Created By: Kelly Locke

Event:

Rank:

Advanced

Market Price: $196.14

Cards

ABC-Dragon Buster a lot more accessible than you might think. If you can land just one copy of A-Assault Core, B-Buster Drake, or C-Crush Wyvern in your graveyard you can simply send the other two copies from the deck with Chimeratech Rampage Dragon effect. The Main Deck ABC cards are searchable with Union Hangar and they're discard fodder for Galaxy Soldier and Cyber Dragon Nachster. In a pinch you can simply Normal Summon them, pick up the extra equip with Union Hangar, and hopefully leverage B-Buster Drake effect to find the last monster you need without even having to summon Chimeratech Rampage Dragon first.

Naturally, ABC-Dragon Buster insanely powerful in a deck that's already stacked with plenty of proactive removal effects. Chimeratech Rampage Dragon and Cyber Dragon Infinity can clear the board of most threats, and Cyber Dragon Infinity doubles as excellent defense against your opponent's attempts to make a comeback.

Chimeratech Megafleet Dragon can scoop up your opponent's Link 4s and deposit them in the graveyard, but ABC-Dragon Buster offers a reactive removal that the deck's noticeably lacking. Other Cyber Dragon builds demand that the OTK is successful, while this one can stay competitive in a grind game by continuing to leverage cyclical ABC-Dragon Buster loops.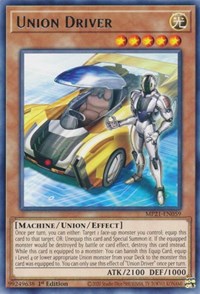 Union Cards Are Way Better In 2020
This last year introduced two new cards to the TCG that are invaluable in making ABCs competitive again. Union Driver from Eternity Code is a fairly standard Union monster with a fantastic effect that lets you trade it out for a Level 4 or lower Union from the deck. Simply equip Union Driver, activate its effect, and equip one of your ABC monsters from the deck. Union Driver on its own isn't enough to make this strategy consistent, but thanks to Structure Deck: Mechanized Madness there's a spell that's almost custom-built to work with it.
Unauthorized Reactivation equips a Union from the deck to a Machine you control, but you can't summon the monster equipped by the effect that turn. Union Driver circumvents that restriction by trading itself out for another Union, and that one can summon itself.
The Union engine here is a finely tuned machine that pairs nicely with, well, Machine monsters. Thanks to Unauthorized Reactivation you can actually commit to a Cyber Dragon Core Normal Summon without losing access to your ABC plays. Summoning C-Crush Wyvern from the deck ensures that your drawn ABC monsters don't end up as dead weight even when you're not discarding them for Galaxy Soldier. Of course, you can change gears instead and focus on summoning ABC-Dragon Buster by using Cyber Repair Plant to find another ABC monster. Cyber Dragon Core just the start, and there are many different paths you can follow if your opponent lets it resolve.
The extra field presence you're generating from the ABC monsters is useful for summoning all of the usual Cyber Dragon Extra Deck monsters: Cyber Dragon Sieger, Predaplant Verte Anaconda, and of course Union Carrier. Using Union Carrier to find another ABC monster puts you within striking range of a ABC-Dragon Buster early in your turn, and that'll quickly force your opponent to make some kind of response.
That's really the goal here: summoning cards like Rampage, Infinity, and Dragon Buster to force responses from your opponent until they no longer have any defensive options. Meanwhile, this deck can sustain itself into the late game by leveraging recovery cards like Cyber Revsystem and ABC-Dragon Buster.
Attacking your opponent's fully established set-up is the worst-case scenario for this deck. Ideally you'll be targeting a field that's already disrupted by a hand trap, or devastated by Nibiru, the Primal Being. After Game 1 you'll be using cards like Dark Ruler No More and Evenly Matched to flatten your opponent's board, then picking off the stragglers with Cyber Dragon Infinity and ABC-Dragon Buster. Hand traps are needed to try to stay in the game when angling to play second, but Nibiru, the Primal Being by far the best card you can draw in this deck. Depleting your hand is dangerous and could keep you from activating key cards like Galaxy Soldier and ABC-Dragon Buster. Nibiru, the Primal Being definitely the most economical, and the most important.
There are a lot of great synergies between these two themes that make them a surprisingly capable pairing. I honestly didn't start off testing the deck with the intention of writing about it, but it out-performed my expectations in the end. Ultimately there are more than enough Light Machines in the build to keep your card effects live, and the ability to decide between summoning a Cyber Dragon Infinity or an ABC-Dragon Buster is very powerful. The surprise synergies are a welcome bonus. Cards like Union Driver serve a second purpose as potential material for Cyber Dragon Nova, and Cyber Dragon Herz puts cards back into your hand to discard with ABC-Dragon Buster.
Give the deck a shot and you might just surprise yourself.
Until next time then