Like many Yu-Gi-Oh players right now, I really miss playing in big events like YCS tournaments and WCQs.
There was nothing better than preparing for weeks to figure out the metagame, find the right tech choices, and test my own strategy before taking it to a tournament to see if my work paid off. At this point we really don't know when it'll be safe to return to events like that, but lots of people are patiently waiting.
To my surprise, though, I miss Regional Qualifiers a lot more than I expected. I always tried to make it out to nearby Regionals but I never made it a priority in the same way as the bigger tournaments. For a lot of duelists, Regionals are the perfect introduction to competitive Yu-Gi-Oh events without the downsides of something like a YCS: they're only one day, the competition isn't as tough, and there's not as much on the line (in terms of both prizes, and travel costs). It's always been easier to play rogue decks at Regionals, too, so it can be a fun break from the higher levels of competition.

I mention all this because in today's article I'd love to share with you a new version of Paleozoic Frogs that I would've loved to have taken to a Regional. This build's merely a starting point, and maybe with some changes it would've been good enough for a YCS, but I'm thinking of it as a strong rogue contender. Phantom Rage actually brings a ton of great support to Frog duelists and the recent Forbidden & Limited List put Toadally Awesome back to two copies per deck.
Hopefully it'll be unlimited on the next one.
Big New Cards
While there weren't any name-stamped Frog or Paleozoic cards in Phantom Rage there were two cards that are bound to make a difference for any fan of the deck. I expect to see these cards played in a variety of other strategies, but they're just so useful in Paleozoic Frogs that I couldn't help but want to rebuild this fan-favorite backrow deck.
Divine Arsenal AA-ZEUS - Sky Thunder The first important new card is Divine Arsenal AA-Zeus - Sky Thunder. It's currently one of the most hyped cards in the entire set and that's for good reason: it's really, really powerful. While you could summon it using two Level 12 monsters, most people would rather bring it out with its alternative summoning condition. As long as an Xyz Monster battled this turn you can use any Xyz Monster you control to summon Divine Arsenal AA-ZEUS - Sky Thunder, and it'll keep all of the Xyz Material that the overlayed monster had.
While on the field Divine Arsenal AA-ZEUS - Sky Thunder can detach two materials as a Quick Effect to send every card on the field to the graveyard besides itself. That's a huge deal for a lot of Xyz Monster themes, but it's especially useful in Frog Paleozoics because they've historically had a difficult time dealing with established boards.
Furthermore, if a card you control is destroyed by battle or by an opponent's card effect you can attach a card from your hand, deck, or Extra Deck to Divine Arsenal AA-ZEUS - Sky Thunder. That's probably the most unexciting effect on this card, but it means that it has the potential to use the board wiping effect multiple times which is a nice benefit. You can also equip Toadally Awesome so that when you detach it you get to add back a Water monster. I wouldn't recommend equipping Toadally Awesome from your Extra Deck, but it's a cool way to get value out of one in your graveyard.
The second important new card is Warning Point, a new trap that's basically a combination between Gnomaterial and Breakthrough Skill. When your opponent summons a monster (or monsters) you get to negate its effects, prevent it from attacking, and keep it from being used a Fusion, Synchro, Xyz, or Link material. These restrictions only last for one turn, but often that'll be enough to turn the duel in your favor.

What makes Warning Point so strong is that it's valuable in almost any situation. If your opponent's playing a combo deck it'll be great to prevent a monster from being used as material while also negating its effects, but even against control decks it's just a decent effect negation trap. It's particularly crushing against cards like Crystron Halqifibrax where your opponent wants to use the effect and then use it for a Link Summon, both of which Warning Point shuts down.

Before I explain too much more, let's take a look at my deck list. At the end of the article I'll talk about some other choices you could try out in the Main and Side Deck, but for now this is what I've been working on.

Yu-Gi-Oh! TCG Deck - Doug's Paleozoic Frog Deck by Doug Zeeff

'Doug's Paleozoic Frog Deck' - constructed deck list and prices for the Yu-Gi-Oh! Trading Card Game from TCGplayer Infinite!

Created By: Doug Zeeff

Event:

Rank:

Advanced

Market Price: $353.03

Cards

The goal of many backrow decks has always been to survive. While combo decks have stronger Turn 1 boards, trap decks often have better longevity. The tricky part's surviving long enough for those resources to matter at all. This list is built to be playable going first or second without focusing too heavily on either one. In the past, when I've played decks like Altergeist and Frog Paleozoics I tended to make them in a similar way because I felt it gave me the most well-rounded deck, but depending on your metagame you might want to focus more on one or the other.

In the early stages of the game you'll want to stop your opponent's plays before they happen so that you can hopefully stick a Toadally Awesome on the board. Once Toadally Awesome summoned at a stage where you're not in a losing position the game should go your way. Toadally Awesome is still one of the most absurd Xyz Monsters ever printed in terms of sheer impact; it's just that the downside is that you must play a very specific deck to get the full use out of it.

As always, Trap Trick has ridiculous versatility in this theme. There's six different cards in the Main Deck alone that you can set from your deck, but that number grows even more when you consider potential Side Deck cards like Appointer of the Red Lotus, Heavy Storm Duster, and Waking the Dragon. You have to really watch out for Trap Trick restriction, of course, but once you play a few matches you'll see it's not too complicated to manage.
One big reason to runn Paleozoic Frogs right now is that they're one of the few decks that can play Gozen Match. Much like Rivalry of Warlords, Gozen Match is great because it not only prevents boards from being built but it also can break boards going second, too. It might not seem like it, but Gozen Match and Solemn Strike (or sometimes even just Infinite Impermanence) can catch opponents off guard and wipe their entire field.
Lots of decks are playing all sorts of Attributes in their Main Deck, but the real power in Gozen Match is the variety of attributes in players' Extra Decks. Most combos use all sorts of attributes, so sometimes Gozen Match can automatically win you games (especially when you back it up with Toadally Awesome).
Adaptation
Like I mentioned, this list is supposed to be a starting point that you can change depending on your expected metagame. One shortcoming that you can address if you want to, is that the Main Deck doesn't have a ton of great ways of outing Red-Eyes Dark Dragoon.
It's not that I don't think Red-Eyes Dark Dragoon isn't worth dealing with, but rather a few things have to go wrong for it to hit the field. If you go first then Predaplant Verte Anaconda is almost never resolving because of your negation effects, so they'll only summon Red-Eyes Dark Dragoon if you lose the dice roll. But if you lose the dice roll and you draw Infinite Impermanence then you can hit the Predaplant Verte Anaconda anyways.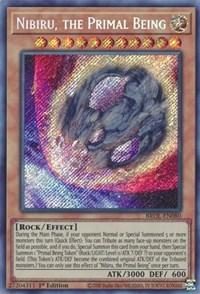 If your opponent's playing a regular combo deck that also ends on Red-Eyes Dark Dragoon, as opposed to a Red-Eyes Dark Dragoon turbo deck, then Nibiru, the Primal Being might work, too. I also considered swapping out Ash Blossom & Joyous Spring for Effect Veiler so you might want to try that out if you're struggling against Red-Eyes Dark Dragoon.
I don't think I'd Main Deck it, but I'm absolutely Side Decking three copies of Gameciel, the Sea Turtle Kaiju. Not only is it great at dealing with Red-Eyes Dark Dragoon going second, it's also a Water monster that you can discard for Swap Frog or add back with Toadally Awesome. At one point I did have Gameciel, the Sea Turtle Kaiju in my Main Deck instead of Ash Blossom & Joyous Spring but overall I think Ash Blossom & Joyous Spring a bit more versatile in Game 1 against a wider variety of matchups.
If you find yourself wanting draw power then Pot of Desires is a decent choice. It's seen play in Paleozoic Frogs for years and you could included it if you want to see more cards to get you out of the early game. The recently revealed Pot of Disparity's going to be fantastic in this deck once Blazing Vortex is released, but for now we're kind of stuck with Pot of Desires or Upstart Goblin. Card of Demise was popular in the past but now that it's Limited I believe it's too inconsistent to warrant a spot in the deck.
Paleozoic Marrella another popular choice that I excluded from this version. I think that right now, you really need every card you have to be live against your opponent's plays, so that's why I cut it from my list, but it's certainly not a crazy card to include. It's particularly useful to set with Trap Trick in your opponent's End Phase if they didn't do anything threatening enough on their turn. If the format slows down a bit then I'd highly consider playing Paleozoic Marrella but right now I'm not convinced.
Gizmek Uka, the Festive Fox of Fecundity and Barrier Statue of the Torrent should be in any Paleozoic Frog Side Deck. The idea is that you use Gizmek Uka, the Festive Fox of Fecundity when your opponent resolves Crystron Halqifibrax, targeting the Crystron Halqifibrax to summon Barrier Statue of the Torrent from your deck.
We've seen that play in plenty of decks before, but there's no excuse not to run it in a deck that already uses Water monsters. Barrier Statue of the Torrent honestly worth it even when you're going first after Side Decking, because you can use Paleozoic Canadia or Warning Point on your opponent's Normal Summon to stop them from attacking over it.
While Paleozoic Frogs might not be as flashy as some of the other decks in competition right now, I believe that Phantom Rage gives them a noticeable boost in power. If Toadally Awesome goes to three copies on the next F&L List then Frogs might be a notable rogue deck once again, after not seeing play for a couple of formats. A lot of players are heavily focused on anti-combo right now, so a backrow based deck can steal a few wins against unprepared opponents.
It's also great that you have a theme-stamped card like Toadally Awesome to stop a Turn 1 Lightning Storm, unlike Altergeists which have to draw unsearchable cards like Solemn Judgment and Appointer of the Red Lotus. I never thought I'd go back to Frogs after switching to Altergeists a few years ago, but Phantom Rage might be enough to change my mind.