A while ago in my Phantom Rage spotlight article, I threatened everyone - in a nice way - that Melffys and I were going to stomp on everyone. Was I kidding? Not really. I wrote about Melffys back in August, and I stand by my opinion that as a budget deck, it really punched way above its weight.
But times have changed. And I'm sorry, Melffy Rabby. I love you, but I'd like to win now. Today we're not just going up a weight class.
Now that Phantom Rage has arrived I think Melffys can do more than just dunk on an unsuspecting opponent. I think this deck can really contend with top strategies in a significant way. Is it the new Tier 0 powerhouse? Uhh, well… Tier 0 in cuteness, maybe?
It's fifty-fifty. The Melffys are definitely Tier 0 in cuteness, sure, and Alpha, the Master of Beasts is the Tier 0 of… surprisingly-impressive-boss-monsters-we-can-shove-in-this-deck? Follow that up with two more new Xyz, and you have yourself a genuinely great strategy.
Do The Melffy Shuffle
In terms of mechanics, "returning itself to the hand" then "Special Summoning itself during your End Phase" would not have been card effects I'd expect a theme to get. Ever.
*throws confetti*
In an age where people would call a deck "bad" if it didn't have 19 first turn negates with a 100% success ratio, you'll need a bit of patience and you'll need to know that not every hand turns into larger than life combos. Your End Phase is your friend with this deck, and your setup might appear more passive than others, but it's still good.
In terms of consistency, you'll want to see and summon your best cards as soon as possible: that's Melffy Catty and Melffy Puppy. All the Melffy monsters (sans Melffy Rabby) bounce to your hand and trigger an effect when your opponent summons or attacks, but those two are the best of the bunch. Adding Beasts to your hand and summoning baby Beasts respectively, are a huge boost to your card economy and your defense.
When you're going first, being able to make the Rank 2 monster Melffy of the Forest is monumentally important; it sets you up to rake in card economy while stunning your opponent into submission, keeping them under control. You'll generally look to Normal Summon Rescue Cat, bring out two Beasts to make Melffy of the Forest, and search Melffy Puppy. Bring it out in your End Phase.
With Melffy Puppy on the field, its effect will trigger when your opponent summons a monster. Use Melffy Puppy effect to summon Kalantosa, Mystical Beast of the Forest. Melffy of the Forest will target a monster, negate its effects, and stop it from attacking, and Kalantosa, Mystical Beast of the Forest will pop a card. Not bad!
*throws second handful of confetti*
I know that's a short-and-sweet simplification of the deck's goal, but the main Melffy plans revolve around small, targeted surprises you spring on your opponent. You aren't going to run them over with a steamroller, but if you can throw a tiny wrench in your opponent's combo machine - or several wrenches at once - you can often shut the entire thing down, without relying on huge obvious power moves.
It's a lot like boxing or other fighting styles; overwhelming your opponent with grandiose attacks might seem like the best solution, but a well-aimed and well-timed counter can be good enough to win the duel.
When I said everything else was an extension of that for your Melffy plays, I really mean your Melffy and Beast plays. Melffy Catty and Melffy Puppy also summon Kalantosa, Mystical Beast of the Forest, Hop Ear Squadron, and Yokotuner to pop cards or make important Synchros at the right time, depending on what your situation calls for.
That's why I'm a huge advocate for Rescue Cat, Obedience Schooled, and Nimble Beaver. If you can quickly field the right Melffys as soon as possible, then those well-timed daggers your tossing will be lethal for your opponent.
Win enough battles and you win the war, ya know?
Be A Good Pet Owner: Keep The Hand Traps
Hand traps aren't for every deck, but they're absolutely necessary for Melffys. The stratey won't crumble without them, but gameplay-wise there's not good reason to skimp on PSY-Framegear Gamma, Effect Veiler, Ash Blossom & Joyous Spring, and Infinite Impermanence.
…Or like, I don't know, D.D. Crow or Ghost Ogre & Snow Rabbit. The shape of the competitive landscape in the wake of Phantom Rage and Maximum Gold is still to be determined, so if you're feeling a different hand trap for your metagames, go for it. I won't fight you on that - just make sure you're running some hand traps. My build wound up looking like this.
Yu-Gi-Oh! TCG Deck - Loukas' New Melffy Deck by Loukas Peterson
'Loukas' New Melffy Deck' - constructed deck list and prices for the Yu-Gi-Oh! Trading Card Game from TCGplayer Infinite!
Created By: Loukas Peterson
Event:
Rank:
Advanced
Market Price: $251.97
Cards
No hate on the Melffys, but I'd be delusional if I didn't admit that tiny lil' Beasts weren't exactly strong enough to win tournaments on their own. Some Melffys like Melffy Fenny and Melffy Pony are really good, but you don't want to draw them in multiples. The previous one-two punch with Melffy of the Forest and Melffy Puppy is great, but it's better when you're backing it up with Effect Veiler, not Melffy Rabby.
My point is, with so many small monsters, you have to be really careful about what nuances you add to the strategy. I'm all for hamfisting in as many crazy ideas as possible, but it's a tight fit and if you want to win games, you have to make sure your tech choices are, at their core, reasonable. Yes to Yokotuner to make Naturia Beast, no to The Fabled Cerburrel for The Fabled Unicore. Yes, Loukas Peterson just said "no" to Fabled cards. 2020 might be the end of the world after all.
That same philosophy goes for the "other" Melffy cards, too. Melffy Playhouse? No real room for it, since it's redundant with the aforementioned Melffy combo. Melffy Tag actually really great, but it's more of a win-more card than you can really afford.
Without beating around the bush, I'd rather add cards that work on their own rather than "more" Melffy cards, namely, Danger! Bigfoot! You won't always get to go first, so Danger! Bigfoot! and Alpha, the Master of Beasts are hugely helpful. You need a certain percentage of cards that can stand on their own; Danger! Bigfoot! a good supplemental card to simplify the game and thin your deck, and Alpha, the Master of Beasts a dominating force that's searchable with Melffy Catty.
Once again, I'm apologizing to Melffy Rabby. I love you, but, come, on, it's Alpha, the Master of Beasts.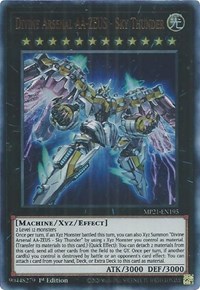 Be Strong - Be Strong For Mother
It rubs me the wrong way when newer cards in a theme make older cards instantly obsolete, but that's exactly what happened with Joyous Melffys from Phantom Rage, overtaking Melffy Mommy. They aren't total copies of each other, but they both exist to make attacking and surviving a possibility against bigger threats.
Why is that so important? If you paid attention to my Phantom Rage article last week, there's this little card called Divine Arsenal AA-ZEUS - Sky Thunder that's basically an Evenly Matched if an Xyz Monster's battled this turn.
Joyous Melffys is just that. You detach an Xyz Material, attack for 2000, then clear the board when you make Divine Arsenal AA-ZEUS - Sky Thunder. Normally I'd only run a single copy of each card for that ace in the hole type play, but… let's up it to two each.
If you think that's overkill, let it be known I didn't make it to Top Cut of YCS Minneapolis in 2016 because my opponent, in his infinite wisdom, had three copies of Number 80: Rhapsody in Berserk in his Extra Deck. I still carry the scars.
With Divine Arsenal AA-ZEUS - Sky Thunder being so pivotal in a duel, I feel like resolving two of them is closer to an instant win button than it is overkill. But what do I know? All I'm good for is losing to triple Number 80: Rhapsody in Berserk, so maybe I'm the dumb one.
It still hurts.
So… Hand Traps + Cats + Sky Thunder…?
Well, yeah, that's a fair criticism of the deck, sue me. I'm not going to try and sell Melffys as a combo-heavy deck like Adamancipator, but it's a solid strategy that does a few things, and does them really well. You can dig yourself out of some surprisingly tough situations, while Melffy Hide-and-Seek and the second Divine Arsenal AA-ZEUS - Sky Thunder help you go the distance in longer games.
Sometimes decks don't need to be flashy to be good. You have a starting combo, legitimate ways to break boards, and a bevy of hand traps for your opponent to struggle through. But if you need to Special Summon 318 times per turn to feel like a deck's playable, I'll concede that Melffys aren't your Number 1 pick.
More for me, as I say.
In terms of customization, I'm ironically circling back to Melffy Rabby. I know I've verbally beaten up that cutie this entire article, but don't underestimate the power of a Normal Monster with 0 ATK. Let's just say that you can go a little crazy with Unexpected Dai, Box of Friends, Rescue Rabbit, and the new Metalfoes cards.
Not saying I'm advocating for that, but I am saying you could go out and make Melffy Rabby proud.
Just remember: beat your opponents before they beat you.
-Loukas Peterson