It's for the best that they banned Agent of Treachery last week. This is our M21 preview card:
transmogrify
Here's what I had written about Transmogrify before last Monday:
* * *
It would be pretty bonkers if they reprinted Polymorph in Core Set 2021.
Here is the best deck in Standard:
Magic: The Gathering TCG Deck - Jeskai Lukka (Yorion) by Matteo Falconetti
'Jeskai Lukka (Yorion)' - constructed deck list and prices for the Magic: The Gathering Trading Card Game from TCGplayer Infinite!
Created By: Matteo Falconetti
Event: Red Bull Untapped International Qualifier - 5/16/20
Rank: 1st
Standard
Market Price: $396.98
Cards
Here is how the best deck in Standard works right now:
From there, Agent of Treachery can be blinked with yorion, sky nomad or bounced with teferi, time raveler to rebuy its enters-the-battlefield trigger. If all of this sounds very mana-intensive to you, you'd be right, but Fires of Invention mitigates that by allowing the deck to circumvent paying mana for stuff; the hypothetical line of play of "cast Agent of Treachery, bounce it with teferi, time raveler, cast Agent of Treachery again" goes from a 14-mana play to a zero-mana one thanks to Fires of Invention.
It's highly relevant that lukka, coppercoat outcast costs five mana. If Polymorph were legal, Standard could have its own straight-up Splinter Twin back again:
You don't even need Fires of Invention to make that work, but it's important to note that Fires of Invention and Polymorph have the same converted mana cost and can be cast on the same turn in succession.
So yeah! It would be nuts to put Polymorph back in Standard.
Never fear. They are not reprinting Polymorph.
transmogrify
Ah, right.
* * *
Some behind-the-scenes insight at how these preview card thingies typically go: Blake Rasmussen hits my inbox with a Magic card that I've never seen before. Then I set up a dartboard with pictures of all of TCGplayer's Magic columnists taped to it, put on a blindfold, and huck a dart. If the dart lands on you, congratulations! You have just been selected to write 1,400 words about Lupine Prototype.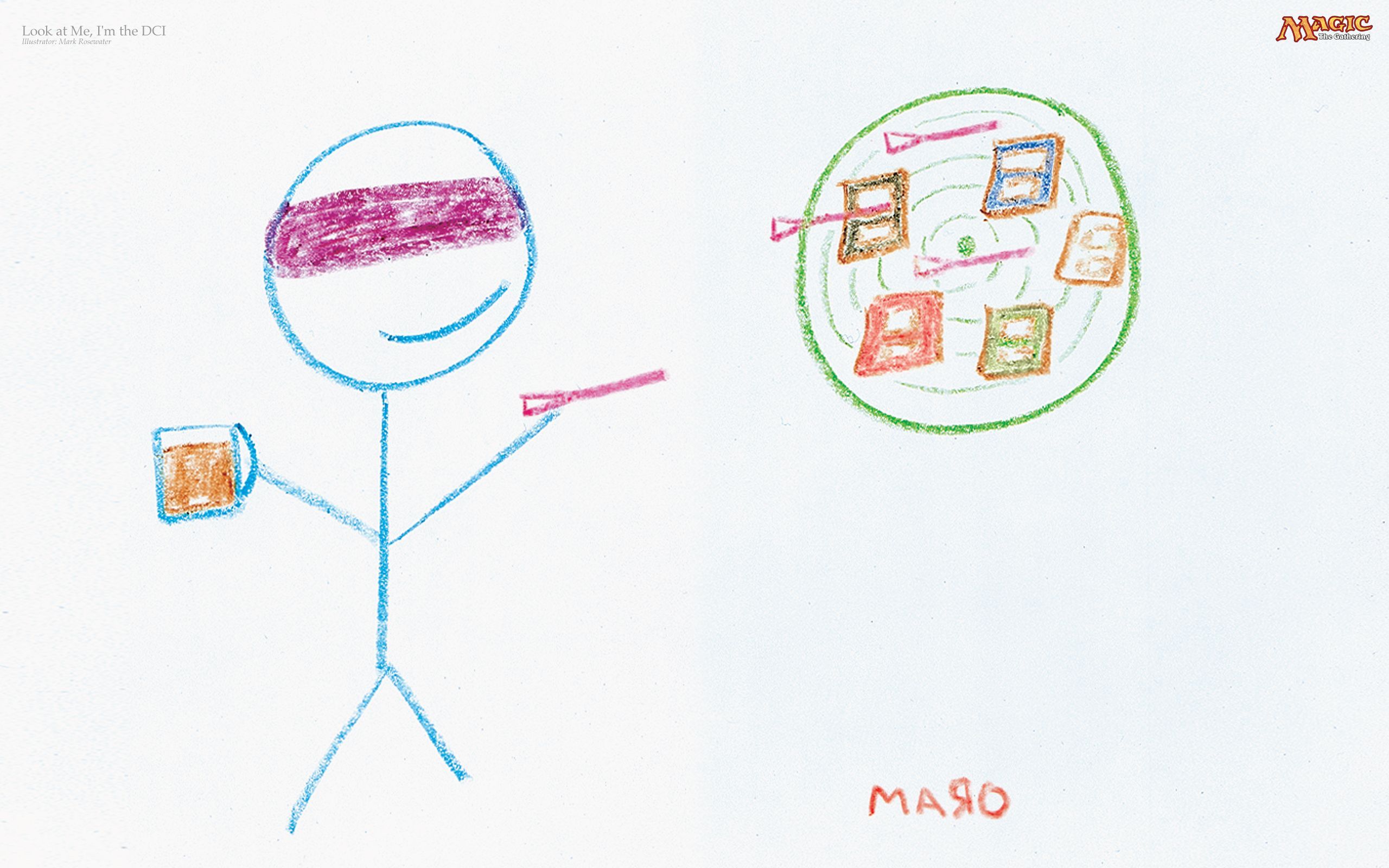 In six years at TCGplayer I've only ever dibsed one card (it was josu vess, lich knight, for reasons that are still unclear to me), but Transmogrify flew into my inbox at a time when I just so happen to be more curious about the impact on gameplay of "free" Polymorph effects like Lukka, Coppercoat Outcast than ever before in my life. I don't know how it happened but somehow, at one point in time, the best deck in Standard was 80 cards, Polymorphed for a 2/3 that Confiscates, and somehow doesn't sacrifice any power to do so. It could be worth mentioning that it required a couple bans to get there, but the real answer, as Nick Prince touched on last month, is that it's complicated.
Of course, the one time I call dibs on a card something else gets banned in Standard and the whole thing blows up. C'est la vie (French translation: it's the vie). Sometimes you have to beg Blake for an extension on the preview card embargo. Sometimes it works out.
If you're ever curious about a card's casual appeal—about whether or not it's the type of card that could ever catch fire and arbitrarily quadruple in price on an idle Tuesday—its YouTube search results are a fine litmus test.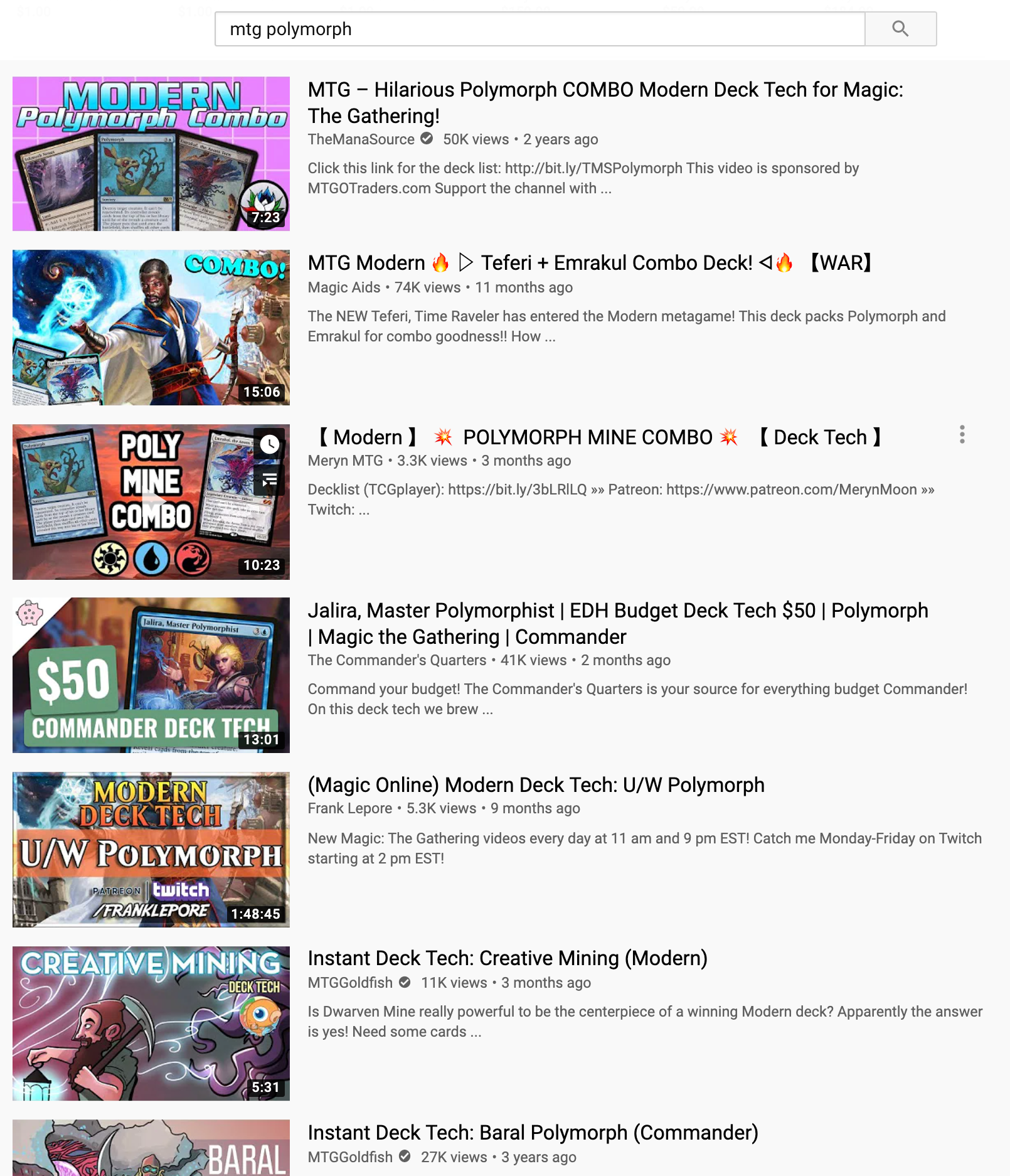 Magic—and by extension, cards like Polymorph—sculpt epiphanies. The realization that you can stick just one creature in your deck and feed things like Faerie Conclave or Mishra's Factory to a Polymorph to get it for four mana? That realization hits hard. Also worth noting is that the top three thumbnails also feature Emrakul, the Aeons Torn (the most common phone call for LGS employees: "do you uhhh have any Eldrazi"), because 15/15, flying, trample, protection from instants, and Annihilator 6 are pretty darn cool, especially for four mana.
Cards like Polymorph are difficult to design. One of the many sliding scales available to measure cards on is how clever they make you feel. I have provided a visual reference: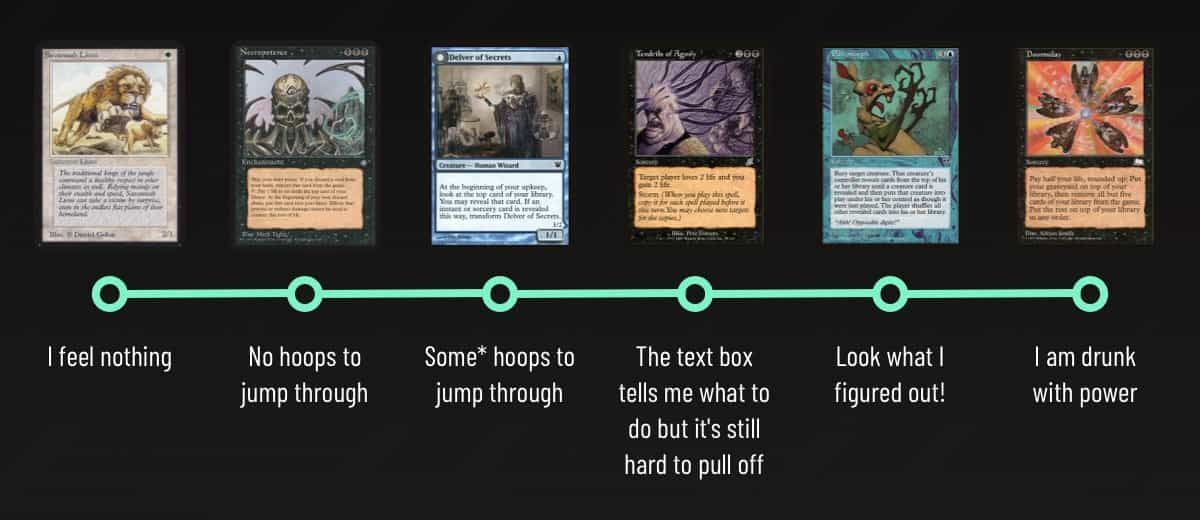 Cards like this are touchy. Make it too overt and you've got Fires of Invention. Hide it beneath too many layers of nonsense and you're likely to come up with the next Chains of Mephistopheles (to date, my only experience with Chains of Mephistopheles is from GP New Jersey 2014, where my opponent cast an Italian copy and with it on the stack called a judge to ask for its Oracle text). Make the text box too obvious and before you know it you've built the next link in a long, long, long chain of fan service Doubling Season clones. There are fine lines everywhere.
M21 looks pretty cool so far. I don't usually get excited during preview seasons, but M21 has a lot of cool reprints going for it, along with some other funny things of note. Sparkhunter Masticore, as naked a Teferi, Time Raveler hoser as there ever could be, promises to be the Great Sable Stag of 2020 that couldn't do a single thing to stop the reign of Faeries, a deck roughly 20 times as old as this website. Teferi, Master of Time reintroduces phasing, of all things, an overly unintuitive mechanic that Mark Rosewater admitted is in retrial because the way design has attempted to make creatures as good as spells was to make them spells too (which by the way is the reason that a card as flat-out bonkers as Elder Gargaroth has a great shot at being just plain terrible). Red Polymorph will fit in amongst this motley crew nicely as a card that actually plays better than it reads, not worse.