For the last couple of weeks I've been focusing on the Create-A-Card Project: an incredible opportunity for players to choose their favorite of sixteen themes, the winning theme receiving a new card.
Tensions have run high as duelists advocate for the themes they believe most deserve that support, and it was inevitable that some portion of the player base would try to rig the results in their favor. The TCG decided to restart the voting over the weekend after investigating the results of the first two match-ups , and voting will resume tomorrow with Graydles once again squaring off against The Weather.
If you've been following along you probably already know my opinion on the first match-up in the Project, but what about the second? Between Inzektors and Valkyries, which deck is more likely to win, and which one would benefit most from a single new card?
The Destructive Nostalgia Of Inzektors
Inzektors debuted all the way back in 2012, making them one of the oldest themes in the Create-A-Card Project. They were heavyweights at a time when Wind-Ups were forcing players to discard their entire hands, and Rescue Rabbit Xyz strategies were among the best decks in the game. Inzektors cleaved through the competition with the impressive removal effect of Inzektor Hornet and the summoning power of Inzektor Dragonfly. Both cards spent years on the Forbidden & Limited List before recently returning to Unlimited, but in the end the deck couldn't compete against modern strategies.
The Inzektor deck of 2020 is better in every way compared to its 2012 counterpart. Inzektor Picofalena isn't perfect, but it can fix some of your dead hands, equip Inzektor Hornet from the deck, and it can even recycle important cards like Inzektor Centipede and Inzektor Dragonfly. The newly-released Number 3: Cicada King's a reasonable negation body if you're playing first, although your best Extra Deck options become available after resolving Inzektor Ladybug. The access to Rank 3, Rank 4 and Rank 5 Xyz is a major selling point for Inzektors, and Inzektor Dragonfly also makes Link Summoning incredibly easy.
Inzektors had two playstyles in 2012, but only one of them is viable given the current state of the game. The 'war of attrition' strategy died out with the advent of near-infinite card economy post- Duelist Alliance, which leaves Inzektors no choice but to pursue an OTK. It's fairly straightforward: simply blast your opponent's field with Inzektor Hornet and use Number 39: Utopia Double or Accesscode Talker to secure the win.
Yu-Gi-Oh! TCG Deck - Kelly's Inzektor Deck by Kelly Locke
'Kelly's Inzektor Deck' - constructed deck list and prices for the Yu-Gi-Oh! Trading Card Game from TCGplayer Infinite!
Created By: Kelly Locke
Event:
Rank:
Advanced
Market Price: $92.04
Cards
Look familiar? This deck is a modified version of the Giant Ballpark build I wrote about last month with Kaijus traded out for Inzektors. There are lots of interesting synergies between Inzektors and Normal Insect support, but ultimately the plan here is to just use the extra bodies to Link Summon Inzektor Picofalena as early as possible.
Gokipole and Resonance Insect are a little limited in what they can search out of the Inzektor theme, so they're mostly here to find fodder for Xyz and Link Summons. Giant Ballpark is a bit more interesting. You can use its effect to send an Inzektor from the deck to the graveyard to set up your combos, or simply deter your opponent from attacking. The latter is actually a key part of older Inzektor strategies – stopping your opponent from making attacks is crucial for keeping your Inzektor Centipede or Inzektor Dragonfly on the board.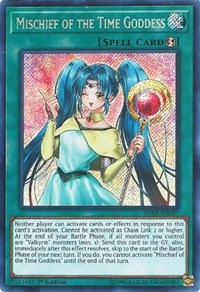 Divining The Potential Of Valkyries
Valkyries are surprisingly new: they just passed their two-year anniversary this week and received support as recently as Toon Chaos. Normally it'd be hard to make an argument for such a new theme, but Valkyries are in a particularly bad place. The deck has a lot of pieces that should lead up to a set of excellent boss monsters, and yet the theme's somehow missing those monsters entirely. The two strongest Valkyries are definitely worth playing, but they're not win conditions. A lack of Main Deck win conditions would be fine if Valkyries had consistent access to Extra Deck monsters – which of course they don't – or at least enough OTK potential to try to close out duels quickly.
Mischief of the Time Goddess is an insane going-second card that gives you a second Battle Phase if you control only Valkyrie monsters, and it really sells the idea that Valkyries are an OTK strategy. Ride of the Valkyries also positions the deck for an OTK, letting you summon up to three Valkyries from your hand but returning them to the deck during the End Phase. These cards are wild, but unfortunately it's hard to put them to use effectively. There's a missing piece of the puzzle here – and it's probably a Link monster – that needs to be added to the deck before it can realize its OTK potential.
It's impossible to discuss a future Valkyrie deck without mentioning Diviner of the Heralds. We don't know exactly when this card is coming to the TCG, but I'd expect it to show up before the Create-A-Card Project winner is printed. Diviner gives the deck an actual Turn 1 combo that ends in a respectable lockdown with Imperial Order and True King of All Calamities, and allows for builds like the following. Replace the three missing cards with three copies of Diviner.
Yu-Gi-Oh! TCG Deck - Kelly's Valkyrie Deck by Kelly Locke
'Kelly's Valkyrie Deck' - constructed deck list and prices for the Yu-Gi-Oh! Trading Card Game from TCGplayer Infinite!
Created By: Kelly Locke
Event:
Rank:
Advanced
Market Price: $114.70
Cards
I really like Valhalla, Hall of the Fallen here to trigger the effect of Valkyrie Sechste as soon as possible, and luckily Diviner of the Heralds also benefits from being Special Summoned. There are lots of Normal Summons in this build, so Valhalla, Hall of the Fallen ends up being an important card to help you outplay hand traps and other interruption effects. You can try to OTK with Ride of the Valkyries and Mischief of the Time Goddess, or aim for a Turn 1 lockdown using Diviner of the Heralds and any other card in your hand. Here's what that combo looks like:
Summon Diviner and activate its effect to send Trias Hierarchia from the deck to the graveyard. Activate Trias Hierarchia by tributing Diviner to summon it from the graveyard
Activate Diviner in the graveyard to summon Valkyrie Sechste from the deck. Activate Valkyrie Sechste to summon Valkyrie Dritte. Activate Valkyrie Dritte to and add Valkyrie Sigrun from your deck to your hand.
Summon Union Carrier with Valkyrie Sechste and Valkyrie Dritte, and use its effect to equip Trias Hierarchia with Eva from the deck.
Summon Valkyrie Sigrun by sending Eva to the graveyard, then activate Valkyrie Sigrun and chain Eva's effect. Use Eva to banish two of your Fairies in the graveyard to search Valkyrie Funfte and D.D. Sprite, then resolve Sigrun to summon Valkyrie Funfte.
Activate Valkyrie Funfte to send Imperial Order from the deck to the graveyard. Banish Union Carrier with D.D. Sprite, then Link Summon Crystron Halqifibrax with Valkyrie Funfte and D.D. Sprite. Use Crystron Halqifibrax to Summon Mecha Phantom Beast O-Lion.
Link Summon Knightmare Unicorn with Crystron Halqifibrax and Mecha Phantom Beast O-Lion. Summon one Mecha Phantom Beast Token thanks to Mecha Phantom Beast O-Lion, then Link Summon Knightmare Gryphon with Knightmare Unicorn and the Token.
From there you activate Knightmare Gryphon effect to set Imperial Order to your field. Xyz Summon True King of All Calamities with Valkyrie Sigrun and Trias Hierarchia. Not bad.
So Which Deck Is Winning This Thing?
I think Giant Ballpark Inzektors might actually be more playable today, but with Diviner of the Heralds Valkyries would finally have some meaningful Turn 1 plays that could make them a bigger threat. Both decks need different things: Inzektors could use a new monster that helps them find Inzektor Dragonfly or Inzektor Centipede – think Madolche Anjelly – while Valkyries are in desperate need of a solid Link 2.
That said, I think Inzektors have the most to gain from a new support card. The deck's foundation is a lot stronger thanks to some of the best card interactions in the game, and Hornet remains a robust removal card that can still put in work against backrow.
Of course, Inzektors have already had their time in the spotlight, and I don't know if everyone's on board with bringing that strategy back into competition. I've said before that players should probably be a little more cautious about excitedly throwing their support behind new releases that accelerate power creep, but it's just wishful thinking on my part. A refreshed Inzektor theme that can dismantle boards while turning a single card into four or five more could be oppressive, but honestly I doubt it. I don't think either theme will suddenly become a serious pick for major tournament play with just one new card at their disposal.
Ultimately Inzektors probably have the best shot at winning the second round of voting thanks to nostalgia and popularity. The theme has a reputation as a former deck to beat, and it's a classic strategy from the early Xyz period where many of today's players got their start. I suspect – and this is based on no evidence at all – that Valkyries probably have less name recognition and even fewer players who can actually describe what the deck does. But recency bias favors Valkyries, and deck building communities around Valkyries are significantly larger than similar Inzektor groups. That said, Inzektors are probably still more well-known among players that are likely to vote in an upcoming poll.
Anything can happen in these matchups, and a dedicated and passionate group of advocates could carry a specific theme to victory by encouraging as many real votes as possible. This Project is anyone's game. Don't buy into the idea that the winners are already decided.
Until next time then
-Kelly