It's kind of a wild week!
On one hand, product-hover id="240558" arrives today, delivering Infinite Impermanence to the masses… if it's not sold out at your stores, at least, which looks like it might be happening. At an MSRP of $9.99, the Structure's currently going for $15+ online, suggesting that demand may just be totally overwhelming supply.
The reprint of Infinite Impermanence alone is going for around $10, as players foresee a sort of product-hover id="183523", Ash Blossom & Joyous Spring type situation. Sealed Soulburner Structures are now up to $35 a pop, and while Impermanence isn't quite Ash Blossom, it's pretty up there in the pantheon of must-own hand traps.
The fact that Cyber Strike is being printed during a time of material shortages in the print industry is sort of this looming factor in the background; while I haven't personally heard of allocation on this release, and Konami's moving to waved releases as needed to keep products in adequate supply anyways, it's not surprising to me that this thing's going for 150% of MSRP on launch day. The reality is that Konami doesn't make much money off Structure Decks, and big companies are struggling to get basic supplies like card stock due to COVID. There's no reason to fearmonger, but we all have to make of that what we will.
On the more positive side of stuff, Crossout Designator collapsed in price this week, dropping from $120+ to less than $70. Last year's marquee tin card, Red-Eyes Dark Dragoon, appears to have been a much tougher pull than Crossout Designator, so even though you need multiple copies of this card, it's currently available for about the same price as Dragoon was when it dropped last year.
I don't know if Crossout Designator going to be this cheap for long, but for now, buyers were snapping up copies all week, since the card put in a good performance at the latest Extravaganza. Crossout Designator wasn't in every deck in the Top Cut, but it's important to remember that lots of players just don't have their copies yet. I'd expect to see more Crossout Designator in upcoming tournaments.
Anyways, with the Structure Deck drop and the newfangled 2-day Extravaganza Main Event as the week's two driving forces, here are the Top 10 best-selling cards of the week, here on TCGplayer!
#10 Tri-Brigade Fraktall
The Tin of Ancient Battles reprint knocked Tri-Brigade Fraktall down to four dollars, and while Tri-Brigade didn't make the Top 4 at the Extravaganza this weekend - those spots went to Dragon Link, Drytron, @Ignister and Plunder Patroll, of all things - it's still a huge deck that took five spots in the Top 32. With prices down and rarities up, the Tri-Brigade reprints are still really popular.
#9 Virtual World Mai-Hime - Lulu
The same could be said for Virtual World, which emerged as a big front-runner in MP21 presales before cooling off in release week. Virtual World Mai-Hime - Lulu and pals only scored one spot in the Top 32 of the Extravaganza, and lost in the Top 16, but the deck's still strong and one weak tournament probably won't do much to change that.
The Prismatic Secret print of Virtual World Mai-Hime - Lulu is gorgeous - all the colorful Virtual World monsters play really nicely with the rainbow refraction of the Prismastic Secret foil - and at $4.50 a piece lots of players are making the upgrade.
#8 Piercing the Darkness
Down from Number 3 last week, Piercing the Darkness is one part nostalgia, and one part forward-looking Normal Monster support. This is likely selling off the Dark Magician and Blue-Eyes White Dragon fandom, but I'm keen to see what it can do for other themes, especially since we've had recent releases like Magikey and Suships that focus on vanillas.
#7 Ice Dragon's Prison
Back in the tournament spotlight this past weekend, Ice Dragon's Prison featured in decks like Kemal Dixon's Dogmatika Invoked and Yishan McNabb's latest spin on Gren Maju OTK. This thing used to cost as much as $40+ since Rise of the Duelist's print run was so low, but both the Prismatic Secret Rare and the original Ultra are hovering around $14 in Market Price, and that's let a lot of players experiment with it who just didn't wanna throw down $120 for a playset before.
#6 Dogmatika Fleurdelis, the Knighted
The Dogmatika were some of the biggest victims of the ROTD shortages last year, so it's no surprise that they're also some of the biggest hits from Mp21. The original print of Dogmatika Fleurdelis, the Knighted is still nearly $25, while the new Ultra Rare is like, two bucks. I don't know if this card will ever command a bigger premium, but it's probably not getting any cheaper, so picking it up now definitely makes sense.
#5 Magician's Salvation
Down from Number 1 last week, Magician's Salvation is holding at a very reasonable $2.50, but supply's starting to dry up a bit. I don't think it's going to rebound back to the prices we saw in presales, but it's interesting to see Sales History fluctuating back into the $3 to $4 range.
For now, it feels like there's a ton of singles supply out there from MP21. For all the worry we saw about the waved release for Tin of Ancient Battles, we haven't really seen the high singles prices some suggested. But the next couple of weeks are going to be the real test, as popular cards like the legacy support cards continue to be steadily purchased.
#4 True Light
The one legacy support card that didn't trend down this week was True Light, still holding… true… at Number 4. Like Magician's Salvation, it could be creeping back up a bit, now firmly at the $4 mark. By the look of the Marketplace as of this writing, it seems just a few buys away from the $5 mark, so that's something to keep an eye on.
#3 Dogmatika Ecclesia, the Virtuous
Lots of players who couldn't afford triple Nadir Servant in its original printing are keen to try out Dogmatika this month, and with Dogmatika Invoked in the Top 8 of the Extravaganza, the splashable engine's clearly not slowing down. The Alba Structure Deck was just confirmed this afternoon to be coming to the TCG in some form in March, and while we might see another Dogmatika Ecclesia, the Virtuous printing there, that's still four months off.
The Prismatic Secret Rare Dogmatika Ecclesia, the Virtuous isn't cheap at $15 a pop, but it looks awesome, and it's a must-buy if you're just picking up the engine; the Ultra Rare original is the same price, so you might as well grab the rarity upgrade.
#2 Divine Arsenal AA-ZEUS - Sky Thunder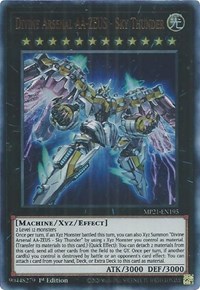 Divine Arsenal AA-ZEUS - Sky Thunder has been an absolute lock at Number 2 over the last three weeks, from presales to launch day to now. We're used to seeing it in a starring role in Tri-Brigade, but we saw from the Extravaganza that it's also being played in Drytron, Virtual World, Phantom Knights, Mekk-Knights, Gren Maju and beyond. Now that it's 15 bucks instead of 60 this card's going to be showing up everywhere, so you'll definitely want to prepare for it. Demand has not slowed down.
But speaking of demand, the biggest card of the week was…
#1 Crossout Designator
People liked Crossout Designator at $100, but they love it at $70! Yes, this card didn't make the Finals at the Extravaganza. And yes, it only featured in a fraction of the Top 32 decks we've seen so far (we're still missing more than half of them). But realistically, a lot of players just haven't bought their copies yet. That's understandable; people were waiting for the price to drop as more vendors opened their supply to stock singles. Sure enough the price did drop, and it set off an absolute buying frenzy.
I can't overemphasize: if you're looking at the decks that have been shown so far from the last Extravaganza and wondering if Crossout Designator was overrated, it wasn't. It's a fantastic card for the decks set up to use it, which is a lot of decks. But only the most eager of Beaver Warriors were getting their copies at triple digit prices in time for that tournament. We're very likely to see more people playing Crossout Designator in the coming weeks, starting with the Remote Duel Invitational on Halloween weekend.
I'm not sure if Crossout Designator hit its price floor just yet, but if it hasn't, I don't think it has much further to fall. This is a three-of for serious competitors moving forward, it's gonna be played in a lot of different decks, and it probably won't see a big reprint for at least a year. If you want to play in Regionals or bigger tournaments in 2022, now's probably the time to bite the bullet and get your copy.
That's it for the week! As always, thanks for reading.