Speaking of themes that took forever to get support...
Ice Barriers. Wow. I've been making jokes about "Ice Barrier FTK" for nearly a decade, and I was pretty sure we'd never get more support for the theme. Period. Full stop. Pack it up and go home, boys and girls.
But surprise, surprise, Japan had their very own "Vote for a Structure Deck" Poll in June 2020, and of the ten themes up for grabs, Ice Barriers somehow won? Second place was Cyber Style, and I'm not sure exactly what that means, but the remaining eight themes have yet to see a Structure Deck announced. In descending order of polling results, they were Gusto, Trickstars, Morphtronics, Kuriboh, Kaiju, Star Seraph, Tour Guide, and Superheavy Samurai. You can check out the full breakdown of which themes got how many votes here, but suffice to say, some of them weren't even close.
I'm not a fan of new cards that totally deprecate historical cards in an existing theme, and thankfully some of the Ice Barriers' best cards have been around for a while to push back that narrative. Medallion of the Ice Barrier, Prior of the Ice Barrier, and Trishula, Dragon of the Ice Barrier are some of the strategy's biggest cornerstones, even though they were released over a decade ago.
Some Stay Warm While Others Feel These Chains
If you're a little lost, I don't blame you. Go ahead, pick any three Ice Barrier cards at random, read their effects, and try to figure out what the theme does as a whole. Heck, up that number to five. If you're picking randomly, I'd wager that even ten cards might not be enough to divine exactly what this deck does.
Originally, Ice Barriers were supposed to "freeze" your opponents in their tracks. Take a look at Numbing Grub in the Ice Barrier and Dai-Sojo of the Ice Barrier. Those cards, along with over a dozen others, vaguely say… "No to this one very specific thing that may or may not ever come up in a given game."
Sigh...
I will say, the one time I found success with Ice Barriers was specifically siding Medium of the Ice Barrier in Spellbooks for the mirror match, because it was so easy to summon; it was more than likely that your opponent would have lots of cards on the field if they went first. If your opponent tried to counter you with Spellbook of Fate, then Spellbook of Wisdom meant you were free to start your rebuttal.
I miss 2013 sometimes.
New Cards? Don't Sleep On Them
While none of the new cards will make you weep tears of joy, they all have their place depending on the deck you want to build. I think the two spells are the best of the bunch, but the other cards pack a punch as well.
Winds Over the Ice Barrier and Freezing Chains of the Ice Barrier: one tributes Ice Barrier monsters to field more Ice Barriers from the deck, while the other revives a low Level Ice Barrier monster when you activate it. You can search both with General Wayne of the Ice Barrier, giving you easy access to your best cards and helping you make the most of the only consistent card thus far, Medallion of the Ice Barrier.
Each of the new Ice Barrier monster has some niche function, and they all work in an unexpected harmony. Revealer of the Ice Barrier fields a tuner from the deck, Hexa Spirit of the Ice Barrier sends things like Prior of the Ice Barrier to the graveyard, and Zuijin of the Ice Barrier revives itself. It's a little bit of everything, giving you some range of choice for what you want to focus on.
But how could we forget Trishula, Zero Dragon of the Ice Barrier, the new big bad boss boy that outshines everything else? Like its original counterpart, the retrained Trishula, Zero Dragon of the Ice Barrier is a Level 9 Synchro that punishes your opponent for having the gall to… own cards, basically. Three cards you need to remove? No problem! Banish them, and then if this Trishula ever falls, you'll put Trishula, Dragon of the ice Barrier onto the field and negate your opponent's effects.
Lastly, my favorite is Speaker for the Ice Barriers. Not only does she talk to animals, but she Special Summons herself for free if you control an Ice Barrier, and likewise banishes from the graveyard to get you a free token. Both effects have applications in any Ice Barrier strategy, but I'm over here still focused on the fact she can talk to Defender of the Ice Barrier.
I mean, wow.
What Are These Non-Trishula Cards Doing In My Deck?
Surprise, we're going to be running some off-theme monsters in our build, but don't worry, they're mostly a vehicle to other things. There's nothing exceptionally flashy about the Marincess or Mermail cards; they largely just send cards to the graveyard for future plays, or support Marincess Coral Anemone.
Think about it - many Ice Barriers weirdly benefit from being in the graveyard, in a way I wasn't prepared for if you'd asked me, "What do Ice Barriers do" six months ago. Discarding General Wayne of the Ice Barrier for Mermail Abyssteus yards your Level 5 monsters, something that's hard to summon when going first. Now with it in the graveyard, Prior of the Ice Barrier gets it back for free, triggering its ability.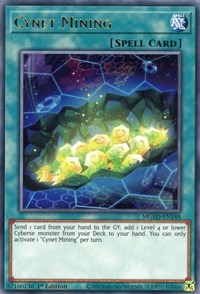 It's the same thing with Cynet Mining. Discarding a small Water monster to search Marincess Blue Tang turns into Marincess Coral Anemone reviving the Water monster you discarded. Whether it's a tuner, Swap Frog, or Prior of the Ice Barrier, you have way more options than "Normal Summon Revealer of the Ice Barrier, run into Effect Veiler, and cry."
Mermail Abyssdine might look like the odd fish-man out here, but when you search it with Mermail Abyssteus it hits the field for free. Free Water monsters mean free Marincess Coral Anemone which means Prior of the Ice Barrier.
Was this all just one long con to maximize Prior of the Ice Barrier? Maybe.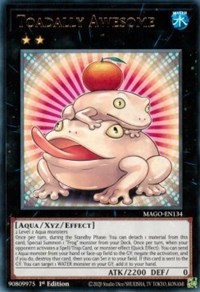 This All Started Off As Toadally Awesome Spam
Honestly, yeah, Toadally Awesome was my first thought when I started building the deck, but life's pretty boring when all you're doing is playing the same monster over and over again. You can focus on it, sure, but if literally the entire deck is just a vehicle for playing Toadally Awesome, it probably wouldn't garner much attention.
In my defense, several Ice Barrier cards are almost impossible to work with in a meaningful way, both old and new. Some Ice Barrier cards work well in a minimal capacity, but cards like Dewloren, Tiger King of the Ice Barrier and Terror of Trishula are more in the category of build-around cards you need to really plan for, not exactly cards you toss into whatever you're creating.
So building an Ice Barrier deck with a modicum of faithfulness to the theme's a bit tricky, and for what it's worth, I really tried to make pure Ice Barriers work. Let's just say I've seen better strategies than the purest Ice Barrier Deck imaginable.
Instead of focusing on Toadally Awesome, I chose to play cards that make Toadally Awesome without sacrificing important core Ice Barrier plays. In some ways, the addition was harmonious. Take Swap Frog. It's obviously a Level 2 Aqua as a stepping stone to Toadally Awesome, but it also discards Ice Barriers so you can revive them with Freezing Chains of the Ice Barrier.
Similarly, the Level 4 Silent Angler seems like an obvious choice for Bahamut Shark, but simply being a non-tuner Level 4 body helps in other ways. It's easier to climb to either Trishula, Zero Dragon of the Ice Barrier or Trishula, Dragon of the Ice Barrier, but with Tuners of various levels in the deck, it also means Level 8 Synchros.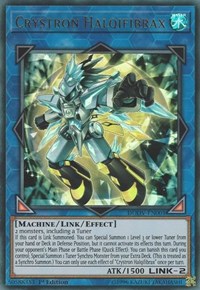 Crystron Halqifibrax: "No One Helps Me In This House"
Back in September, I talked about the new Forbidden and Limited List like, eighteen seconds after it dropped. I defended NOT banning Crystron Halqifibrax for reasons such as this one: it gives decks that severely need help a nudge in the right direction.
Of course, Crystron Halqifibrax also makes good decks better, which is a problem. But in this case, with Ice Barriers? Crystron Halqifibrax does several things that give the deck a will to live. Is that a bit grim? Yes, but forgive me if I don't think Medium of the Ice Barrier is a viable strategy in 2021.
First, Crystron Halqifibrax turns useless cards into good ones. If it's not obvious, many of your starting cards, or even stepping-stone cards like Bahamut Shark, for example, don't serve much purpose after their initial effect. Youu might as well use them for good, right?
Second, you'll see specific Ice Barrier tuners for, well, specific reasons. Duh. Hexa Spirit of the Ice Barrier yards Prior of the Ice Barrier, Dewdark of the Ice Barrier goes into Toadally Awesome, and Defender of the Ice Barrier is best used for higher Level Synchros. That may seem obvious, but it's practically mandatory and you need to understand those fundamentals.
Lastly, Crystron Halqifibrax lets you summmon either Trishula on your opponent's turn. Tribute Crystron Halqifibrax, Special Summon Shooting Riser Dragon, make it whatever Level you need it to be, then Synchro Summon into a Trishula. Is that the game plan?
Well, it's certainly better than setting Terror of Trishula, folks. Check it out.
Yu-Gi-Oh! TCG Deck - Loukas's Ice Barrier Deck by Loukas Peterson
'Loukas's Ice Barrier Deck' - constructed deck list and prices for the Yu-Gi-Oh! Trading Card Game from TCGplayer Infinite!
Created By: Loukas Peterson
Event:
Rank:
Advanced
Market Price: $154.42
Cards
If you haven't figured it out so far, Ice Barriers lean heavily, and I mean extremely heavily, on the casual side. Despite the deck's standouts, "pure" Ice Barriers are limited by the same factors as most mash-ups: chiefly a lack of good monsters to start and end with.
Don't get me wrong - I love Trishula, Dragon of the Ice Barrier, but it's not exactly the type of card to build a whole going-first strategy around, unless you can miraculously figure out how to loop it to rip all the cards from your opponent's hand.
And don't get me wrong, there are ways, but none of them are interesting enough for… whatever day you're reading this on.
Even if you're not jazzed up about the Ice Barrier monsters as a standalone strategy, I'm glad we got some good reprints in Structure Deck: Freezing Chains. Crackdown, Trishula, Dragon of the Ice Barrier, and Heavy Storm Duster are all cards to pick up if you missed them the first time around.
Maybe next time we see Ice Barrier support it'll help with Medium of the Ice Barrier.
Just remember: beat your opponents before they beat you.