Nobody likes to brick.
We play card games because we like to play cards, and when you open a game with an unplayable hand, you don't even get to do the one thing you're there to do. The goal of deck building isn't really to maximize your win rate: your deck choice should have done that already. The goal of deck building is to maximize the likelihood that you get to play all of your deck's cards as effectively as possible; the exact opposite of bricking.
In past articles I've described how momentum and tempo inform how many Normal Summons you should play, and why 40 cards isn't always necessarily correct.
Today we're going to expand on those ideas, introducing a new deckbuilding theory I call "6:6:49".
'The Heck Is That, Dan?
6:6:49's a series of ratios that can help you build an optimal deck for the current format. It refers to 6 copies of what we'll call "Option A", 6 copies of "Option B", and a total deck size of 49 cards. If you consult the handy Normal Summon chart, you can see the ideal number of Normal Summons to play in each deck size.
When you're putting together your deck, it's typically best to build your Main Deck for when you're going first. Decks that blind second do exist, but for the most part, you're going to want to play your options before your opponent can maximize their ability to interrupt you. You'll only get to make that choice 50% of the time, but your opponents will probably choose to go second at least once in your lifetime, so you can safely assume you'll go first more than 50% of the time if you consistently choose to do so. With that information, we know to look at the left side of the chart for how many Normal Summons we need to play.
Back in 2013 it was common knowledge among deck theorists that playing just 3 Normal Summons was optimal. 37-card decks running triple Upstart Goblin were in fashion at the time, and the player going first could still draw a full 6-cards. Consulting the chart, we can see that yes, the optimal number of Normal Summons to play for that deck size, with that number of draws, was 3.
Today, thanks to changes to the Forbidden List and game rules, the opening player only starts with 5 cards and can't realistically get their deck below 39 cards. Our 40-card decks today ask for 5 Normal Summons to maximize performance. For every Patrick Hoban list with 3 Normal Summon, there's a Jesse Kotton list with 5, both using the same reasonings. Understanding this math, or even just listening to those that do, can help you translate those successes to your own deckbuilding, or even your life outside of Yu-Gi-Oh.
So Why 6 Normal Summons?
When you only get 5 picks, it's usually pretty simple to identify the best Normal Summon for your deck. Let's talk about Phantom Knights: it's easy to choose to run 3 copies of The Phantom Knights of Torn Scales, sure. But you only get 2 copies of your next best choice, Tour Guide From the Underworld.
Not only is that less ideal, since Tour Guide From the Underworld asking you to run a card to summon like Edge Imp Sabres, and you'll increase the odds of seeing Edge Imp Sabres before Tour Guide From the Underworld by having fewer copies, but it also means your second Tour Guide From the Underworld doesn't have the third one to fetch, and so on.
Limiting yourself to just 5 Normal Summons also means you have fewer fully active turns in a more drawn-out game; if you only have 5 monsters you want to Normal Summon, you'll run out of them in 5 turns. There are also matchups where Tour Guide From the Underworld simply may be better than The Phantom Knights of Torn Scales. Since you can search for either one, it would be nice to have 3 Tour Guide From the Underworld in those scenarios.
Yu-Gi-Oh allows you 3 copies of each card, and running 6 Normal Summons maximizes the potential and power of your options. If we accept that to be true, then as per the chart, you want to be playing a 49-card deck, and so long as the rest of the deck's ratios scale up appropriately - hand traps, other defensive options, extenders, and so on - you won't lose any consistency.
Truth be told, with cards like Dark Magician and Red-Eyes Black Dragon in so many decks, you actually GAIN consistency by moving to 49 cards.
There's A Second 6 Though?
Right you are. Let's quickly revisit a concept from that previous article: why 3 Sabersaurus and 3 Kabazauls are treated as 1 thing, a Normal Summon.
If your hand has 2 Sabersaurus, you can only play 1 that turn. Got 2 Kabazauls? Same thing. Most importantly, 1 Sabersaurus and 1 Kabazauls is, once again, the same thing. All 6 cards here occupy that 1 use per turn that you get for your 'Normal Summon', effectively a hard once-per-turn ability. You can extrapolate this analogy to other cards that share that sort of relationship, and identify how many copies of them you should play using the Normal Summon chart the same way.
Blazing Vortex introduced Pot of Prosperity, removing all of the worst parts of Pot of Extravagance and giving you a bigger consistency boost than every other "Pot" card ever printed. Pot of Prosperity bananas, but like Pot of Extravagance, it does keep you from drawing any other cards that turn, before or after. On top of that, you can only activate 1 Pot of Prosperity per turn.
If you play 3 Pot of Extravagance, and 3 Pot of Prosperity, you can't use 2 copies of Pot of Extravagance in 1 turn, you can't use 2 Pot of Prosperity in 1 turn, AND you can't use 1 of each in 1 turn. It's just like the Dinosaur monsters from before: the Pot spells behave the same way as Normal Summons, where you get one 'powerful draw effect' per turn. (It feels a lot like Pokémon with its once-per-turn Supporter card type.)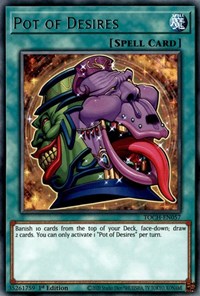 Now naturally, as explained in two different past articles, Extravagance is bad and Desires is good, so while 40-card decks can get away with 3 copies of the new Pot of Prosperity, you can also still play a pair of Pot of Desires, but as the Desires article shows, you want to be playing 3 of that card. Once again, that gets us to our lovely 6-card ratio, for a total of 6 Normal Summons, 6 powerful draw spells, and a 49-card deck.
And That's 6:6:49
With these ratios, you're less likely to see bad cards you don't want to draw like PSY-Frame Driver, the cards you're running to facilitate stronger effects, maximizing the power of your Normal Summon cards, creating a longer ability to play out the duel, and maximizing the consistency of your deck all at the same time. Right now, there's no 40-card deck in the current format that's more consistent, or has a higher expected value from its opening hand, than a 6:6:49 variant of the same deck.
Naturally a deck that can't afford to use either Pot of Desires or Pot of Prosperity, like Dragon Link, can't benefit from them, but you still can play 6 Normal Summons in a 49-card build and see greater success overall than you would with 5 Normal Summons in 40. The smaller decks have a 39.79% chance to see their power play and a 10.88% chance to lose tempo, while the 49-card decks have a 38.83% chance against a 10.69% one.
It's also the only number on the chart that allows for a Side Deck swing on your ratio with absolutely no impact on your deck's ability to play (that's indicated by the double blue bar). In this case, when you're going second, siding out your weakest Normal Summon and one of the Pot of Desires, would actually keep your 38.83% and 10.69% precisely in place, and you could side out a second one without hurting your win rate. These 49-card decks are also easier to resolve Pot of Desires in, making the overall benefit increased by extraordinary amounts.
I've included a Deck list that simply plays a healthy number of good cards. Theoretically, it should just be a pile of 'throwing stuff at the wall to see what sticks' every game, but it should do so very consistently. You shouldn't have any bad matchup with this pile, and you'll get to play the highest number of games possible!
Yu-Gi-Oh! TCG Deck - Dan's PK Evil Eye Deck by Dan Parker
'Dan's PK Evil Eye Deck' - constructed deck list and prices for the Yu-Gi-Oh! Trading Card Game from TCGplayer Infinite!
Created By: Dan Parker
Event:
Rank:
Advanced
Market Price: $1397.04
Cards
You'll probably have to read the cards to work out some of the combos, but this deck list is sort of an 'applying all of the articles at once' kind of deal with the best Normal Summons, the best ratios, the best hand traps by tempo, the best balance of hand traps and go second cards, and so on. I don't think this is the best deck ever made or anything, but you should see very reasonable success with it, and most importantly, get to actually participate in the greatest number of duels.
Have fun!