By now, I'm sure you've all heard the buzz around Logan Paul's miraculous Poké-card find, dominating Youtube fame over the past few weeks. As the story goes, the Youtuber dropped a cool $200,000 on a 1st edition box of Pokémon trading cards, and briefly broke the internet after pulling a 1st-edition Shadowless Charizard, valued at approximately $40,000—if not more.
Or was it $160,000 he spent, only to crack a pack containing an $85,000 Charizard? Though we can all agree that his find was a Very Big Deal in the Pokémon universe, there's a bit of mystery surrounding the actual value of the big ticket items in question. Given Logan Paul's Youtube fame and the buzz generated by such a rare find, why is it hard to find clear answer?
Pokémon finance can be tricky to navigate. It depends on more than just the rarity of a card—factors like card condition, printing variations, and even reprints can also play an important role—and final consensus on fair pricing can be difficult to pin down. The print quality of Paul's Shadowless Charizard was apparently called into question, setting off heated debate as to its actual worth. Rest assured, though, that even at its lowest assessment, the card likely holds several thousand dollars of value.
How did Logan Paul do what he did? Between deciding what product to buy (and at what cost), knowing how much potential value was at stake, and having just a little bit of luck, Paul's gamble literally paid off, launching a perfect storm in the world of Pokémon. It didn't take long for people around the world to jump on the bandwagon and take a renewed interest in the game they probably haven't otherwise revisited since childhood. The internet has been flooded with searches like, "How much are Pokémon cards worth?", "Should I invest in packs or singles?", and "Where can I find specific Pokémon cards?"
And maybe that search includes you! So how can you find the right products, in good condition and at a fair price point? Whether you've got specific cards in mind or just want to explore what's out there for you, TCGplayer is here to help.
Specific Searches
Tracking down a specific Pokémon card is simple. Start off with a search bar query for the Pokémon's name. If you have some familiarity with the TCG (trading card game), you're probably well aware that there are frequently multiple variations on the same characters. A Pikachu, for example, is not the same as a Flying Pikachu or a Pikachu V—and let's not even get into a comparison against the new Pikachu VMAX. They're different not only in name and artwork, but also in their energy costs and abilities.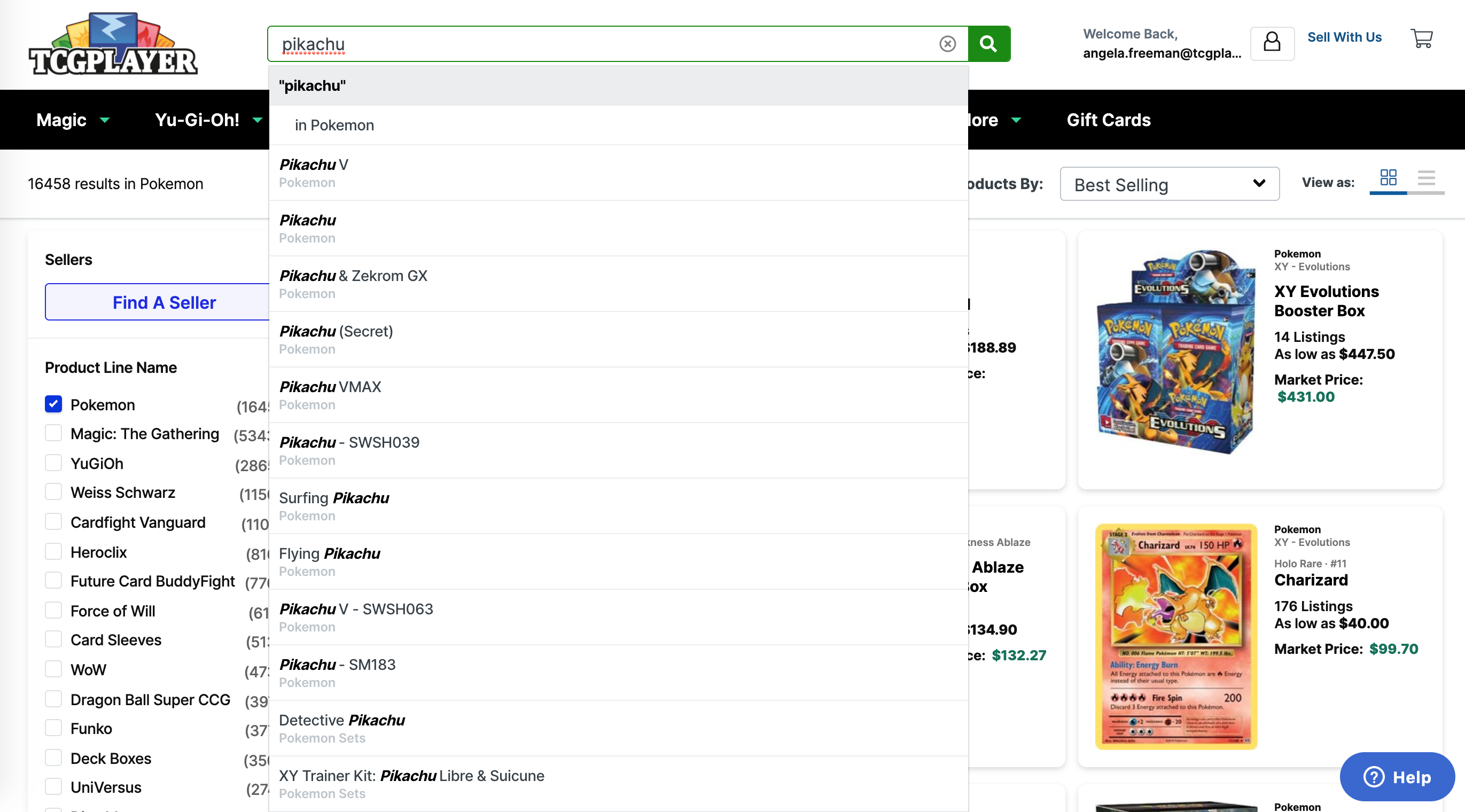 That said, Pikachu is an easy example, so let's run with it. Regardless of which little yellow rodent you're looking for, you can add the suffix corresponding to a specific Pikachu after its name to get those exact results—or just want to view your overall results before sorting further.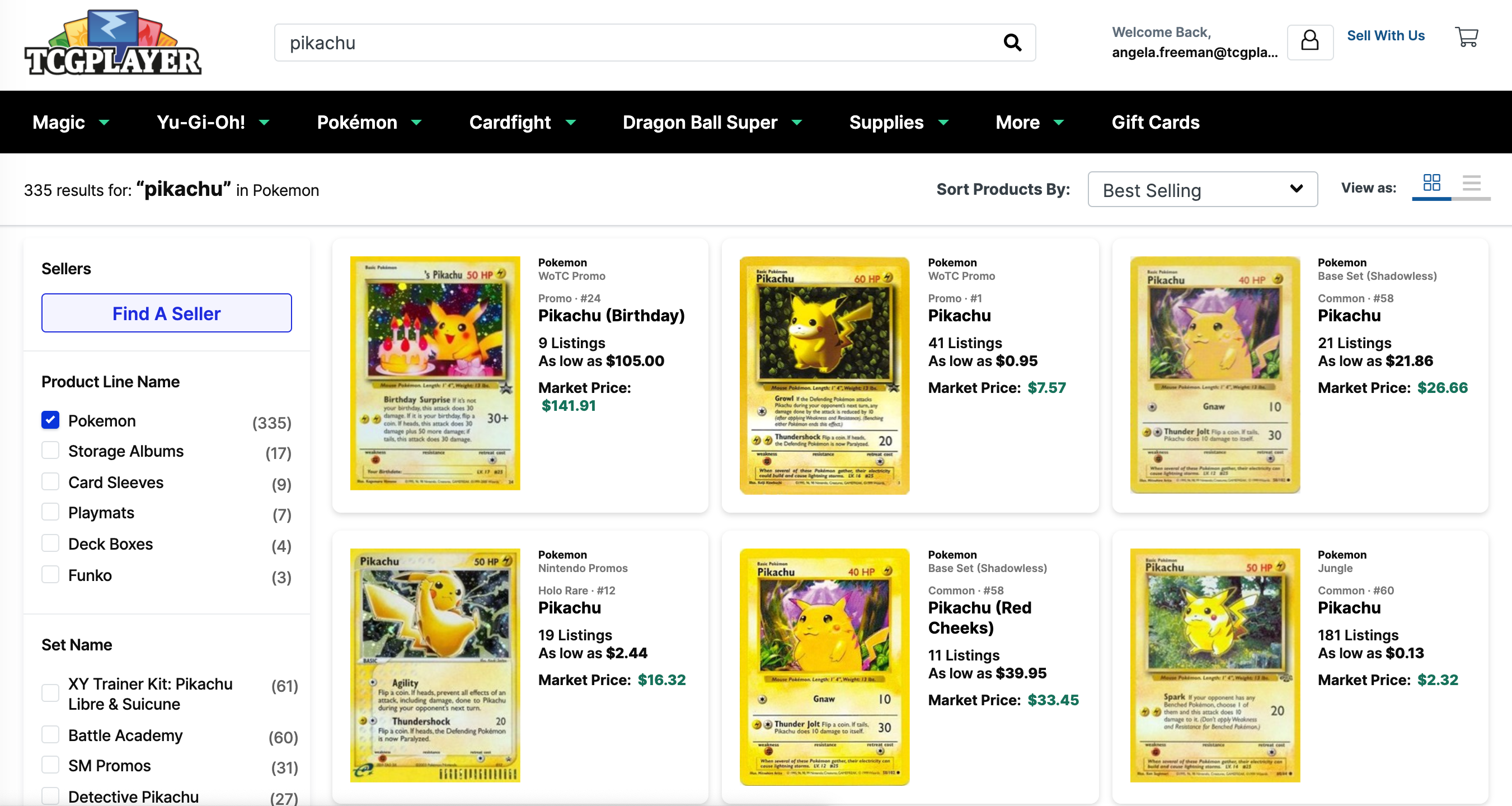 A simple quest for a Pikachu card might suddenly look a bit overwhelming, but don't panic. Adding a series of search parameters using the filters on the left can connect you with just the right card. By specifying "Base Set" under the "Set Name" filter, we've landed on the original Base Set Pikachu card.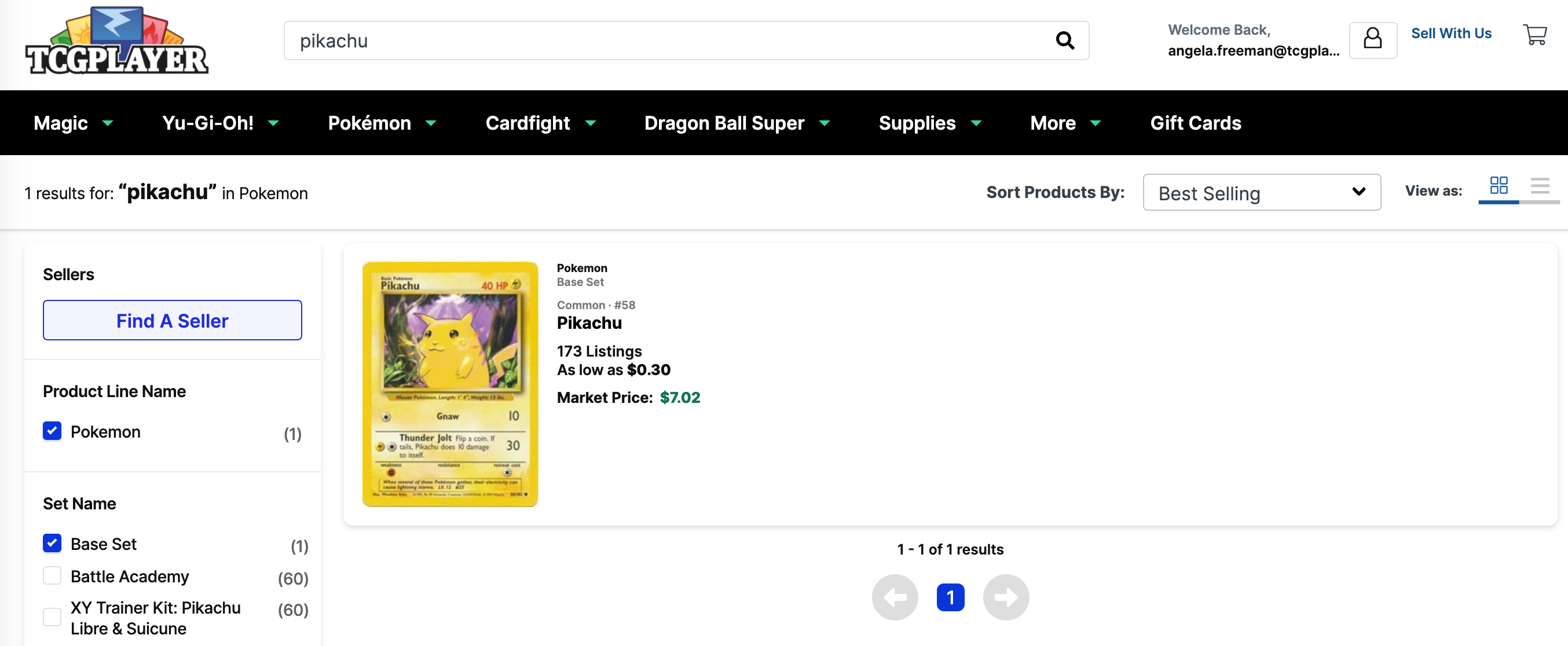 You've found the card we're looking for and clicked on it, right? Good news—it's one step closer to being yours!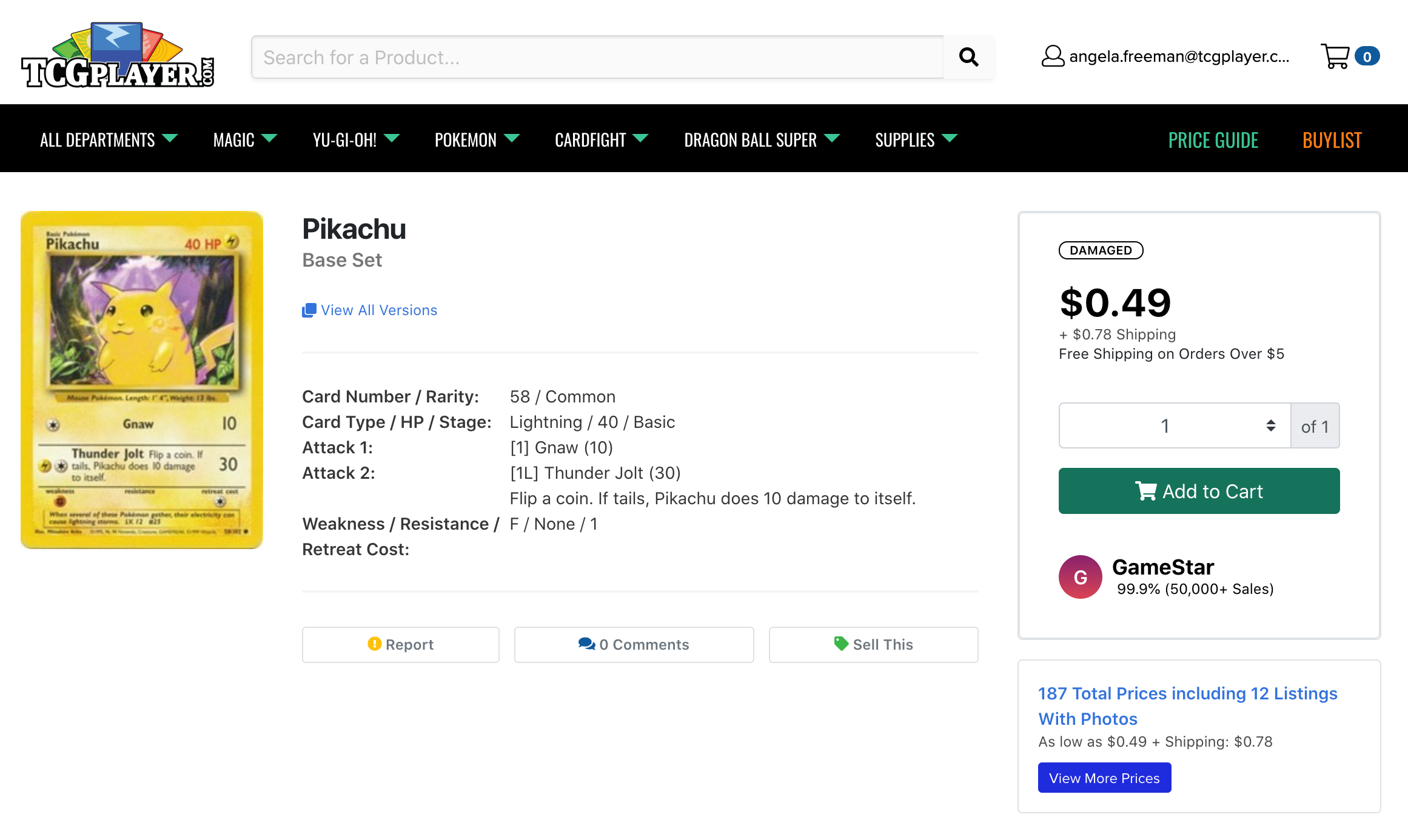 So far, so good, right? To be determined, because before you add it to your shopping cart, take heed that the tiny little bubble above the "$0.49" price listing very clearly states "Damaged".
Now what? At this point, you've got a few different purchasing decisions to make, and this particular factor—namely, card condition—is key. Maybe a Damaged card is fine by you—but keep in mind that you'll get what you pay for. Let's scroll down to check out what else is available in the marketplace.
We've got a decent variety of options; there are generally multiple copies of any given card available for sale on TCGplayer.com. So how do you know which one to buy?
Well, it depends. Pokémon cards run the gamut from simple elements of a children's game to gold standards for enormous amounts of value—and some cards are both. Clarifying your plans for a potential purchase can help you narrow your search. Budget and card quality are more or less intertwined. Are you looking for a card to add to a prized personal collection? In that case, hone in on "Near Mint" or "Lightly Played" cards.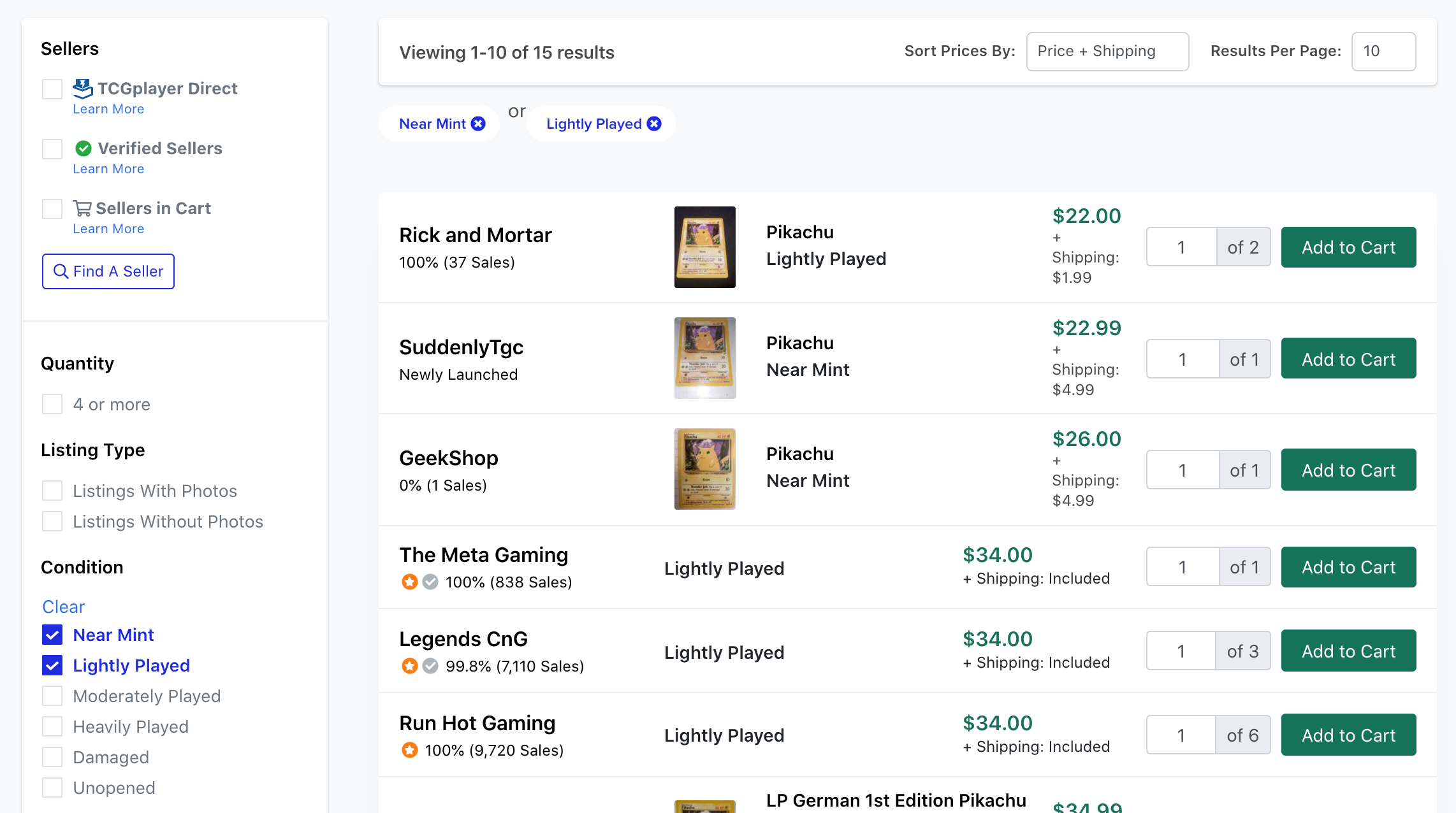 If you're a casual TCG player, on the other hand, and looking to slot cards ] into your collection of theme decks, you may want to consider widening your search. The "Moderately Played" category features those same cards at a lower price point, and there's less pressure to keep them pristine. You can buff your deck and enjoy actually using the cards, but also turn around and resell them if needed.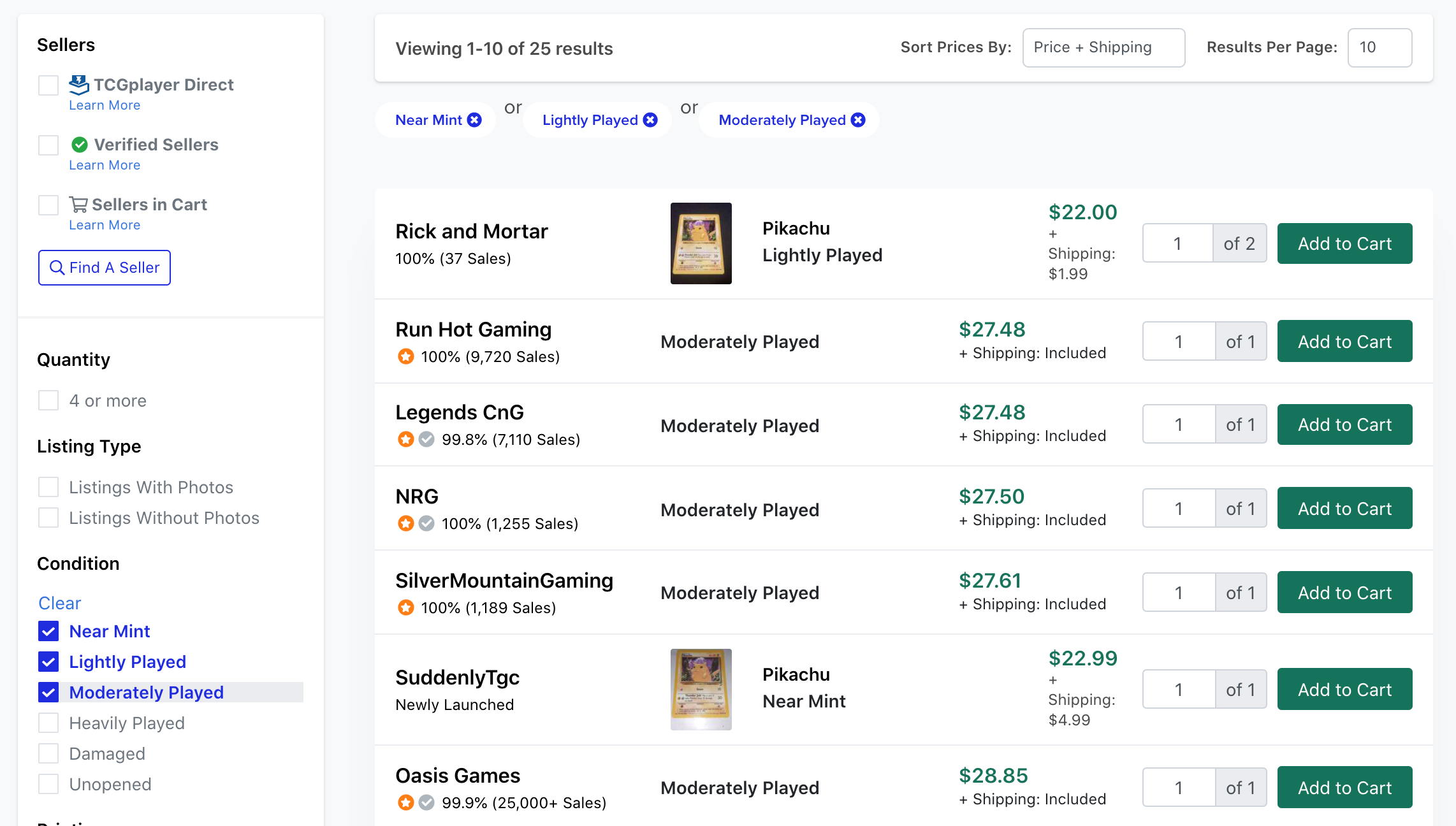 General Searches
A little less up-to-date on the Pokémon TCG, or just unsure what to buy? That's okay, too. TCGplayer Infinite is a great starting point to read through our writers' thoughts on new and upcoming Poké-products.
You may have heard about Vivid Voltage, a set release that officially launched on November 13th, but our team also published their take on it several months beforehand, after its accompanying Japanese set release. Infinite is updated regularly, with plenty of looking ahead to the next big thing before it arrives in the marketplace!
That brings us to the TCGplayer Marketplace. You're welcome to bypass the specific card listings in favor of a more general search. By hovering over the Pokémon tab in the page header, you can view an up-to-date listing of recent set releases, or select Shop All to keep your options open!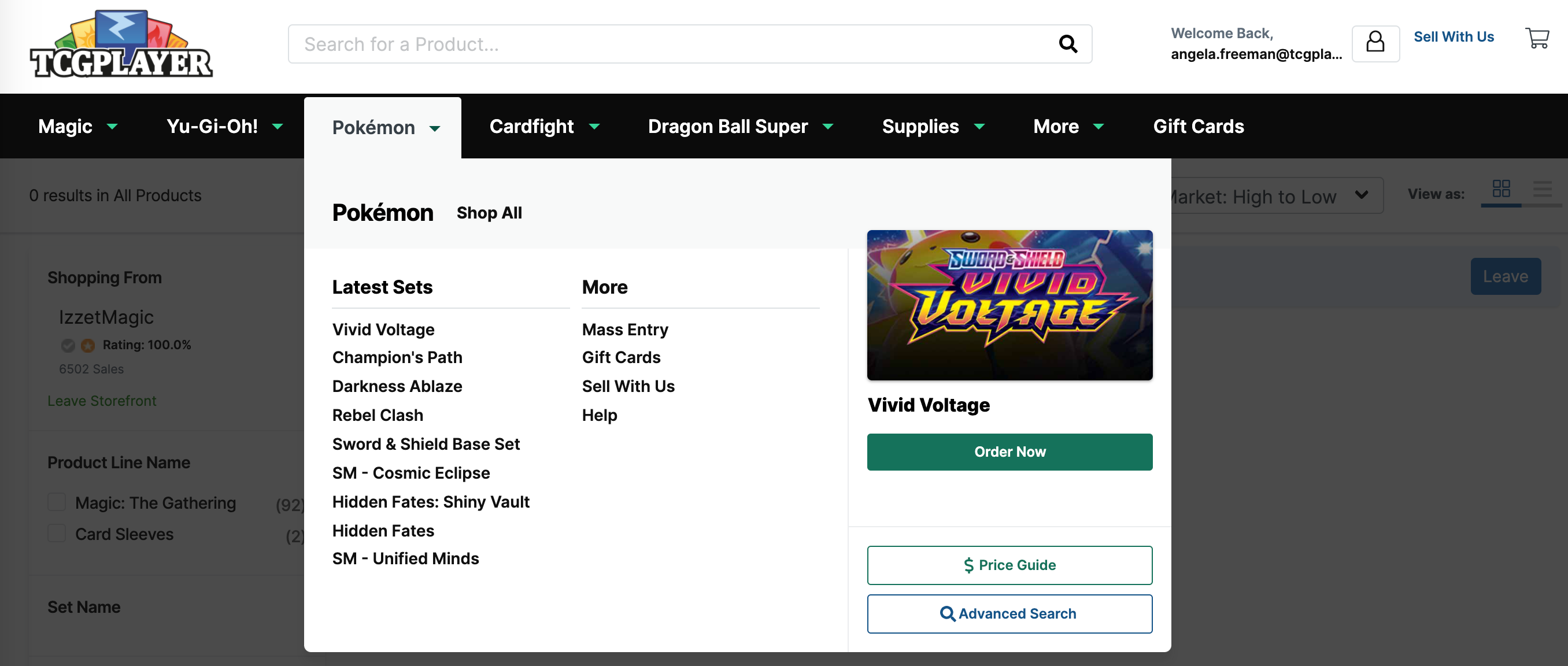 There are plenty of filters available to narrow your Poké-product exploration. In addition to the aforementioned Set Releases you can also use the left hand sidebar to sort results by Product Type (Cards or Sealed Products), Card Type (Pokemon, Item, etc.), Energy Type, and Rarity (Common, Rare, etc.).
Before You Buy
Making a smart purchase within the Pokémon TCG calls for a little bit of research. It's important to keep in mind that no Pokémon card or product exists in a vacuum—with many cards, their value is all about how they fit into a greater context of the game. Card prices don't usually shift much from day to say, but new set releases, especially big ones, can shake things up pretty dramatically. By paying attention to the ebb and flow of card popularity, reprints, and other key factors, you'll be a savvier shopper, and maybe even save yourself from overspending.
Fortunately, chances are that someone else has already done all this homework for you! In addition to TCGplayer Infinite, which frequently features analysis of Pokémon cards and sets from a financial perspective, the site also contains a few other helpful tools.
TCGplayer.com's Market Price feature displays current information on card pricing based on sales completed through the platform, so you can keep your finger on the financial pulse of the Pokémon TCG at all times. Unlike many other sites, this tool considers card pricing data historically, as well as recent sales, by drawing upon TCGplayer seller data from thousands of individuals.
Let's take a look at ChannelFireball's storefront for Pokémon cards in the TCGplayer Marketplace.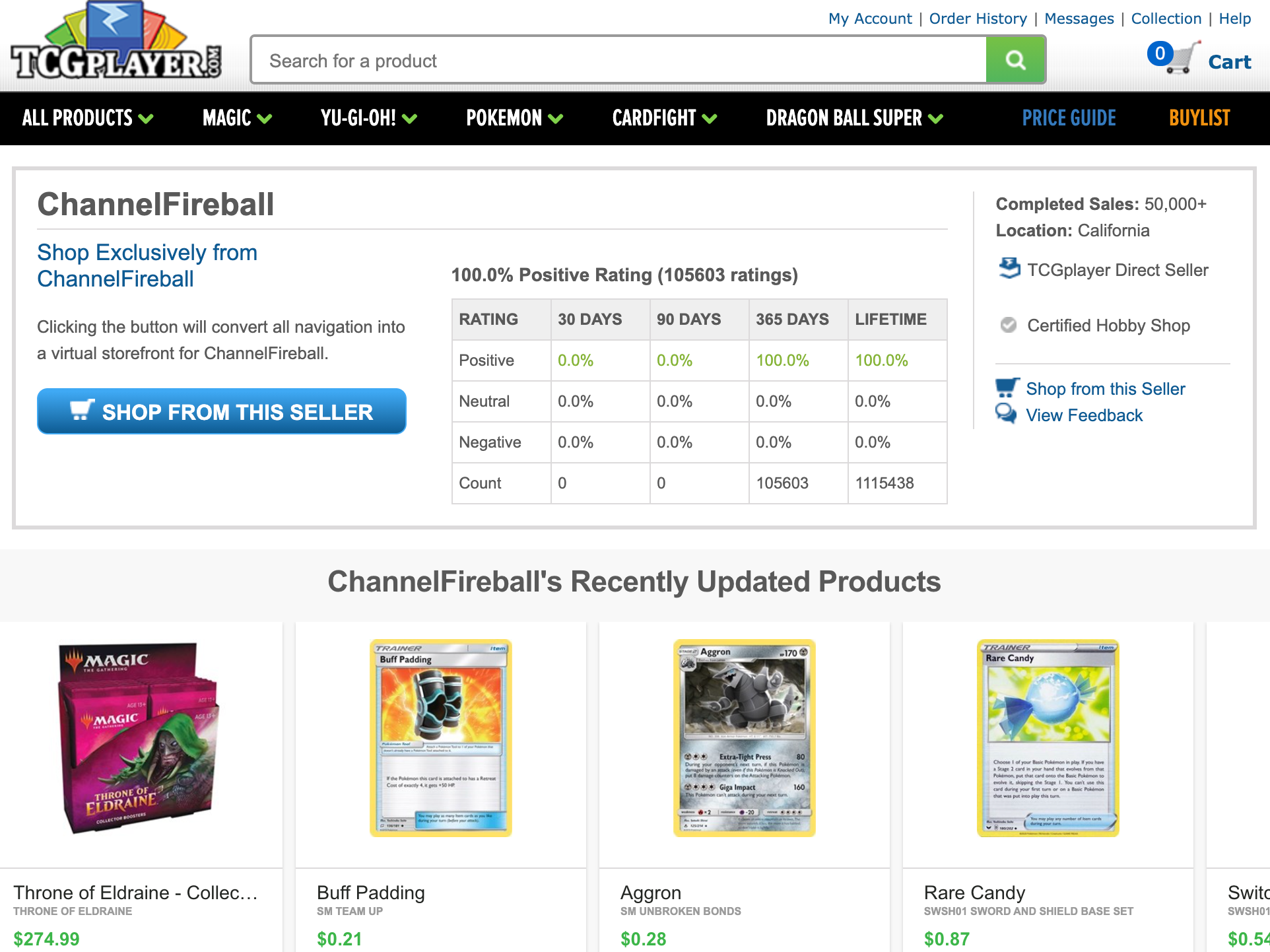 It's best practice to always thoroughly investigate a seller before doing business with them. This isn't hard to do—as you can see, a seller page displays the store's ratings loud and clear, as well as their total completed sales. A 100% success rate sounds great until you check and see that So-and-So has only completed 3 seller transactions. Suddenly an alternative seller with 98% positive feedback and over 10,000 sales looks like the better option. With ChannelFireball, you can see that you're getting both: the security of shopping a known brand, and a 100% positive rating, based on over 100,000 sales! Scrolling down to check out the Buyer Comments section can also help protect your investment.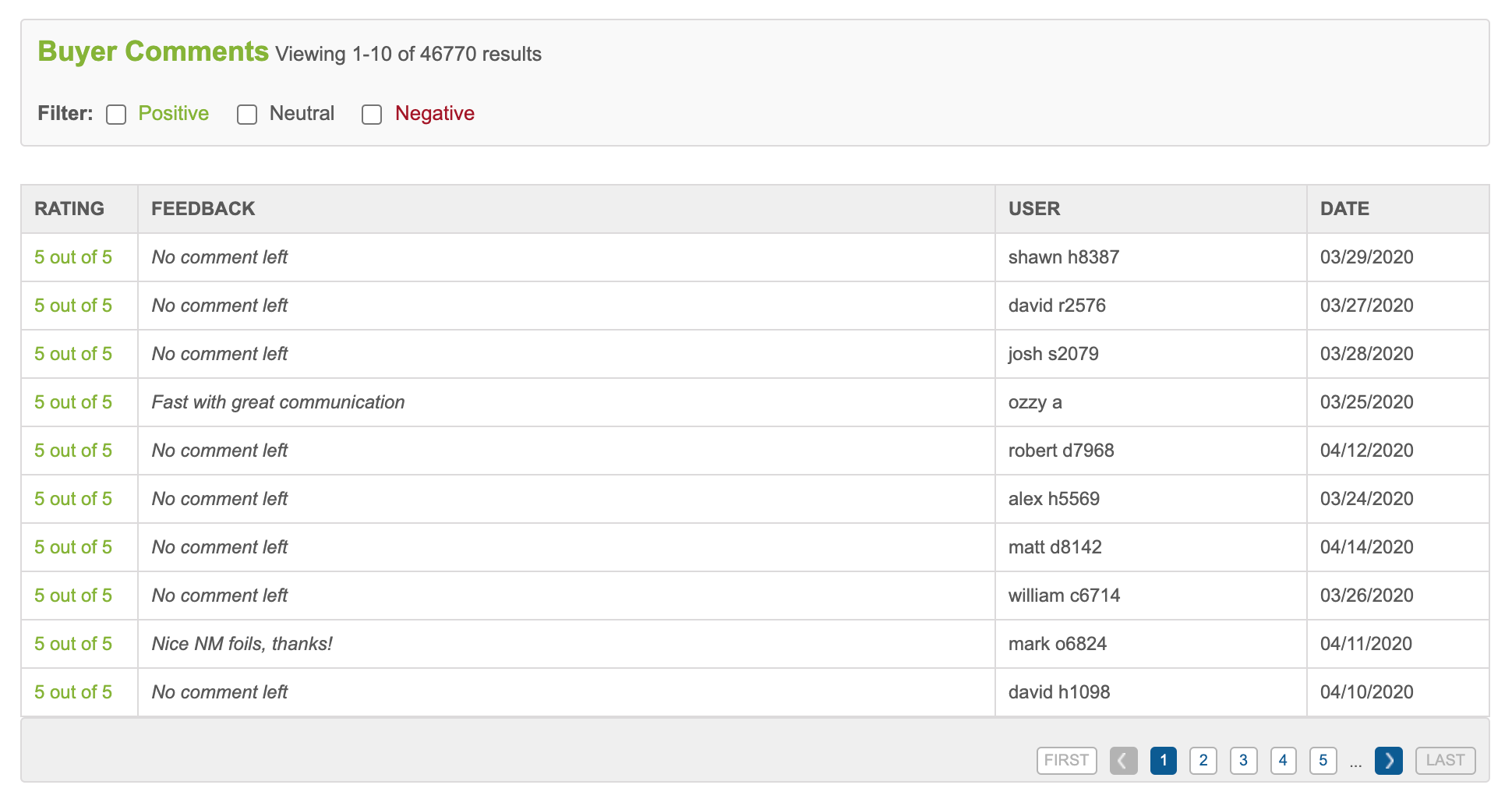 Pretty positive, right? You'd be in good hands if you choose to select your products and complete an order from this seller. But before we wrap things up and send you back to your shopping, let's go over one more option in the TCGplayer Pokémon card purchasing process.
TCGplayer Direct
Let's say that you've followed the steps of a set release search to seek out cards from Vivid Voltage.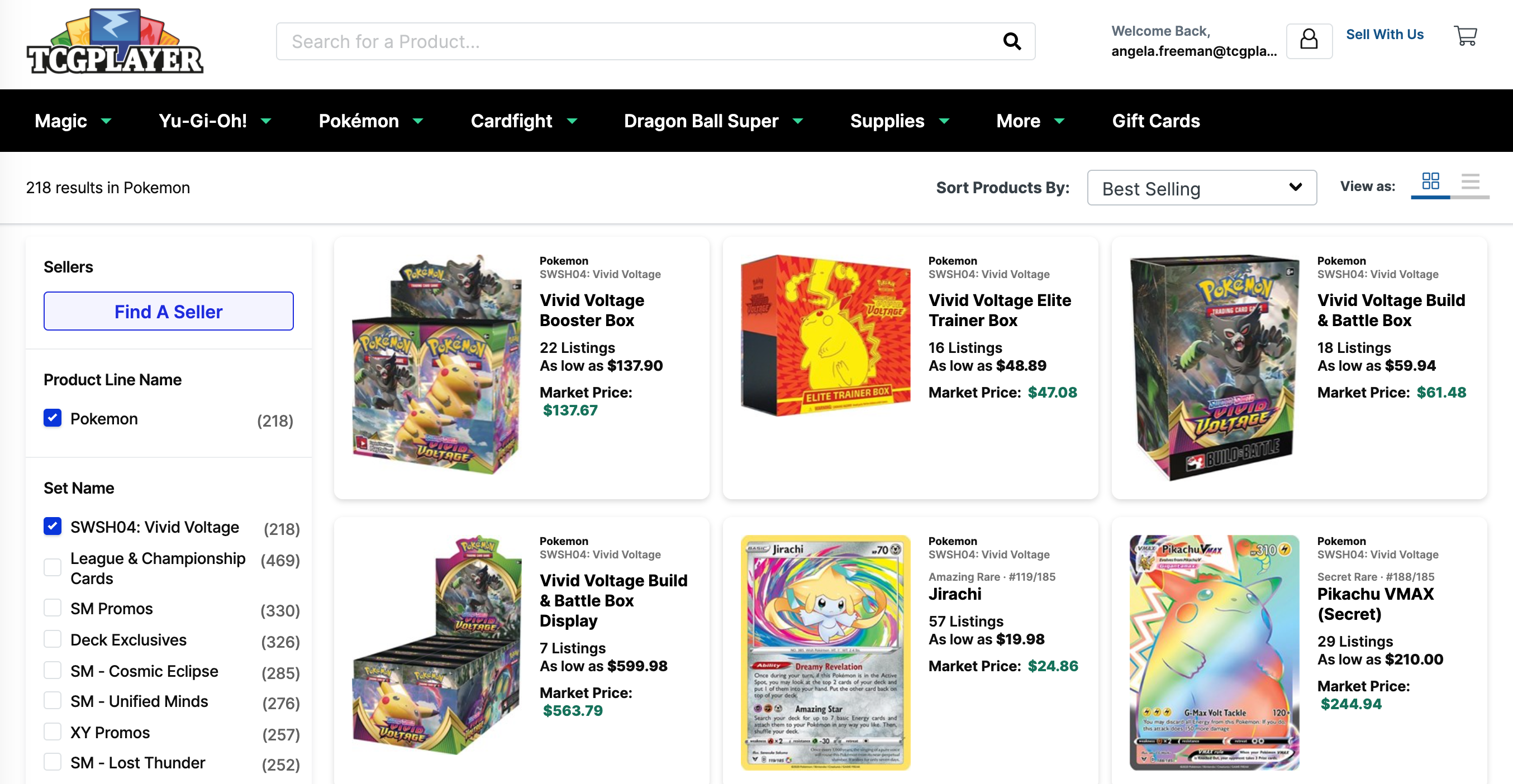 There are tons of fun, not to mention gorgeous, cards in this particular set mix! Let's toss a few holofoils into our Shopping Cart and see what happens.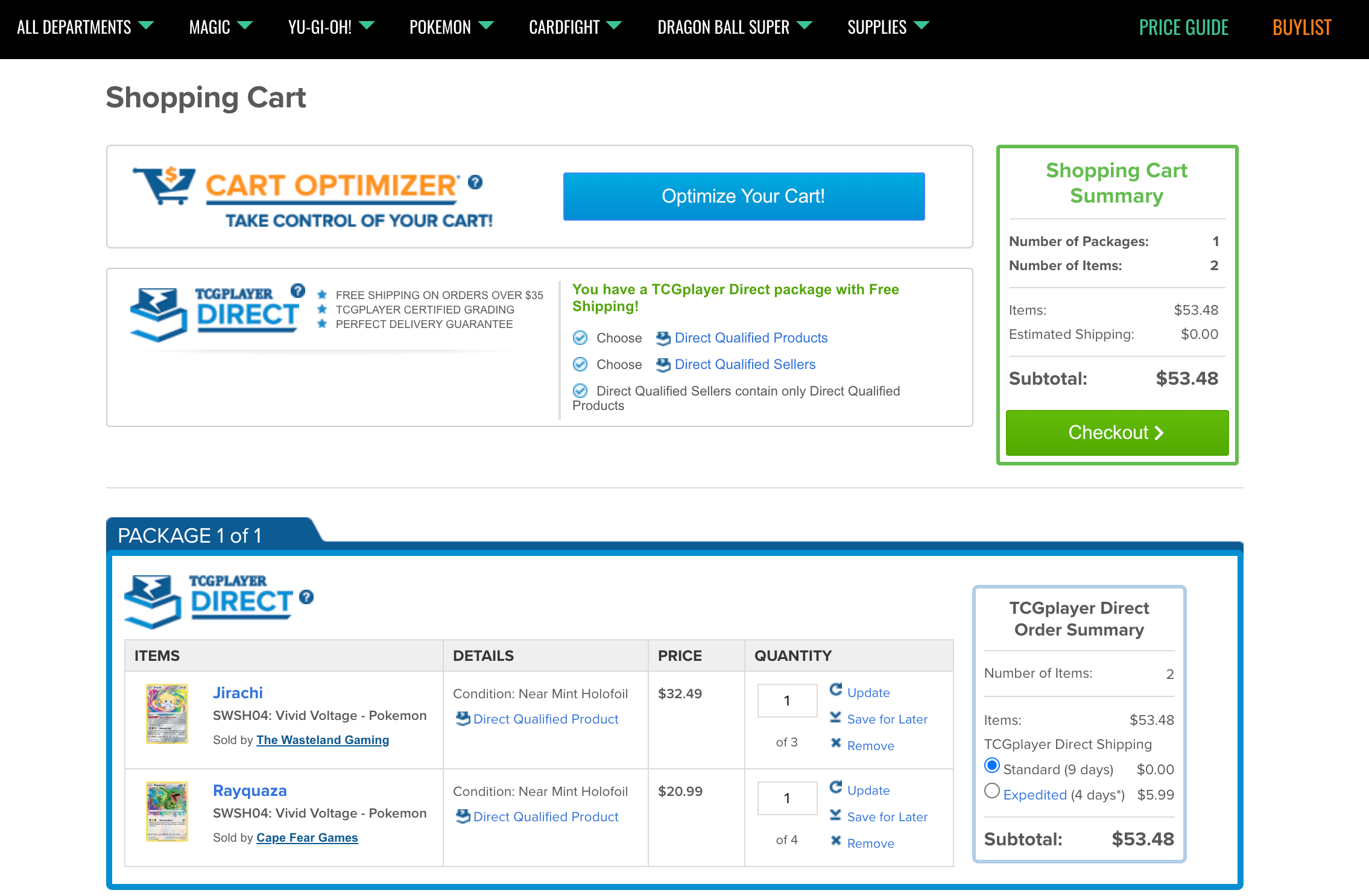 Now take a look at the top of the page—specifically, the second box beneath "Shopping Cart". Our product selections qualify for TCGplayer Direct! For starters, our subtotal exceeds the $35 minimum required to earn TCGplayer Direct's free shipping perk. In addition, the sellers have demonstrated above-and-beyond services such as Certified Card Grading (which determines the card conditions we touched on earlier) and a Perfect Delivery Guarantee. When you place a TCGplayer Direct order, you can expect extra stellar results!
That concludes our walkthrough of buying Pokémon cards on TCGplayer.com! Whether you're shopping for you or your loved ones, make sure to keep this guide handy during the weeks ahead!