A Field of the Dead ban? Groundbreaking.
Look, nobody is surprised. It was obvious when they tweeted that only Historic would be impacted by the B&R update, much to my chagrin after having put a couple dozen hours into playing just that deck last week, tuning it for my article.
What is surprising to me is some of why:
"Field of the Dead has been a powerful force in Historic for much of the format's life. While its overall win rate is rarely at the top, its matchups are extremely polarized. In particular, its high win rate against slower decks has made the format as a whole lean more toward aggressive strategies. This effect scales with the ubiquity of Field of the Dead decks, and recent sets have given the deck several powerful additions, including Cultivate, Explore, and, most recently, Hour of Promise. As a result of this we have seen both the popularity and win rate of Field of the Dead decks steadily climb, and it is currently one of the most played Best-of-One decks and, by far, the most popular Best-of-Three deck."
In particular, "its overall win rate is rarely at the top" is a surprising statement. Without much in the way of tournament data or decklists, experience in games and the conversation around the format is most of how the metagame is shaped.
With Amonkhet Remastered only out for a week last Friday, I'm suspicious that Field of the Dead decks were built properly. Mana bases from the past year have almost all been built around Golos, Tireless Pilgrim, and shouldn't be ported over to an Hour of Promise deck, because it no longer needs to have access to all five colors. When lists did make changes, they weren't always optimal, at least in my opinion. It's going to take a lot more than Hour of Promise to get me to register Jungle Hollow in Standard, much less Historic.
Considering Wizards moved ahead with a ban so quickly after Hour of Promise was printed into the format suggests to me that either they could see the writing on the wall with regards to the Mythic Invitational, or that the deck was already trending upwards quickly.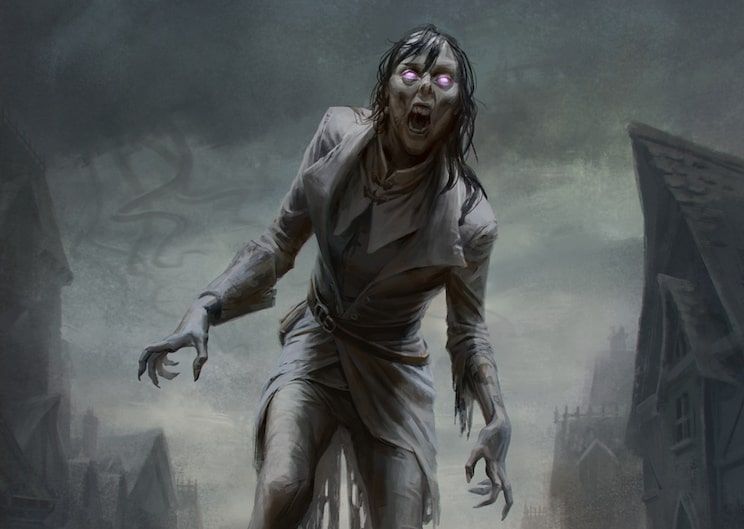 That other decks beat Field of the Dead in its current form is also not surprising. The format has barely had time to adjust. Sultai Field punished anything that wasn't built specifically for beating Field of the Dead, and many archetypes like Grixis or Azorius Control, Golgari and black-green-x decks were completely unplayable. Decks either had to go faster, like Mono-Red Aggro or Azorius Auras, or find ways to ignore what they were doing, like the various Collected Company and Bolas's Citadel decks we've seen floating around. Over the weekend, random decks largely disappeared, and there was a lot more Azorius Auras, which exists basically because it has a good Field of the Dead matchup. But it's not like Sultai Field couldn't have adjusted with more cards like Innocent Blood and maxing out on Extinction Event. They just hadn't needed to yet.
The conversation around the ban is also surprising. I've seen takes that Field of the Dead would have been fine, if not for Explore or Hour of Promise. I think these hot takes ignore just what Field of the Dead accomplished all on its own. It does not have to be the sole focus of a strategy, as we saw with Temur Field last format. Field of the Dead is a card that allows a strategy to use 100% of its maindeck toward a game win in a way that no other card does, turning all of its land drops into actual power and toughness at no cost. Yes, a deck can be built completely around Field of the Dead, but it does not have to be. Take, for example, this deck I tried last week:
Magic: The Gathering TCG Deck - Azorius Field by Nick Prince
'Azorius Field' - constructed deck list and prices for the Magic: The Gathering Trading Card Game from TCGplayer Infinite!
Created By: Nick Prince
Event:
Rank:
Historic
Market Price: $281.48
Cards
No Explore, no Growth Spiral, no Hour of Promise, no Uro, Titan of Nature's Wrath.
Control is an archetype that wants to hit its land drops already. Typically they play more like 27, but when four of them clog up the battlefield to protect planeswalkers and insulate your life total, 30 isn't that much more. The deck doesn't even need a win condition, and only includes two copies of Teferi, Hero of Dominaria as a back-up plan in case something goes horribly awry. Against dedicated Field of the Dead lists, resolving an Hour of Promise or Massacre Wurm or any of the other top end cards was virtually impossible for them unless Thoughtseize managed to snag the only counterspell in your hand. And the one-of Crucible of Worlds meant that eventually, you would out-Zombie them via Ghost Quarter.
Looking back a little over a month, before Jumpstart was released, the biggest sin of the Field of the Dead decks was not combining it with another strategy. I hopped in without a game to my name in the format with Golos, Tireless Pilgrim and Nexus of Fate in the same deck, and hit Mythic nearly undefeated. The next deck to take the top position was also a Field of the Dead deck, paired with Wilderness Reclamation.
If Hour of Promise hadn't been printed, Field of the Dead would have been the best deck in some other way. As much as I love the card and the Field of the Dead mirror, it needed to go.
So, who are the winners and losers of the Field of the Dead ban?
Losers
Sultai Field
tweet:1297606138112876544
Massacre Wurm, the only top end we needed in a world of 2/2 Zombies, is now completely unplayable. RIP my beloved Wurm.
Azorius Auras
Kor Spiritdancer is a powerful card, but it's only been a top archetype in the format because of the decks that were defining the metagame. Mono-White Auras could just put any creature to 5 toughness and Temur Field could no longer kill it. Azorius Auras could consistently make a large flier, something that most Field decks had a bit of a weakness to.
Neither of these decks win quickly or effectively in the face of a more diverse metagame, or against pressure backed up by some spot removal. Y'all ever look at a pile of Auras in hand with nothing to put them on after getting Thoughtseize?
CoCo/Citadel
Pioneer has had a bit of a Bolas's Citadel problem, and people have taken to playing variants of it in Historic as well. The deck can be either Golgari or Jund, and plays like a more combo-centric Sacrifice deck, killing people with Blood Artist triggers.
Here's my hot take for the day: I think this deck was buoyed by its Field matchup in Historic. I have no data to back this up, because of the nature of Historic, but Citadel decks were almost unbeatable in game ones for Field of the Dead unless there were multiple Pact of Negation in the maindeck or something. Even then, countering both the Collected Company on your end step and Bolas's Citadel on their turn with Pact of Negation is… generally not going to work well.
Unfortunately, control decks have been unlocked. While the deck can be built to accrue value with cards like Elvish Visionary and Llanowar Visionary or Jadelight Ranger and Merfolk Branchwalker, there are too many dud draws late game like Llanowar Elves or Blood Artist. Mayhem Devil is going to be a Centaur Courser too often, and I am not here for it.
This is to say nothing of the fact that control decks also likely sideboard in three Grafdigger's Cage to go with their pile of countermagic (since Rest in Peace turns off their Search for Azcanta).
Winners
Azorius Control
If you want a list that's probably just fantastic day one of the format, I'd jam some Teferi, Hero of Dominaria, courtesy of MPL member Chris Kvartek:
Magic: The Gathering TCG Deck - Azorius Control by Chris Kvartek
'Azorius Control' - constructed deck list and prices for the Magic: The Gathering Trading Card Game from TCGplayer Infinite!
Created By: Chris Kvartek
Event:
Rank:
Historic
Market Price: $279.64
Cards
Traditional Azorius Control was kept down completely by Field of the Dead. Keeping a Teferi, Hero of Dominaria alive against an active Field of the Dead is hard, and this is doubly true when that deck also runs Thoughtseize.
I suppose if we look further back than a couple weeks, it's probably worth noting that Teferi, Time Raveler was also only banned quite recently.
A pile of counterspells and Wrath of God is very reasonable once these two cards are gone from the format.
Chris is obviously a fantastic player, but on his stream Sunday, he was obliterating everyone who didn't show up with Field of the Dead. If I had to play a deck tomorrow, I'd register his list with one more Grafdigger's Cage for the Bolas's Citadel folks.
Jund
I don't necessarily mean, literally, Jund. But the idea of Jund is alive again. The combination of Thoughtseize and creatures that generate value as the opponent steadily loses life to a big Scavenging Ooze or the like. Jund, Abzan, Golgari and Rakdos are all on the table for consideration.
For my money, the most impressive version has been based around Young Pyromancer. Claim // Fame, Village Rites and Thoughtseize all combine with the card well to create some disgusting value engines quickly, and for tiny amounts of mana.
Traditional Aggro
Attacking on the ground recently has been a bit of a no-go. It seemed to be congested with free Zombies for some reason. The only way to attack was with trample or flying, and otherwise Field decks could just block forever.
Now, though, traditional methods of attacking are unlocked.
It's been such a long time since the color white has been any good, but it wasn't too long ago that Mono-White Aggro was the best-performing deck in the format. All of those cards are legal in Historic. Absorb is a great card, but when an opponent plays a turn-one Legion's Landing backed up by some creatures, it's going to be a tough game for the control deck. Even if they have the Wrath of God, they're going to need more to stay ahead of the stream of free creatures.
Mono-Black Aggro is also likely to be a contender. As Pioneer has shown, Thoughtseize backed up by aggressive creatures is a completely reasonable strategy for people who just want to attack and not have to worry about Wrath of God.
God-Pharaoh's Gift
This is my sleeper pick. Maybe the format develops differently, maybe I've missed some element, or maybe it's not powerful enough. But this deck feels like it's poised to do well.
Gift decks have so many things going for them. They have a wide assortment of value creatures to choose from in Historic, perfect for playing against control decks. They will basically always want Stitcher's Supplier, which means that Thoughtseize is almost free. Eternalize cards like Champion of Wits are unbelievably frustrating for control decks, which can't counter the back half of the card.
And, most importantly, the Citadel decks are going to drive people to play Grafdigger's Cage instead of actual graveyard removal, and God-Pharaoh's Gift does not care about that card.
I've never been much of a God-Pharaoh's Gift player myself, but while I wait for Standard rotation, I'm likely to try some things out here. The only problem that needs to be solved is what card can stabilize against a wide battlefield. Angel of Invention is not (yet) legal in Historic, and there isn't a clear replacement for something like that. If I can crack that, I think the deck is in a good spot.
All in all, this ban was an excellent move by Wizards. The only complaint I have is that it didn't happen sooner.