The full set list for the 2021 Tin of Ancient Battles was revealed on Tuesday, and we saw immediate responses on the secondary market!
The two big factors guiding market action this week were the MP21 reprints, and player responses to the long-awaited Crossout Designator. Hanko dropped an article yesterday talking about the general impact Crossout Designator will have on competition, and the fallout is all over the Top 10 this week: interest is up in combo decks, since Crossout Designator helps protect fragile play sequences from hand traps; players are investing in cards that can counter it; and plenty of people are trying to get ahead of the curve, predicting what Crossout Designator might mean for the next banlist.
Meanwhile there was big action on cards that didn't get reprints in the new Tins. The biggest one was Accesscode Talker, which spiked to $165 overnight. That's a bit of a surprise, especially because no reprint in the Tin of Ancient Battles probably just telegraphs Accesscode Talker in Maximum Gold: El Dorado or Brothers of Legend. But for now the market's hungry for it, and a slew of other cards are seeing the same type of action on a lower level.
So what's blowing up? Let's dive straight into the Top 10 and find out.
#10 Hieratic Seal of the Heavenly Spheres
If combo decks in general are expected to get more powerful, then Dragon Link is a natural place to start the conversation. Hieratic Seal of the Heavenly Spheres was reprinted in Ghosts from the Past, and both the GFTP and Duel Power versions were huge this week, leading to a slight boost in price that may continue through the weekend.
#9 Lightning Storm
I don't think anyone really expected to see Lightning Storm in the Tins after it was reprinted in King's Court, but with Apollousa, Bow of the Goddess appearing in last year's Tins and the Maximum Gold release just weeks later, it wasn't impossible. Lots of players were clearly holding out for a budget copy, because the moment we found out Lightning Storm wasn't getting a Tin version, buyers flocked to it and the price spiked from $30 to well above $40.
#8 Solemn Strike
Solemn Strike been on the rise in tournament play for months, but Crossout Designator puts it on another level. Generally when you're playing Crossout Designator you want to chain it in response to the card you want to stop, so you're guaranteed to disrupt something. Playing it preemptively to try and stop a Counter Trap can be a risky gamble, and even if you guess right, your opponent can still use the card next turn if they survive. It seems players are already changing their views on old school trap cards with Crossout Designator threatening hand traps.
#7 Parallel eXceed
Parallel eXceed isn't just a great combo card, it's especially good in the sort of mid-range combo decks that may have the most to gain from maining Crossout Designator. Anthony talked about that yesterday in his article on chain blocking, but Pak Pamornsut won the Remote Duel YCS a few weeks ago with Parallel eXceed in Prank-Kids, using Parallel eXceed effect to keep his Prank-Kids safe from Ash Blossom & Joyous Spring. It's no surprise it's seeing this level of interest with these types of decks potentially trending upward.
#6 Knightmare Phoenix
Knightmare Phoenix: always big when people are returning to tournaments.
#5 Knightmare Unicorn
The same's true for Knightmare Unicorn, and it's especially popular in combo decks, including Dragon Link and Prank-Kids.
#4 Destiny HERO - Celestial
Heroes have been on the upswing for a while now, thanks to Giovanni Rivera's runner-up finish in the August Yu-Gi-Oh Extravaganza, and the anticipation for new Hero cards like Destiny HERO - Destroy Phoenix Enforcer, coming soon in Burst of Destiny. Destiny HERO - Celestial broke into the Top 10 three weeks ago, and now it's back and up to Number 4. Dumping Celestial to the graveyard with Destiny Fusion sets up a free Pot of Greed, making it a huge pick for Hero decks moving forward.
#3 Maxx "C"
A little background in case you don't follow Yu-Gi-Oh overseas: Maxx "C" has been legal in the Asian OCG for years, fully unrestricted and playable at three copies. In the minds of many players, that works in the OCG because they had Crossout Designator - with combo decks stronger in the OCG due to Crossout Designator existing, Maxx "C" helps keep those decks in line.
So with Crossout Designator now releasing in the TCG, and a new banlist rotating in as early as October 1st, does that mean Maxx "C" will be legal again? Nobody knows for sure, but buyers were clearly betting that Maxx "C" could make a comeback, buying up hundreds of copies to try and stay ahead of the curve. The Structure Deck common went from $12 to $16 in an instant, and it may continue to rise.
#2 Fusion Destiny
The lynchpin of future Hero decks, Fusion Destiny is a one-card play for massive Fusions: even now, Destiny HERO - Dystopia is a solid pick that wins games. But yeah, the real gem is the upcoming Destiny HERO - Destroy Phoenix Enforcer, shrinking your opponent's monsters, destroying cards, and replacing itself with a Destiny HERO from your graveyard when it's destroyed. That's the perfect plan when Fusion Destiny going to destroy your monster next turn anyways.
#1 Engraver of the Mark
And finally, the biggest card of the week was absolutely no contest! Hundreds of buyers snapped up thousands of copies of Engraver of the Mark, in a bid to try and outplay Crossout Designator.
With three non-foil printings in Breakers of Shadow, the 2016 Mega Tins, and Genesis Impact, there was no shortage of supply, leaving players and speculators to dive in head-first. That said, the Clash of Rebellions: Special Edition Super Rare was the most popular version, skyrocketing in value from 25 cents to nearly 4 dollars.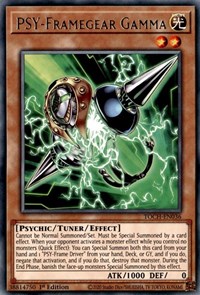 Droll & Lock Bird (Alternate Art)
Just falling short of the Top 10, PSY-Framegear Gamma came in at Number 11 and Droll & Lock Bird finished at Number 13, as players look to diversify their hand trap lineups. Stardust Synchron still big at Number 12, while Magikey Maftea and Magikey World ended the week at Nuumbers 14 and 15.
The 2021 Tin of Ancient Battles is shaping up to be the biggest Yu-Gi-Oh launch of the year, even as stores prepare for a waved release that may delay some of their orders. If you placed a preorder with your local and they're struggling to fill it, remember, more tins will ship after the first wave on October 1st.