I'm Zara Khan, AKA 5thRateDuelist. Or, "that girl from Twitter." (Which is quite offensive! There's at least three other girls on YugiTwitter.) Or even "The Yu-Gi-Oh Comedian," as an homage to my standup comedy career.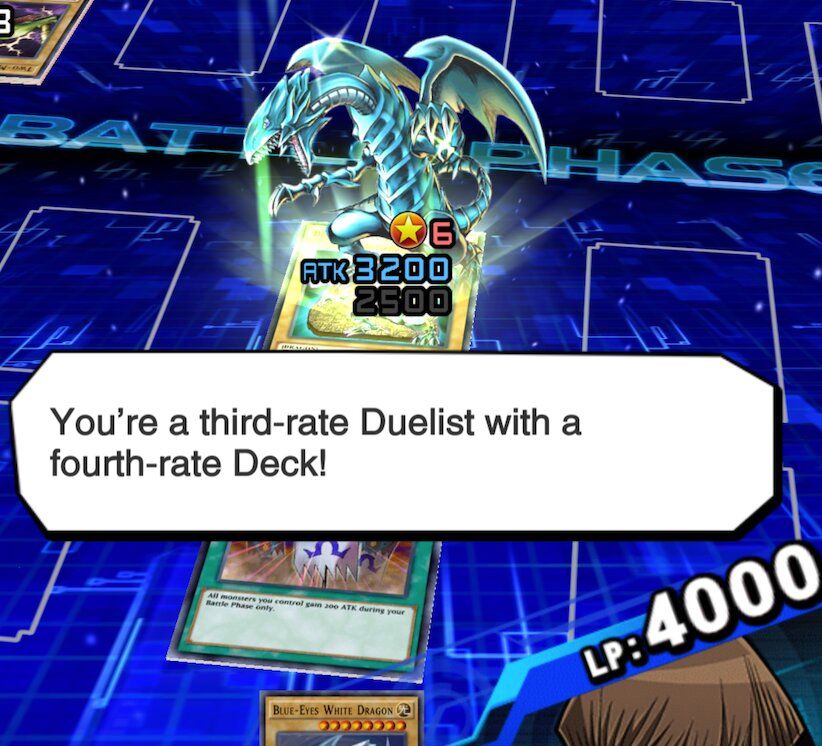 My username started off as a self-deprecating joke based on Kaiba's famous Duel Links line, that he famously screams at a six year-old: "You're a third-rate duelist with a fourth-rate deck!" That being said, I might qualify for a new title: "second-rate duelist with a first-rate deck!"
My History In Yu-Gi-Oh
I'm a returning player, and I got my start around 2012 or 2013 in the time of Dragon Rulers competing with my trusty Gravekeeper deck. I got 2nd Place in the weekend tournaments at my small locals a few times, but I didn't have any major achievements. I ended up leaving the game because I didn't feel connected to the community. I also had to watch Spellbook of Judgment resolve one too many times...
I came back in 2019 during the Eternal Format, where Thunder Dragons, Orcust, Salamangreat, and Sky Striker were the main decks in competition. I showed up with my seven year-old Gravekeeper deck filled with OG traps like Mirror Force, Solemn Warning, and Fiendish Chain and endured complete shock when my opponent activated Monster Reborn: "But that card's banned!!" Oh, how naïve I was.
Surprisingly, I ended up beating two players with Necrovalley, Royal Tribute, and traps no one was expecting, because nobody played them anymore. I had a lot of catching up to do. I remember the first time I saw someone Link Summon, I was so confused. "Wait, why are there arrows on that Ritual Monster?" Again, oh, how naïve I was.
But one guy offered to help me catch up. He sat with me for two hours explaining Links, Pendulums, and the Extra Monster Zone. Honestly, I'm still in shock that I came back the next week, after a Duel Academy-worthy lecture.
I quickly figured out that Gravekeepers wouldn't be taking me to the top, so as the broke graduate student I was, I invested in a budget Salamangreat deck. At the time, Cynet Mining was $30 a pop and was getting reprinted soon, so my build was not quite ideal.
It Wasn't Easy
I struggled a lot. I watched Cimoooooooooooooooooooooo's videos on loop trying to figure out the combos (that's the right number of o's, right?), but it was so difficult. All my games went to time and I did terribly. I just couldn't figure out the deck. Worst of all, Konami TOOK MY FREAKING HORSE FROM ME, in the legendary January 2020 banlist massacre that stole my Salamangreat Miragestallio and knocked off Sky Striker Mobilize - Engage!, Thunder Dragon Colossus, and Orcust Harp Horror. Then of course with the release of Magicians' Souls, Spyrals rose to prominence and I said, "Bye Felicia."
Whilst I navigated the casual-competitive scene, I started a Twitter that was dedicated to Yu-Gi-Oh jokes. I gave myself the handle "5th RateDuelist" so I could post in anonymity to my heart's content. On the side, I was taking my Yu-Gi-Oh comedy to the stage, as I found the average person actually finds it pretty hilarious that Konami has a tournament requirement for basic hygiene. You can check it out here.
Fast forward to the middle of the pandemic: I got curious about Yu-Gi-Oh again and put together a Cyber Dragon deck, a strategy I'd wanted to play for a long while, but was out of my price range until Cyber Emergency was reprinted. It couldn't stand up to Adamancipators, Dragon Link, or Infernoble, but boy was it fun on a casual level.
Fast forward again to September 2020. Some Twitter friends brought up the idea of streaming and I made a poll asking my Twitter followers if they'd be interested in watching someone play a card game poorly while roasting their opponents. Surprisingly, it was a resounding yes. I also entered an online tournament with Invoked Dogmatika, where I accidentally misclicked and sent my El Shaddoll Apkallone back to the Extra Deck instead of adding Shaddoll Schism to my hand (lol), leading me to ragequit and say goodbye to the competitive scene.
Cost had always been a barrier for me to get into the game, but I had some extra cash from my birthday, so on Black Friday weekend I picked up Invoked Shaddolls (skipping the Dogmatika). At the time, Shaddolls were cheap and Invocation was $20, so I was able to complete the deck. I picked Shaddolls because I liked the pictures (lol). Hey, if I'm going to be staring at cardboard, it might as well look nice, and to be fair, why do you think half the Sky Striker players picked the deck? (Raye is bae, is all I can say.)
I watched a lot of Pak Pamornsut's videos to learn the deck and started doing Remote Duels with other content creators on stream to get comfortable. By the end of 2020, I was contemplating how I'd never gone to a YCS: I heard guys are weird to girls there, and I didn't feel like I was good enough to go. I decided to start my Road to YCS series, documenting my journey to get better at Yu-Gi-Oh.
It was very real. I included clips of me crying after losing to Red-Eyes Dark Dragoon in my first online tournament, I talked about going 0-5 at locals after getting sharked, and I even recorded my realization that Miscellaneousaurus only works during the Main Phase. Despite my lack of "successes," I kept trying.
After a few months of Remote Duel tournaments, I got 6th Place, then 5th Place, then 2nd Place, and then I won a locals – brutally. I 2-0'd all my opponents, and I'm not going to lie, I then went on Twitter and told everyone that I also 2-0'd their mom. So maybe it went a little to my head.
I did some Extravaganza side events and got 2nd Place in a few Win-a-Mats after I slept through the main event like four times. (Konami, do you really expect me to wake up by 8 AM on a weekend?!)
As I got better, my Twitter, YouTube, and Twitch all grew. I made friends with lots of content creators in the community and racked up some wins against legends like Pak and Koty Angeloff, who started to coach me.
As much as I love Shaddolls, I was getting tired of Normal Summoning Aleister the Invoker, so I looked into new decks. I'd always loved Drytron, but I never picked it up due to the price, and a general feeling that I simply wasn't capable of learning a combo deck. But Koty encouraged me to try it out if I really wanted to. I felt it would help me grow as a competitor.
While the pro players probably pick up a deck for reasons like power and consistency, I picked up Drytron because, well, I liked the pictures. (Obviously I'm a professional Yu-Gi-Oh player.) I also liked the concept of making a pretty unused group of monsters – Rituals – viable in today's meta. And who doesn't like space machines?!
I got a sponsor, Plus One Gaming, and they helped me secure some of the cards for my Drytron Deck. I was also out of school and in a better place financially, so I would save ten or twenty bucks a week to spend on cards. I'm not going to lie, though, bricking on $300 worth of Triple Tactics Talent makes me question my life choices sometimes.
So I practiced Drytron and I lost. And I lost. And I lost some more. I literally came in last place at Remote Duel locals on June 25, 2021. I did so badly I cried. (Do you see the running theme here?) Then I heard about a tournament at Gamer's Choice in New York on the July 4th weekend.
The Round-By-Round Recap
I had friends in New York and I'd been meaning to go on vacation, so I packed my bags and headed to my first big tournament – the perfect next step for my Road to YCS series. Here's how it played out.
Round 1: Drytron
My first opponent was a mirror match, up against another Drytron player. If you don't already know this, Dryton mirrors are the Yu-Gi-Oh equivalent of watching paint dry. You might as well just show your opening hands to each other and decide who wins from there.
I win Game 1 as he couldn't break my board, he wins Game 2 because I couldn't break his board, and Game 3 he lets me set up without interruption. It was the classic Herald of Ultimateness, Linkuriboh, I:P Masquerena, and Beatrice, Lady of the Eternal. On his turn, he tried to chain Dark Ruler No More to my Beatrice, Lady of the Eternal effect in the Draw Phase. We call a judge, and then he tries to chain it to my Herald of Ultimateness in Main Phase 1, and let's just say I end up winning that game.
Afterwards, my opponent tells me that he's gone to Nationals twice and that he misplayed, but that I played perfectly. A great start!
Round 2: @Ignisters
My second opponent's playing @Ignister. All I know about the deck is that I should interrupt Dark Infant @Ignister or Dark Templar @Ignister, I shouldn't let them have Ignister A.I.Land, and I shouldn't let them make The Arrival Cyberse @Ignister.
Game 1 I brick and he goes full combo. Game 2 I brick, but so did he, and I win out. Game 3 he goes first, sets four cards and passes. He uses two copies of Infinite Impermanence, but I'm still able to set up a board. He draws a card, tell me it's not a starter, and concedes. I'm 2-0 at this point.
Round 3: Trap Eldlich
My third opponent is playing Trap Eldlich. I win Game 1 because I negate all of his cards. He wins Game 2 using cards like Torrential Tribute and my arch-nemesis, Solemn Strike. During Game 3, I summon Drytron Meteonis Draconids, attack for significant damage, and win in time.
Round 4: Dragoon Eldlich
My fourth opponent's playing Eldlich Dragoon. And guess what: I'm at Table 1! I can't remember too many of the details after having flashbacks of my first experience with Red-Eyes Dark Dragoon, but we go to Game 3 and Borrelsword Dragon allows me to OTK. I'm 4-0 at this point and I've never been happier with my choice to run Borrelsword Dragon in my Extra Deck over Accesscode Talker.
Round 5: Altergeist
My fifth opponent is playing Altergeist, another arch nemesis of mine, and I'm at Table 1 again! I've played so many games against Altergeist, since one of my best friends is a very skilled Altergeist player. I've lost most of those games, but I feel like I can navigate the situation.
Unfortunately, I brick on Ghost Belle & Haunted Mansion both games and my opponent resolves Torrential Tribute using his monsters three times. I get 2-0'd and my winning streak is gone. Afterwards, my opponent explains that he specifically designed his deck to beat Drytron because he had such a bad matchup with it.
Round 6: Drytron
My sixth opponent is running Drytron with Red-Eyes Dark Dragoon, and with no Fairies. We go to Game 3, and five seconds before time is called, I concede the game knowing that he would win if he just had enough time to attack me. I'm devastated at this point because I think that I can't top anymore, but I decide to finish the last round of Swiss.
Round 7: Invoked Shaddolls
My seventh opponent is piloting my old deck: Invoked Shaddolls. He sets up a full board and summons El Shaddoll Winda, but by some miracle I had two Drytrons, plus Drytron Meteonis Draconids and Meteonis Drytron in my hand. I summon Draconids as my only Special Summon and wipe his board clean. I'm really happy with my decision to run two copies of the Ritual Spell in my deck, because drawing it has only been helpful. I'm able to use my previous experience playing the deck nd 2-0 my opponent, and that concludes Swiss.
I'm sitting with Pak and other content creators as Top 16 are announced. 5 th Place goes to a female duelist and Yugituber, and the crowd goes wild. 6th place is called, 7th place, 8th place, 9th place, 10th place, 11 th place…and then my name! The room cheers loudly for me! I'm jumping up and down, saying "oh my god," "holy #$%&" (4Kids would've censored me), and "I can't believe I made Top 16!" I get a lot of hugs from the people around me.
I start pounding water, eating bananas, and finish an energy bar to keep myself going for the last few matches.
Top 16: Dogmatika Eldlich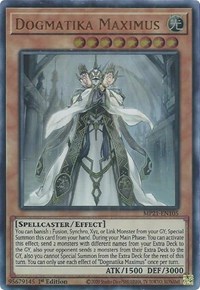 My Top 16 match is against another female duelist, and she's playing Invoked Dogmatika Eldlich. I see the oh-so-familiar sight of Aleister the Invoker as she Normal Summons it, but I use my Ghost Belle & Haunted Mansion to negate her Invocation.
She summons Dogmatika Maximus and activates the effect; I send both my copies of Herald of the Arc Light to the graveyard, knowing that the effect isn't once per turn, and use them to search for Drytron Meteonis Draconids and Meteonis Drytron. I summon Drytron Meteonis Draconids, she summons Dogmatika Fleurdelis, the Knighted and negates my Drytron Meteonis Draconids, and I attack into El Shaddoll Winda.
On her turn, I send Dogmatika Fleurdelis, the Knighted and Dogmatika Maximus to the grave with Drytron Meteonis Draconids effect, fearing that she'd activate Dogmatika Maximus again to gain some advantage. Eventually I win the game.
We go into game 2 and I summon Drytron Meteonis Draconids again – she reads the card a few times as she tries to figure out how to beat my great beast. She tries to destroy it by sending Elder Entity N'tss to the graveyard with Nadir Servant, but unfortunately doesn't realize that Drytron Meteonis Draconids can't be targeted by monster effects, and has to declare a different target. Eventually she concedes saying that she's not sure how to out Drytron Meteonis Draconids.
Top 8: Dragoon Trickstar
My Top 8 match is against a Trickstar deck with Red-Eyes Dark Dragoon. The premise of the deck is to banish my hand with the combo of Trickstar Reincarnation plus Droll & Lock Bird, deal burn damage using Trickstar Light Stage, and summon Red-Eyes Dark Dragoon. I won the first game and in the second game, he summons a Red-Eyes Dark Dragoon that eventually goes to 5000 ATK. But I bait out his negates and use Borrelsword Dragon to attack for game.
Top 4: Drytron
My Top 4 match is against Drytron using Herald of Perfection. In Game 1 I build a board that he can't break. In Game 2 he builds a board I can't break. And then Game 3 is absolutely nuts.
I use Instant Fusion to summon Millennium-Eyes Restrict (my second Called by the Grave). I search my deck for Cyber Angel Benten and my opponent activates Droll & Lock Bird. He discards Herald of Orange Light and another Fairy to negate it. I discard an Herald of Orange Light and Eva to negate his Herald of Orange Light , leaving him with two cards in hand. I then use Eva to search Diviner of the Herald and go full combo. I am victorious.
The Finals: Sky Striker
My final match is against Sky Striker, by far my most difficult matchup. And with a crowd of pro players watching the game, I'm feeling very nervous. I win the die roll. Assuming that Sky Striker likes to go second, I made my opponent go first. I lose the first game and choose to let my opponent go first again. After he draws Sky Striker Mobilize - Engage!, he has so much momentum that he banishes all of my Drytrons with Sky Striker Mecha - Shark Cannon and Ally of Justice Cycle Reader and I concede. I put my head to the table as I realize that after eleven long rounds of Yu-Gi-Oh, I wasn't able to win, but I'm also so happy that the tournament's finally over.
Overall, though I've been playing competitively for six months, I got 2 nd Place in my first big tournament with 180 competitors. My hard work paid off, my Road to YCS series has a new episode, and I feel proud of myself for what I've done. But I also feel anxious – I wonder if it's a fluke, I doubt myself, and I can't believe that someone so new could succeed at that level.
People are telling me to change my name, but no matter how well I do, I'll always go by 5thRateDuelist.