It's no secret that Rise of the Duelist has a ton of great competitively viable cards, unique legacy support for fan-favorite decks, and lots that falls somewhere in-between. I want to talk about a lot of cards, but the new Fluffal support has me the most excited!

Fluffals have always been in a weird spot. They have strong removal options going second like Frightfur Tiger and Frightfur Kraken, and they have plenty of ways to gain serious card advantage. Fluffal Wings is one of the most absurd cards I've ever seen in a rogue deck, and Frightfur Patchwork sets up plays with ease. It's never lacked ways to swarm the board either, but it has been missing a meaningful end goal on Turn 1. There have been many attempts to make Fluffal into a deck that can go first. Trap cards and Rank 8 Xyz Monsters have always been valid choices but they've never quite been enough.
Rise of the Duelist debuts four new cards: Fluffal Dolphin, Edge Imp Scythe, Frightfur Cruel Whale, and Frightfur Repair. Last week I posted up my first draft for a new Fluffal deck on my Youtube channel, but I want to take it a step further. In that video I was still playing a dedicated going-second Fluffal deck, despite the theme receiving support that lets it go first. I knew Edge Imp Scythe was powerful enough if you were forced onto the play, but I underestimated the impact just a few Main and Extra Deck spots can have on the strategy's ability to make great boards on Turn 1.
It's All About Scythe
The foundation of the modern Fluffal deck is Edge Imp Scythe. Here's the deal: Edge Imp Scythe is a hand trap that Fusion Summons during your opponent's Main Phase, using it as material — as well as other monsters in your hand or your side of the field. It also has a graveyard effect that banishes it to prevent a Frightfur Fusion Monster from being destroyed.
Both effects lead into Frightfur Cruel Whale perfectly. When Frightfur Cruel Whale is Fusion Summoned, you can destroy a card on both sides of the field without targeting. That means when you're going second, you can use Edge Imp Scythe to summon the Frightfur Cruel Whale, use Frightfur Cruel Whale effect on itself and whatever opposing card you're trying to stop, and then protect the Frightfur Cruel Whale with Edge Imp Scythe graveyard effect!
Even if you're not using the Edge Imp Scythe as a hand trap, Frightfur Cruel Whale still gets value by destroying cards like Toy Vendor. Frightfur Cruel Whale also has an effect that boosts a Fusion Monster's ATK, which is great in combination with the double-attacking Frightfur Kraken.

But Edge Imp Scythe impact goes a lot further than just a hand trap for a rogue deck. What I'd undervalued was its ability to lock your opponent out of the game on Turn 1, thanks to Artifact Dagda. This easily-made Link 2 was hyped out of the gates, but it's been overshadowed by many stronger Link Monsters from Duel Overload. If you activate the effect of a card (besides itself) while Artifact Dagda on the field, you can set an Artifact monster from your hand or deck to your backrow, face-down. It destroys itself in your opponent's next End Phase, but ideally you're not waiting that long. Also, if Artifact Dagda destroyed, you can Special Summon an Artifact from your graveyard in defense position. That part isn't super relevant, but it could catch some opponents off guard.

Fluffals aren't just centered on Edge Imp Scythe, but Artifact Scythe, too. Remember: Fluffals never had an issue with throwing a bunch of monsters on the field Turn 1. Their biggest downside was they couldn't do anything meaningful with the monsters they summoned — or at least nothing powerful enough to make them worth playing as a going-first deck. But with Artifact Dagda and Edge Imp Scythe, you suddenly have an extremely viable Turn 1 play. All you have to do is summon Artifact Dagda and end your turn with Edge Imp Scythe in your hand, and any Fluffal on your field or in your hand, too — you don't even have to trigger the Artifact Dagda on your turn!

Whenever your opponent plays their first card, follow these steps:
Keep in mind there are tons of ways to get to Edge Imp Scythe on Turn 1. You're playing three copies, but you also have three Frightfur Patchwork to search it, too. And Frightfur Patchwork is searchable via Edge Imp Chain, another three-of. That's all on top of cards like Fluffal Wings, Fluffal Dog, and Fluffal Penguin cycling through your deck throughout the turn.
My goal building a Fluffal deck is to make something that wants to go first, but can still break boards going second. By making a few key changes from my recent deck profile it's easy to do just that:
Yu-Gi-Oh! TCG Deck - Doug's ROTD Fluffal Deck by Doug Zeeff
'Doug's ROTD Fluffal Deck' - constructed deck list and prices for the Yu-Gi-Oh! Trading Card Game from TCGplayer Infinite!
Created By: Doug Zeeff
Event:
Rank:
Advanced
Market Price: $487.43
Cards
The main update is that I cut several hand traps in favor of starters and extenders. Because I'm no longer choosing to go second, I've allowed myself to play a more balanced deck. Even with cutting hand traps, though, you've still got three Edge Imp Scythe, Forbidden Droplet and Infinite Impermanence.
Forbidden Droplet's the biggest indirect support that Fluffals got from Rise of the Duelist. The card's obviously super powerful in a variety of decks, but I love it in Fluffal specifically because it doesn't prevent you from doing damage. Dark Ruler No More's a great card that's used for breaking boards, but it's difficult to use in Fluffals because it prevents your OTK. With Forbidden Droplet not only do you negate a bunch of monsters, but their ATK stats are halved as well. If you don't have Forbidden Droplet, I'd recommend playing something like Ash Blossom & Joyous Spring or PSY-Framegear Gamma. But if you do own copies of Forbidden Droplet for other decks, I highly recommend it in this one, too.

Edge Imp Scythe and Frightfur Cruel Whale are only half of the new cards, though! Fluffal Dolphin's one of the best cards to search after sending Toy Vendor with Foolish Burial Goods, because it puts the Toy Vendor into play and mills Fluffal Wings to the graveyard! It also happens to be a Level 4 Water monster, so you can pair it with Fluffal Penguin to make Bahamut Shark into Toadally Awesome. Frightfur Repair gives the deck a bit more longevity, and you can add it with Edge Imp Chain. It's not as flashy as the other new cards, but it fills a vital role in grindy matchups.
Fluffal Sheep isn't new by any means, but I haven't found room for it in previous Fluffal lists. It's a free extender, so I think now's the perfect time to play it to help facilitate that Artifact Dagda opening I described earlier.

Besides Artifact Dagda and Bahamut Shark, Fluffals can also make True King of All Calamities with two copies of Frightfur Cruel Whale. I'd say that making Artifact Dagda's preferable, but it's always nice to have the option to make True King of All Calamities. Oddly enough, I find myself summoning True King of All Calamities most often when I go second. If you Edge Imp Scythe on Turn 1 when your opponent's trying to combo off, you'll often find Frightfur Cruel Whale still on the board when your turn starts. If you can break your opponent's board but not quite OTK them, True King of All Calamities is a great card to secure the win.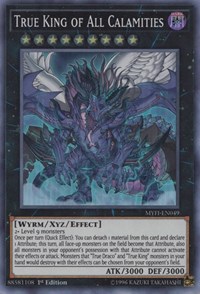 Looking Ahead
Fluffals have several strong options going first — they're consistent because they play so many searchers, and they have unique removal going second to break boards. But that doesn't mean we're going to see Fluffals tearing up the tournament scene as anything more than a viable rogue deck. There are a lot of extremely powerful cards in the format, and more releasing in the near future. Despite having a ton of tools for different situations, it might be difficult for Fluffals to truly compete against the top decks (at least for now).
I'd say Fluffals are well equipped to defeat most monster-heavy combo decks with cards like True King of All Calamities and Artifact Scythe, and they can beat most backrow decks with Frightfur Tiger. But they struggle as the game goes longer against decks with nearly infinite advantage. Right now Eldlich is one of the most popular decks in the game, and Fluffals are going to have a tough time against that archetype h no matter how you build the deck.
Looking at early tournament breakdowns, it appears Eldlich is the most common deck, but it's not completely taking over tournaments. Adamancipator, Infernoble Knights, and a bunch of rogue decks are out there, too. And against those strategies, Fluffals are looking better than they ever have, making it the perfect time to try the theme!