Starting this weekend with the October 2021 Remote Duel Extravaganza, Konami's upgrading the Remote Duel experience with a "virtual event" format. That means more activities you can do from your own home, more time to pre-reg for competition, and more stuff that goes beyond regular remote dueling tournaments. And while previous Extravaganzas featured tournaments on Saturday and Sunday, the virtual event add-ons begin Friday, making Extravaganza weekends even bigger.
In addition, the Extravaganza Main Event has undergone some big changes, with structural improvements, new prizes, and a richer prize pool in general! You can also look forward to new events that offer more support for Duel Links players, and as we count down the days to the Speed Duel GX: Duel Academy Box, Konami's reworking Speed Duel tournaments with a new structure and better prizing as well!
So what's new? Let's run it all down.
Virtual Event Add-Ons
The first new addition under the virtual event model is the Virtual Token Booth, where can anyone can use the Token Booth website to put a personal image of their choice onto a Yu-Gi-Oh Token card! The website opens up tomorrow, October 8th, bringing the always-popular Token Machine or Token Booth experience to the masses.
The Token Booth concept's really cool, and a lot of fun to play with. You can receive your digital token cards by email to print them yourself, and if you live in the US or Canada, you'll be eligible to win a printed version of your Token Card from Konami. Best of all, it's FREE!
I've seen some really cool customized tokens made through the Token Booth over the years; the website says the image you use has to be a photo of yourself, but in the past I've seen people make tokens from pictures of their pet, or pictures of themselves with their friends. It's a cool gift idea, and certainly a great "token" for people to remember you by. Be sure to bookmark the page if you're interested!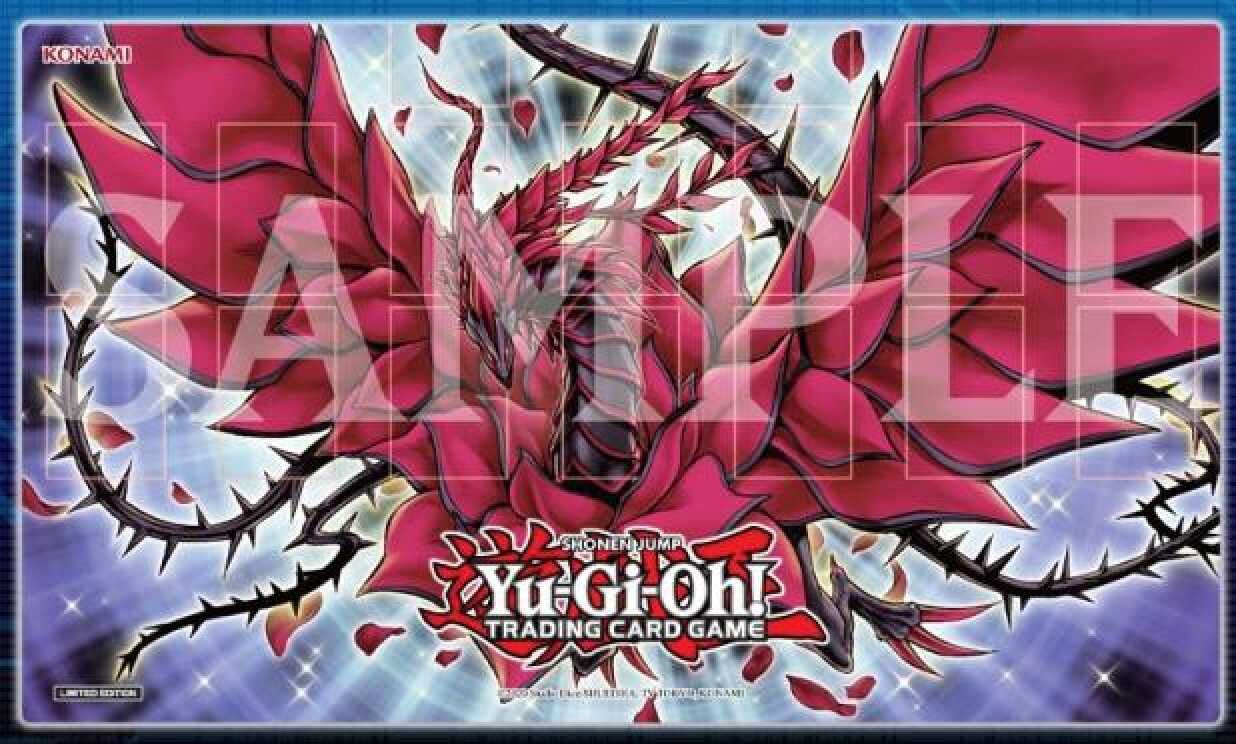 Next up, Konami's selling a new, exclusive and limited-time-only Black Rose Dragon game mat! It's another release in line with the product-hover id="249618" we got back in July!
I missed out on the Stardust mat, but hopefully I can click fast enough to get myself one this time! If you're a fan of Akiza and her Black Rose Dragon, you wouldn't wanna miss this, so be prepared: it's probably going to sell out in a matter of minutes.
Lastly, Friday is when pre-registration begins for all the Remote Duel public events!
You'll be able to pre-reg for everything from the classic Win-A-Mat tournaments and Sealed Egyptian God Deck events, to the infamous ATTACK OF THE GIANT CARD!! tournament. This time, the Giant Card up for grabs is The Iris Swordsoul! There are even Speed Duel Constructed events and Duel Links tournaments on offer as well - more on those in a bit.
And if all of this doesn't sound too different from previous Extravaganzas, I assure you, there's more hype I haven't started to explain yet.
The Main Events, Plural?!
This is where the really big news is! Starting this weekend, we're going to see some huge changes to the prize support and tournament structure for the Extravaganza Main Event, something I've personally been waiting for.
For those that don't know, previous Extravaganza Main Events across the last year have all been one day long Swiss-style tournaments, awarding seats in the Remote Duel Invitational Qualifiers to the Top 64, and an exclusive game mat to the Top 16. That was cool, and it helped those events feel sort of like the Regional Qualifiers we all enjoyed before the pandemic.
HOWEVER, when the Remote Duel YCS was announced back in July, there was hope that prizes for Remote Duel events could be better! And when I woke up at 4 am the other day and saw the FAQ had been posted for this weekend's Extravaganza, I was really surprised!
What are the biggest changes? First off, the Remote Duel Main Event will now be a 2-day competition. Day 1 will be Swiss-style tournament play on the Saturday, and after a Top Cut we'll see a single-elimination bracket play off on Sunday.
Main Event registration's already open online, so be sure to register early and claim your spot! Why would you want to register? Well, the prizes have finally been upgraded! Here is what the new prize structure will be, staring this weekend.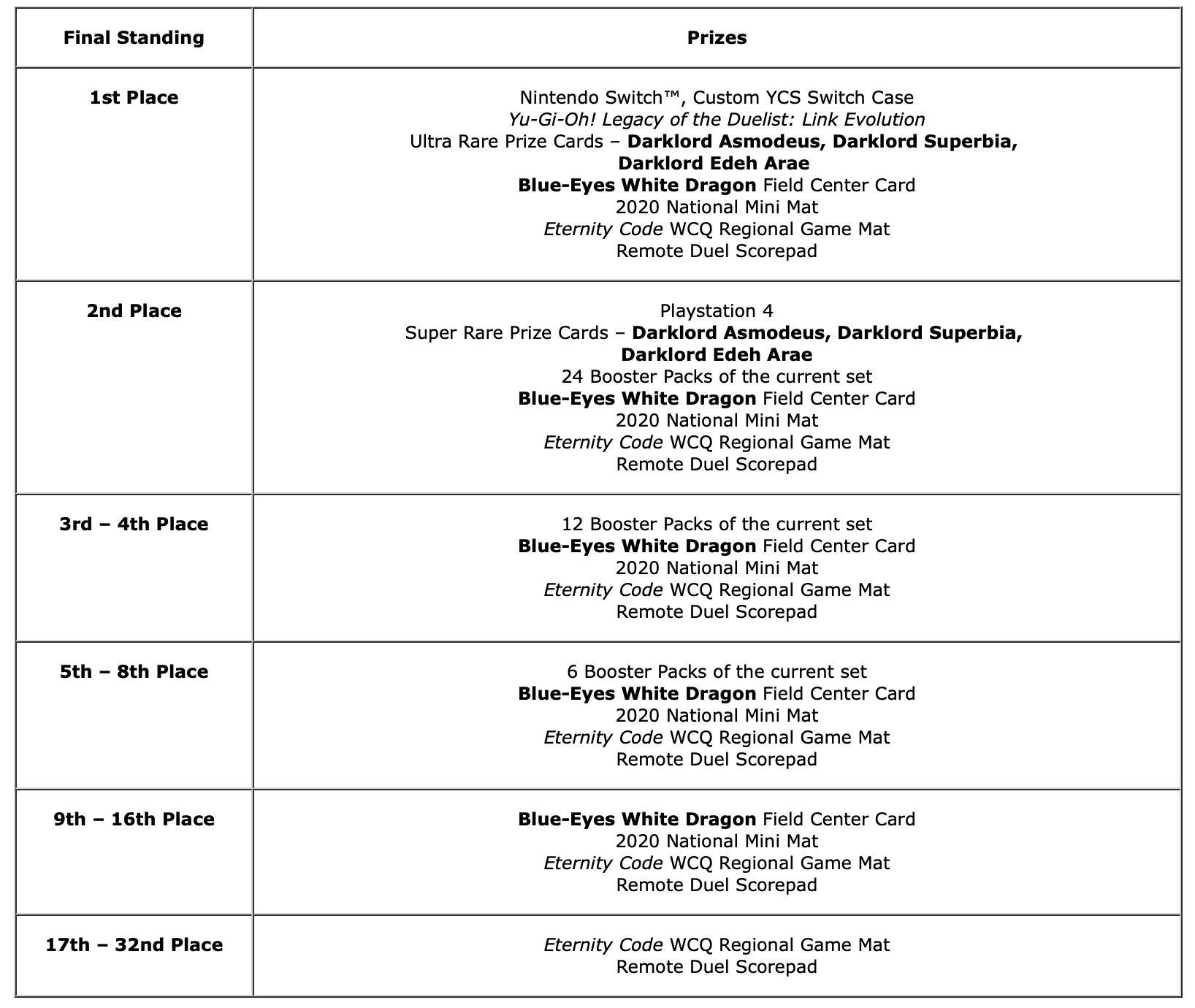 It's probably fair to call this a "top heavy" prize structure, which I think is for the best: it makes the Main Event feel like a bigger accomplishment, knowing that you've won a prize that's this exclusive and hard to achieve. Taking 1st Place feels like a big deal now, and these kinds of stakes bring a level of excitement to the deck that make the event more fun for everybody.
Keep your eyes on the prize is what they say, and if you're looking for the "big money" here, 1st Place and 2nd Place is where it's at. Those Championship Prize Cards are just waiting for their new owner, as are those brand-new gaming consoles.
82265 || 82268 || 82263
This kind of setup reminds me a lot of the Yu-Gi-Oh Championship Series. It's not exactly the same, since 1st Place is getting the older Darklord Prize Card set instead of a more current card. But hey! It's still a Prize Card, and these are the full-on Ultra Rare versions, not the Supers. These cards were first offered over ten years ago, and they've gained a lot of value over time, becoming much more collectible than they once were.
The rest of the prizes are pretty simple, but certainly worthwhile. They include stuff like:
Packs of the current set (AKA Dawn of Majesty)
Scorepads
The 2020 Nationals mini, which I assume is the smaller version of the Flame Swordsman playmat we've been winning in previous Extravaganzas
The Blue-Eyes White Dragon Field Center, which was previously exclusive to Invitational Qualifier Top Cuts
The Eternity Code WCQ Regional game mat, featuring Traptrix Allomerus and Traptrix Rafflesia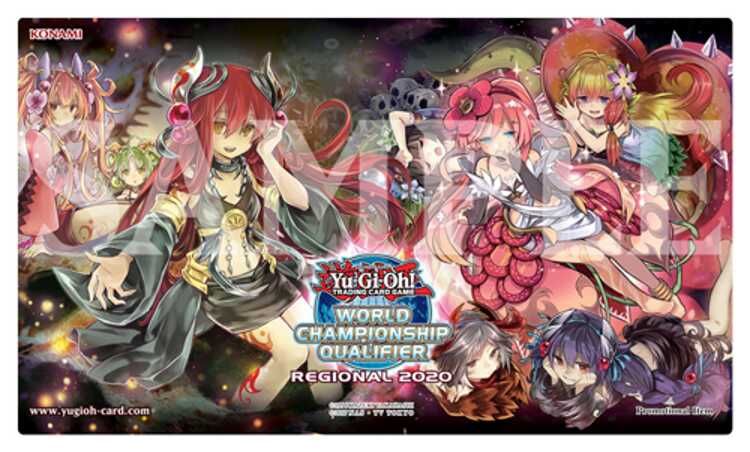 If you're a fan of the Traptrix, you'll wanna try and do really well to get your hands on this!
This game mat looks really nice, with so many Traptrix monsters staring at you. I can only assume that this was made long ago, sometime before the pandemic, and was supposed to be awarded at Regionals in the Eternity Code format. It's nice to see that they're trying to find ways to get these prizes out to the public!
But Wait! There's More…
You thought there was only one Main Event? That used to be the case, but no longer! If you didn't make Day 2 in the TCG Advanced Format Main Event, or if you're a master of Speed Duels or Duel Links, then you'll find new events just for you on Sunday. Prove you're the best, in a Speed Duel Main Event played in Swiss, or a new Duel Links Main Event!
Finally! At long last, we have a SWISS FORMAT SPEED DUEL EVENT. You read that right! Now, instead of losing in Round 1 of a single-elimination Speed Duel Win-a-Mat, just to go sign up for another one, I can stick around to try and play it out for a spot in the Top Cut!
This has got to be the biggest sanctioned event opportunity Speed Dueling's ever had. Heck, even I might play! Why? Because of the glory, and the prizes and glory of course!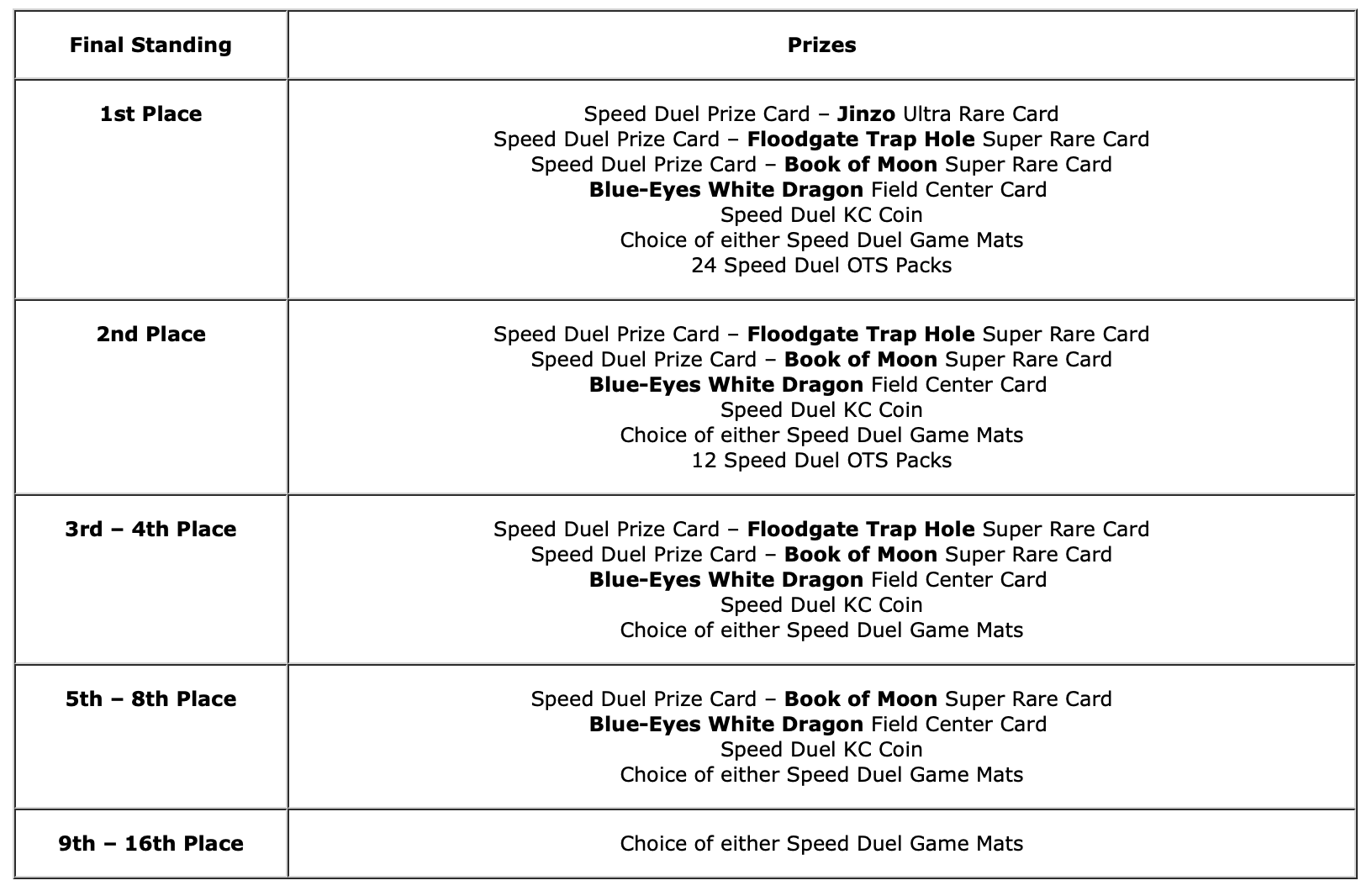 Yeah I know, I had to double check what I was reading too! But that's right: the exclusive European promo versions of product-hover id="228585", product-hover id="228593", and product-hover id="240202" are either getting reprinted, or are at least obtainable once again? And as a "Prize Card" this time?!
For more context, these are the three most valuable cards in Speed Dueling. They sell for hundreds of dollars, and they're expensive because they were exclusive to short-run European events, and many players who were aware of them probably thought they'd never be able to get one.
There was even a time when the promo Jinzo was legal in Speed Duels, and the only version of the card available for Speed Dueling. That meant a majority of the player base just didn't have one, and couldn't really compete against it. You can read more about it in Dan's article, fittingly titled "The Most Valuable Yu-Gi-Oh Cards You've Probably Never Heard Of".
Aside from that, there are also Speed Duel OTS Packs to be won, and an easier way to get those Speed Duel Win-a-Mat game matts featuring Yugi and Kaiba. There's the Blue-Eyes Field center… technically irrelevant for the Speed Duel format, but hey, more prizes!... and the new Speed Duel Kaiba Corp coin.
244737 || 244736
So brush up on your Speed Duels! The format's very easy to get into, and we have plenty of articles discussing all the top decks you can pilot, plus a growing deck archive!
The competition might be small, too: I'm estimating we'll see fewer than 100 players signed up.
If you think you have what it takes, then I say go for it! There may be less than a week to prepare for this event, but Speed Duel is such a contained format with a smaller pool of cards, I'm sure anyone with enough time can learn all about it and feel confident. You wouldn't wanna miss it!
Don't Forget Duel Links!
Last but not least, there's even a Duel Links Main Event on Sunday! I haven't been keeping up with Duel Links myself, but there's been a lot of hype for it in the last week, in part because Pendulums were just introduced to the platform.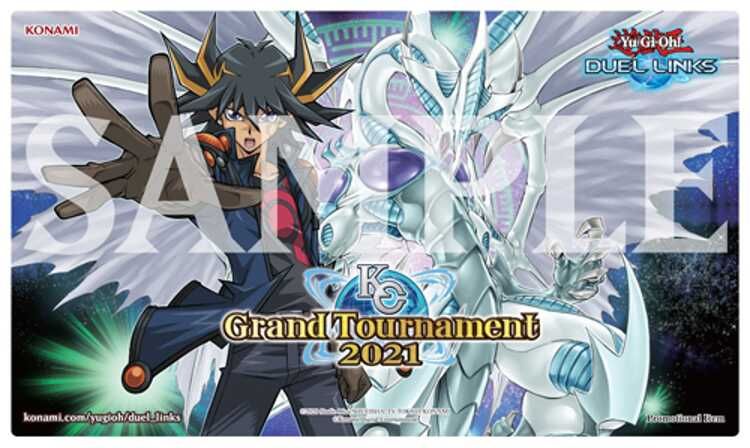 The prizing for this also looks very appealing if you're a fan of Duel Links. 1st and 2nd Place each get a brand0new iPad! From there, the rest of the prizes range from collectibles like pins, coins, Duel Links poker chips, and a ZEXAL pendant, to the Blue-Eyes Field Center, and a game mat featuring Yusei and Stardust Dragon.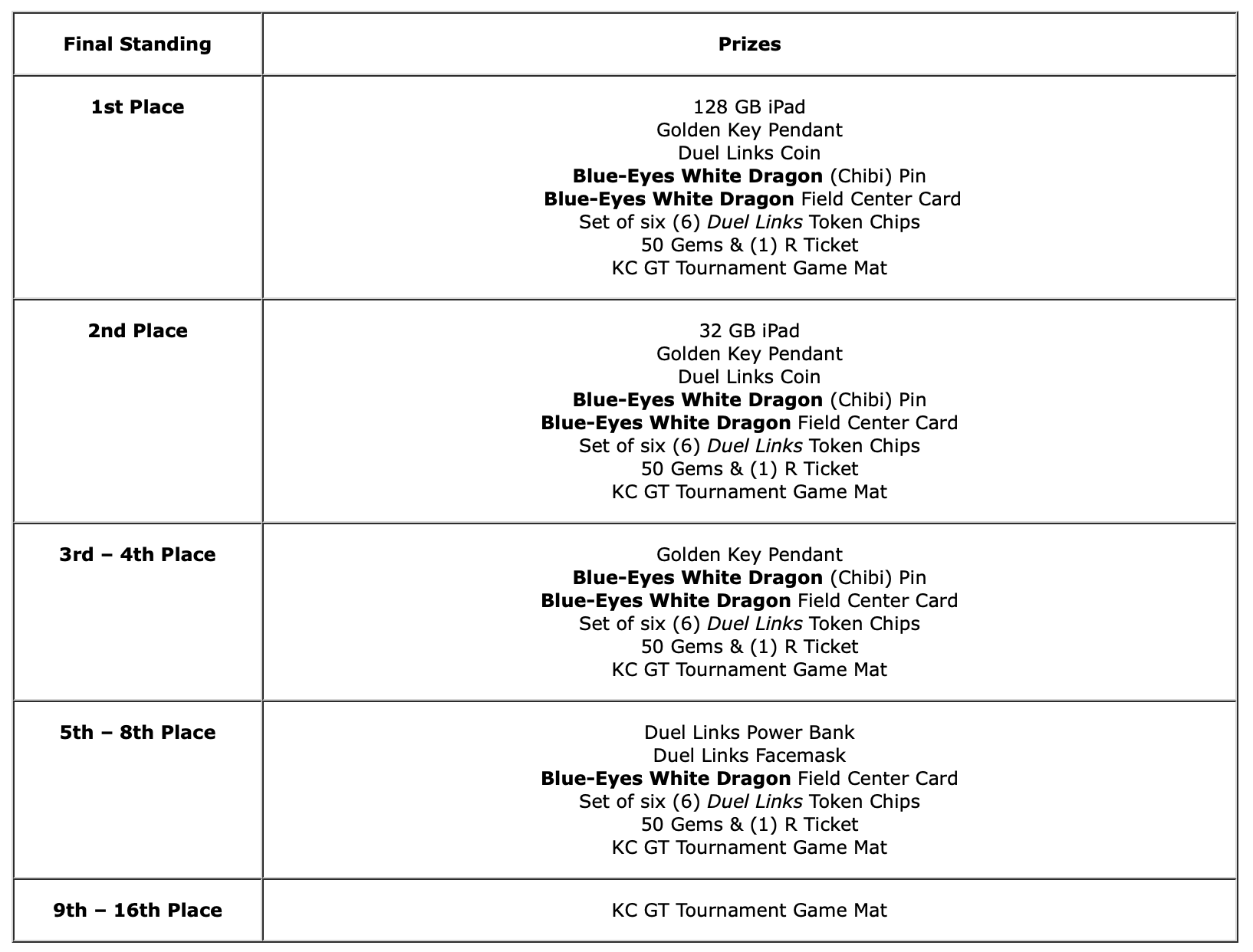 Everybody in the Top 8 also gets 50 gems and an R Ticket. I personally think that it could be more appealing if the gem rewards could be higher. 50 gems is the equivalent to everyone getting one pack. That's it? I understand that there's other prizes to award for higher placements but it would be nicer if the event was awarding more Gems.
Perhaps since this is one of their first times hosting an event of this caliber for Duel Links, they're only experimenting with the prize structure. If more players were interested, I'm sure the prizing would inevitably improve.
In Conclusion, GO SIGN UP!
After reading through the FAQ when it dropped, I knew I had to write on this and tell you all about it! It's exciting to see these kinds of changes, and I can't wait to participate in the tournament this weekend. If I don't make Day 2 in the Main Event on Saturday, you'll probably see me trying Speed Duels again.
Hopefully you all have this weekend off, so you can join in on the fun too! For a handy recap, here are all the links you'll need if you want to compete.
Lastly, if you have the time and are interested in judging future events, I'm sure they are happy to welcome more judges into their program. Events like these are made possible because of the T.Os and Judges who help make it happen. You can find more information on the Judge Program here.
I'll see you this weekend!