TCGplayer kicked off another 10% Bonus Bucks promo on Tuesday, offering 10% back in credit on all purchases site-wide, for a whopping 10 hours!
With Yu-Gi-Oh in the middle of a massive release season, coming off the product-hover id="241346" and product-hover id="240558", and heading toward product-hover id="240556" and product-hover id="243716", sales were massive, as thousands of players and collectors moved to pick up cards they were holding back on.
What were they buying, and can it tell us anything about which decks might be popular in the coming weeks? Let's take a look at the Top 10 best-selling cards from Tuesday alone to find out.
#10 Tri-Brigade Fraktall
Synchro Storm drops today, and while Tri-Brigade fell short of the Top 4 at the latest Extravaganza, interest is still at a high thanks to the new Lyrilusc cards. Lyriluscs were the de facto Tri-Brigade build leading in tournaments early on this year, until Zoodiacs took over. Now that Zoodiacs are largely gone, expectations are high for a Lyrilusc comeback, and the fact that you can get an entire playset of Tri-Brigade Fraktall for about 10 bucks is looking mighty inviting to players just picking up the deck.
#9 Cyber Strike Structure Deck
240558
Nobody likes paying above MSRP for a Structure Deck. The whole attraction of Structure Decks is getting a bunch of cards for a bargain basement price, catching up on stuff you missed, scoring some new hotness, or grabbing that second playset to make deck building easier. Structure Decks are kind of a victim of their own success: we haven't really seen an old school, totally terrible Structure Deck for a while now, and at their peak they're just fantastic. Structures like product-hover id="183523" and product-hover id="194714" are incredible collections of cards that have shaped the tournament scene, and at $9.99 a pop they were clearly undervalued.
product-hover id="240558" isn't quite on the level of those absolute best-in-class Structures, but it's definitely on the higher end, and it's got a lot of selling points. Built around one of the most popular cards in the game and packing a huge reprint in Infinite Impermanence, the kickback made that $14 price point a little more palatable, and on average people were buying multiple Structures per order.
#8 The Phantom Knights of Torn Scales
Phantom Knights have seen some action in recent events, including two Top Cut showings at the Extravaganza, in the hands of Christopher Brunner and Matthew Narvaez . But demand for The Phantom Knights of Torn Scales probably picked up this week due to product-hover id="243716" looming just days away, and the pending release of Destiny HERO - Destroyer Phoenix Enforcer.
Like Red-Eyes Dark Dragoon before it, Destiny HERO - Destroyer Phoenix Enforcer is going to be fantastic in any deck that can run Predaplant Verte Anaconda. But Phantom Knights are especially good with it, since with just one card like Tour Guide from the Underworld, they can make a field of Artifact Dagda to set Artifact Scythe, then make Predaplant Verte Anaconda for Destiny HERO - Destroyer Phoenix Enforcer. With Artifact Scythe locked and loaded, you can use Destiny HERO - Destroyer Phoenix Enforcer effect on your opponent's turn to pop the Artifact Scythe, cutting off your opponent from their Special Summons. Anyone who picked up The Phantom Knights of Torn Scales this week is probably heading in that direction, so be ready for it once product-hover id="243716" goes legal next week.
#7 Dogmatika Ecclesia, the Virtuous
Like trap cards? Then there's a good chance you're probably running Dogmatika Ecclesia, the Virtuous, since Dogmatika Punishment the bomb, and free trap cards that wreck the field are fantastic. Dogmatika Ecclesia, the Virtuous, Dogmatika Punishment, and Nadir Servant have all been huge sellers since MP21 reprinted them, and it would've been pretty weird if they WEREN'T giant hits during the kickback.
#6 Infinite Impermanence
Still pushing the $10 mark, the reprint of Infinite Impermanence continued to be wildly popular during the kickback. Lots of players were looking to save by snagging Impermanence alone and skipping the rest of the product-hover id="240558", and the kickback was a great chance to basically save a buck a copy. Impermanence is a great investment for anybody's deck building arsenal, featuring in lots of different decks across virtually all formats.
#5 Ice Dragon's Prison
Ice Dragon's Prison hasn't been huge in recent tournaments, as far as I'm aware, but it did show up in the Extravaganza Top Cut, and its utility can be pretty high in narrow formats where you know a lot of mono-type decks are going to be seeing play. It's a great card to have on hand for those times when it's better than usual, but it's also the type of card lots of players bargain hunt for since it isn't as important as many others. With the kickback providing that opportunity, it's no surprise to see it back in the Top 10, higher than it ever has been since the reprint.
#4 Nadir Servant
Like Dogmatika Ecclesia, the Virtuous? Then there's a good chance you're probably running Nadir Servant, since… Ehh, you get the point. At an average buy price of $16 plus the extra value of the kickback, this was basically like getting an entire playset of Nadir Servant for less than what one copy would've cost, and then you got TCGplayer credit. Anybody who was on the fence the last few weeks probably dove on this.
#3 Triple Tactics Talent
Triple Tactics Talent has been solidly $40 since the product-hover id="241346" arrived, and it doesn't seem like it's going to be getting any cheaper anytime soon. That made it a great buy for the kickback, since you've really gotta risk life and limb exploring some shady back alleys to find this card at a lower price. Triple Tactics Talent was all over the October Extravaganza, including three copies total between 1st Place winner Sebastian Todd's Main and Extra Decks, and that's won it a lot of attention in recent weeks.
#2 Crossout Designator
With Crossout Designator down to $55 this week, and the kickback offering big savings beyond that, a lot of players finally dug in and ordered theirs. The average buy here was almost exactly 2.5 copies per buyer, so most players were clearly buying to fill out complete playsets. Crossout Designator got off to a slow start, but it's ramping up, so don't be surprised when it appears in your tournaments soon.
#1 Divine Arsenal AA-ZEUS - Sky Thunder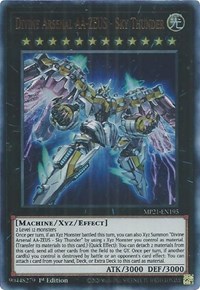 And finally, Divine Arsenal AA-ZEUS - Sky Thunder finally broke out of the Number 2 spot, as more players look to pick up Tri-Brigade in the wake of Synchro Storm and the new Lyriluscs. If you missed it, be sure to check out Anthony's article on that deck and more, looking at new Lyrilusc builds.
In addition, we've seen Divine Arsenal AA-ZEUS - Sky Thunder feature in Virtual World, Mekk-Knights, Melffy, and Drytron lately, including Shunping Xu's runner-up build from the Extravaganza. Divine Arsenal AA-ZEUS - Sky Thunder is really reasonably priced right now, so for anyone who was holding out, the kickback was clearly the right time to grab copies. And I do mean "copies," plural - the average order was more than two copies per person.
240556
Singles from the product-hover id="241346" still dominated the Top 10 on Tuesday, and in general, pre-sales for product-hover id="240556" singles have been pretty weak. That said, pre-sale numbers for sealed boxes were very strong during the kickback, coming in at Number 18 in terms of unique purchases. Baronne De Fleur was by far the biggest single from the release this week, at an average purchase price of just over $80.
Knowing the kind of short print chicanery we can see out of Legendary Duelist sets, the market's clearly approaching this release a bit differently than a more standard booster release. Earlier this week I talked about for-profit investing in Yu-Gi-Oh, and one of the big points of discussion was the Legendary Duelist sets, so be sure to check that out if you missed it.
For now, we're heading into an awesome weekend! product-hover id="240556" drops today, the product-hover id="243716" Premier Events run Saturday and Sunday, and the Remote Duel Invitational will be streaming all weekend long.
Good luck with your pulls, enjoy the livestream, and I'll see you back here on Sunday!