Well, somehow I did it again. I got really lucky this past weekend, and went 8-0 with Prank-Kids in the March Yu-Gi-Oh Extravaganza Main Event on Sunday; the first Extravaganza of the new format. I also won two Win-A-Mat tournaments on Saturday as well, so while it's important to note that the level of competition between side events and main events aren't the same, I guess you could say that I technically went 14-0 for the weekend.
But I think I'm telling the story in the wrong order. Let me take a step back and tell you how I got here.
Just a week before the Extravaganza, I played in the Remote Duel Invitational Qualifiers. Having play tested quite a bit, I understood that Dragon Link and Dinosaurs were the strongest decks in the field. At the same time, a bunch of my friends were hyping that Drytrons were still very strong, even with the Cyber Angel Benten Limited and Union Carrier Forbidden. You can easily recur and re-use Cyber Angel Benten with Megalith Phul to do almost the same thing, searching a lot and ending on Herald with Eva and other Fairies in hand.
Droll & Lock Bird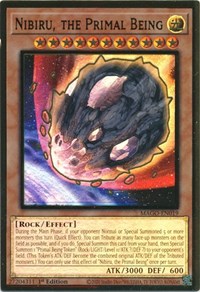 That input gave me the illusion that I should maybe Main Deck Droll & Lock Bird over Nibiru, the Primal Being, since Droll & Lock Bird was also pretty ok at stopping Dragon Link and Dinosaurs. I think that was one of the mistakes I made, which led me to not do very well at the RDI Qualifier.
After being so unsuccessful at that event, I lost some confidence and didn't playtest as much for the Extravaganza. I took a small break from Yu-Gi-Oh and played other games for a few days. Then the Extravaganza weekend came up. Some of my friends asked me if I was gonna play, and though I wasn't confident, I saw it as an opportunity to get my invite so I could be ready for the next round of Qualifiers.
That was my mindset, because Konami changed the FAQ for the North American Extravaganza Main Event: now, if the event reached 257 players or more, then the Top 100 finishers would all get a seat in the next RDI Qualifiers. If you've been noticing the growing pattern of interest in Remote Duels lately, that number was clearly going to be easy to reach. In addition, the Extravaganza was newly restricted to a maximum of eight rounds rather than the previous nine. This made it look much easier to get an invite to the RDI Qualifiers, since you could afford three losses and still make the Top 100.
In the last Extravaganza I was able to make the Top 4. My only loss was to Kyle Waterbury, which was largely my fault: I made some misplays and I was pretty fatigued. I guess winning it this time means I've improved? I dunno. I didn't plan to make it this far, I only planned to try and win one match at a time.
More On My Event Prep
Pak Pamornsut had also been busy playtesting and hyping up Prank-Kids. During my testing in the weeks before the Extravaganza, I also followed his Remote Duel streams and agreed with a lot of the tech choices he made to adapt to the new trends, and I copied some of the ideas from both Pak, and Gabriel Soussi's theories.
The theory was that Mystic Mine just isn't good enough in the current format. That's because Dragon Link is playing Dragonmaid Tidying to help answer it. Dinosaurs will play backrow removal or just pass out tokens with Lost World, eventually answering Mystic Mine with Knightmare Pheonix. And it was never good against Eldlich, since they have Conquistador of the Golden Land. That said, hand traps were needed to stand a chance against Dragons and Dinosaurs.
To start off, I'll show you Pak's build, which he took 5th Place with at this event. It's almost identical to what he nearly topped the Qualifiers with the week before. Congratulations to Pak for doing so well with his build!
Yu-Gi-Oh! TCG Deck - Prank-Kids by Pak Pamornsut
'Prank-Kids' - constructed deck list and prices for the Yu-Gi-Oh! Trading Card Game from TCGplayer Infinite!
Created By: Pak Pamornsut
Event: March Remote Duel Extravaganza
Rank: 5th-8th
Advanced
Market Price: $398.74
Cards
My list is almost the same! I don't think my list is better, or that's Pak's is better, but I have a few different preferences, and some different views on some specific risks. With that in mind I want to talk about some of the ways our decks differed, and I'll explain a couple of the big points to start off.
Pak chose to play Pot of Desires, and I understand why you would, since it helps you draw into more utility cards and more combo pieces. It's also a great way to bait Ash Blossom & Joyous Spring, or to help compensate after you lose your Normal Summon combo to an opposing Ash Blossom & Joyous Spring. I've played it in Prank-Kids before, but that was before Phantom Rage came out.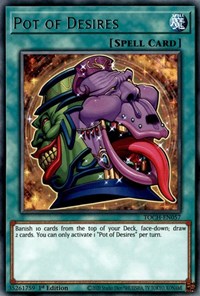 Now, because I want to have access to all of my Prank-Kid cards, I think that the risk of banishing some of them isn't worth the reward. You can argue that you don't need all the Prank-Kid names, since you can win by Turn 3 or 4. But I personally believe you do, and that some matchups will play even longer games; I often find myself needing as many names as I can get.
There Can Be Only One was another big card Pak chose to play. It works well with this deck because your monsters have so many different types. It's also very strong against the popular mono-type decks in competition right now, like Dragons, Dinosaurs, and Zoodiac Eldlich to name a few.
This card's kinda like Mystic Mine in a sense, where it helps you stabilize and potentially buys you more turns. But I don't like how There Can Be Only One changes the way you combo off with the Prank-Kids.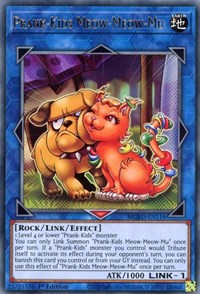 For example, you can't Link Summon Prank-Kids Meow-Meow-Mu with Prank-Kids Rocksies under There Can Be Only One. That takes away three of your starter cards. You can't Link Summon a Prank-Kids Dodo-Doodle-Doo with Prank-Kids Fansies either. That isn't a huge issue, but I do like resolving a Prank-Kids Fansies effect to load another spell I want to recur back later with Prank-Kids Dodo-Doodle-Doo. You can play around that issue, but I just personally don't like the amount of effort I have to put in to make sure I'm not making a mistake when There Can Be Only One is active.
Besides that, the deck was already losing to backrow removal in the first place. So this card - just like Mystic Mine - becomes significantly worse after Side Decking.
There are some benefits I do like about There Can Be Only One in Prank-Kids: while you have a Rock monster on the field, your opponent can't activate Nibiru against you. So just like Mystic Mine, this card does have potential to counter hand traps in a way. But yeah, personally I'd still rather avoid it.
Both of these cards are good! But I believe you can still win with Prank-Kids without them. There are other cards that I want more, cards that basically say, "I won, because I drew this card".
So after that rant, here's my list.
Yu-Gi-Oh! TCG Deck - Prank-Kids by Hanko Chow
'Prank-Kids' - constructed deck list and prices for the Yu-Gi-Oh! Trading Card Game from TCGplayer Infinite!
Created By: Hanko Chow
Event: March Remote Duel Extravaganza
Rank: 1st
Advanced
Market Price: $401.48
Cards
Pak also played Prank-Kids Rip-Roarin-Roaster while I ran a second copy of Prank-Kids Battle Butler. I might consider playing with Prank-Kids Rip-Roarin-Roaster in a future build, but the card feels like a very high commitment to me.
I decided to play a second Prank-Kids Battle Butler because it's very easy to set up two Prank-Kids Pandemonium alongside the Prank-Kids Fansies, Prank-Kids Lampsies, and Prank-Kids Dropsies depending on your hand. But more importantly, there are two reasons to create this setup.
First, it helps you play around Triple Tactics Talent. Kinda. So, normally against combo decks with multiple extenders, like Dragon Link and Virtual World, you need to resolve two Prank-Kids Battle Butler Raigeki effects to end their turn completely. Maybe I'm exaggerating, but that's how I feel it generally goes. If you were to banish Prank-Kids Meow-Meow-Mu for cost instead of tributing Prank-Kids Battle Butler, that would leave Prank-Kids Battle Butler on the field, making it vulnerable to the "take control" effect of Triple Tactics Talent and losing you your field.
You could also solve this if you resolved Prank-Kids Bow-Wow-Bark beforehand, so your monsters are immune to destruction effects. But usually you don't commit to ending on Prank-Kids Bow-Wow-Bark if you truly want to play around Nibiru, the Primal Being.
Anyways, if I have the second copy of Prank-Kids Pandemonium, then I'd set up the three Fusion Materials to summon each other. You can actually tribute the Prank-Kids Battle Butler instead when you use it the first time, so even if your opponent has Triple Tactics Talent, they wouldn't want to take control of a Prank-Kid. From there you can just wait for them to commit another monster to play, and you can fuse for another Prank-Kids Battle Butler to destroy them by banishing Prank-Kids Meow-Meow-Mu instead. Sometimes your opponent will have a third method of pushing, and that's when you'll want to commit to tributing the Prank-Kids Battle Butler to wipe the additional threat as well.
That could be overkill, but it's my reasoning behind playing two copies of Prank-Kids Battle Butler.
This also allows you to save one of your recycles from Prank-Kids Pranks for more Main Deck Prank-Kids. Playing two Prank-Kids Battle Butler also leaves you with at least one more if your opponent uses card effects like Silverrokket Dragon or True King Lithosagym, the Disaster. That's a niche scenario, but I did in fact play against a Dragon Link player with the Silverrokket Dragon combo in the Extravaganza.
Now I'll go over the anti-meta cards I chose to play, and quickly cover why I chose to play them this time around.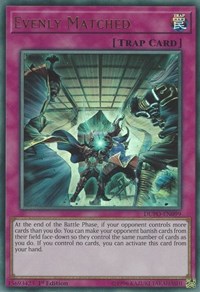 I'm still sticking to Evenly Matched. I was actually side decking it at the Qualifiers since I wanted more Main Deck hate for Dragon Link and Dinosaurs. But after cutting out Infinite Impermanence and Droll & Lock Bird, I felt that I needed this card in the main for a bigger event, since it's pretty good in most matchups. It's also a high impact card against Eldlich, Phantom Knights, Dogmatika and maybe even Shaddolls.
Evenly Matched very good at lowering the opponent's resources, and it gives you a higher chance to get to the point where you can play the game. I've said it before, but if I don't need the card in the current game state, I'll just replace the card with the effect of Prank-Kids Rocksies.
I was Main Decking a couple copies of Triple Tactics Talent this time around. I'm personally not a huge fan of the card, but for this hand trap-heavy build and the metagame I was expecting, I felt that it's consistent enough to be playable. It kind of fills the roles that Pot of Desires or Parallel Exceed would play, in that it punishes or trades with an opponent's Ash Blossom & Joyous Spring. I say that because normally, you would play the Pot of Desires after you tried to combo first to compensate for the loss to Ash Blossom. The "draw 2 cards" effect of Triple Tactics Talent sort of plays that role.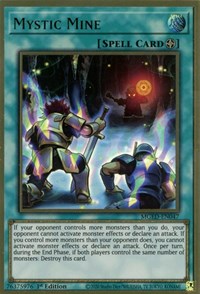 Its other purpose is to offer another answer to Red-Eyes Dark Dragoon in the main. In my previous builds of Pranks I've played Forbidden Droplet, Dark Ruler No More, and Mystic Mine to out, or at least let me play against, Red-Eyes Dark Dragoon. So this time even without those cards, it's still important to Main Deck multiple answers to beat such a huge threat. I say that even though I'm not playing a generic Link 2 like Knightmare Phoenix in this build to Link away with. I think I got lucky, since that situation didn't come up in this event. But I was playing it in my Win-a-Mat builds instead of Psy-Framelord Omega.
Overall, Triple Tactics Talent is a strong generic card in a format where tons of decks are maining hand traps, and lots of players are running combo decks. But it's not a mandatory card to play in Prank-Kids in my opinion.
I don't know if I need to explain Ice Dragon's Prison. It's just an amazing generic trap at the moment, since there are so many mono-type decks. It's also technically another answer to Red-Eyes Dark Dragoon if they still have a Spellcaster in their graveyard, like Dark Magician.
You do have to be careful and order your plays correctly when you have Artifact Lancea, Ice Dragon's Prison, and Prank-Kids Pandemonium together; you can't Special Summon anything but Prank-Kids if you used Prank-Kids Pandemonium to Fusion Summon, and you can't banish anything if you resolved Lancea.
So About My Tournament Report
I played a lot of Yu-Gi-Oh throughout the weekend and unfortunately I didn't write down many notes, so I don't remember what matchups I faced in my earlier rounds. But let's go over the highlights.
I played against a variety of players and matchups over the weekend, including a rematch with Ian Meltzer and his Invoked Eldlich! I played against Emmanuel Lilly and his Numerons, Dragon Link decks, Dogmatika Invoked, Dragoon Subterror, Virtual Worlds, Salamangreat, a Prank-Kids mirror and even had a rematch with Kyle Waterbury in a Win-A-Mat finals, where he played his signature Lyrilusc Tri-Brigade deck!
Ash Blossom & Joyous Spring
In the game against Numerons, he opened with Planet Pathfinder to get Numeron Network, and after bringing out his four Number monsters, he followed up with Neos Fusion. I countered with Ash Blossom & Joyous Spring, he responded with Called by the Grave and luckily for me had Artifact Lancea, which I thought was super dead in the matchup in Game 1. Then I used Prank-Kids Battle Butler to wipe the board and I had a lot of momentum going for me after that.
The Salamangreat player ran Knightmare Corruptor Iblee, which I thought was a very strong counter to most of my plans. Fortunately for me, I opened with Ice Dragon's Prison and after patiently waiting for him to commit to his second Salamangreat Sunlight Wolf, I used Ice Dragon's Prison to special summon back his Salamangreat Sunlight Wolf to my side, since it's a Link Monster.I then banished the Knightmare Corruptor Iblee he gave me with his Salamangreat Sunlight Wolf to essentially end his turn.
On my turn I had Prank-Kids Lampsies to combo with and because I positioned my Salamangreat Sunlight Wolf underneath an open Extra Monster Zone, I was able to use its effect - even though it was negated by Ice Dragon's Prison - to attempt to get back the Fire monster. The goal was to chain block, so that I wouldn't lose to his Ash Blossom & Joyous Spring.
Overall I think my deck performed well and I'm glad I faced a variety of matchups.
I started off in the event with a mindset of "I'm just here to get the invite". But once you're 5-0, you start to really believe that maybe, just maybe, you can actually stay undefeated. I wasn't expecting to get there, but if there was a time to "try," somewhere around 5-0 is a good time to start focusing.
So What Does This All Mean?
Is Prank-Kids the "best" deck? I still don't really think so. I'd joke around with you that SURE, "it's the best deck!" But it's still just a rogue entry in my opinion. Prank-Kids have a lot of flaws and weaknesses, and people could adapt to take advantage of them pretty easily. Like I said, I got really lucky! Who knows, Maybe Pak's build was better than mine; maybe it would have a higher win rate if we were to play hundreds of matches across multiple events, and then compare results.
I've been noticing lately that Prank-Kids are getting more popular. On one hand, that makes me a bit happy; but I'm also sad that I have to actually prepare for mirror matches now.
If you ask me if you "should" play this deck, I'd definitely suggest you try it out. Practicing a lot is definitely the key to success. I've also written several other articles about Prank-Kids that I would highly recommend checking out! This is actually my fifth article, continuing my gospel on Prank-Kids as the deck continues to develop in competition. Maybe I should play something else for a change? Ha.
I hope you all have a good April 1st, and pull some good harmless pranks on your friends and family!