As I write this, the third Remote Duel Invitational Qualifiers (RDIQ) are about to happen! By the time this article's posted the event will probably be over. Anthony will be writing on who won with what deck, but before I get there, I'd like to discuss how I prepared for the event over the past couple of weeks.
Ever since I won the March Extravaganza a while back, I've felt like whenever someone faces me in a tournament they may think, "Hey it's Hanko! He plays Prank-Kids. All. The. Time." Which is true! I haven't been playing other decks much. So for this event, I really wanted to try and play something else instead.
Revisiting Jurassic World
First stop? I tried to play the ol' reliable Dinosaurs again. I fixed up a build I felt comfortable with by adding Pot of Prosperity, and Parallel eXceed to help make the Artifact Dagda end board more consistently. But after playing it in some local events, I realized that yeah, Dinosaur's a 2-card combo deck and it's less consistent than Prank-Kids. Not being able to summon Ultimate Conductor Tyranno because my opponent resolved Artifact Lancea also a bummer.
Here's an update to show you how I'd play Dinosaurs. But keep in mind, I don't own multiple copies of Lightning Storm. Dinosaurs definitely do a lot better against the big backrow matchups if you have them.
Yu-Gi-Oh! TCG Deck - Hanko's Dinosaurs by Hanko Chow
'Hanko's Dinosaurs' - constructed deck list and prices for the Yu-Gi-Oh! Trading Card Game from TCGplayer Infinite!
Created By: Hanko Chow
Event:
Rank:
Advanced
Market Price: $724.59
Cards
Why was I running Parallel eXceed in a Dinosaur deck? Well, why not? If you can consistently open with the full Dinosaur combo featuring Animadorned Archosaur and Babycerasaurus, you should be able to make a Linkuriboh or even a Link 2, especially if you run Giant Rex.
Thus, Parallel eXceed a nice little win-more card to help you make an even better end board. Stuff like Tornado Dragon with Artifact Dagda, so you can set up an Artifact and destroy it on your opponent's turn. Or a free Abyss Dweller. Both of those types of setup help you play around Dark Ruler No More, since you can shotgun their effects in the Standby Phase before Dark Ruler No More hits the table.
While you could have already done that normally with two Level 4 Dinosaurs, I'd rather just make Evolzar Laggia and Evolzar Dolkka instead when I'd have the opportunity to, since they're so strong. The Parallel eXceed can also help Dinosaurs go second by adding more materials to help you make that Accesscode Talker OTK with Ultimate Conductor Tyranno.
Call Of The Zombies
So I moved on from Dinosaurs and decided to play a more control-based deck. I started experimenting with Eldlich, specifically the Zombie World variant because it's so powerful against the three best decks at the moment: Dragon Link, Dinosaurs and Tri-Brigade. Just activating Zombie World usually forces your opponent to scoop if they didn't open with an answer to it.
That said, I tried to improve the deck and solve the problems I was having with it before. Zombie World Eldlich struggles going second unless you see Super Polymerization or Forbidden Droplet. Uni-Zombie helps the deck set up Zombie World with Necroworld Banshee, or discarding whatever you wanted from your hand, but the entire thing just seemed lackluster at times.
To solve those issues, I felt it was best to incorporate Red-Eyes Dark Dragoon and yeah, Red-Eyes Fusion is really bonkers in a control deck. It effectively becomes another negation, which you want to have with your floodgates. Red-Eyes Dark Dragoon can destroy monsters and inflict damage, which helps when you'rer going second. And it's very hard for other Eldlich players, or control players in general, to answer. It's still technically a discard outlet just like Uni-Zombie, so it not only fulfils the role it was replacing, but it added a lot more power to the deck.
Here's my updated Zombie World Eldlich Dragoon deck that I was going to play for the RDIQ.
Yu-Gi-Oh! TCG Deck - Hanko's Zombie World Eldlich by Hanko Chow
'Hanko's Zombie World Eldlich ' - constructed deck list and prices for the Yu-Gi-Oh! Trading Card Game from TCGplayer Infinite!
Created By: Hanko Chow
Event:
Rank:
Advanced
Market Price: $1072.21
Cards
I'm pretty proud of the way I built this. It's still a control deck, but with so many powerful spells, it's got a really good chance at playing the game even when you go second. Unfortunately it just wasn't doing well when I played matchups where Zombie World wasn't effective. I planned for that by transitioning to a more Red-Eyes Dark Dragoon-centric Eldlich build after Side Decking. It just wasn't doing what I wanted it to do consistently.
The deck started out as a Zombie World Eldlich strategy, but once I added the Red-Eyes Fusion package, it felt more like a Subterror deck. It was aiming to set up a floodgate and a negation to hopefully buy enough turns to accumulate more advantage with the other engine - in this case the Eldlich engine - which isn't a bad idea. But it was either too much, or too slow depending on the game.
Regardless, I think you might enjoy the theory that I attempted, and who knows, maybe I can still pull out this deck in a different environment when I know that most of the room doesn't want to see Zombie World.
I'll end this part of the discussion with some smaller notes to explain some of the more obscure card choices.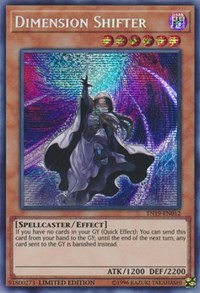 I added the Dimension Shifter to the Side Deck when I realized that Ash Blossom & Joyous Spring, or any other hand trap, was just too slow. It's not impactful enough here against the bigger combo decks. Taking a page out of Gabriel Vargas's Burning Abyss deck , as well as listening to some of my friends, Dimension Shifter works great if it was going to be the only hand trap you were opening with anyways. It buys you time so you can set up and disrupt your opponent the next turn.
Dimension Shifter also has a nice interaction with Fantastical Dragon Phantazmay, since you can use it to draw into Dimension Shifter. You'll often get to activate Dimension Shifter in that scenario since you won't have any cards in the graveyard going second. Just keep in mind that It does conflict with Forbidden Droplet, as well as Eldlich the Golden Lord in-hand effect and Foolish Burial.
Pot of Prosperity especially good in this deck, since you actually don't need all of the options in the Extra Deck. Many of those cards are just Super Polymerization targets that you can banish painlessly when you know you don't need them. The same goes for the Dogmatika Maximus package of Cyber Dragon Nova, Invoked Mechaba and Elder Entity N'tss. Being able to look at the top six cards of your Deck to dig for Red-Eyes Fusion, Rivalry of the Warlords to compliment Zombie World, or that Super Polymerization is great!
Realizing That The Prank Never Ends
But alas, in the end I felt that I was more comfortable with Prank-Kids than these other decks. Seeing other players doing well with the deck also gave me more confidence that maybe I can do well with it too… again!
I'm actually not as confident as I used to be playing Prank-Kids, since I know that by now, a lot of players are more familiar with the matchup. They've adapted their card choices, siding stuff like Twin Twisters and learning to use it in the Standby Phase to destroy my set Prank-Kids Pandemonium. Some players even started a trend and tried to popularize Contact "C" to completely end a Prank-Kids player's turn!
I was also worried about the new Ogdoadic Reptile deck, and all the quiet hype surrounding it. I simply didn't know what to do if my opponent resolved Snake Rain, since I have no experience playing against any of the several iterations of the strategy.
So the night before the tournament I fixed up my Prank deck. I made some metagame calls that felt safer to me. I set my alarm, and went to bed.
Up to this sentence, everything I've written in this article was written before the event happened. Now the event's over, and I can give you a gist of what happened, and the changes I've made to my Prank-Kids build.
Here's the updated list that I ended up using! I got really lucky and finished in 2nd Place after Swiss and the Top 8 playoffs, with a final record of 7-2 overall.
Yu-Gi-Oh! TCG Deck - Prank-Kids by Hanko Chow
'Prank-Kids' - constructed deck list and prices for the Yu-Gi-Oh! Trading Card Game from TCGplayer Infinite!
Created By: Hanko Chow
Event: Remote Duel Invitational Qualifier Group A
Rank: 2nd
Advanced
Market Price: $425.71
Cards
If you've been following my journey with this deck, you may have a feel for my Prank-Kids philosophy already. I'm against playing Pot of Desires at the moment, since I feel it creates a lot of unnecessary luck factors, and I don't think There Can Be Only One is the best floodgate for this deck. I still have faith in Mystic Mine and I've rearranged some other cards to adapt to the current shape of competition.
I was going to play Psy-Framegear Gamma, but I felt that even though it's often very good in the early game, it's lackluster in some matchups and becomes deadweight in the mid-game. My friend Cote suggested I play Book of Moon instead. And after thinking about it, I thought I'd give it a try.
Book of Moon does have a lot of flexibility in this format, and can help Prank-Kids setup another form of disruption going first, or help force out an interruption going second. So I replaced the PSY-Framegear Gamma with Book of Moon, and maxed out on Triple Tactics Talent as well. Yeah, I remember mentioning that I'm not a big fan of Triple Tactics Talent, but its effects are just very strong and flexible. Paired with Mystic Mine or Book of Moon, I can usually create the scenario to help meet Triple Tactics Talent activation condition.
I added Prank-Kids Rip-Roarin-Roaster to my Extra Deck, as I realized it's a very strong follow-up after resolving the revival effect of Prank-Kids Weather Washer, bringing out the free bodies you need to help make it. I thought the card was too much of a commitment, but it turns out that it can be a low-risk high-reward play as well. You either clear all of your opponent's backrow cards, so you don't have to deal with Torrential Tribute or other generic traps, or it gets negated by a Solemn Strike or Solemn Judgment. When that happens, it's still sent to the graveyard in your possession, so you can trigger its other effect to get a card back from your graveyard! That's some pretty good value.
There are other scenarios where it can be good too. For example, it's a good option if you need to make something with 3000 ATK, but you're stuck under the summoning restriction of Prank-Kids Pandemonium and only summoning Prank-Kids, AND you don't have access to Prank-Kids Battle Butler. Prank-Kids Rip-Roarin-Roaster can help beat over some weird scenarios, especially if the Field Spell's lowering the ATK of opposing monsters by 500.
Ghost Belle & Haunted Mansion
I ran Ghost Belle & Haunted Mansion in my Side Deck this time because I felt it was generic enough and strong enough to be flexible in all sorts of matchups. I'll be writing up a more extensive theory on Ghost Belle & Haunted Mansion later this week. Do I regret playing it? No. But if I'd known that I'd be playing against two Prank-Kids mirrors back-to-back in the semi-finals and Grand Finals? Maybe I would have played Contact "C" instead to have a better chance at winning those mirrors. That's hindsight for ya!
I keep mentioning that I wanted flexible cards, and that's because I prioritized my Main Deck to beat Dragon Link, focusing on it more than other matchups. It just so happens that the cards that beat Dragon Link are also very good against Dinosaurs, Invoked Dogmatika, and even Tri-Brigade, all of which are very popular. So when I sided them out, I wanted to have the most flexible options available to adapt to whatever other matchup I was facing.
If I had to pick an MVP from my playtesting, and in the event itself, it had to be Artifact Lancea. It's not useful in the Prank-Kids mirror, and it's kind of subpar against a variety of rogue matchups, sure. But it was THE card that gave me a chance to win whenever I saw it against Tri-Brigades, Dinosaurs and especially Invoked.
Onto The Matchups!
Surprisingly I faced a total of five Dinosaur players over the course of the tournament, as well as one Zoodiac Eldlich deck, a Shaddoll build, and the two Prank-Kids mirrors in the Semi-Finals and Finals. Don't ask me how I dodged Dragon Link. I honestly don't know why most of my matchups wound up being Dinos.
I honestly expected to see more of the best deck - Dragon Link - as well as the best future investment deck - Tri-Brigades. I've seen both decks a lot at local events, but somehow I just didn't encounter them at all in this event.
One of my losses was to a Dinosaur player in the last round of Swiss. The Dino deck is Prank-Kid's worst matchup, so my luck was bound to run out given the sheer number of them I had to play. My second loss was a Prank-Kids mirror match in the Finals. Whoever draws better usually wins the Prank-Kids mirror, and I drew four Prank-Kids while my opponent drew a more playable hand than mine.
Unfortunate, but I still managed to score myself 24 packs of Blazing Vortex, the RDI Qualifier Game Mat featuring Aleister the Invoker, and most importantly an invite to the next Remote Duel Invitational Qualifier! I'm very excited to rejoin such a prestigious event. Maybe this time I'll actually accomplish my goal of finishing Top 4 and getting that Prize Card.
I want to thank everyone for following my journey with Prank-Kids so far, as well as for believing in my theory and deckbuilding style. The Qualifier ran smoothly overall and I want to thank the judges and tournament staff for taking the time to host the event. That's it for me! I'll see you all later, at the Remote Duel Extravaganza this weekend!