Dragunity's finally getting its long-awaited overhaul this week when Ghosts From the Past arrives on store shelves. It's been about seven months since Structure Deck R: Dragunity Drive delivered new Dragunity cards in the OCG, and those same cards are now making their first appearance in the TCG as Ultra Rares.
Whether you're a long-time Dragunity fan, or you're a newcomer to the theme, this is your opportunity to play the best version of Dragunity in the game's history. We're going to look at what the new cards do, how you can turn them into a competitive build, and we'll look at a budget version if you just want to give the theme a shot.
What's New For Dragunity?
Ghosts from the Past has eight new Dragunity cards, plus a reprint of Dragunity Phalanx. You'll find the remaining Dragunity cards in Cybernetic Horizon, Rising Rampage, the Dragunity Legion Structure Deck, and in a handful of 5Ds-era reprint sets.
You're probably already familiar with the deck's standard line-up of Dragon Ravine, Dragunity Knight - Romulus, Dragunity Divine Lance, and Dragunity Couse. Those cards have seen plenty of play over the years in Dragon strategies, including Dragon Link. In some ways, the latest cards for Dragunity help bring the deck closer to the power level and consistency of Dragon Link–the game's current top Dragon strategy–but a few of these cards are reminders of the kind of deck Dragunity used to be back in 2011.
Let's travel back in time to Dragunity's origins: the 2011 launch of the Dragunity Legion Structure Deck fully unleashed the Dragunity theme in the TCG, following a couple of preview introductions in Hidden Arsenal sets. Dragunity had a short competitive lifespan as a tempo-oriented control strategy not unlike Invoked.
The standard play of summoning Dragunity Dux was very similar to Normal Summoning Aleister the Invoker, it was just worse in every way. The Dragunity deck was fragile, and had a relatively low ceiling for years. New cards like Hieratic Dragon King of Atum and Tempest, Dragon Ruler of Storms started to change players' outlooks on Dragunity, and by the end of 2013 Dragunity and Dragon Ruler hybrids were the deck to beat.
Dragon Ravine itself spent years on the Forbidden & Limited List thanks to how it enabled the Dragon Ruler deck. Dragunity saw effectively zero play from that point forward, until Dragunity Knight - Romulus became a staple in Dragon Link. Since then, Dragunity's really only existed as a small engine in Dragon Link builds, or as a strictly worse alternative build for Dragon Links.
So what about 2021 Dragunity? Are they ready to step out of the shadow of Dragon Link and become the game's next big combo strategy?
The biggest win for Dragunity in Ghosts From the Past is Dragunity Remus, a huge consistency booster that acts as an additional three copies of Dragon Ravine. Dragunity needs all the help it can get while Terraforming Limited, and Dragunity Remus is exactly the shot in the arm that the deck needs to stay competitive against modern strategies–at least in terms of consistency.
But Dragunity Remus doesn't just deliver Dragon Ravine more often: it's an extender in its own right with an impressively powerful second effect. Dragunity Remus built-in Special Summon lets you upgrade your Level 4 Winged Beast Dragunity monsters into Dragunity Knight - Gae Dearg, even if your Dragunity Dux or Dragunity Senatus have their effects negated.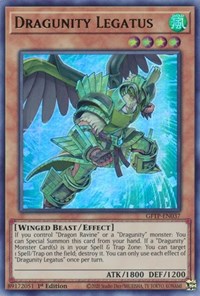 Speaking of new Winged Beasts, the Level 4 Dragunity Legatus is a fantastic extender that can even clear out spells and traps. Dragunity Legatus isn't competing for your Normal Summon like Dragunity Senatus or Dragunity Dux, but it also can't equip Dragunity Phalanx or Dragunity Couse when it's summoned. Luckily, Dragunity Remus sets up Dragunity Legatus summoning conditions and it can summon itself from the graveyard without another monster's help. You almost couldn't ask for a better pairing.
Dragunity Glow the last game-changing card for Dragunity, although that's not to say that the rest of the line-up is useless. Dragunity Glow effect adds a Level 5 or higher Dragunity monster from your deck or graveyard to your hand, which nicely covers for Dragon Ravine missing ability to search Dragunity Arma Mystletainn.
What's really exciting about Dragunity Glow is its second effect in combination with its first: most of the high-Level Dragunity cards can equip any Level of Dragunity to themselves when summoned, or even any Dragon monster. In most combos you'll see Dragunity Glow being used as a sort of searchable Monster Reborn, and it makes cards like Dragunity Arma Gram even more powerful.
Dragunity's Coming For Dragon Link's Crown
It's impossible to ignore the new combo potential of the Dragunity deck–even if you'd rather play it as its original control-focused strategy. There's major potential in leveraging cards like Dragunity Arma Gram and Tempest, Dragon Ruler of Storms to just beat up your opponent with high-ATK Wind Dragons that won't stay dead. That said, Guardragon Elpy still mysteriously legal in the TCG, and we're going to be abusing that fact to the fullest extent in today's builds.
The new Dragunity strategy's noticeably less resilient than Dragon Links, but it makes up for that with a few key advantages:
Keep in mind that not every one of these points is relevant in every duel. There are times where, based on your opponent's interactions, you might not have the Amorphage lock to keep yourself safe from Forbidden Droplet or Dark Ruler No More. Making Crystal Wing Synchro Dragon in five turns can be difficult, but the options are there if you have a particularly busted hand.
We'll talk about the simplest combos in this article so you can get an idea of where this deck is headed, and from there you'll be able to see how a few extra extenders can get you to your optimal openings more frequently.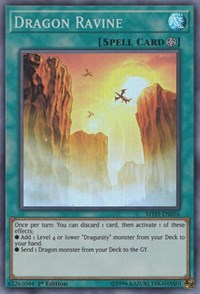 Let's start with the basic openings that we're all at least somewhat familiar with: Dragunity Phalanx and Dragon Ravine:
Xyz Summon Hieratic Dragon King of Atum with Dragunity Knight - Gae Dearg and Dragunity Arma Mystletainn. Detach a material to summon Dragunity Arma Leyvaten from the deck. Activate Dragunity Arma Leyvaten to equip a Dragon to it from your graveyard
At the end of the combo you'll control Dragon Ravine, Hieratic Dragon King of Atum with one material, Dragunity Arma Leyvaten, and whatever Dragon you choose to equip from your graveyard to Dragunity Arma Leyvaten. Things get very complicated from here on out, with the bulk of your decision making stemming from the contents of your hand and whether you already activated Dragunity Remus or Dragunity Senatus. Remember that this combo essentially starts with a Level 4 Winged Beast and a Level 2 Dragon Tuner, so you could just as easily launch the same plays with Dragunity Senatus and any other Dragunity card, or Dragunity Remus and Dragunity Legatus.
Dragunity Knight - Gae Dearg
Your primary goals with this combo are to get Dragunity Knight - Gae Dearg into play as early as possible, and to summon Dragunity Arma Leyvaten from the deck to bulk up your summoning power. You'll want to go into Cystron Halqifibrax shortly after this combo to find another Tuner, but if you activated Dragunity Senatus or Dragunity Remus you'll instead want to equip Dragunity Arma Leyvaten with Dragunity Arma Mystletainn when it's summoned, then use Blackwing - Zephyros the Elite to return Dragunity Arma Mystletainn to your hand.
What follows are a lot of complicated Dragon Link plays that basically revolve around manipulating Dragunity Arma Leyvaten and Dragunity Knight - Barcha to freely summon your Tuners from the graveyard, while simultaneously setting up your Amorphage package. These plays are already well-documented online, so rather than detail them here I'd rather point you to existing combo videos from PhoenixFlareX and Lithium2300. The result is a deck that looks like this.
Yu-Gi-Oh! TCG Deck - Kelly's Competitive Dragunity Deck by Kelly Locke
'Kelly's Competitive Dragunity Deck' - constructed deck list and prices for the Yu-Gi-Oh! Trading Card Game from TCGplayer Infinite!
Created By: Kelly Locke
Event:
Rank:
Advanced
Market Price: $566.02
Cards
Pot of Prosperity might seem out of place in a deck that so heavily abuses its Extra Deck, but the trade-off is worth it. Cards like Dragunity Knight - Luin, Crystron Halqifibrax, and Dragunity Knight - Ascalon are already a bit situational. Dragunity Knight - Barcha, Red-Eyes Darkness Metal Dragon, and Crystal Wing Synchro Dragon might not be possible given your starting hand.
Banishing six cards from your Extra Deck's a steep price, but it's even worse to end up with an unplayable hand because you couldn't draw a copy of Dragunity Remus or Dragunity Senatus. Most importantly, Pot of Prosperity makes the Dragunity Remus-Dragunity Legatus combo more consistent, which means you're more likely to be able to launch your main combo without using your Normal Summon.
The popularity of Forbidden Droplet and Triple Tactics Talent in combo strategies would ostensibly make them staples in all combo decks that can support them, but I think Dragunity's an exception–at least in the case of Forbidden Droplet. Between Dragon Ravine and Dragunity Senatus this deck has a hard time affording any extra discards, so Dark Ruler No More currently feels sufficient in the match-ups I've had. Dragunity Legatus fortunately offers searchable, on-theme backrow removal that can make short work of floodgates that might otherwise dodge Dark Ruler No More.
Finding Budget Alternatives
Today's combo strategies are often prohibitively expensive thanks to a handful of extremely valuable near-staple spells. Luckily, most of the Dragunity Main and Extra Deck outside of those cards are very accessible. At the time of writing I don't know what prices will look like for the newest Dragunity cards, but I'm hoping that buying singles will be relatively pain-free.
Yu-Gi-Oh! TCG Deck - Kelly's Wallet-Friendly Dragunity Deck by Kelly Locke
'Kelly's Wallet-Friendly Dragunity Deck' - constructed deck list and prices for the Yu-Gi-Oh! Trading Card Game from TCGplayer Infinite!
Created By: Kelly Locke
Event:
Rank:
Advanced
Market Price: $169.79
Cards
While Nibiru, the Primal Being a little pricy it's still among the cheaper hand trap options for this deck. Fantastical Dragon Phantazmay also a solid Side Deck pick here, especially for the Dragon Link match-up where you'll need every advantage you can get. Fantastical Dragon Phantazmay can correct your hand and protect your combos as you head into your first turn, which makes it an ideal going-second card in a variety of match-ups.
Speaking of going-second strategies, Dragunity Whirlwind another new card in Ghosts From the Past that gives Dragunity a few new options. Unfortunately it's largely useless when you're playing first, so you'll probably want to side it unless you're targeting a dedicated going-second build. That said, as a going-second card it's a surprisingly powerful follow-up to Dark Ruler No More, thought the challenge is finding the right Synchro to pair it with.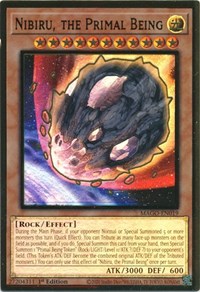 If your opponent lets you get away with summoning Dragunity Knight - Luin or Dragunity Knight - Barcha you can then climb into Dragunity Knight - Ascalon or Dragunity Knight - Areabhair. Generic Synchros like Magistus Dragon Vafram or Scarlight Red Dragon Archfiend can blow up your opponent's board, but you'll need to make sure that you're summoning Dragunity Phalanx with Dragunity Whirlwind effect.
I think Dragunity are better positioned now than they have been in years, and the deck finally feels like a fully finished concept. The new cards not only unlock some of the game's best combos and end boards–they also highlight alternative ways to play the deck. I imagine that at least some percentage of players who pick up the new cards won't be playing them with Guardragons. Instead, they'll be discovering ways to summon Dragunity Arma Gram as often as possible.
Until next time then