If you told me two weeks ago that I'd be unironically writing about a Kuriboh deck? I would have laughed at you and been on my way.
… And yet, here we are! Not only am I bringing you the Kuriboh deck I built for fun, primarily from the bulk I pulled out of product-hover id="243710". But I've spent the better part of my day talking my friends' ears off about how cool these cards really are.
A recap. The five Kuriboh brothers were finally released in the TCG in product-hover id="243710", over 15 years after their epic showdown with Rafael in the original Yu-Gi-Oh! animated series. And they're seriously cool. Tournament viable? Nope. Worth more than a singular glance for any player looking for value in the set? Nah. But when you're me, and you like messing with solitaire decks in your down time, the new Kuribohs really fit the bill.
Before I get into the nitty gritty of the new cards and what you can do with them - spoiler alert: A LOT - I want to specify that this is purely for casual play with your friends. This is one of the decks that my group would make and potentially add silly rules or anime-only styles of play. I wouldn't want you to sleeve this up and register for a Remote Duel Regional thinking you're going to crush competition. That said, you can definitely do some impressive stuff.
Kuri..bro?
We all know what the classic Kuriboh does. It's the original hand trap! But what about his four zany-hued brothers?
All four of the Kuriboh Brothers are always treated as "Kuriboh" cards, although they don't count as the actual original Kuriboh. That's a shame because if they did? Oh, my lanta, this deck would be incredible.
Anyway, first up is Kuribah. This little pink powerhouse let's you summon a monster with 300 ATK/200 DEF if a Kuriboh monster's destroyed by battle. That's alright, but its second effect is the important one: you can tribute it from the field, along with one copy each of Kuriboh, Kuribee, Kuriboo, and Kuribeh from the field or hand to summon Kuribabylon from you hand, deck, OR graveyard!
Then there's Kuribee. When a Kuriboh monster's destroyed by battle you can search your deck for a spell or trap that lists "Kuriboh" in its text. It lets you search cards like Multiply, keeping your LP safe like Yugi back in Duelist Kingdom. Kuribee second effect lets you negate an attack when you have it and another Kuriboh out, but you you'll reduce the ATK of all the other monsters you control to 0 for the turn.
Kuriboo is a beefcake as far as the brothers go; you can discard this little puffy pal when your opponent declares an attack to search any Kuriboh. That's pretty swell, getting you Kuriboh if needed or another brother for a follow-up turn! Its second effect is that you can discard a trap and reduce the ATK of 1 monster your opponent controls until the end of the turn. Hilariously, this can actually come up because the deck I'm showing you today runs Assault Mode Activate. Just a little thing to keep in mind.
Last but certainly not least, is Kuribeh! You can discard this dastardly devil to pump a Kuriboh monster's ATK by 1500, permanently. Then if it's on the field, and you want to live on the wild side, you can tribute Kuribeh, along with 'boh, 'bah, 'bee, and 'boo to search Kuribandit, and then immediately Normal Summon a fiend from your hand. Will you ever do that? Probably not. Is it hilarious to imagine?
You have no idea.
Kuricalamity
So, what's the point of playing the brothers? Simple: Kuribabylon! By far one of the coolest cards from product-hover id="243710", you can Special Summon Kuribabylon from your hand for free if you have more monsters in your graveyard than your opponent. And that's not Kuribohs, just monsters in general. This Level 5 furball can be an extender in any deck that revolves around Special Summons. And that's not all it can do! If you return Kuribabylon to your hand with its effect, you can summon the five Kuribros from your hand or graveyard. That effect's critical in this deck, because of the key spell card.
Five Star Twilight ridiculously awesome. If you control only one monster, and it's a Level 5 you can activate Five Star Twilight. You'll Tribute your Level 5 and summon the five brothers from your hand, deck, and graveyard. They can't be used for a Tribute Summon… Except, they totally have a way around that.
As noted, when you have all five brothers out, you can use the effect of Kuribah to summon Kuribabylon by tributing all five, and then use Kuribablyon to summon them back by returning it to hand. Then you can summon it again later. More on that in a bit.
There are a host of other Kuriboh theme cards that you can play, but I've personally opted for just three: Multiply, since it to gives you a field of tokens for Link Summons or Synchro Summons; Detonate to destroy cards your opponent controls; and The Flute of Summoning Kuriboh, as an extender or a defensive card as needed.
Now that we've gone over all the Kuriboh cards this thing runs, it's time to show you what I've put together!
Yu-Gi-Oh! TCG Deck - Zach's Kuriboh Brothers Combo Deck by Zachariah Butler
'Zach's Kuriboh Brothers Combo Deck' - constructed deck list and prices for the Yu-Gi-Oh! Trading Card Game from TCGplayer Infinite!
Created By: Zachariah Butler
Event:
Rank: 0-0
Advanced
Market Price: $142.59
Cards
So, you might have noticed that there's some suspiciously not-Kuriboh cards here. That's okay in my books! I wanted to see what mayhem these critters could cause, and that meant dipping into some other support.
The other big card that caught my attention from product-hover id="243710" was D - Force. A friend of mine added it to their Virtual World deck for fun, and after reading it, I was sold on how powerful it can be.
D - Force lets you get Destiny HERO - Plasma from your deck or graveyard. Then it boosts your boss monster by 100 ATK for every monster in the graveyards. Yes, both of them. Also, it can attack twice, your cards can't be targeted by effects, and Plasma itself can't be destroyed by your opponent's effects.
It's especially good in this deck. You'll often fill your graveyard with Kuriboh Brothers very quickly, since they're the backbone of the entire strategy. I'll outline a basic combo later on and you'll see for yourself.
Then there's the Psi-Reflector engine, something that I hope we'll see in more strategies moving forward. Simply opening with a Psi-Reflector can deliver the Level 5 monster you need, a Level 8 Synchro, or 2 Link Maetrials. It's a nifty little package that gets a ton of mileage.
Cup-O-Degeneracy
Ready Fusion the newest member of the small line of instant noodle cards that keep me up at night, tossing in my bed in fits of rage due to their sheer power level. Seriously, I cannot begin to explain how much I loathe this card. Everything I dislike about Instant Fusion is just as annoying here, except now the monster you summon can't have an effect.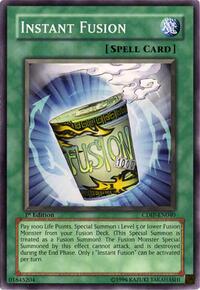 That would matter, except you're going to quickly toss it away for a better card and you may notice the only two Fusion Monsters played for it happen to be Tuners. Sea Monster of Theseus finally gets to shine here, giving you access to a menagerie of Synchro plays that might not be possible otherwise.
The triple Quickdraw Synchron are here because they're solid Level 5s that you can summon when you're already playing, so they're not dead draws. They were simply the best Level 5s I could think of.
K-k-k-k-Kuricombo!
There's a lot of cool stuff you can do with this deck, but there's one key combo to keep in mind above all else. If you open with Five Star Twilight and Psi-Reflector, it goes like this:
Summon Psi-Reflector, searching Assault Beast and then discarding it to get Assault Mode Activate
Use the Reflector to summon Beast from the graveyard by revealing Assault Mode Activate, and leave it as a Level 4
Synchro Summon Garden Rose Maiden, and search Black Garden
Activate Black Garden, then Activate Five Star Twilight to Special Summon the Brothers from your deck and give your opponent a token
Activate Kuribah effect, tributing for Kuribabylon from the deck, giving your opponent a second token
Activate Kuribabylon effect, returning it to hand to summon the Brothers, and give your opponent another token
Link Summon Saryuja Skull Dread using four of the Brothers (don't use Kuriboh, because you could draw Multiply!
Draw four cards, return three to the bottom of your deck, and give your opponent a fourth token
Link Summon Linkuriboh to put a fifth token on your opponent's field
The craziest part is that this sequence assumes you don't draw anything else to continue your plays, which is unlikely since this deck is all gas. If you draw Multiply and either Instant Fusion or Ready Fusion you can just go ham. Activate either Fusion spell, then activate Multiply, and you can either summon a Ravenous Crocodragon Archethys and draw four MORE cards, or you can just continue making silly plays from there.
If you hit D - Force, you can summon Destiny HERO - Plasma, locking your opponent out of their effects on the field, boosting it, and keeping it safe. If you get both Fusions, and Multiply? You can end on Hot Red Dragon Archfiend Abyss and Herald of the Arc Light, by using Sea Monster of Theseus with tokens to make Chaos Ruler, the Chaotic Magical Dragon. Then you can use Allvain the Essence of Vanity with a token to make Martial Metal Marcher to revive the Allvain and synch it with the Chaos Ruler, the Chaotic Magical Dragon for Hot Red Dragon Archfiend Abyss, then use the remaining token or a Level 1 with the Marcher for Herald of the Arc Light.
This probably isn't a refined deck yet, but it's super fun to play with friends or to solitaire all on your own. That's not all though, this deck can also support all kinds of cool engines!
You can include Lyrilusc cards if you'd like, and make it more of a Bird Up deck, and then have a ton of cool plays. You could make it purely Synchro focused, or you can even tweak it to FTK. You could combine it with Yugi's Face Knights cards to support Egyptian God strategies, or anything else you can think of. There are lots of cool options available and there's lots of room to explore.
Let me know over on twitter what you've been experimenting with from product-hover id="243710". Until next time!