Whether you're a lifelong collector of Pokémon cards, an avid fan of the trading card game (TCG), or simply shopping for a loved one, you all have something in common: you can probably find exactly what you need in the TCGplayer marketplace.
Never shopped with us before, or not sure where to start? Glad you asked. I'm here to help demystify the process with some tips on finding Pokémon card prices.
Let's start off simple and take a look at one of my absolute favorite characters from the Poké-universe, as depicted in the recent Vivid Voltage set release: Wooper. I searched TCG Marketplace, then filtered my results using the sidebar on the left by selecting Vivid Voltage from the Set Release list.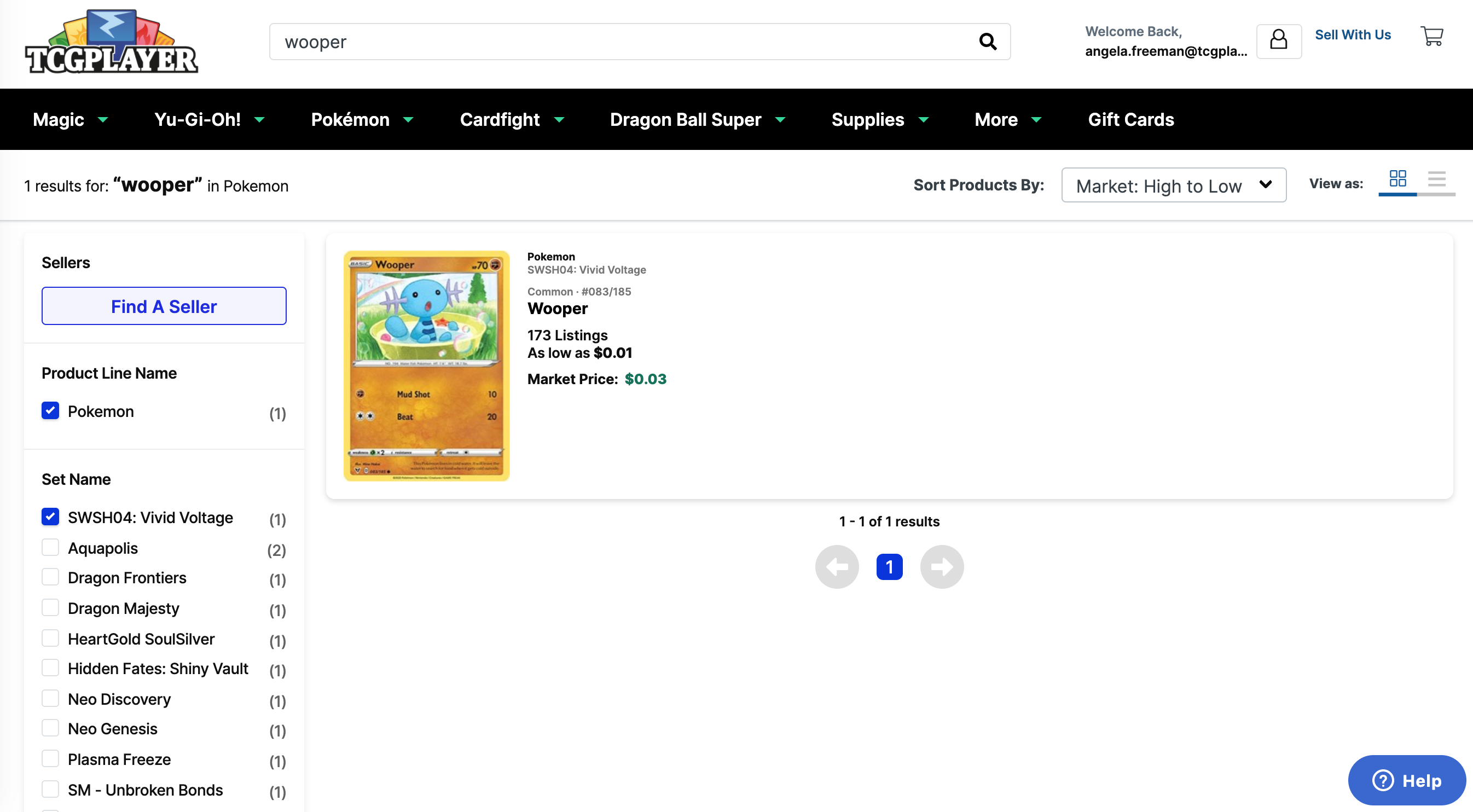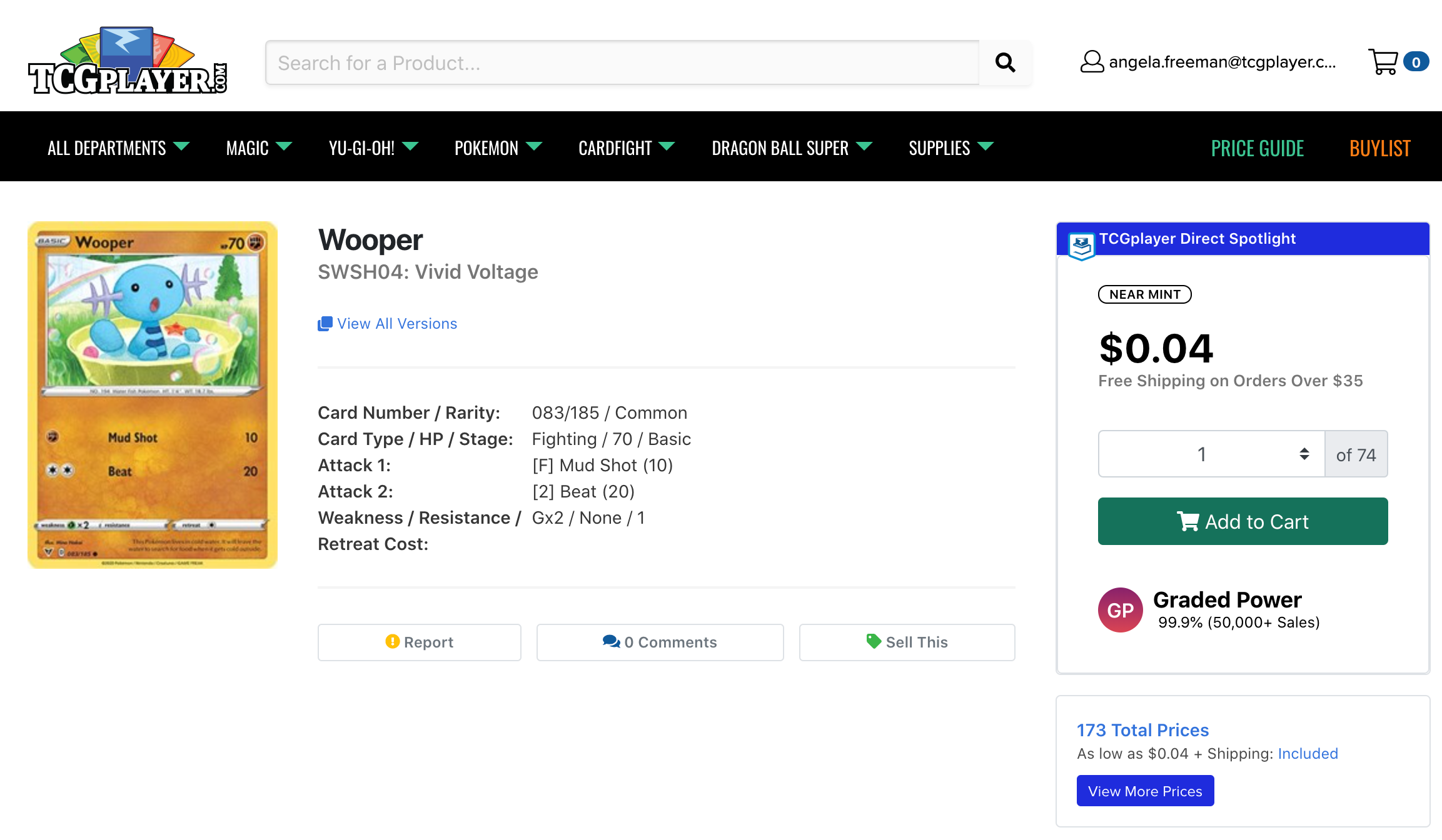 ...Okay, so this little blue axolotl isn't exactly a mindblowing card. (I never said it was.)
But who can resist that precious little face?
Humor me and scroll down, or click the "View More Prices" button on the right. A quick look at all available versions of this card (pictured below) confirms what you may have already guessed—it's not worth much money, and the fluctuation between pricing of available cards is minimal, mere cents at most. Heck, you'll likely pay more for shipping than the actual card if you decide to snag one of these! Wooper, despite its undeniable cuteness, really isn't worth a deep-dive into card pricing research.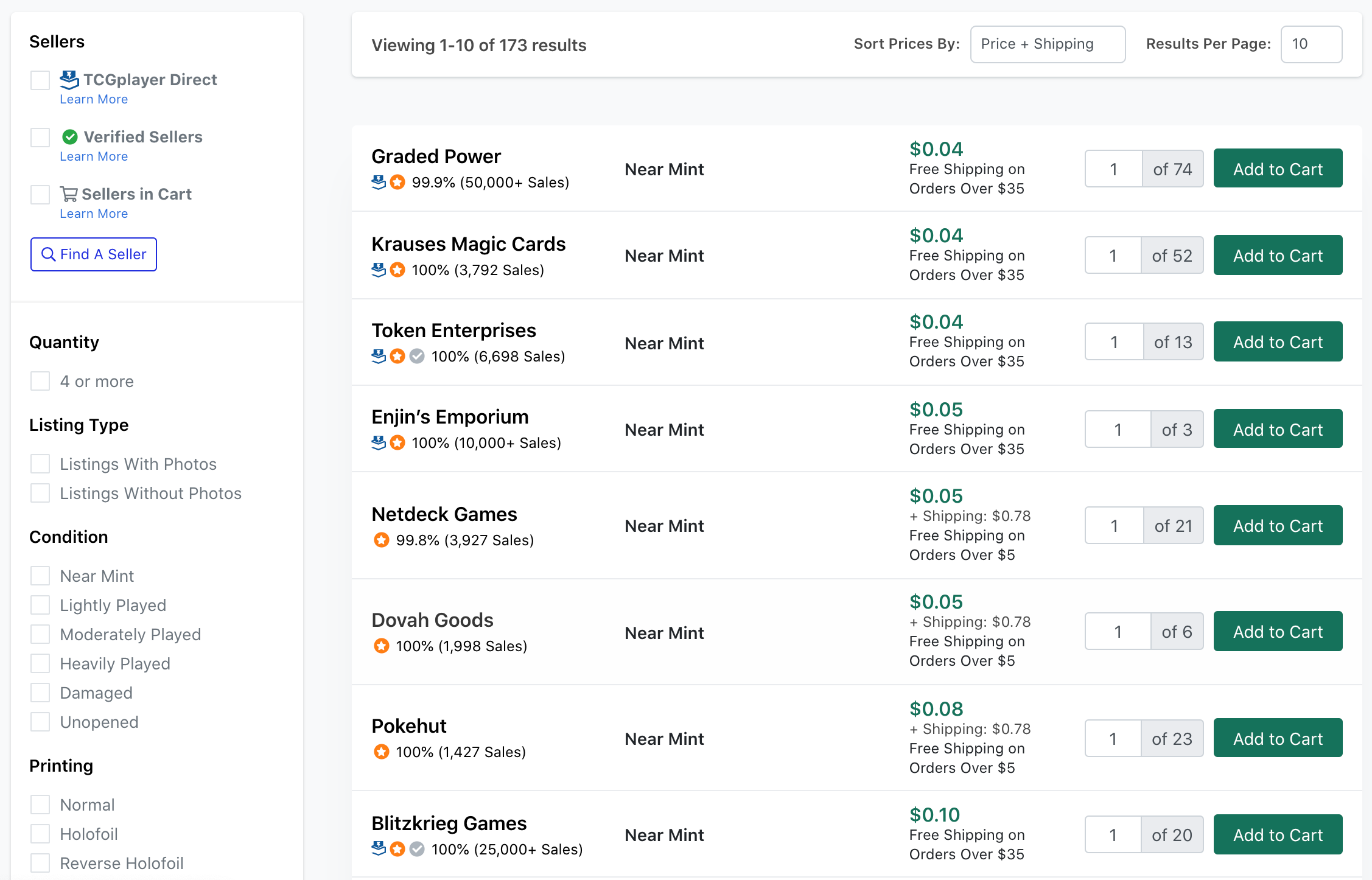 There are plenty of Pokémon cards with a similar story. Rather than being stars of the show, they play a support role (when they're played at all), and their value never exceeds more than a few cents. That's not to say that they don't have a place in your collection or deck, but it's probably a matter of personal taste—like my stubborn affection for Wooper—and not the card's value or ability to compete.
Now let's say you're looking to purchase a card that's worth a bit more than the nickel benchmark. This is where comparison shopping comes into play, because the differences in pricing for available cards can vary dramatically.
For our second example, we're honing in on a Pokemon at the more powerful (and colorful) end of the Vivid Voltage card spectrum: Rayquaza.
A quick Google search confirms that this card has been making regular appearances in Top 10 lists ever since its debut in early November. Based on a glance at the TCG Marketplace, it's managed to hold onto a fair amount of value since then.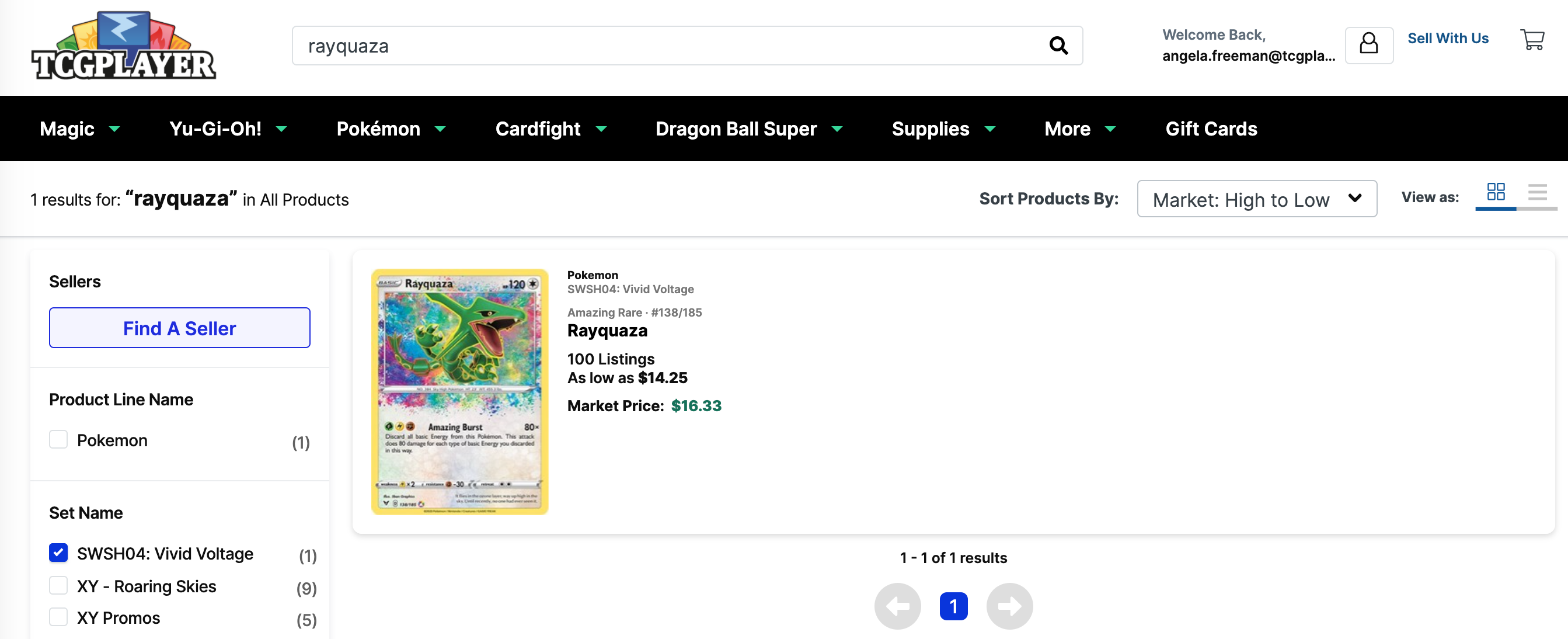 Since we're already in the TCG Marketplace, let's continue walking through the shopping process. We've tracked down Rayquaza as a Pokémon character, and again, the filter sidebar on the lefthand side confirms that we're only seeing the Vivid Voltage card design.
Now that we've isolated the exact card, check out the information located immediately to its right. TCGplayer has ever-so-helpfully given us a suggested card price and seller. This may seem like a shortcut directly to the shopping card—and it certainly can be!—but we're going to use it as a starting point in our quest for Pokémon card pricing, and not a last step.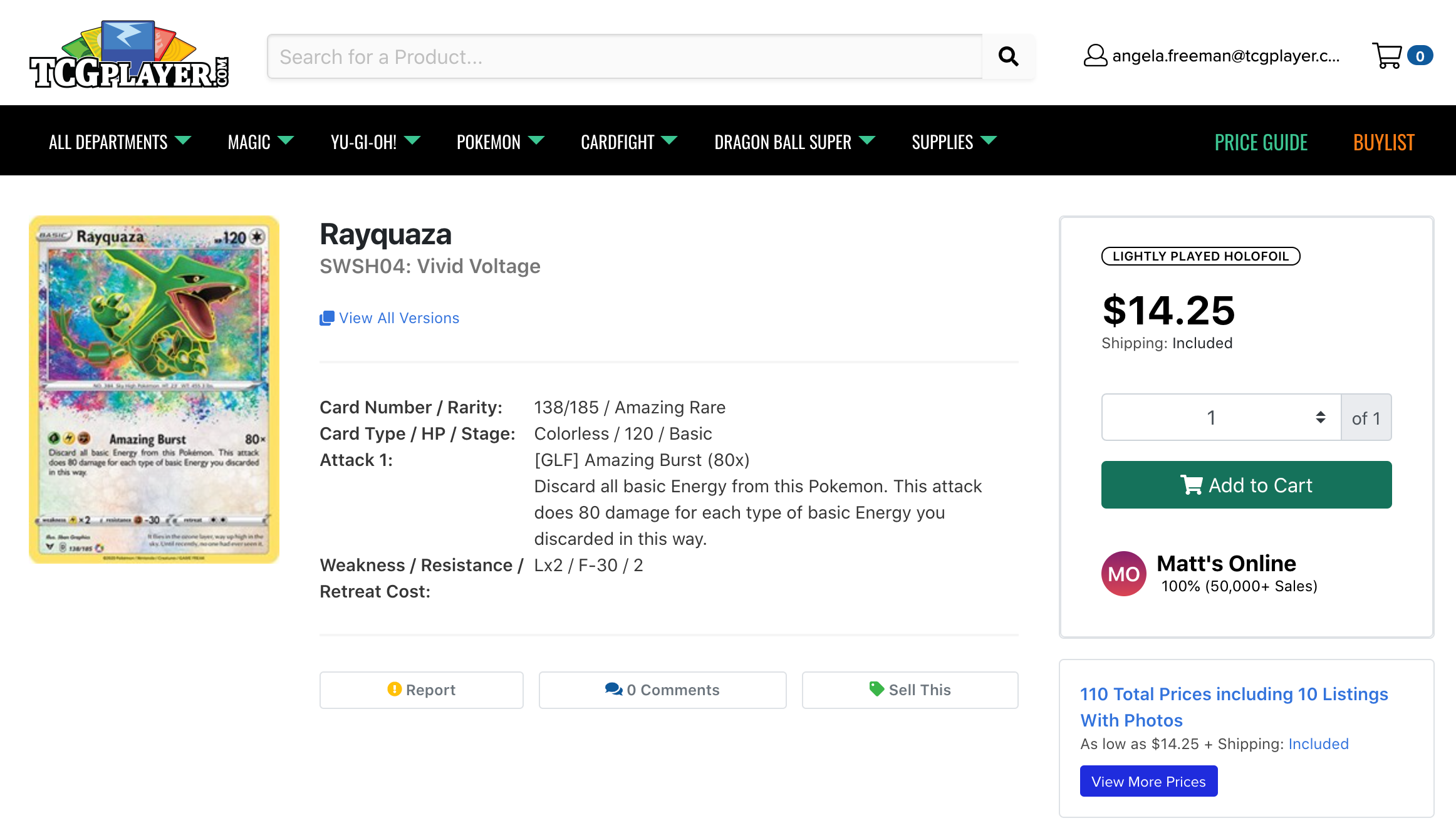 Look below to see how many copies of this card are currently listed for sale, along with how many seller listings provide photos of the actual card in question. (An important tool if you're seeking a specific card condition type, or a special iteration of a card!) Either scroll down or click "View More Prices" to get a clearer picture of the market surrounding this card.
This jump down the page reveals a lot more information for you to peruse. As you'll see, there are multiple versions of this card for sale, from different sellers and locations, at all different price points.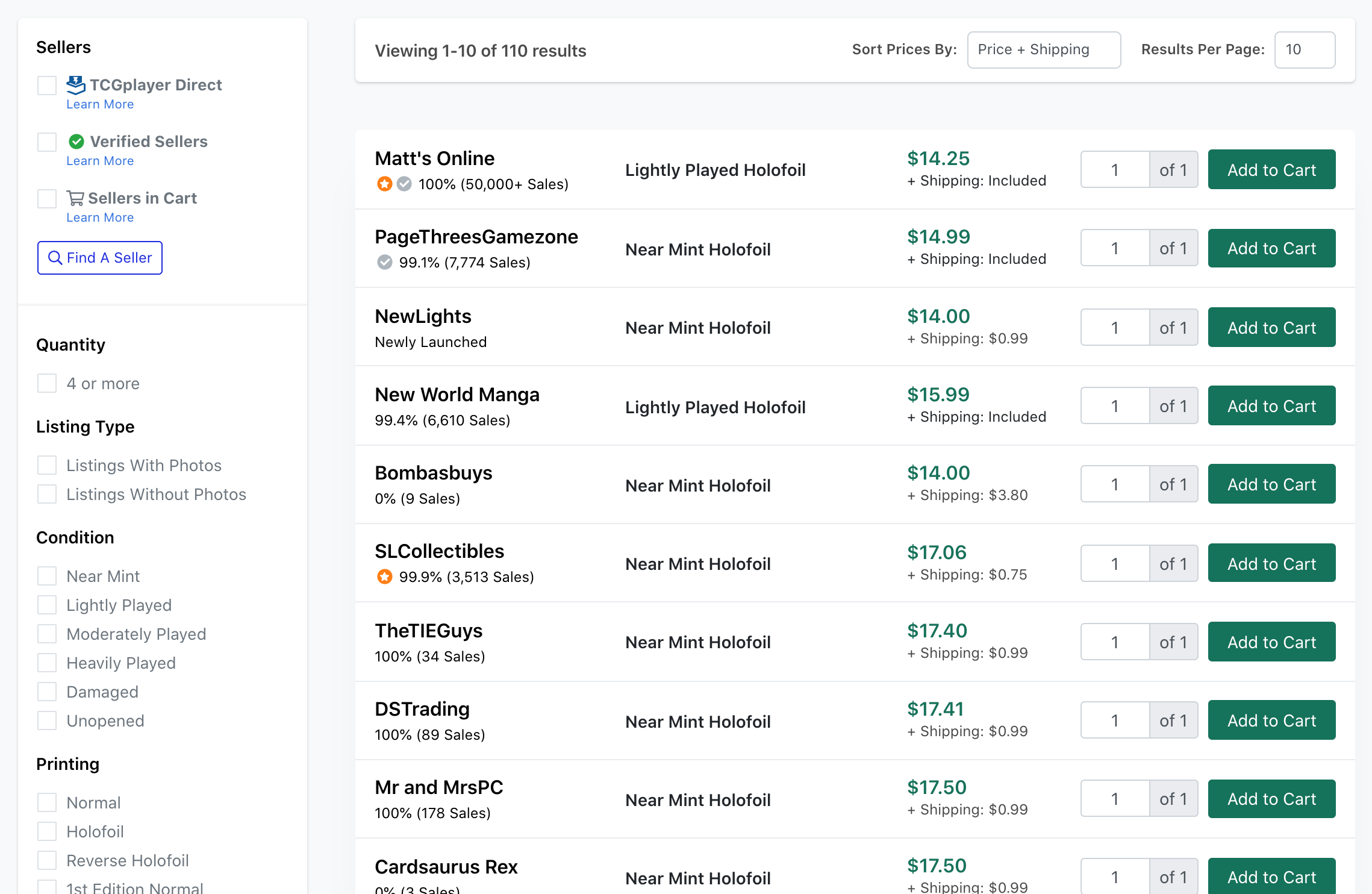 At this point, what happens next is up to you! Try filtering this long list of options by card condition, price point, or any of the other parameters shown in the lefthand sidebar. (For more help with evaluating cards on a case-by-case basis, check out the article linked below!)
The bottom line is that, with a little time and effort, you can now find the Pokémon card that perfectly suits you and your deck or collection.