While we all have some extra time on our hands I've been looking over the new Link Monsters from Duel Overload to see how all the legacy support could impact deckbuilding in 2020. I recently highlighted a deck showing Reptilianne Echidna and Alien Shocktrooper M-Frame boosting their respective strategies a few weeks ago, but once I was finished my attention shifted to Bloom Harmonist the Melodious Composer and its chorus of combos.
This week's build isn't pure Melodious, but you know me; there's always an unexpected twist, and the result here is a deck that surprises your opponent in all the right ways. After all, since when was I ever NOT all about the mash-ups?
Melodious has been around since Duelist Alliance arrived; yes, that means Melodious decks technically existed when Shaddolls, Satellarknights, and Burning Abyss raised the bar for how good Yu-Gi-Oh! cards could be. If you forgot about them… don't feel too bad. Most people let Melodious slip from their mind a long time ago. But now they're singing a new encore for 2020.
Before we get started I just want to reiterate a point I've made a thousand times in the past: if there isn't a clear, concise iteration of a deck that's dominating the competitive scene, then there is no "best" version of the strategy. Heck, with our pandemic-influenced version of what competitive Yu-Gi-Oh! looks like in 2020 right now, I'd say anything is fair game and it's neve been easier for unexpected strategies to grift free wins; it's the best time to try and play something new!
In short, the Melodious monsters are all Light Fairies that work really with eachother, but don't play well with off-theme cards. Yes, they do a good job of protecting one another and summoning in-house Fusions, but the deck struggled with consistency and power until Bloom Harmonist the Melodious Composer came onto the scene. Check out my list below to see how Bloom Harmonist enhances the score.
Yu-Gi-Oh! TCG Deck - Loukas' Melodious Deck by Loukas Peterson
'Loukas' Melodious Deck' - constructed deck list and prices for the Yu-Gi-Oh! Trading Card Game from TCGplayer Infinite!
Created By: Loukas Peterson
Event:
Rank:
Advanced
Market Price: $52.77
Cards
When Elder Entity Norden was Forbidden most of the top Melodious combos fell by the wayside, but Bloom Harmonist the Melodious Composer was the lifeblood needed to bring this deck back to my attention.
Before I discuss any combos or deeper intricacies, let's start off with the most basic of basic… something that's been around for over five years.
Big Math Time: 0 + 0 = 0
When I say "the most basic of the basic," I mean. It. You might as well consider this first combo synonymous with Melodious as a whole. While there are ways to break the board I'm about to describe with non-targeting effects, it really puts your opponent into a very sticky situation. You're looking to field any two Melodious monsters, Link Summon Bloom Harmonist the Melodious Composer, then pitch a card to summon Aria the Melodious Diva and Elegy the Melodious Diva straight from your deck.
With Aria and Elegy on the field your Melodious monsters can't be destroyed by battle, can't be destroyed by card effects, and they can't even be targeted. Sadly, annoying things like Borrelsword Dragon can get around the lock, but it's not easy for most decks to defeat and many will have to spend important cards prematurely to do it. When I was testing against Melodious decks that set-up gave me a lot of trouble and I had to waste a lot resources to break free of it!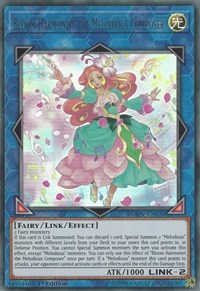 That basic set-up isn't all Melodious can do, nor is it always the best option. But that being said, Bloom Harmonist the Melodious Composer is best for the lock and the best choice for many other combos when you weigh the importance of consistency and card economy.
Even though the best monster in this strategy is a Link, the big power plays all emanate from easy Fusion Summons. Instead of fielding Aria and Elegy, consider Soprano the Melodious Songstress or Tamtam the Melodious Diva.
When Soprano's Special Summoned you'll get back a Melodious from your graveyard. Choose Canon the Melodious Diva or Sonata the Melodious Diva, and you can Special Summon that monster with its own effect and use Soprano's second ability to make a 1-card Fusion into Schuberta the Melodious Maestra.
Similarly, Tamtam gets you to your Fusions but does it with Polymerization instead; whatever you fuse can come from your hand in that scenario, so you can keep the pressure on your opponent with more monsters already on the table. Consider this combo with 1st Movement Solo and Sonata the Melodious Diva:
-Activate 1st Movement Solo and Special Summon Canon the Melodious Diva
-Special Summon Sonata the Melodious Diva, and Link into Bloom Harmonist the Melodious Composer and discard a card to Special Summon Shopina the Melodious Maestra and Soprano the Melodious Songstress
-Soprano kicks in first getting back Sonata from your graveyard, but you'll Special Summon it right away and use Soprano's second effect, fusing together Soprano and Sonata into Schuberta the Melodious Maestra
-Use Shopina's effect to get back Soprano, Normal Summon it, and use its second effect again - the one that's not once-per-turn - and Fusion Summon Soprano and Shopina into Bloom Prima the Melodious Choir.
Since Schuberta the Melodious Maestra can banish cards to gain ATK and Bloom Prima the Melodious Choir gains ATK and can attack twice… let's see… math… carry the 1… oops, that's 8400 damage!
It's a 2-and-a-half-card combo, but with so many ways to get Melodious Monsters into play, it's pretty consistent and surprisingly accessible. Just having access to Sonata with discard fodder in hand is really easy, and against an open field what else could you ask for beyond lethal damage?
Alright, So What Else Can The Deck Do?
I won't lie to you - if the deck only created a lock with Elegy the Melodious Diva, then the strategy wouldn't be as interesting to me. Sitting behind a defensive wall with no offensive mount at the ready gets boring, so it was time to call in some Reinforcements.
Agents? Just one agent: The Agent of Creation - Venus.
-Normal Summon The Agent of Creation - Venus, and use its effect three times. At the cost of 1500 Life Points you'll Special Summon 3 Mystical Shine Balls
-Link Summon Celestial Knightlord Parshath with two Mystical Shine Balls and The Agent of Creation - Venus, discarding any card to search Master Hyperion
-Link Summon Link Spider with your last Mystical Shine Ball, and when the Shine Ball hits the graveyard, Celestial Knightlord Parshath special summons Master Hyperion from your hand
-Link Summon Mekk-Knight Crusadia Avramax with Link Spider and Celestial Knightlord Parshath
With 3000 ATK, your Avramax backed by Hyperion is 5700 damage, and if you're lucky enough to have another Hyperion in hand already you can banish The Agent of Creation - Venus from your graveyard to have lethal damage on board (3000+2700+2700 = 8400 damage once again).
The Agent of Creation - Venus isn't the only reason I included Downbeat in this build, but since just Venus nets so much damage with nothing but some discard fodder in hand, I think it warrants inclusion because sometimes your Melodious monsters have sufficient ATK, but not enough spot removal to take it all home.
Additionally, while Elegy the Melodious Diva helps generate a passive lock to keep your opponent from running you over, you'll need to move on from that lock eventually. Obviously you can link away Elegy into other monsters after it's served its purpose, but Downbeat turns Elegy into any Level 4 Melodious proactively, without needing another monster.
The big problem with adding more cards to the deck circles back to Bloom Harmonist the Melodious Composer, which stops you from Special Summoning anything besides Melodious monsters the entire turn you use its effect. It's a balancing act, so make sure you don't switch up the deck too much!
Cross Sheep
For The Cost Of A Sandwich...
In terms of competitiveness, it's hard to say exactly how good decks like Melodious are right now. It reminds me of something our very own Doug "Still Has My Checkered Shirt" Zeeff says about cards like Magic Cylinder. Is it top tier? No. Will it win you games? Yes, and your opponent will be pleasantly bewildered when that happens.
In the end, I'm just happy the modern version of the deck has something to do besides the infamous lock with Elegy the and Aria. It's good to keep in your back pocket, but since it doesn't shut out your opponent completely, it's not foolproof and shouldn't always be your default play. Then again, not all combos are 100% fool proof, but I'll take my chances when the odds are in your favor.
While the deck doesn't desperately need a bunch of hand traps, it seeds some stability going both first and second. Shopina the Melodious Maestra can get back cards besides Melodious monsters, which is why I added in Herald of Orange Light. Sure, Effect Veiler and Called by the Grave speak for themselves in terms of keeping your deck up to speed, but the loss in card economy with Herald of Orange Light won't backfire when Shopina gets monsters back for you.
Lastly, Melodious is a deck that's cheap - and I mean extremely cheap. Some cards may have spiked by the time you read this, but the only cards worth more than peanuts are Mekk-Knight Crusadia Avramax and Cross-Sheep, one of which isn't a necessity.
If you're looking for a fun deck with potential to steal wins, then Melodious might be the deck for you. Old school strategies are making a comeback in the current climate, so don't be afraid to try out some of your favorite strategies… or ones you never had the time to try before.
Just remember: beat your opponents before they beat you.
-Loukas Peterson