Greetings duelists! I've been loving Adamancipators lately, and I wanted to bring you all a bit of a budget-friendly build I was working on for a while. I had to get creative when I first picked up the deck, because I didn't have Apollousa, Bow of the Goddess, I:P Masquerena or Borreload Savage Dragon. That creativity led me to find some really cool plays.
Lucky for me the Adamancipator deck's incredibly flexible, since most of the Main Deck is so open-ended. Thanks to the different mechanics the Adamancipators leverage and the lack of must-runs in the Extra Deck, there's actually more room for personal flare than you might suspect.
Initially I tried to do something pretty similar to the standard builds, but then fellow Infinite writer Hanko Chow tossed me an idea; it was originally meant as a joke, but I took to it and spent an entire week figuring out how to make it work consistently. The idea was to end on Tri-Gate Wizard with a triple co-link, and then Crystal Wing Synchro Dragon equipped with a Dragon Buster Destruction Sword to lock your opponent out of the Extra Deck.
The combo's pretty consistent and really it's just another spin on the Adamancipator deck; an excellent strategy, but one that I feel is criminally under explored. The build I'm showing you today is the exact draft I've been playing in remote duel locals and I've only dropped one match in the past few tournaments, so I'm really happy to share it with you all today.
Yu-Gi-Oh! TCG Deck - Zach's Crystalgate Adamancipators by Zachariah Butler
'Zach's Crystalgate Adamancipators' - constructed deck list and prices for the Yu-Gi-Oh! Trading Card Game from TCGplayer Infinite!
Created By: Zachariah Butler
Event:
Rank:
Advanced
Market Price: $184.77
Cards
There's a lot to unpack here, though on the surface it may look like the standard Adamancipator deck. Again, that's one of the cool things about Adamancipators: you can do so much with the base deck. For example despite the Main Deck's appearance, the lines of play you can make with this build are incredible, and they're possible solely due to Extra Deck differences you may barely notice at first glance. Instead of ending on Borreload Savage Dragon, Herald of the Arc Light and I:P Masquerena, you can end on a triple co-linked Tri-Gate Wizard and Crystal WIng Synchro Dragon equipped with Dragon Buster Destruction Sword.
It's not quite as powerful, for sure. But it IS way cooler! It's also fully capable of getting you to the win; it's surprisingly difficult to break a soft lock of two negates without your Extra Deck, for just about everything but Dinosaurs. Let's break down what makes this deck unique.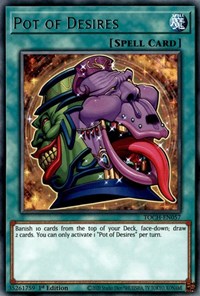 Pot of Desires In Adamancipators?
If you've ever been privy to a conversation I'm involved in, you'll likely know my passion for Pot of Desires in everything. Very few cards offer the raw boost o consistency and power of Pot of Desires, and I do my best to take advantage of that as often as humanly possible.
I noticed a huge problem with Adamancipators from the get-go: you've got a deck that's extremely powerful, but sometimes you just can't play. At all. Either you draw a hand of cards that doesn't really get you anywhere, or your opponent has the cards to counter whatever you're attempting.
Pot of Desires helps to solve both problems by getting you another card to build plays with. In a deck as powerful as Adamancipators that extra card can be enough to push you over the edge and let you accomplish the crazy plays the deck's known for. Banishing ten cards is of course a downside. But even that isn't a big problem. If you're in a losing position from the banished cards, you were probably in a losing or weak position anyway. Or conversely you played it too early, and now you're being punished for it.
Desires offers some interesting benefits in that banishing those ten cards also means that's a potentially higher chance to see key cards like Koa'ki Meiru Guardian off of one of your tuners' excavations. With a bit of number crunching you can figure out the odds of seeing Rock-types when you need them, and account for the increase Pot of Desires grants you; it's a bit of work, but it's an interesting benefit.
Gamma Gamma Gamma
Those of you who follow me over on Twitter have heard my moaning with disdain over the mere existence of PSY-Framegear Gamma. I really dislike playing it, but it's so powerful that you kind of have to use it. Being able to remove the problem card from the field, or potentially shutting down opposing cards like Ash Blossom & Joyous Spring when your opponent uses it too early, is incredibly powerful.
If you need evidence of just how valuable PSY-Framegear Gamma is, look over at the deck archive from the Remote Duel Invitational last weekend. Of the 16 competitors in that event, 13 used the PSY-Framegear Gamma package. That's an insanely high level of representation, and for good reason.
Another cool think about the PSY-Framegear Gamma package is the use of Emergency Teleport. Full disclosure: I didn't even know you could summon PSY-Framegear Gamma off Emergency Teleport until it was done against me and I sat there staring as my opponent proceeded to Crystron Halqifibrax combo me into oblivion.
Good times.
The only other defensive card in the Main Deck is Infinite Impermanence. It's generally a low impact hand trap, but it's really good right now because we're in a place this format where simply stopping Crystron Halqifibrax can be enough to stop your opponent's turn entirely.
With recent refinements to previously standard Crystron Halqifibrax combos, waiting to stop Mecha Phantom Beast Auroradon isn'tcorrect as often as it once was. Newer lines of play put protection on the field by that point, so holding those key negation cards for the highest impact can actually be a misplay!
So What IS The Crystalgate?
The "Crystalgate" field that gave this particular variant its name sees you end on Crystal Wing Synchro Dragon equipped with Dragon Buster Destruction Sword, alongside a Tri-Gate Wizard that's co-linked with Knightmare Phoenix, Knightmare Cerberus and Union Carrier.
It's a long combo, setting you up with a field where one of your negations is protected from battle and card effect destruction, along with a giant Dragon. Which I'm all about! Let's take you through a decent hand and break down the combo step by step so you can see how it works. Zone placement will matter at some points, so going from left to right, we'll envision the field as Main Monster Zone 1 (MMZ 1) , MMZ 2 (under the left Extra Monster Zone), and so on.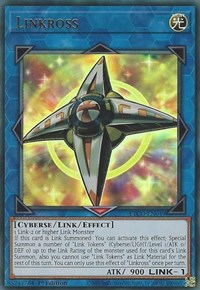 At the end of this entire combo, you'll have a giant Crystal Wing Synchro Dragon and a triple co-linked Trigate Wizard, as well as a Sauravis, the Ancient and Ascended in hand to discard and negate a targeted effect as well.
If video is a better learning method for you, you can see this exact combo here. You might notice that most of the steps highlighted don't require any excavation hits from the Adamancipator monsters, which is great. That means the deck's less volatile than otherwise expected, given that you're performing an exact sequence of plays.
How About The Matchups
Like the more standard Adamancipator deck, Crystalgate's pretty solid against most decks and even most ending fields. You can leverage the high number of extenders and combo cards to push through negations and break apart dug-in set-ups. That's a boon against decks like Eldlich; you'll want to push through their various trap monsters to place yourself into a position where you can make a big swing of card economy and end the game.
The Adamancipator mirror match is a bit harder, because going second can be a real pain if your opponent can combo off. But luckily you use a lot of the utility cards in the Extra Deck thanks to the Knightmares to break apart fields, as long as your opponent didn't play the Dragon Buster Destruction Sword lock. If they did, you're going to have a bad time.
A major advantage of the deck is that you're able to essentially sledgehammer your way into a win against many rogue decks, as well as meta strategies. However, you should be making sure to map your hand and problem solve whenever possible.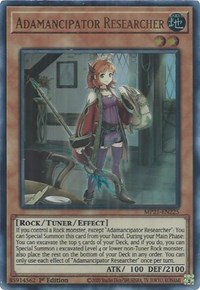 Wrapping It Up
Be careful and think through the likely ways you could lose each game. The basic explanation I give when it comes to most decks I've personally built, is that if you're able to play you're able to win. Being locked out is the only way you truly lose, unless you drew an unplayable hand.
Give it a shot, and let me know over on Twitter how the deck does for you in your local tournaments. Hopefully it serves you as well as it's served me! Until next time, play on duelists.