Hey there, duelists! Unfortunately for us, it seems we're frozen for any sort of official sanctioned tournament play for the foreseeable future.
That's the bad news. The good news is that with tournaments still on hiatus, I've decided to start exploring other decks that I haven't really given too much thought to in the past. There's not much reason to be super-competitive right now, so today, I want to bring you a fantastic budget deck for the many players who are looking to jump into local competitive play as it becomes available, and the players who may be looking to try something new in their own circles, without breaking the bank.
Now's an awesome time to just cut loose and play something you might not normally consider. But investing in a new strategy always comes down to a decision of cost versus benefit, and if you're playing something more casual, and you can't even take it to a tournament, dropping a big chunk of change often won't make sense. So today we're looking at a deck that's really different from the rest of the competitive scene, and you can put it together on the cheap!
Pendulum Evolution brought us the full suite of the best Pendulum Magician support cards, and I've had a soft spot for this strategy ever since. Pendulum Magicians used to be a dominant strategy that required major banlist action; they're not quite that powerful anymore due to the heavy restrictions many of their cards and the Forbidding of Heavymetalfoes Electrumite, but personally I haven't lost the desire to give up on one of the most powerful mechanics in Yu-Gi-Oh's history.
Who doesn't like a free Soul Charge with a ton of bonus effects? With that in mind, here's my budget Pendulum Magician deck I've been playing.
Yu-Gi-Oh! TCG Deck - Zach's Budget Pendulum Magicians by Zach Butler
'Zach's Budget Pendulum Magicians' - constructed deck list and prices for the Yu-Gi-Oh! Trading Card Game from TCGplayer Infinite!
Created By: Zach Butler
Event:
Rank:
Advanced
Market Price: $129.86
Cards
This deck's actually pretty similar to other Pendulum builds that have seen some success in 2020, barring a few high-priced cards like Magicians' Souls and Borreload Savage Dragon. As a budget player, those cuts are a boon because they give you a bit more freedom to invest into the Extra Deck, giving you more powerful options and a more powerful strategy overall, without costing you hundreds of dollars.
In fact, the entire Main and Extra Deck actually comes to a grand total of $92.42, even if you had to buy every card in the build. It's pretty approachable in price, and the best part is that it's a highly flexible deck for the future; you can pair most Pendulum themes together, simply because of how the mechanic works. This is a fantastic build for any aspiring player or veteran looking for something new, because it's uniquely customizable and you can tweak it to do whatever you want, all while building on a core of raw power and consistency.
With that said let's break down the basics of the deck card by card, and let's look at some key interactions and combo plays to get you started.
The Starter Cards
Pendulum Magician's a great introductory deck for those who aren't hugely familiar with either the Pendulum mechanic, or the concept of extremely combo heavy decks in general.
As a Pendulum player, you have access to a high level of power, and consistency cards that other strategies simply don't get to use. Cards like Spell Power Mastery and Pendulum Call allow superior flexibility and afford you a lot of resources in return for playing Pendulum cards in your deck. Magical Abductor's another key starter card in almost every scenario, letting you search for every single Pendulum Monster in your deck when you resolve three spells.
Spell Power Mastery, Pendulum Call, Duelist Alliance, Allure of Darkness and other spells allow you to rip through your deck, drawing multiple extenders as well as bolstering the consistency of your key combo starters, giving you tremendous redundancy in your lines of play. Barring truly horrible hands, you'll be able to get three Spell Counters onto Abductor and then search for any Pendulum Monster or Pendulum Scale you might need.
The Spellbook cards also force your opponent to really consider the ramifications of letting your plays resolve, while giving your Spell Counter cards more counters, and drawing you additional cards to play. You'll want to sculpt your lines of play accordingly to ensure your most important search effect can resolve, making you essentially impervious to Ash Blossom & Joyous Spring.
One of the advantages of the pendulum mechanic is knowing that you can basically just chuck your entire monster lineup onto the table, assuming you manage to get the scales on the field to do so. Luckily, all the "Magician" monsters in this deck are Level 4, except for Timegazer Magician at Level 3. That level of raw power gives you a huge advantage going first, so you can set up multiple points of interaction and negation; or when going second you can push through your opponent's negations, and then continue to extend and potentially end the game in a single turn.
The Combo Extenders
From there your Magician monsters can come into play, along with a wide variety of utility cards. Mythical Beast Jackal King shines as both a combo extender and a form of effect negation, so seeing it quickly is important. Luckily all those draw cards and search spells give you great ability to summon and stack counters on your Mythical Beast Jackal King.
From there, Servant of Endymion will ideally be summoning the Mythical Beast Jackal King so you're safe from an opposing Nibiru, the Primal Being coming down to ruin your day. Otherwise it's best used to summon Endymion, the Mighty Master of Magic. A searchable Level 7 high scale with a negation effect all wrapped into one card is nothing short of ridiculous. Reflection of Endymion rounds out the Spell Counter suite, giving you an additional Level 7 for later combos as well as a low scale. All in all you have four targets for your Spell Power Mastery, as well as an ability to use multiple Spell Counter monsters directly from your hand.
Chronograph Sorcerer also shines here, being both a starter and an extender thanks to its dual effects. Since it can become a Level 3 Magician as well as a high scale, on top of summoning a monster from your hand when paired with destruction cards is incredibly valuable. The Magician monsters are pretty minimal here compared to other builds. Harmonizing Magician is your go-to search with Pendulum Call; it's an extender that summons fellow Magicians from the deck, serving as a one-card Rank 4, a Sychro Summon, or a Link Summon.
You've also got cards like Black Fang Magician and Purple Poison Magician to give you more options and more utility for Pendulum Call. Purple Poison Magician ability to destroy face-up cards means you have native answers to potential problem cards, which is always something you want to look for when you're choosing a new deck. Black Fang Magician gives you a way to revive monsters from the graveyard, although you generally won't be using that due to Selene, Queen of the Master Magicians and Cross-Sheep stealing its thunder, as well as the simple fact that Pendulum Monsters rarely hit the Graveyard.
The Defense
Finally you have a singular defensive trap card in Time Pendulumgraph. You'd be amazed how strong it is in the current format, getting rid of two cards for free thanks to Pendulum Call protecting your Magician scales from destruction by card effects. Since you can search Time Pendulumgraph with Duelist Alliance you only need to play one copy. That's great, because you basically have four copies when you want to see it, but you won't be bogged down with sub-par draws in your combo sequences.
Most of your defense will come in the form of negation effects like Mythical Beast Jackal King and Endymion, the Mighty Master of Magic, because they're more flexible than hard defensive cards like hand traps or actual trap cards. The benefit here is that you're given a lot more playable cards that don't require much set-up to be useful, while the downside is that you're playing a lot less defense than other decks. You have to weigh the opportunity costs of using each negation effect very carefully.
The Extra Deck
The flexibility of Magicians creates a far higher level of autonomy building your Extra Deck than you'd find in most other strategies. Playing cards like Abyss Dweller, Draco Berserker of the Tenyi and other "gate" style cards helps put your opponent in a situation where they have to shape their lines of play to address each of those powerful effects. They'll often have to trade their higher value cards in hand for your lingering effects, trades that almost always wind up in your favor.
F.A. Dawn Dragster is my Level 7 Synchro of choice, though I did consider Odd-Eyes Meteorburst Dragon as well. The deciding factor was that F.A. Dawn Dragster another form of interruption, while Odd-Eyes Meteorburst Dragon is purely an extender. Ignister Prominence, the Blasting Dracoslayer's an option too, giving you non-targeting removal as well as an ability to clear your scales in a pinch, which is nothing short of awesome when you need it.
The Odd-Eyes cards here are extremely important to all of your combo plays, disrupting your opponent and setting up cards like Selene, Queen of the Master Magicians, as well as pushing through to allow Cross-Sheep to activate. We'll talk about that in more detail more in the combo outline later. Odd-Eyes Vortex Dragon also lets you recycle cards that land face-up in your Extra Deck, giving you more ways to use copies of cards like Pendulum Call that might be dead in the hand otherwise.
Magician of Hope and Timestar Magician actually work in tandem, searching any Dark Spellcaster from your deck and then summoning it from your hand if you have the fodder for another Xyz Summon. Magician of Hope's also great in that it's a scale, which came up several times for me in testing. Timestar's protection effect is also fantastic when you want to create plays with Selene, Queen of the Master Magicians, as well as Black Fang Magician later on.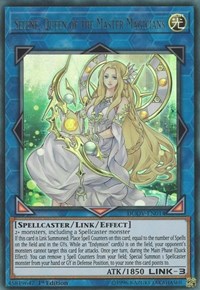 Selene, Queen of the Master Magicians is one of the most powerful cards in the deck, giving you a huge number of Spell counters and summoning key Spellcasters like Endymion, the Mighty Master of Magicfrom the graveyard or hand. It works really well with Reflection of Endymion too. Being a Link 3 that only requires a single Spellcaster as specific material makes Selene, Queen of the Master Magicians a natural fit with Cross-Sheep, giving you multiple summons beyond your Pendulum Summon.
Day-Breaker the Shining Magicial Warrior is spot removal on legs, leveraging the Spell Counter mechanic that's so prevalent here, while being a Link 2 with good arrows. It's effectively a replacement for cards like I:P Masquerena, Beat Cop from the Underworld and other Link 2s that are more commonly played. Crowley, the First Propheseeer needs a nod as well, getting you to the Spellbook engine at the cost of any two Spellcasters. It's stronger than it looks because it can climb into Selene, Queen of the Master Magicians with other cards in your deck, letting you continue your summons beyond the Pendulum Summon. It's deck thinning too, so you'll draw only the most important cards more consistently.
Finally, Unchained Abomination and Borrelsword Dragon are your Link 4 boss monsters, giving you another layer of interruption and a game-ending force respectively. Neither come up as often as you might think, they're largely useful in niche scenarios, but they're there to be used as needed.
C-C-C-C-Combo!
Now that you know what you're working with, let's jump into some combos and show you how it all comes together. This is one of those decks that always has multiple lines of play; you've got a lot of flexibility with how you can approach each scenario. I can't show you everything in writing, but I'll outline a pretty common play sequence to start and from there I'd suggest shuffling the deck up and giving it a whirl yourself. Cards like Allure of Darkness and Pot of Desires create many additional options , so this example won't include them for the sake of simplicity.
Before we start: many of the cards we're about to look at gain Spell Counters during the combo, so any time they do I'll be using brackets like (1 counter) to showcase that.
Let's take a slightly below average hand: Endymion, the Mighty Master of Magic, Reflection of Endymion, Magical Abductor, Spell Power Mastery and Pendulum Call. A hand like this gives you a lot of options; Magical Abductor gets you to basically anything you want, so we can be pretty flexible with this. Unfortunately, I don't see a way to avoid Nibiru, the Primal Being here, so you're kind of hoping for the best. Here's how I'd play it out.
That started with a pretty mediocre hand overall, but you end with Mythical Beast Jackal King, Selene, Queen of Master Magicians with one counter, Endymion, the Mighty Master of Magic and a Magical Abductor on one counter. You also have another Endymion, the Mighty Master of Magic in scale, giving you at least three points of interaction with your opponent before they've activated a spell. If they do, then your Mythical Beast Jackal King and Magical Abductor gain more Spell Counteres which can create more points of interaction via Selene and Reflection of Endymion.
The lines of play get pretty complicated when you start to add draw cards into the mix, allowing you to do far more. Generally, you want to make sure you only resolve cards like Allure of Darkness if you need them, otherwise you should forego them whenever possible. Stuff like Pot of Desires are best used when you've already searched your key combo cards, so you have more monsters to Pendulum Summon. You'll want to try to account for Ash Blossom & Joyous Spring, as well as Nibiru, the Primal Being as much as possible.
Generally, you should use Servant of Endymion and Magical Abductor only after cards like Chronograph Sorcerer and Pendulum Call. You want to mitigate the chance of losing out on searches. Luckily, Servant of Endymion makes you Nibiru proof when it resolves thanks to Mythical Beast Jackal King. These basic tips also translate well into your win condition, because you're going to win by locking your opponent out of the game. If you go second, you can use the multiple waves of play afforded by cards like Servant of Endymion, Chronograph Sorcerer and the Pendulum Summon itself to run your opponent out of defenses, and then win through attrition or a swift game-ending push.
This deck's pretty viable at most levels of play, but currently the only real option we have is remote dueling or your kitchen table anyways. Since it's so budget friendly and flexible it's a fantastic option as you to jump back into the swing of things and get used to slinging some scales on your opponent.
Once locals do return, the rogue position's always great because players will be preparing for the bigger decks they expect to see, and this probably isn't one of them. That surprise factor can land you some cheeky wins, and your opponents will often make mistakes when they don't know how to correctly counter your strategy.
Hopefully you have as much fun playing the deck as I have had in building it! If you want to see more combos and how different lines of play can branch out, drop by my Youtube Channel this week where I'll be showing you more of those combos in the following days. Until next time duelists!