Of the three Egyptian God cards, The Winged Dragon of Ra seems to be the biggest standout in Yu-Gi-Oh fandom. Slifer the Sky Dragon and Obelisk the Tormentor certainly have their followings, but the ace of the three is clear. Ra just holds a special place in all of our hearts, doesn't it?
Editor's Note: It's true! Even if you don't count The Winged Dragon of Ra - Sphere Mode and The Winged Dragon of Ra - Immortal Phoenix, and you count the Egyptian God Decks for Obelisk and Slifer, Ra still out-sold the other Gods in 2021!
I've written on Egyptian God decks before - when the Structures came out I wrote some pretty big articles on how to upgrade both Obelisk and Slifer into playable builds - and I'm still surprised at how well the strategies hold up. If you can tap into a few specific cards, getting to The Winged Dragon of Ra, playing it, and downright abusing it is both easy and fun.
…Fun for you, that is. There's something uniquely thrilling about intentionally dropping your Life Points by thousands of points just to flex on your opponent with an overkill OTK.
Not that I've ever done that, before, no… not me…
Everyone's Favorite Sky Chicken
If you're not familiar with The Winged Dragon of Ra, it's a uniquely crafted card. Ra debuted in the original Yu-Gi-Oh anime before the ground rules of Yu-Gi-Oh were cemented, and each time the card appeared it unveiled a new effect. When Konami's R&D department had to turn that into something that was actually playable in real life, Ra's power was split between multiple cards, but the actual monster itself packs a heckuva text box.
243520 || 222770 || 81663
For three tributes, you'll Normal Summon Ra uninhibited - the summon can't be negated, and neither player can respond to the summon with other cards or effects. The only effect that works in that window is Ra's own ability, which lets you pay Life Points to increase Ra's ATK by the amount of LP you paid. When the playable version of Ra first released, Ra decks quickly devolved into OTK strategies, where you look to squash your opponent and snuff them out in one big blaze of glory.
But with such expensive summoning requirements and an effect that eats all of your Life Points, making your OTK dream into a competitive reality isn't always simple. Getting to Ra while having tributes and Life Points to spare takes preparation, but those requirements aren't incredibly complicated.
So while there are enough cards to build a Ra-only deck, fusing Ra with other strategies compliments the sudden OTK power wielded by this Egyptian god. product-hover id="220346" spurred lots of new self-contained Ra strategies, but I've tapped into a few other themes to really harness the sun god's power.
No Protection From This Ra Dogma
The Dogmatika cards were unbelievably expensive for a very long time. They've made impressive showings ever since their release in the TCG, but since product-hover id="216848" was so under-printed due to COVID complications in the print industry, cards like Nadir Servant and Dogmatika Ecclesia, the Virtuous debuted with very high price tags that just kept climbing. There are plenty of decks that could have benefited from a few Dogmatika cards in the past year, but go figure, some people like saving money for "silly" things like food, rent, and bills.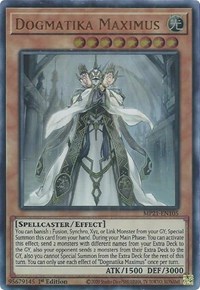 The good news is that with the reprints in the product-hover id="241346", Dogmatika cards are finally accessible to the masses. If you don't need your Extra Deck you might as well put it to good use, right? And while The Winged Dragon of Ra is built to be an OTK-making fire chicken of death, it sometimes needs help making lethal damage.
The Dogmatika cards help get monsters out of your way and they're great tribute fodder. There isn't anything magical to the pairing, but it works and it clears away the riff-raff. A single Nadir Servant can field two monsters for tribute, and push aside three of your opponent's monsters if you go through Dogmatika Ecclesia, the Virtuous and Dogmatika Maximus.
Once those cards were finally in a reasonable price range, I didn't need many excuses to try them in a Ra deck. Here's what I came up with after testing.
Yu-Gi-Oh! TCG Deck - Loukas's Dogmatika Ra Deck by Loukas Peterson
'Loukas's Dogmatika Ra Deck' - constructed deck list and prices for the Yu-Gi-Oh! Trading Card Game from TCGplayer Infinite!
Created By: Loukas Peterson
Event:
Rank: 0-0
Advanced
Market Price: $701.76
Cards
I'm cheating a bit because Pot of Prosperity definitely isn't a budget card, but it's worth your while to include it in this deck if you have it. When your strategy's based around The Winged Dragon of Ra, making sure you actually get to it is a big deal. It's hard to OTK with Ra when the god card's buried out of sight somewhere deep in your deck, right?
Other god card support is a natural fit, namely Soul Crossing and Ancient Chant. Soul Crossing cheats the system and uses your opponent's monsters for Tribute Summons, while Ancient Chant gives an extra summon, searches Ra, and makes it beefy without the need to pay Life Points!
With so many ways to effectively field and boost your god card, you're afforded the luxury of playing other Ra cards as well that might not make the cut otherwise. The Winged Dragon of Ra - Immortal Phoenix and Blaze Cannon are two of the most satisfying options, and both offer significant boosts to your firepower. Sometimes the original Ra looks lonely as the only card on the field, but when you can boost its power so immensely or save face with follow-up plays, your deck only gets stronger.
Come Toward The Light
When I said you could squeeze Ra into lots of different decks due to its minimal requirements I meant it: the rabbit hole goes pretty far down. Ancient Chant gets you The Winged Dragon of Ra and an Extra Normal Summon, and you can search it with Guardian Slime. Honestly, the Slime's not a hard card to play. There are no restrictions to summon it, and it has the nice bonus of a free summon if you take damage.
It may surprise you to see how many ways you can Special Summon monsters from the graveyard with very little set-up. Chaos Dragon Levianeer and Number 60: Dugares the Timeless need Light and Level 4 monsters respectively, so Guardian Slime - and by extension The Winged Dragon of Ra - are only as tough to reach as those cards.
Lightsworn have a bit of a sordid past; it's the sole reason cards like Necro Gardna once find their way on the Forbidden and Limited List. If your strategy is so powerful that a mediocre monster with low ATK that needs to be in the graveyard to stop one attack is suddenly overpowered, calling the strategy "dominant" is putting it nicely. Lightsworn in its heyday was a bit of a terror.
The theme's evolved a lot over the years, but the premise is the same - you want to mill as much of your deck as possible, generating effects and free summons by doing so. In this deck you have a ton of ways to toss your deck into the graveyard, namely the following: Charge of the Light Brigade, Solar Recharge, Chaos Space, Chaos Ruler, the Chaotic Magical Dragon, Lumina, Twilightsworn Shaman, Raiden, Hand of the Lightsworn, Curious, the Lightsworn Dominion, and Minerva, the Exalted Lightsworn, and Minerva, Lightsworn Maiden.
I listed them all out for dramatic effect, because: 1) it drives a point home, and 2) it shows just how many cards there are in 2021 that dump your deck. Wow.
Yu-Gi-Oh! TCG Deck - Loukas's Twilight Ra Deck by Loukas Peterson
'Loukas's Twilight Ra Deck' - constructed deck list and prices for the Yu-Gi-Oh! Trading Card Game from TCGplayer Infinite!
Created By: Loukas Peterson
Event:
Rank: 0-0
Advanced
Market Price: $603.75
Cards
Unless your opponent can counter everything you can do, this deck's just going to build a big field of monsters. Hopefully you can start the game off making Chaos Ruler, the Chaotic Magical Dragon early; if you do, everything just snowballs from there. It's a nice feeling when you activate Charge of the Light Brigade hoping to search a monster to summon and it randomly gets you three amazing mills.
Summoning Ra is extremely easy here and doesn't rewquire any major pivots. Mentally, just take Ra out of the equation and calculate your moves like you're trying to get Accesscode Talker on the field with some other Link Monsters for lethal damage. You'll pick apart your opponent's cards with Knightmare Unicorn and Michael, the Arch-Lightsworn, or even bait counters with Selene, Queen of the Master Magicians as you keep milling and summoning.
You'll send Guardian Slime to the graveyard through Foolish Burial, Curious, the Lightsworn Dominion, or just over the course of natural moves, then summon it right back with Chaos Dragon Levianeer or Number 60: Dugares the Timeless. Turn Guardian Slime into Egyptian God Slime, search for Ancient Chant, and use it to get The Winged Dragon of Ra, an extra Normal Summon, and extra attack points!
The deck flows seamlessly into Ra because the big vehicle for your strategy - Lightsworns and milling - sets up Ra perfectly. The Egyptian Gods are incredibly powerful, but finding enough tributes and an avenue for lethal damage requires a little crowd control. It's incredibly satisfying to watch your opponent counter your aggressive moves negating stuff like Knightmare Phoenix and Michael, the Arch-Lightsworn, only to be caught powerless when Ra hits the table.
Technically, you can build the deck as a going-first strategy. You can focus on establishing boards so you can negate your opponent's aggressive fronts. But doing so largely forces you to give up on The Winged Dragon of Ra. At that point you'd just be left with a Lightsworn deck. Which is totally awesome, but we're building a Ra deck here, right?!
Magical Slime Time Ain't No Crime
Of all the Ra support cards, Reactor Slime is one of the more divisive. Cards like Ancient Chant are obvious winners, while cards like Dark Spell Regeneration have yet to impress me enough for me to use them in literally any Ra deck whatsoever.
Reactor Slime is great at what it does, but people tend to shy away from anything that only works in the Battle Phase. Yu-Gi-Oh's really evolved over the years, almost making the Battle Phase an afterthought in the modern game as far as setting up negations goes. So while Reactor Slime produces the perfect trio of tributes for your Divine Beasts, you have to land that extra Normal Summon and get to your Beast through other cards; the Battle Phase effect to get Metal Reflect Slime doesn't make up for the lack of that first effect.
Reactor Slime a simple Level 4 Water monster in a vacuum, paving the way for Rank 4 plays as a backup. Bahamut Shark one of the obvious musts for Rank 4 Waters, but it doesn't offer much nuance. I opted for Magistus, White Stingray, and Performage cards because they tap into the same power of decks like my Lightsworn strategy above.
Rank 4 plays? Number 60: Dugares the Timeless revives combo pieces. White Stingray? It's a Level 4 Water monster that pitches Guardian Slime to search Ancient Chant. Performage Trick Clown? It pings you for damage to trigger Guardian Slime. And as a backup, Rank 4 plays along with the magical Magistus monsters fill in the gaps.
Old favorites like Ancient Chant and Exchanging Souls are paramount to your success, but this deck shows how versatile Ra can be. As long as you can get to Ra, you'll have a way to abuse it.
Yu-Gi-Oh! TCG Deck - Loukas's Spellcaster Ra Deck by Loukas Peterson
'Loukas's Spellcaster Ra Deck' - constructed deck list and prices for the Yu-Gi-Oh! Trading Card Game from TCGplayer Infinite!
Created By: Loukas Peterson
Event:
Rank: -
Advanced
Market Price: $322.18
Cards
Seeing Toadally Awesome in the deck might lead you to believe it's a control strategy, but it's more of a two-pronged attack backed up by Ancient Chant. Ancient Chant often the key to victory, because it gives Ra the ATK of whatever you used as tribute fodder. But in a deck filled with Rank 4 options, Toadally Awesome also provides a huge ATK bonus via Ancient Chant.
Two Level 4 Water monsters make Bahamut Shark, netting you Toadally Awesome for a 4800 ATK bonus. Ra's built-in effect keeps Toadally Awesome from getting back a Water monster, but you're more likely to use that graveyard effect when you don't have Ra around anyways.
Who needs Water monsters when you have Ra with over 12,000 ATK, right?
Just remember: beat your opponents before they beat you.