Breakers of Shadow brought us an entire strategy built around Buster Blader with a very simple goal: stop your opponent from playing the game. The deck's star monster – Buster Blader, the Dragon Destroyer Swordsman – is designed to crush Dragons by switching them to Defense Position and preventing them from activating their effects.
Swordsman's partner in crime, Buster Dragon, forms the other half of the lockdown by changing the Type of your opponent's monsters to Dragon. You can toss in Dragon Buster Destruction Sword as the cherry on top of your floodgate dessert, ultimately shutting your opponent out of their Extra Deck, preventing their on-field monsters from activating, and mitigating their Battle Phase by shifting their monsters to Defense Position.
The Destruction Sword lockdown was a dream in 2016 when Breakers of Shadow first debuted the Destruction Sword theme. Summoning both a Synchro and a Fusion monster might not be a challenge for a theme like D/D, but Destruction Swords aren't exactly stacked with extenders or search effects that activate off Special Summons.
Or, at least, Destruction Swords used to be missing those things. The lockdown strategy got a huge boost in 2017 when Prologue of the Destruction Swordsman debuted in Maximum Crisis. Suddenly Synchro Summoning Buster Dragon was extraordinarily easy. Foolish Burial Goods was also released that same year and it put Destruction Sword Memories – the theme's graveyard-activated Fusion trap – within striking distance.
Sadly, the Master Rule 4 update devastated the Destruction Sword strategy. Players needed to field another Extra Deck monster before they Summoned both Buster Dragon and Swordsman. The deck languished until it was partially revived by some Guardragon variants, but today's builds are arguably the best the deck has ever been. The theme's new Link Monster, Protector Whelp of the Destruction Swordsman, is a significant boost for the deck's consistency and a welcome addition in Duel Overload. Summoning Protector Whelp after resolving Buster Whelp of the Destruction Swordsman puts both of the deck's key traps in play and loads the graveyard with every relevant combo card.
I'd confidently put Destruction Sword into the "casual strategy" bucket, but that doesn't mean it's inconsistent or underpowered. The reality is that the Destruction Sword deck has exactly one game plan, and if that doesn't work you're most likely going to lose. Luckily the deck has a few built-in advantages that keep it competitive, and that makes it a surprisingly capable pick at the Local level.
What Does A Destruction Sword Deck Look Like?
The actual Main Deck Destruction Sword line-up doesn't take up an overwhelming amount of space, so there's plenty of room to branch out and build hybrids. It's one of the reasons why Guardragon Destruction Sword variants were fairly competitive, and these days you'll see a lot of Crusadia and Tenyi builds out on the internet.
This deck we'll be focusing on makes heavy use of the Rokket engine, but all of these hybrids are simply adding more extenders to the core build. You're still probably going to win with your Buster Blader Fusion Monster, or lose because you couldn't Summon it in time.
This version of the deck takes advantage of a couple of great extenders to speed toward the eventual end game: Summoning both Buster Dragon and Buster Blader, the Dragon Destroyer Swordsman with Dragon Buster Destruction Sword equipped. You'll see quite a few differences if you compare this to builds created prior to the April Forbidden & Limited List, including Jet Synchron over Glow-Up Bulb and only one copy of Instant Fusion. Rokkets play an interesting role here as extenders, but they also double as a means of getting to Borreload Savage Dragon slightly faster.
Yu-Gi-Oh! TCG Deck - Kelly's Destruction Swords by Kelly Locke
'Kelly's Destruction Swords' - constructed deck list and prices for the Yu-Gi-Oh! Trading Card Game from TCGplayer Infinite!
Created By: Kelly Locke
Event:
Rank:
Advanced
Market Price: $243.47
Cards
The Destruction Sword engine's the heart and soul of the deck, so you'll want to play as many cards as possible to set the stage for your lockdown.
The quickest way to ensure all of your pieces are in place is to resolve both Whelps: Buster Whelp of the Destruction Swordsman and Protector Whelp of the Destruction Swordsman. Where Arf Thou?, Foolish Burial, and One For One expedite Summoning Buster Whelp, but you'll need to lean on its second effect to recycle it from the graveyard. Buster Whelp's search effect only activates when it's Normal Summoned, so ideally you'll want to either draw it naturally or load it into the graveyard as quickly as possible.
The deck's trap line-up is largely built around abusing Trap Trick. You have plenty of options for which Normal Traps you'll run, but naturally Prologue of the Destruction Swordsman is your top priority if Buster Whelp's search effect is negated. Keep in mind that Prologue can actually send Destruction Sword Memories to the graveyard, so running multiple copies is redundant unless you plan on Fusion Summoning more than once per duel. I like the idea of having at least one interruption available for use with Trap Trick, and Infinite Impermanence fills that role nicely. Solemn Judgment rounds out the trap line-up as an insurance policy against spells and traps that might make short work of your set-up.
Let's break down the rest of the strategy step-by-step to get a better idea of where your priorities are at every level.
Combo Starters
Prologue of the Destruction Swordsman is the must-have card for this strategy. Everything in this deck hinges around resolving Prologue as quickly as possible, and there are only two ways to get to it.
Trap Trick and Buster Whelp effectively raise the number of Prologues in your deck to nine, and it's overwhelmingly likely that you'll start the duel with at least one of them. Buster Whelp itself is searchable and recyclable, and Called by the Grave should help push through most hand traps.
One hand trap you won't have to worry about is Nibiru, the Primal Being. You're typically not Summoning Buster Dragon or Buster Blader, the Dragon Destroyer Swordsman during your first turn anyways.
Where Arf Thou? is incredibly helpful for finding Buster Whelp on your first turn. Jet Synchron, Rokket Synchron, and Jester Confit are alternative targets for Where Arf Thou? that can be Special Summoned with their own effects or with Quick Launch and One for One. Special Summoning a Level 1 frees up your Normal Summon for Buster Whelp, and at the same time builds field presence for Link Summons. The Link Material requirements for Protector Whelp are surprisingly generic, so you can pair pretty much any two monsters to complete the lockdown.
Combo Extenders
Setting up the lockdown is as easy as resolving both Buster Whelp and Protector Whelp, but you'll want to put a little more work in to keep your set-up as safe as possible. Crystron Halqifibrax is a fantastic stepping stone to help build field presence, and luckily Buster Whelp is a Tuner itself.
You can pair Buster Whelp with another monster to Summon Halqifibrax, then Special Summon Jet Synchron from the deck. Jet Synchron can then be exchanged for Linkuriboh, Special Summoned back to the field, and both Jet Synchron and Linkuriboh can be sent to the graveyard for Protector Whelp. What's the point of all this Link Summoning, you ask? Because you can put Halqifibrax and Protector Whelp together to Summon Apollousa, Bow of the Goddess.
If you don't have Apollousa you can aim for Borreload Savage Dragon instead by Summoning Buster Blader or Buster Blader, the Destruction Swordmaster from your hand with Protector Whelp's effect, then Summoning another Level 1 Tuner like Rokket Synchron or Jet Synchron. You could skip Halqifibrax entirely, but you'll want to make sure you've put a Linkuriboh in the graveyard first. That route's less consistent than Apollousa because you'll need a free Level 1 Tuner and a Buster Blader monster in your hand. But it does have the advantage of covering spell and trap negation, which is something the typical set-up is powerless against.
The Destruction Sword Lockdown
The final end board here should consist of Buster Dragon; Buster Blader, the Dragon Destroyer Swordsman with Dragon Buster Destruction Sword equipped; and ideally one more negation body like Apollousa or Borreload Savage Dragon. Your opponent's monsters on the field will be changed to Dragons, forced into Defense Position, and all Dragons in your opponent's possession won't be able to activate their effects.
Dragon Buster's effect will stop your opponent Summoning from their Extra Deck, and Prologue of the Destruction Swordsman can trigger from the graveyard to keep your Destruction Sword cards from being destroyed for a turn. It's nowhere near full coverage against all of your opponent's actions, but it's still restrictive enough to force your opponent to make suboptimal plays or simply concede right out of the gate.
So what do you do once you've established your board? When play passes back you'll be on a timer with Buster Dragon – it'll self-destruct at the end of your turn. Why not upgrade it to a new Synchro Monster since you're going to lose it anyways? Why not upgrade it to one of the best Synchros in the game?
Hot Red Dragon Archfiend Abyss is Level 9 and requires just a Tuner and a non-Tuner Dragon Synchro, and luckily Buster Dragon fits that description. It's perfect: you have the non-Tuner Synchro, and you're already playing plenty of Level 1 Tuners. Abyss is an incredible monster, and it's a great way to keep the pressure on your opponent as you aim to close out the duel as quickly as possible.
Example Combo
The Destruction Sword field's generally a 2-card combo if you open with Buster Whelp of the Destruction Swordsman and a Special Summoned extender:
-Normal Summon Buster Whelp and activate its effect to search Prologue of the Destruction Swordsman. Set Prologue sometime before the end of your turn
-Activate Quick Launch, or Special Summon Jester Confit to Link Summon Crystron Halqifibrax with Buster Whelp
-Activate Halqifibrax to Summon Jet Synchron from the deck. Link Summon Linkuriboh with Jet Synchron, then discard a card to Summon Jet Synchron from the graveyard with its ability
-Link Summon Protector Whelp of the Destruction Swordsman with Jet Synchron and Linkuriboh, and activate its effect to send Destruction Sword Memories from the deck to the graveyard
-Link Summon Apollousa, Bow of the Goddess with Halqifibrax and Protector Whelp
-Activate Prologue on your opponent's turn by sending Dragon Buster Destruction Sword and one of your Buster Blader monsters from the deck to the graveyard. Summon Buster Dragon in Defense Position
-Activate Destruction Sword Memories from the graveyard to Fusion Summon Buster Blader, the Dragon Destroyer Swordsman
-Finally, activate Buster Dragon by targeting Swordsman and equip Dragon Buster to it from the graveyard
You can handily bludgeon your way through interruption by using the Crystron Halqifibrax combo as bait. You don't actually need Apollusa to lock down your opponent's monsters, but you do need to resolve your traps. Therefore, you'll need to resolve the monsters thatget you to your traps. Baiting out more negation effects before Summoning Protector Whelp is really important, and Halqifibrax is all too tempting of a target for some players.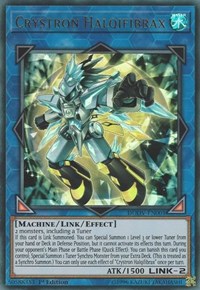 Crushing Dragon Decks, And Avoiding Falling Rocks
The Destruction Sword strategy's perfectly viable against all kinds of themes thanks to Buster Dragon, but it's especially effective against decks that are loaded with Dragons.
Buster Blader, the Dragon Destroyer Swordsman locks down Dragon effects everywhere in your opponent's possession, so even Dragons in their hand and graveyard aren't safe. For obvious reasons this deck has a fantastic match-up against Dragon themes, and in a different format you'd prioritize Summoning Swordsman multiple times in a duel. To do that you'd play more copies of Buster Blader monsters in your Main Deck, and at least one more copy of Destruction Sword Memories. I'm hesitant to go that route at the moment, but if Dragon Link made a comeback I'd certainly consider it.
The fact that this deck's almost immune to Nibiru, the Primal Being is a big deal. Called by the Grave has a lot more weight to it when your opponent's other big hand trap might only eat one monster. Nibiru itself can be Link Material for Protector Whelp of the Destruction Swordsman, so even an optimally-timed Nibiru is hardly devastating as long as you successfully search your traps. Blowing through two hand traps in a turn leaves your opponent with just four cards to overcome your final set-up, and that's a serious challenge even for the best decks in the game right now. Luckily your opponent can't hold Nibiru either: they either burn it to prevent Apollousa from hitting the field, or don't activate it at all.
Playing second is a struggle, especially against big boards full of interruption. Backrow's particularly difficult, and you'll want to lean on Trap Trick to find sided cards like Heavy Storm Duster to start chipping away at your opponent's defenses. This is not the deck you want to be playing in a grind game, so decisive blowout cards like Evenly Matched are a tremendous help in leveling the playing field against Altergeists and Salamangreats.
Fun fact: your opponent can't Link Summon Salamangreat Balelynx if Buster Dragon is on the field. You'll find fun interactions like that in a surprising number of match-ups, where changing the type of your opponent's monsters can disrupt their ability to activate card effects or Special Summon monsters from the Extra Deck.
Destruction Swords aren't winning any awards for "Most Varied Gameplay" anytime soon, but the deck is much more focused and streamlined thanks to Protector Whelp of the Destruction Swordsman. Duel Overload has changed the competitive outlook of so many decks thanks to Crystron Halqifibrax, but the handful that benefit from both Halqifibrax and their new themed Link Monsters are in a particularly exciting place. This deck is one more solid card away from being frighteningly consistent, and I don't think it'll lose too much power even if Halqifibrax is Forbidden someday.
On that note, this deck's rather affordable if you're willing to play Borreload Savage Dragon over Apollousa, and Lost Wind over Infinite Impermanence. There's still plenty of space to explore here – don't forget that the engine itself is small enough to fit just about anywhere. I believe more hybrids are possible and just waiting to be discovered.
Until next time then
-Kelly