Before the release of Red-Eyes Dark Dragoon, I was playing my Eldlich Synchron deck just like any average player. Nothing special, lots of hand traps to beat the likes of combo decks and using the Eldlich cards to out-resource opponents and win the mid-game.
Then my friend Milano played Dragonmaids against me. He's run Dragonmaids since before Rise of the Duelist, but now with their new trap card Dragonmaid Tidying, the Dragonmaids have a lot more opportunities for interactions, as well as more revival effects to outpace other decks. I was surprised at how amazing Dragonmaids are now, and I picked the deck up myself.
"If you can't beat 'em, join 'em."
The deck isn't unstoppable, but it has a way of snowballing resources that's tough to keep up with, making Dragonmaids a nice anti-midrange deck. It definitely isn't going to beat combo decks consistently, but with so much recursion, it easily plays for the long term.
Now I'm sure not everyone's familiar with Dragonmaid cards and how they work, so I'll give a quick rundown on what the cards do, some of the key combos, and a decklist I put together before Red-Eyes Dark Dragoon was released.
Yu-Gi-Oh! TCG Deck - Hanko's Dragonmaid Deck by Hanko Chow
'Hanko's Dragonmaid Deck' - constructed deck list and prices for the Yu-Gi-Oh! Trading Card Game from TCGplayer Infinite!
Created By: Hanko Chow
Event:
Rank:
Advanced
Market Price: $586.87
Cards
The Dragonmaid deck isunique. It's a Dragon-type beatdown deck that also focuses on Fusion Summoning their boss monsters. The smaller Dragonmaids all have unique on-summon effects that help gain card advantage or search other 'maids, and they also have a tag-out type effect similar to Gladiator Beasts. At the start of the Battle Phase you can bounce them back to your hand to summon a bigger Dragonmaid with specific Levels. Essentially they transform into their Dragon persona, which is really cool!
At the end of the Battle Phase the bigger Dragons bounce themselves back to your hand to summon out the little Dragonmaids, tagging them back in. While in hand, the bigger Dragonmaids all have unique effects that you trigger by discarding them.
Dragonmaid Ernus lets you Special Summon a level 4 or lower Dragonmaid from your hand.
Dragonmaid Nudyarl shuffles back a monster from either player's graveyard back to the deck
Dragonmaid Tinkhec boosts another Dragonmaid's attack on the field by 2000
Dragonmaid Lorpar can stop an opposing monster effect from activating
Dragonmaid Ernus and Dragonmaid Nudyarl are both Level 7 with 2600 ATK, and they tag out with the corresponding Level 2s, Laundry Dragonmaid and Nurse Dragonmaid. Dragonmaid Tinkhec and Dragonmaid Lorpar are Level 8 and 2700 ATK, so they tag out with the Level 3 Dragonmaids, Parlor Dragonmaid and Kitchen Dragonmaid.

Kitchen Dragonmaid searches a Dragonmaid monster to your hand, but you'll have to discard a Dragonmaid in return. I want to point out when I was playtesting this deck, I found I didn't enjoy summoning Kitchen Dragonmaid. That was because it only searches and sends monsters; it just doesn't help the deck's goal to Fusion Summon without another card.
I don't personnally understand why people would play three copies of this. The goal of this card is to either get Dragonmaid Ernus to summon another better Dragonmaid from your hand, or send other Dragonmaids that you can revive afterward with other cards.

Parlor Dragonmaid has the effect on summon to send any Dragonmaid CARD from your deck to the graveyard. It's definitely one of the better options and you want to see it at the start of the game, since it helps you send another Dragonmaid monster to the graveyard or even the new trap Dragonmaid Tidying. Most importantly it helps send Dragonmaid Changeover from your deck to the graveyard.
Dragonmaid Changeover the theme's Fusion Spell, and similar to Invocation it has a recycling type of effect. While in the graveyard, yu can take it back to your hand by bouncing any Dragonmaid monster you control.
Nurse Dragonmaid is the deck's MVP, reviving another Dragonmaid on summon. The key to winning with Dragonmaids is to constantly revive all your cards. Nurse Dragonmaid is just one of the many revival options, but it's the most important since it's part of the engine you keep looping with.
Summon Nurse Dragonmaid to revive another, then at the start of Battle Phase you bounce Nurse Dragonmaid back to your hand to summon a Level 7 counterpart like Dragonmaid Ernus. So, each turn you'll be summoning it to get more and more bodies on the field.

Laundry Dragonmaid was the weird one of the bunch, milling three cards on summon. That doesn't sound like much at first, but with the newer card Dragonmaid Tidying, the mills became statistically better.
When the theme first debuted, you wouldn't really play Laundry Dragonmaid since all the other 'maids were better. But now I think its effect is actually better than Kitchen Dragonmaid.

From Eternity Code came Chamber Dragonmaid. This Dragonmaid's unique because it's Level 4, and on summon, it gets you one of the Dragonmaid spells or traps. Meaning it too can get Dragonmaid Changeover directly. If you already have Dragonmaid Changeover, then Chamber Dragonmaid gets either Dragonmaid Hospitality for a free extender or Dragonmaid Tidying for disruption. And at the start of the Battle Phase, it tags out into a Level 7 OR HIGHER Dragonmaid from your graveyard or hand. That means it can tag out either the Level 7 or Level 8s and potentially even revive a Fusion Monster.
Of all the 'maids, you want to start off with Chamber Dragonmaid or Parlor Dragonmaid to search for the Fusion Spell, while Laundry Dragonmaid can mill you a Dragonmaid Changeover if you max it out, or other Dragonmaids you can revive with the other cards in your hand. That's why I personally find Kitchen Dragonmaid to be lackluster, but having more names in the deck is useful. And likewise, you want to see Nurse Dragonmaid when you've already summoned the others.
The fusion boss monsters you make are House Dragonmaid and its counterpart Dragonmaid Sheou. The goal of the deck is to make Dragonmaid Sheou first, and if possible either a House Dragonmaid or a Hieratic Seal of the Heavenly Spheres.
Dragonmaid Sheoul
Dragonmaid Sheou was released in the same set with Chamber Dragonmaid. It's a level 10 Dragon Fusion that requires any Dragonmaid as well as any Level 5 or higher Dragon as its materials. While on the field, it provides an omni negate, but after you negate something with it, Dragonmaid Sheou returns to the Extra Deck to summon her 'maid version, House Dragonmaid.
Try to keep Dragonmaid House on the field so you can get the other effect on either player's Standby Phase, giving you a free Dragonmaid summon from your hand or graveyard. It's similar to Red-Eyes Darkness Metal Dragon, but it works in every Standby Phase.

House Dragonmaid is the Level 9 Fusion. It requires any Dragonmaid and any Dragon-type monster – with no Level restrictions it's a great Super Polymerization target against other Dragon decks, or the mirror match. While on the field, House Dragonmaid gives you a free summon of a Dragonmaid from your hand or graveyard, but only if you have a 'maid on the field and only a 'maid with a different Level. It also destroys a card every time another of your Dragonmaids is returned to your hand.
If you do have House Dragonmaid out, combo it with the trap cards Dragonmaid Downtime or Dragonmaid Tidying, or use the tag out effects in the Battle Phase. In some scenarios you can even use Hieratic Seal of the Heavenly Spheres to bounce your own 'maid, triggering House Dragonmaid effect to destroy a card.
Those are all the monsters that make up the Dragonmaid staff!

Hieratic Seal of the Heavenly Spheres is an honorary Dragonmaid card, because it's not only easy to make, but it has an important ability to search out any Dragon when it's tributed. It makes setting up Nurse Dragonmaid on the opponent's turn really, really easy, and there's some neat stuff you can do that I'll explain more in the combos.
The Dragonmaid spells and traps are good as well, though it wasn't until recently that they got any real interactive cards to meddle with the opponent's plays.

Dragonmaid Tidying from Rise of the Duelist fits the deck perfectly. Acting not only as searchable disruption and removal, it's also kind of similar to Spyral Mission - Rescue; you can banish it from the graveyard to get a free summon of a Dragonmaid from your graveyard or hand.
On the field, it bounces a Dragon and a card your opponent controls. Dragonmaid Tidying combos with House Dragonmaid and even Hieratic Seal of the Heavenly Spheres. A neat thing you can do is target your Hieratic Seal of the Heavenly Spheres with the trap, and then chain Hieratic Seal of the Heavenly Spheres effect to bounce another. Because Dragonmaid Tidying doesn't specifically instruct you to bounce both, the trap will still bounce the opponent's card for a double bounce.
It's the same effect as Dragonmaid Hospitality, though the spell also has a bonus of sending another Dragonmaid to the graveyard with the same attribute, but different Level, to help set up the Dragon transformation in the Battle Phase.

We've already covered Dragonmaid Changeover, though many players tend to run one to two copies since it can be recycled , treating it the same as Invocation. I think since it's so important to [Fusion Summon]] your boss monster, you should play three copies. That can be risky and I could be wrong, because sometimes running three will make your hands less optimal.
…But it does make Laundry Dragonmaid's milling effect a bit better. And if you've already started with the Fusion Spell, when you're using Chamber Dragonmaid or Parlor Dragonmaid effect, you can search or send a different card instead. Usually your opponents will try to negate the 'maid's on-summon effect to stop you in your tracks, so seeing the Fusion Spell beforehand will tend to work out.

Dragonmaid Welcome and Dragonmaid Downtime are very optional. Dragonmaid Downtime a Continuous Trap that's very similar to Altergeist's Personal Spoofing: it bounces a Dragonmaid on the field to search for another Dragonmaid "card" or bounce an opponent's spell or trap. It definitely helps against other control decks, letting you outpace them. It thins down your opponent's traps and lets you gather more and more cards, keeping your 'maids safe in hand. Dragonmaid Downtime usually sided specifically for backrow decks.
Dragonmaid Welcome isn't very popular, but when you're playing the long game, it's a recursion tool that can be helpful looping back your revival cards. That said, Dragonmaid Welcome itself can't be retrieved, so that makes it pretty bad. It also keeps your Dragonmaids from being targeted by opponent's cards for a turn when it's sent to the graveyard, so it can be a safety net in matchups with lots of disruption that target on the field, like Sky Strikers or Altergeists.
That covers all the relevant Dragonmaid cards. Because the deck is made up of Dragons, it already has lots of powerful Dragon support like World Legacy Guardragon to help extend or combo into Guardragon Elpy and Hieratic Seal of the Heavenly Spheres as mentioned before.
I personally play Return of the Dragon Lords, because I run six copies of the big Dragons. Being an extender to help fuse into Dragonmaid Sheou or make Hieratic Seal of the Heavenly Spheres is great. The graveyard protection effect is similar to Salamangreat Balelynx, and it helps your Dragons stick to the field in some matchups.

Dragonmaid Combos?
Here's a play sequence I aim for whenever I draw World Legacy Guardragon and any Dragonmaid.
At this point it all depends on your hand. Do you have a way to Fusion Summon? Do you want a high-Level Dragon? Do you want to make both a Fusion Monster and Hieratic Seal of the Heavenly Spheres? These can all be answered with lots of playtesting. Make sure you plan out your moves before you act.
Guardragon Pisty
My list doesn't play Guardragon Pisty or cards like Crossrose Dragon because with Pot of Extravagance in the mix, I wanted to keep my deck simple. I personally don't want to overextend to make Guardragon Pisty, but it is an option.
Most games I tend to open up with Dragonmaid Sheou, and Hieratic Seal of the Heavenly Spheres with maybe an Ash Blossom & Joyous Spring left in my hand. That may sound bad, since I've lost cards at the end of my own first turn, but it's actually a big setup toward a steamrolling because it places so many Dragonmaids into your graveyard.
On your opponent's Standby Phase you'll use Dragonmaid Sheou effect to revive one of the Dragonmaids. It'll usually give you a plus of card economy. But what's more important is how you use Hieratic Seal of the Heavenly Spheres. Get ready to say, "Ummmm at the start of the Battle Phase, I will...." because there'll be numerous effects to activate if your opponent stumbles into it.
And most of the time, the inexperienced player will – all they see is an omni negate and Hieratic Seal of the Heavenly Spheres. They don't want to commit anything, because it might get bounced back by the Link Monster. So instead, they'll attack to bait it out first.
What's the worst that can happen, right?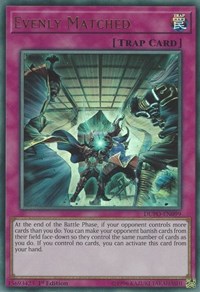 At The Start Of The Battle Phase
When your opponent ends their Main Phase and moves to the Battle Phase, there's a secret phase called the "start of Battle Phase." It's similar to the more popular "end of Battle Phase," usually reserved for cards like Evenly Matched; Dragonmaids love the start of the Battle Phase.
Here, you'll trigger the effect of Hieratic Seal of the Heavenly Spheres to bounce whatever monster your opponent tries to poke you with. Then you'll trigger the graveyard effect of Hieratic Seal of the Heavenly Spheres, searching out Nurse Dragonmaid (if Dragonmaid Sheou didn't already revive one). If you've already got a Nurse Dragonmaid, you'll want to see either Parlor Dragonmaid or Chamber Dragonmaid, and lastly Kitchen Dragonmaid.
After you resolve their on-summon effects, you'll activate their start-of-Battle-Phase abilities one at a time, returning all the 'maids back to your hand for whichever of their big Dragon counterparts you have in grave (if any).
Your field should now have all the bigger Dragonmaids you've revived and a handful of 'maids you can re-summon as a followup on your turn. And that all happens because your opponent wanted to provoke the Hieratic Seal of the Heavenly Spheres by attacking it. Which in some cases could be the correct move, sure. But if they didn't realize how much raw card advantage you as the Dragonmaid player would get in return the game will usually snowball in your favor.
The only way to play around that is to just not enter the battle phase and remove the maids off the field during the main phase. Though they'll have to get through Dragonmaid Sheou negate first.

Some Things To Note
This deck runs three copies of the main Extra Deck cards you rely on: the two Fusion boss monsters and Hieratic Seal of the Heavenly Spheres. Salamangreat Almiraj, Guardragon Elpy and Elder Entity N'tss are just two-ofs. The Elder Entity N'tss is only there because Dogmatika Maximus exists. If your opponent uses Dogmatika Maximus, you send any two cards from your Extra Deck to the graveyard. You can play other options to help you gain advantage from Dogmatika Maximus in that spot, such as Wind Pegasus @Ignister, Psy-Framelord Omega, Fossil Warrior Skull Knight or anything similar.
The Extra Deck only looks like this because the strategy's running Pot of Extravagance. You can play Dragonmaids in a variety of ways, so you can definitely change the Extra Deck to include more toolbox cards like Knightmares or other Dragon Link favorites.
The Side Deck game plan reflects my usual mindset on the game; if you can't beat combo decks consistently, it's better to side more against specific combo strategies. Main Decking your matchup-specific tech alongside the other utility cards will make your hands less consistent, and your core engine won't be as reliable.
Fantastical Dragon Phantazmay has amazing synergy here. Being a free Dragon beatstick helps your 'maids effects play through the likes of Effect Veiler or Infinite Impermanence, as well as being the right Fusion Material for Dragonmaid Sheou. You can definitely Main Deck it, depending on the metagame or matchups.
I've talked about Token Collector in the past, but in a deck that also has a milling factor, it's a great pick to see. You can either draw it or mill it with Laundry Dragonmaid effect, and you'll probably be using it on both your turn and your opponent's turn. That means you can effectively flip through 8 to 11 cards out of your 40 to try and see Token Collector if you play everything correctly.
But yes, the deck has a blatant weakness of not being able to play under popular floodgates. Watch out for Sky Striker and Subterror players running There Can Be Only One, as well as Salamangreats with Gozen Match. Backrow hate is definitely needed in the main or side.
I've mentioned to my friend how Dragonmaid Tidying is similar to Spyral Mission - Rescue being such a great card to have in the graveyard. I can see how a card like Magicians' Souls could have some potential in Dragonmaids as draw power or a free summon. Especially if you want to incorporate the popular Predaplant Verte Anaconda combo to summon Red-Eyes Dark Dragoon.
In conclusion, Dragonmaids are definitely a great deck choice if you want a change of pace from the other popular picks. It interacts well with your opponent and rewards lots of intense resource management. And it's consistent! Getting to your Dragonmaids and being able to Fusion Summon is all you need. From there you just gotta keep track of how you want to keep reusing your 'maids to get more and more cards.
If you want to take Dragonmaids a bit more seriously, all you need to do is replace the optional and situational cards in my list and add in more utility cards or hand traps – whatever will assist the deck in beating your expected metagame.
I can definitely picture Dragonmaids winning some tournaments if they were piloted well. With Red-Eyes Dark Dragoon in the format, I put the deck down again because I don't think it can consistently beat Red-Eyes Dark Dragoon unless you just play more hand traps to stop it. Only time will tell where Dragonmaids are in current metagames.
Till next time.