Hey there, duelists. Sometimes we all burn out from playing top tier strategies. I'd hit that point myself toward the end of the last format. Because of that, I took some inspiration from Paul's showing at the Remote Duel Invitational and built a Golden Castle Gren Maju deck.
First appearing in Invasion of Chaos all the way back in March of 2004, Gren Maju Da Eiza has always held a spot in my heart. Despite debuting in one of the most iconic sets of all time, it never had a real heyday until last year, when Yishann McNabb took second place with it at YCS Portland using Golden Castle of Stromberg.
The deck's simple, but effective. It's also surprisingly budget friendly, which is great for anyone who doesn't want to dump hundreds of dollars into the top strategies of the format so far. Thanks to the 2020 Tin of Lost Memories, the deck's most expensive card now costs about a dollar: Gizmek Orochi, the Serpentron Sky Slasher. Beyond that, the most important cards are some low cost Danger staples and Eater of Millions. It's a fun deck that can steal wins from other, more popular strategies often enough to win you some awesome prizes in remote duels, so let's dive in and show you the list.
Yu-Gi-Oh! TCG Deck - Zach's Golden Castle Gren Maju Deck by Zachariah Butler
'Zach's Golden Castle Gren Maju Deck' - constructed deck list and prices for the Yu-Gi-Oh! Trading Card Game from TCGplayer Infinite!
Created By: Zachariah Butler
Event:
Rank:
Advanced
Market Price: $196.73
Cards
Note that you can Side Deck whatever you want for the metagames you plan to play in, but Super Polymerization is a must.
Protecting The Castle
The strategy's pretty straightforward: you just want to banish a bunch of cards to power up your Gren Maju Da Eiza and launch a one-punch style attack for an obnoxious amount of damage. Golden Castle of Stromberg a fantastic way to do that, banishing cards inn your Standby Phase as a maintenance cost, and summoning one of your ace monsters from your deck. Hexe Trude a Level 8 monster with 2600 ATK, and once per turn it can destroy an opposing card and makes additional attacks for doing so. As if that weren't enough, it can boost a monster by 400 ATK every time it destroys a monster in battle.
From there you have the other Golden Castle of Stromberg monster, Glife the Phantom Bird. You can discard Glife the Phantom Bird to search Golden Castle of Stromberg and add it to your hand, essentially giving you seven total copies thanks to Glife the Phantom Bird and Terraforming. But if you summon Glife the Phantom Bird instead? You can destroy a face-down card as well. The power level of the Golden Castle of Stromberg engine's seriously underrated.
Oh, and if that weren't enough, Golden Castle of Stromberg also destroys opposing monsters when they declare attacks and deals damage to your opponent equal to half the current ATK of that monster. Because you know what? Mirror Force is still somewhere in our hearts even in 2020.
Danger! Bigfoot!
The small Danger lineup here might not seem too impressive, but don't be fooled. Danger! Bigfoot! and Danger! Thunderbird! are both Level 8s, so they work with Trade-In and it'll trigger their effects. Who doesn't like drawing two cards, and then destroying a card as well?
People who don't like crushing dreams, that's who. Moving on.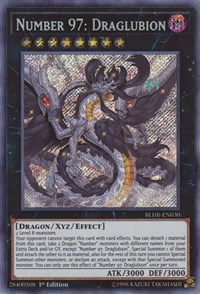 The Danger monsters also help you make Rank 8 Xyz Summons, namely Number 97: Draglubion. It can't be targeted with effects, and you can detach a material once per turn to take two different "Number" monsters from your Extra Deck, summon one, and use the other as its material. That's where Number 38: Hope Harbinger Dragon Titanic Galaxy and Number 100: Numeron Dragon come into play. Between the two of them you can negate opposing cards when you go first, or just simply end the game with a swift 1-2 punch from Number 100: Numeron Dragon for 9000 damage.

Okay, so I don't really need to talk about Pot of Desires but dang It, I'm going to. The downside of the card has always been having to banish ten cards from your deck, but what if that was really the upside? Imagine a deck where drawing two cards is the bonus.
Welcome to Gren Maju Da Eiza.
Seriously, a Pot of Desires resolving is a 4000 attack Gren Maju Da Eiza by itself. That's disgusting. I love it. And if you draw a Gizmek Orochi, the Serpentron Sky Slasher too? That's another eight cards banished, giving your Gren Maju 7200 ATK total. More than anything, that's just hilarious. Moving on to real stuff, though…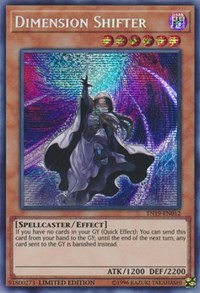 Keeping in line with the "nobody but you will have fun and that's okay" vibe we have going on here, Dimension Shifter sees big play time in this strategy, and you want to Main Deck it because it helps you power up your banish-powered cards while simultaneously ruining your opponent's plays.
Dragon link, Dinosaurs and Infernobles all rely on the graveyard, so cutting off their access is really valuable. Shutting off Ghost Ogre & Snow Rabbit is helpful too - it must hit the graveyard to work – i ensuring that you can safely resolve your Golden Castle of Stromberg effects. You'll also notice that PSY-Framegear Gamma is packing heat here as well, and despite the potential to banish it, you can still take that risk, because PSY-Framegear Gamma just that powerful.
You might notice that this is way shorter than our regular "How To Play!" guides, and that's on purpose. This deck isn't some Swiss army knife; it's not to be wielded in all sorts of different ways. This is a sledgehammer, and you're looking to brute force your way to the win. The game plan's simple: go second, and just slam cards into your opponent until you take the 'W'. You win through a mix of Gren Maju Da Eiza, Dangers, Hexe Trude beatdown, or just sitting on a Mystic Mine and decking your opponent out.
Give it a shot, and let me know how it goes over on Twitter. It's a really fun strategy that you can build in a surprising number of different ways, and if you ever see me in remote duels there's a decent chance you'll see me running it! Until next time, play on.