The Rikka theme made its TCG debut last Friday in Secret Slayers alongside Adamancipators and Eldlich, and it's the first new Plant theme since Predaplants.
Rikkas revolve around tributing monsters – especially Rikka monsters themselves – and can capitalize on a backlog of excellent Plant support from cards like Lonefire Blossom, Spore, and some under the radar picks like Evil Thorn. You can imagine Rikkas as a variant of Plant Link: a strategy that's now viable thanks to the release of Crystron Halqifibrax. What the Rikka theme brings to the table is a powerful set of tools to manipulate your opponent's monsters, and a fantastic set of recurring Xyz, Link, and tribute fodder.
The Rikka boss monster, Teardrop the Rikka Queen, has a Quick Effect that can tribute monsters on either side of the field as long as it has a Plant as an Xyz Material. The deck can further tribute oppoosing monsters with Rikka Flurries, and Rikka Sheet controls the pace of the duel by preventing monster effect activations. You have plenty of weapons to keep your opponent's field presence in check, but you'll need to build up your own field to take full advantage of those cards.
Luckily Rikkas have just enough summoning power to develop field presence, and old school Plant support like Lonefire Blossom and Evil Thorn are fantastic building blocks to work with.
Properly mixing all the Plant Link cards together – especially those that help you get Plants of any kind on the field – are a top priority, but we won't be leaning too heavily into extenders and Link plays with this build.
The temptation's certainly there: Link spam using an engine of Lonefire Blossom, Predaplant Ophrys Scorpio, and combos involving Cross-Sheep, Crystron Halqifibrax, Instant Fusion, and more could easily lead you away from playing any Rikka cards at all. But we're here to talk about the Rikka theme, not Plant Link, so I've crafted a build that prioritizes the Rank 6 and 8 Xyz Monsters over Link 4s.
Yu-Gi-Oh! TCG Deck - Kelly's Rikka Deck by Kelly Locke
'Kelly's Rikka Deck' - constructed deck list and prices for the Yu-Gi-Oh! Trading Card Game from TCGplayer Infinite!
Created By: Kelly Locke
Event:
Rank:
Advanced
Market Price: $142.60
Cards
You'll notice that there are still plenty of extenders in this build alongside a healthy mix of generic tech that helps the deck stay competitive. Lonefire Blossom, Spore, Evil Thorn, the Predaplants and Tytannial, Princess of Camellias are used for some of the same purposes you'd see from a Plant Link strategy. They're designed to get more bodies on the field, especially Plants, and unlock access to Link 4s with minimal effort. We'll largely use them to reach Link 4s like Apollousa, Bow of the Goddess and set up the conditions needed to play Bahamut Shark and Toadally Awesome.
The core Rikka line-up needs some adjusting in a post-April format. Prior to the April Forbidden & Limited List you'd see multiples of Instant Fusion in the Plant Link line-up alongside Glow-Up Bulb, but now we're forced to close the gaps with other cards. Fortunately our focus is on Rikkas anyways, so you have some options that should help you make the most of any subpar opening hands.
Combo Starters
The ideal opening card for Plant strategies is almost always Lonefire Blossom, and Rikkas are no exception.
You can go in any number of directions resolving Lonefire, but ideally you'll Summon Predaplant Ophrys Scorpio and activate its effect to Summon Predaplant Darlingtonia Cobra from your deck. That play's significantly more dangerous now that Instant Fusion is Limited, but it's simply too strong to pass up. Resolving Cobra adds Instant Fusion to your hand, and from there you can begin Link Summoning monsters like Aromaseraphy Jasmine to continue building field presence. Instant Fusion's an important combo piece here, but we'll circle back around to it shortly.
Lonefire Blossom can also bring Rikka Petal to the field for its search effect. Petal's a direct conflict with the Plant Link component of the deck, so it's a bit of a balancing act figuring out whether you'll Summon Petal or Predaplant Ophrys Scorpio in the early game. Once you resolve Petal you're locked into Plant Special Summons for the rest of the turn, and that immediately precludes any big Link plays with monsters other than Aromaseraphy Jasmine or maybe Predaplant Verte Anaconda.
I haven't found a good way to leverage Anaconda yet, though I do think the potential is there to somehow get Predaplant Dragostapelia on the field alongside Teardrop the Rikka Queen.
Combo Extenders
So let's assume you've managed to resolve Predaplant Ophrys Scorpio, Summon Cobra, and search Instant Fusion. From there you can Link Summon Aromaseraphy Jasmine, use any extender to put a monster in one of Jasmine's Linked Zones, and then activate Jasmine to Summon Evil Thorn from your deck. Resolve Evil Thorn to Summon two more copies from the deck, and you'll end up with three monsters on the board plus Instant Fusion in hand.
How you proceed depends on whether you have Primula the Rikka Fairy in your hand, or Rikka Glamour to search it. You can Special Summon Primula from your hand if a Plant is tributed, so you can activate it as an extender after Jasmine or Evil Thorn resolves. In that case, you'll Link Summon Cross-Sheep with Evil Thorn and Jasmine, then activate Instant Fusion to Summon Mudragon of the Swamp.
Why Mudragon of the Swamp? Rikkas happen to be Water monsters, and Primula's one of the deck's two Level 4s, so of course we were going to find a way to Summon Bahamut Shark. Bahamut Shark can then Special Summon Toadally Awesome, which has the added benefit of recycling one of your Rikkas when it hits the graveyard. But you can't forget about Cross-Sheep! Resolving Instant Fusion means you'll get to Special Summon a monster like Lonefire Blossom from the graveyard and launch a whole new set of combos. The plays here are pretty much endless, but Apollousa, Bow of the Goddess is typically a shoe-in for Plant Link.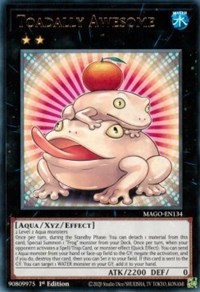 Meanwhile, resolving Rikka Petal brings you to an entirely different set of options that almost always end with Summoning Teardrop the Rikka Queen. Petal's effect can firstly grab Snowdrop the Rikka Fairy, your go-to Rikka for making Rank 8 Xyz. Snowdrop can tribute Petal to Special Summon itself and another Plant from your hand, but you'll once again be locked into Plant Special Summons for the remainder of the turn.
Stacking both Petal and Snowdrop won't hurt, but it's gain another important conflict with a large chunk of your Extra Deck that you'll have to watch out for. Snowdrop's Level-changing effect makes any Plant on the field a potential Rank 8 Xyz material, or it can downgrade itself to a Level 6 if Mudan the Rikka Fairy's on the field.
Snowdrop the Rikka Fairy is a quick enabler for the deck's Xyz Monsters, but it's dependent on having at least one other Plant in your hand. That's not exactly a strict condition, but we can help make it more consistent with the rest of the Rikka theme. Petal's already a must, and the deck's key search spell Rikka Glamour. Glamour's interesting because you can actually search two Rikka monsters in a pinch, but they'll both need to be the same Level. I don't often find myself tributing a monster to activate Glamour often, but Hellebore the Rikka Fairy earns its slot in this build if only for those times where you need to get Snowdrop and another Plant from your deck to your hand.
Mudan the Rikka Fairy is another link in the chain of Special Summons that eventually get you to your end field. You can simply Special Summon it with its effect, activate its search, and grab Glamour to search Snowdrop. Mudan's best paired with Snowdrop's Special Summon effect, and in that scenario you'll search Rikka Flurries for monster removal, Rikka Sheet for interruption, or Rikka Tranquility for recovery. Flurries is deceptively strong, but you'll need to tribute Rikka monsters to force your opponent to tribute their own cards. That said, between Flurries and Teardrop you'll typically be tributing two monsters per turn off of your opponent's field.
End Combo Monsters
Teardrop the Rikka Queen is your go-to monster to stop on at the end of your turn regardless of which path you take in the early game.
The rest of your supporting line-up, including cards like Spore and and Tytannial, the Princess of Camellias, can help set up more interruption alongside Toadally Awesome, Apollousa, and Rikka Sheet. Of course, as soon as you resolve Rikka Petal or Snowdrop the Rikka Fairy you'll no longer have access to your non-Plant negation bodies, but you can certainly resolve them after you've Summoned your non-Plants. Rikka Petal itself isn't particularly impressive if you Summoned a non-Plant, but it's fantastic recurring fodder if you can only manage to field your Rikka Xyz.
Thanks to Spore and Snowdrop you can run a variety of Extra Deck monsters, but resolving Snowdrop will lock you into Plants for the remainder of the turn. There's no point in playing Rank 8s that aren't Plants, but there is one more option besides Teardrop: that's Alsei, the Sylvan High Protector. Alsei's another removal option that doesn't have as much synergy with the deck as Teardrop, but it has a bit more utility because it can spin backrow back to the top of your opponent's deck. The Rikka theme is noticeably missing spell and trap removal, so fitting some into the Extra Deck is a necessity.
Do Rikkas Have What It Takes To Win This Format?
You might have noticed that I ignored a handful of Rikka monsters in my build, and that's largely because I don't think they contribute enough to the strategy to warrant play. If you cut the Plant Link engine from the deck you'll make just enough space to fit in Erica the Rikka Fairy and Cyclamen the Rikka Fairy, but I don't think the trade-off is worth it. Yes, you'll have a bit more synergy between your Rikka cards, but you'll be missing out on the explosive power of the Plant Link combos that let you field Teardrop alongside two fantastic negation bodies.
The deck's surprisingly consistent thanks to a bunch of search effect redundancy. Rikka Petal, Rikka Glamour, and Mudan the Rikka Fairy can get your combos started relatively easily, and Mudan's particularly useful for playing through interruption. If your Predaplant's negated you can simply tribute it for Mudan, search Glamour, and finally search Snowdrop the Rikka Fairy to reach your Rank 8. The problem is that the Rikka win condition isn't particularly strong, and unfortunately Snowdrop leaves a lot to be desired. Rikka Sheet's a functional interruption effect, but it doesn't actually negate or destroy cards, and that's a problem.
That said, this deck can seriously throw off strategies that absolutely do not want their monsters to be tributed. Snowdrop and Rikka Flurries is a hilariously fun combo, and Rikka Tranquility can pick up the pieces if you lose your board to mass removal. Tytannial, Princess of Camellias is surprisingly effective against decks that are loaded with targeting effects, and it can even negate cards that target your opponent's monsters. There are plenty of strategies out there that target their own monsters for a variety of reasons – Rikkas do it with Snowdrop's effect – and Tytannial's negation effect isn't once per turn.
Keeping Tytannial and Teardrop supplied with a stream of Plant monsters is one of the most challenging aspects of this strategy, but if you can solve that supply line issue you'll unlock one of the most disruptive decks this format has to offer.
Until next time then
-Kelly