I almost don't believe it.
It's 2021, and I can legitimately say, "I'm going to put all three Egyptian God cards in a deck, and it's going to work." The Egyptian God cards have had legal, playable versions with real effects for over a decade, but outside of a few teched copies of Obelisk the Tormentor, they've hardly made a splash in competition. Do sided The Winged Dragon of Ra - Sphere Mode count? I guess we can say they do, sure.
But beyond that, there wasn't even much of a casual strategy with the Egyptian God cards. I remember I made a deck I was somewhat proud of around 2012, that sorta-kinda consistently summoned Obelisk the Tormentor. To give you an idea of how well it worked, it kept losing to Smashing Ground.
What's the point of summoning an Egyptian God if Smashing Ground just beats it? The God cards aren't infallible, and I wouldn't want them to be, don't get me wrong. But for years, they've just been too fragile, and way too hard to summon.
Now, thanks to King's Court, there's a solution to both of those problems! And get ready, because the answer is… the Poker Knight cards?
Yeah, you heard me.
Prepare For A Royal Beatdown
Remember Double Summon? That card was actually used in competitive play at a few points during the history of the game, but it's been outclassed since by many similar cards. Generally speaking, cards with simple text are eclipsed by similar versions with a little added flair, and creating those sort of upgrades lets R&D add unique flavor to themes that would just use the generic versions otherwise.
Take Thunderspeed Summon and Joker's Straight. Both grant you another Normal Summon for the turn, but both have an added bonus built in as well, fielding more tributes or searching you an Egyptian God card. Both cards debuted in King's Court, and both of them are pretty solid.
Yes, I'm still not over the fact that you can summon Special Summon Jack's Knight from the deck and still have a Normal Summon to play an Egyptian God card.
Neither of these cards are amazing: yes, you can search Slifer the Sky Dragon from your deck to your hand and summon it, but that only kicks in when you have Queen's Knight, King's Knight, and Jack's Knight on the field, which takes some set-up. But hey guess what: that's obviously what we're going to do here.
In fact, today I'm building with a bunch of cards from King's Court that all mesh together really well. That's not me being lazy - I'm just taking the cards that were designed to work well together and doing what nature intended. And when I say we're bringing along almost everyone, I really mean it.
Yu-Gi-Oh! TCG Deck - Loukas's Poker Knight God Card Deck by Loukas Peterson
'Loukas's Poker Knight God Card Deck' - constructed deck list and prices for the Yu-Gi-Oh! Trading Card Game from TCGplayer Infinite!
Created By: Loukas Peterson
Event:
Rank: 0-0
Advanced
Market Price: $122.93
Cards
If you're old and near death like me, you might remember setting Shining Angel and just kind of hoping it would get destroyed so you could summon Queen's Knight. If you were lucky enough for that to happen, you could Normal Summon King's Knight on your following turn, and Special Summon Jack's Knight from your deck! Exciting! Yes, that's how easily impressed we were in 2005.
The rough part? Xyz and Link Monsters didn't exist in the time of Elemental Energy, where the Poker Knights were released. Even if you managed to get all three of them on the field, there wasn't much of a follow-up play. And when I say "there wasn't much of one," I'm honestly not sure there was any payoff whatsoever. Flash forward to today, and the deck looks very different.
Not only is the effect of King's Knight finally useful thanks to King's Court, but the follow-up plays flow really smoothly. Necessity begets the use of nearly every new card from KICO, but there are some standouts that make the deck ten times what it was back in the day.
The first is Joker's Straight. At the cost of a card in your hand, you'll field all three Knights without using your Normal Summon. Just discard a card, Special Summon Queen's Knight, then Normal Summon your newly searched King's Knight to Special Summon Jack's Knight from your hand. You may only be limited to Light Warrior monsters from your Extra Deck, but I will say that there are over 60 Light Warrior Xyz, Link, and Fusion Monsters to choose from.
Joker's Knight and its support cards are further help consistently placing all the Knights on the field. Joker's Knight acts as a de facto Queen's Knight when you Special Summon it, so it lays the groundwork for King's Knight, while Joker's Wild mimics Joker's Straight for that combo.
Court of Cards and Imperial Bower likewise set up your Knight combo, not to mention half these cards add Knights back from your graveyard to your deck, and return to your hand in the End Phase. If you can't tell, these cards really, really, really want you to Summon all three Knights, hopefully leaving you with your Normal Summon left over.
Drumroll, Please…
I mentioned earlier that there were a bunch of Xyz, Link, and Fusion Monsters you could summon under the restrictions of Joker's Straight, but I didn't want to slog down this deck with combos that aren't that particularly interesting.
Another Isolde, Two Tales of the Noble Knights combo? Ooh, so revolutionary....
Yes, this deck does run some additional cards to counter your opponent's plays. Number 41: Bagooska the Terribly Tired Tapir, Constellar Pleiades, Tornado Dragon, Abyss Dweller… those types of monsters obviously put pressure on your opponent. But a combo heavy slog just isn't that interesting, and we're talking about a deck that plays all three God Cards, here. Why make it boring? Also, there's a unique pain to drawing Equip Spells you only run because you want to send them to the graveyard off Isolde, Two Tales of the Noble Knights alongside Jack's Knight.
The only way to express the feeling you get when you draw that kind of card involves a lot of internal screaming.
If you're lucky enough to pull the new Pharoah's Rare versions of Slifer the Sky Dragon (Ultra Pharaoh's Rare), Obelisk the Tormentor (Ultra Pharaoh's Rare), or The Winged Dragon of Ra (Ultra Pharaoh's Rare) from King's Court, it sounds way more fun to actually play those, rather than re-tread the same old Warrior combos. Besides, weren't the Poker Knights built to serve the Egyptian Gods in the first place? In this case, I really don't mind following the breadcrumbs left by the R&D team.
Toss In An Egyptian God Or Two
Of the three Egyptian God cards, I don't think it's a secret that the Poker Knights support Slifer the Sky Dragon first and foremost. After all, they're all Yugi cards. Not only does Thunderspeed Summon spell it out for you in its effect, its name dropping, and its card art, but the effects of Joker's Knight, Joker's Straight, and Joker's Wild all assist Slifer the Sky Dragon by helping it boost its attack points.
Remember, Slifer the Sky Dragon needs you to have cards in your hand to actually have meaningful ATK, so getting cards back in the End Phase gives it the boost it needs to deal some real damage. Slifer the Sky Dragon ATK reduction's instantly mitigated as soon as you enter your End Phase.
The other God Cards work just as seamlessly, even if they aren't as on-brand as Slifer the Sky Dragon. With the abundance of ways to conduct an extra Normal Summon, you'll often have what you need to summon your Knights and a God Card. The math's in your favor.
At this point, Obelisk the Tormentor is definitely the hardest Egyptian God Card to get to, and to summon. And since the best way to search it is Card of the Soul, you'll no doubt be fielding The Winged Dragon of Ra and Slifer the Sky Dragon more often. Don't worry, it's not your fault; we don't have an Ancient Chant spell for Slifer the Sky Dragon and Obelisk the Tormentor just yet.
A Few Fun Things Sprinkled In
Despite my best efforts, sometimes your plays are predictable with this. Sometimes an Egyptian God Card isn't even your go-to plan! Since I'm leaning heavily into King's Court, I thought I'd play Gilti-Gearfried the Magical Steel Knight as backup. All you need is Face Card Fusion and some Knights to make it work. There are a bunch of options for non-Light Warriors that can help you get the most benefit from Face Card Fusion, but Fire Flint Lady steals the show for me.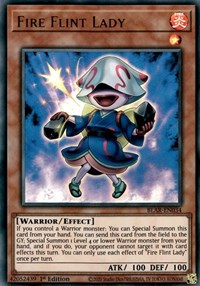 Why? It's another way to circumvent the Normal Summon restrictions. Special Summon Queen's Knight from your hand with Fire Flint Lady, then Normal Summon King's Knight to get a free Jack's Knight!
See? Life isn't so hard.
And while it's not compulsory by any means, I wanted to play some support cards for each Egyptian God; both for fun, and to explore some new territory. It's so awesome resolving Fist of Fate, Blaze Cannon, and Thunderforce Attack that I really couldn't resist. If you hate one of the Egyptian Gods, sure, leave it out and skip the support card that goes with it. But honestly, if you're playing an Egyptian God Deck why not channel the power of all three?
Just remember: beat your opponents before they beat you.