If you've caught too many Pokémon and don't have enough space, or if you want to trade with other Trainers, level up with TCGplayer and start selling.
Getting Started
The first step to becoming a Pokémon trainer is to create an account with TCGplayer.com. All you need is an email address and a password.
Go to the TCGplayer.com homepage and click "Sell With Us" in the top right corner.

On the next page, click the "Start Selling" and fill out the sign up form.

What Should I Sell?
If you're unsure which Pokémon cards hold higher value, TCGplayer can help. Use the TCGplayer app to scan your cards and find out the approximate price. (Don't forget to enter the card's condition manually.) You can also search TCGplayer.com for cards and compare the pricing of other sellers on the marketplace.
Finally, you can read our help files on Best Practices for Pricing Your Items and Using Our Pricing Tools. Remember, pricing is always up to you!
Seller Levels
Just like Pokémon Trainers, TCGplayer Sellers can level up!
Level 1

Requirements: None.
Ability to list 100 cards.
Up to $1,000 of cards can be listed.
A single card cannot exceed $500.

Level 2

Requirements: 2 orders that have reached the Expected Delivery Date (EDD) and feedback ratio is 80% or above.
Ability to list 500 cards.
Up to $5,000 of cards can be listed.
A single card cannot exceed $1,000.

Level 3

Requirements: 11 orders have reached EDD and feedback ratio is 85% or above.
Ability to list 50,000 cards.
Up to $100,000 of cards can be listed.
A single card cannot exceed $20,000.

Level 4

Requirements: 51 orders have reached EDD and feedback ratio is 90% or above.
Ability to list an unlimited number of cards.
You've unlocked Custom Shipping options!
Listing
To list your Pokémon, follow the steps below!
1. Log in to your seller portal. Once on your Home Page, navigate to the Inventory Tab.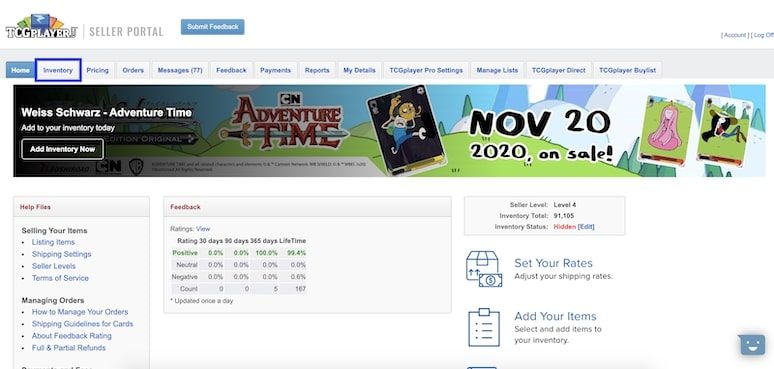 2. Within the Inventory Tab, you can search for cards by name, product line, set, rarity, and product type (How do I identify this Pokémon card?). Simply enter in the card you'd like to add to your inventory.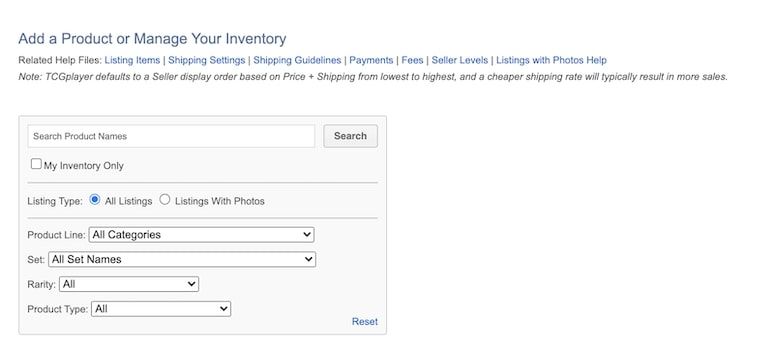 3. Once you've found the card you want to list, click the "Add" button on the right side.

4. On this page you can enter the quantity you'd like to sell and the price you'd like to sell it for. You can choose to match TCG Lowest Listing, TCG Last Sold Listing, or TCG Market Price. Matching these prices gives you a competitive edge against other TCGplayer sellers and ensures that your inventory will move faster. You can also choose to enter your own price.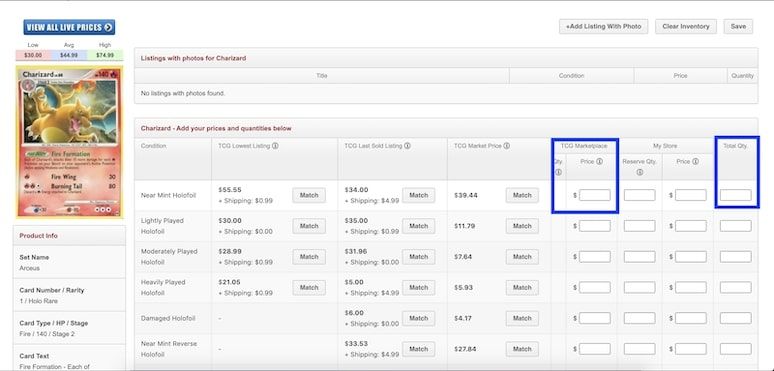 5. Once, you have entered the necessary information, click "Save."

6. Clicking "Save" will automatically navigate you back to the original Inventory page. Here, you'll be able to see the card you just added to your inventory and manage your entire inventory.

To see your sales move faster than a Rapidash, we recommend listing cards over $20 with photos. We've found that higher value cards will sell faster using Listings with Photos.
Shipping
Congratulations! You've made your first trade! Now, how do you ship your Pokémon?
Follow TCGplayer Shipping Guidelines to safely ship your cards.
Place the card into a soft sleeve or protector.
Provide card protection, such as toploaders.
Minimize sliding in transit by placing the toploader in a team bag.
Place the protected card in a bubble mailer or secure envelope.
Tracking/Confirmation:

Orders over $20 - Should include Tracking/Delivery Confirmation.
Orders over $50 - Must be shipped with Tracking/Delivery Confirmation.
Orders over $250 - Must be shipped with Signature Confirmation.
"Some trainers have no fear. To them, this is just one more challenge. They follow their hearts. That is what sets them apart, and will make them Pokémon Masters. Good luck to all of you."
-Miranda, Pokémon: The First Movie