Grab your dice and your adventuring kit, because it's time for the Adventures in the Forgotten Realms! The latest set for Magic: The Gathering is all about Dungeons & Dragons, and the new Commander decks are positively oozing flavor with the new cards that represent characters, items, and spells from the Forgotten Realms. This week, we will be assisting an adventuring band by looking at each hero's preconstructed Commander deck and helping them "level up" with a few new cards!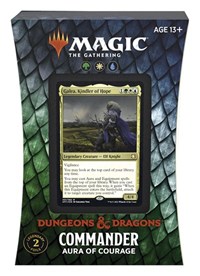 In every adventuring party, there is a hero that can both defend the group from any monster and lead the charge into the villain's lair. product-hover id="238759" lets you take on that role as a paladin of good and justice! Yours is the shield upon which armies break, and with sword in hand, there is no enemy you can't vanquish in a single blow.
Although there have been plenty of legendary Knights in Magic before, very few have the same potential as Galea, Kindler of Hope. Galea is an Aura and Equipment-based commander that rewards you for playing a lot of these cards to make sure that she can always cast spells off the top of the deck.
Alone, Galea, Kindler of Hope can become a force capable of lethal hits by buffing her enough that she can do 21 damage to any opponent. To make the best use of Galea's abilities, our deck will need to balance powerful Auras and Equipment with cards that let us reset the top of our deck or interrupt our opponent so that we can press the attack.
Game Plan
Our overall game plan with this deck is to buff Galea, Kindler of Hope enough that she can take out opponents with a single swing, and since she has vigilance, we can swing out at an opponent without getting hit in return.
Galea, Kindler of Hope is a powerful resource engine, but our deck will need to function even when she is not on the board. Because so much of our deck will be committed to Auras and Equipment, we will not have much room for draw spells, so we will need to be playing creatures that reward us for playing Auras and Equipment. Once we've established a buffed Galea, our opponents will try to destroy her through targeted removal or board wipes, so we will want to focus our selection of instant spells on protecting our board state. Lastly, Galea has no natural way of pushing damage, so we will need to play a few ways to either give her evasion or tap down our opponent's cards so that we don't spend the entire game being blocked by 1/1 tokens.
Out of the Box
Magic: The Gathering TCG Deck - Aura of Courage by Wizards of the Coast
'Aura of Courage' - constructed deck list and prices for the Magic: The Gathering Trading Card Game from TCGplayer Infinite!
Created By: Wizards of the Coast
Event:
Rank: 0-0
Commander
Market Price: $82.91
Cards
Our initial list already has quite a few cards that can support our strategy. Puresteel Paladin and Sram, Senior Edificer are both strong cards that allow Auras or Equipment to replace themselves by letting us draw additional cards. Heroic Intervention is a great reprint and sees play in nearly every green deck because of how well it protects against removal or board wipes. For artifacts and enchantments, we get a lot of commonly reprinted cards, but there are a few standouts like Sword of the Animist, Basilisk Collar, and Imprisoned in the Moon.
The new cards in Aura of Courage offer incredible versatility that will help them see play beyond this deck. Catti-brie of Mithral Hall is an awesome new Selesnya legend that shows the power of one of the Companions of the Hall. Catti-brie fits our theme by being buffed whenever she attacks with equipment attached to her, but she also is a great defender with her ability to damage attacking or blocking creatures (which we can make even stronger by giving her deathtouch).
Valiant Endeavor is a new sorcery that uses two d6s to wipe the board of creatures and then create 2/2 Knights to set up for the next turn. There are some great new Equipment like the Belt of Giant Strength and Holy Avenger, but the coolest new cards are Robe of Stars and Winged Boots. Both of these Equipment offer great defensive utility that can be moved from creature to creature as the game needs.
Each of the Adventures in the Forgotten Realms Commander deck has one alternative Commander that represents a monster or foe from the Forgotten Realms. In Aura of Courage, the alternate Commander is Storvald, Frost Giant Jarl, a Frost Giant found in the Storm King's Thunder Adventure. Unlike Galea, Kindler of Hope, Storvald doesn't care about Equipment or Auras, but he still brings tremendous power! Storvald gives each creature you control ward 3 to protect them, and he can also change the flow of battle by buffing a creature to 7/7 and diminishing another creature to 1/1. In decks that are focused around +1/+1 counters or other buffs, Storvald can push those buffs to the absolute limit and get in for crazy damage!
We have plenty of powerful options in the preconstructed deck, but there are still a few cards we can add to our deck that can keep our sword sharp and focused on our opponents!
Lands
The first place we can make improvements to a preconstructed deck will always be the land slots. For Aura of Courage, we want to remove any of the slower lands and replace them with lands that come into play untapped so that we can stay on curve and play powerful spells.
Because our deck runs so many artifacts, we can afford to run a few more colorless lands in our deck if they work with our game plan. Witch's Clinic and Cathedral of War can help improve our attacks with Galea, Kindler of Hope, while Sanctum of Eternity can offer protection if someone tries to remove her from the board.
Creatures
Since our instants and sorceries are going to be light in this deck, our creatures need to do double-duty in terms of value and board presence. While the creatures in the preconstructed deck have nice generic abilities, we need creatures that do more for our game plan than just act as blockers.
Most of our replacements help us cast more enchantments, whether by reducing their cost or letting us draw more cards. Since we can play cards from the top of the deck with Galea, Kindler of Hope, manipulating the top card of the deck can be huge to keep our value engine going.
Nazahn, Revered Bladesmith is a high mana value creature that will help us find a few key Equipment we'll need, as well as helping us connect with Galea, Kindler of Hope by tapping down key blockers whenever she attacks while equipped. With these new additions to the deck, we can get a ton of value just from playing our deck, and once Galea is on the board, we'll be able to push for lethal in the mid-game.
Noncreature Permanents
The Auras and Equipment that we play will determine if we win or lose, so we'll want to play the best ones that we can. Since these cards are so important, we can afford to use most of our budget on these cards. Though they can be very powerful, Equipment have the drawback of needing to be equipped to creatures, so we'll be attempting to circumvent that so we can play out as many cards as possible and then immediately swing to win the game.
Hammer of Nazahn and Sigarda's Aid are two of the most important cards for our strategy because they allow us to equip any Equipment spells for free when they enter the battlefield. Additionally, Sigarda's Aid allows us to play Auras and Equipment at instant-speed, so we can save the protection spells on top of our deck for when our opponent goes to remove Galea, Kindler of Hope.
Calix, Destiny's Hand acts as one of the best repeatable removal spells by using his -3 to exile our opponent's creatures underneath one of our harder-to-remove enchantments. The other Equipment that we have added all help us push more damage faster, while Armadillo Cloak also gives Galea, Kindler of Hope trample so that we can get over blockers and gain some life in the process.
Instants and Sorceries
Our instants and sorceries are fairly light in this deck, but we have plenty of draw-advantage in other parts of the deck. We can cut out the few draw spells we have access to and focus on playing more removal so that we can keep opposing boards empty while we keep swinging with Galea, Kindler of Hope.
The draw spells in our deck can have the downside of locking us into topdecks that won't help us, and Ride the Avalanche, while potentially explosive, also telegraphs to our opponents, "Hey, counter this next card!"
Single Combat is an upgraded version of Winds of Rath as it has the same mana value, but keeps Galea, Kindler of Hope on the board and stops our opponents from playing creatures or planeswalkers until our next turn. Beast Within and Swords to Plowshares act as strong targeted removal, while River's Rebuke and Doomskar can help reset the board if one player has too many resources.
Now that we've sufficiently leveled our deck, let's take a look at the whole list and what we hope to achieve with it!
Full List
Magic: The Gathering TCG Deck - Aura of Courage - Upgraded by Zach Herwood-Mussen
'Aura of Courage - Upgraded' - constructed deck list and prices for the Magic: The Gathering Trading Card Game from TCGplayer Infinite!
Created By: Zach Herwood-Mussen
Event:
Rank: 0-0
Commander
Market Price: $154.74
Cards
Magic: The Gathering TCG Deck - Aura of Courage - Just the Upgrades by Zach Herwood-Mussen
'Aura of Courage - Just the Upgrades' - constructed deck list and prices for the Magic: The Gathering Trading Card Game from TCGplayer Infinite!
Created By: Zach Herwood-Mussen
Event:
Rank: 0-0
Freeform (Casual)
Market Price: $82.85
Cards
As with many Voltron strategies, our final list aims to buff our commander with an incredible amount of Auras and Equipment to take out opponents with a single swing. Since we are trying to win with commander damage, the most important aspect of the game is keeping track of how much damage Galea, Kindler of Hope has done to each opponent. Once an opponent takes 21 damage from our commander, they lose, so we will want to maximize the damage we do each swing to hit that magic number.
Though we aren't playing too many ways to give Galea, Kindler of Hope haste so that she can swing the turn she is played, we have plenty of ways to keep her on the board despite any number of spells being cast against her. Indestructibility is the most important keyword we can give Galea, but hexproof will also keep our opponents from being able to interact with her. Once she is in play and suited up with spells, the rest of our board can be expendable in order to guarantee hits. Our goal is to play fast and get the most out of every combat step so that we can keep our opponents from establishing a board that can stop Galea.
Where to Go From Here
Our budget for these upgrades was $100, but there are plenty of other cards that you can add to the deck to make it even stronger in the future. The Sword of X and Y cycle of cards can be added to the deck depending on your local meta so that Galea, Kindler of Hope can have protection against the colors you are most likely to play against, and the land base can be improved with faster lands. Our version of the deck plays more removal options and less countermagic, but you may find in your particular playgroup that having access to countermagic means more than destroying a permanent that has already generated value.
A paladin is the first hero into every fight and the last one to step away, so Galea, Kindler of Hope is the perfect Commander for a deck designed to make the most out of the combat step. The next member of our party headlines the Draconic Rage deck, so come back tomorrow to see how we do! You can find me on Twitter where I talk about all things Trading Card Game, including some of the cards we chose not to play in today's article!