Commander 2021 introduces five new Commander decks based off the colleges of Strixhaven. Whether you are new to the Commander format or a senior Commander player looking for new decks to play, Commander 2021 has something for everyone! This week, we will be taking a look at each of the new Commander decks and showing you how you can upgrade the deck to get the most "oomph" out of each of them!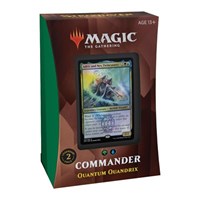 Yesterday we crafted a new stage for Zaffai's latest masterpiece. Today we are once again heading outside the classroom to show our first year mage-students how to have "fun in the Sum" with Adrix and Nev, Twincasters!
Adrix and Nev, Twincasters
Adrix and Nev, Twincasters shows off the new evergreen keyword "ward," which offers a bit of protection by forcing your opponent to pay an additional cost in order to target certain cards. But the real value of the twin professors comes in the form of their static ability which doubles the number of tokens you create! Having this ability in the command zone means that we can plan around swarming our board with more tokens than our opponents can handle!
Game Plan
Adrix and Nev, Twincasters doubling ability can be an incredible asset if we focus on swarming the board. The Quandrix token creatures, Fractals, are a great fit for this strategy as the cards that create them have a way of scaling the creatures over the course of the game so we can make huge monsters the longer the game goes on. Alongside our token strategy, we will be playing cards that reward us for having creatures with +1/+1 counters so we can buff our fractals even further!
This is a classic game plan for green decks, but adding blue means that we can take it in a new direction and force our opponents to admit defeat against our mathematical prowess! With our strategy set, let's take a look at our starting decklist.
Magic: The Gathering TCG Deck - Quantum Quandrix by Wizards of the Coast
'Quantum Quandrix' - constructed deck list and prices for the Magic: The Gathering Trading Card Game from TCGplayer Infinite!
Created By: Wizards of the Coast
Event:
Rank:
Commander
Market Price: $47.39
Cards
The preconstructed deck list for Quantum Quandrix is full of ways to make massive creature tokens to swing at your opponent, and your first few games with this list will be spent asking yourself the question, "what is the largest amount of tokens I can put into play in one turn?"
Hornet Queen may not be a game-ending card, but it will be ending the combat phase with its swarm of 1/1 deathtouchers and is a great target for our copying cards like Rite of Replication or Spitting Image. Return of the Wildspeaker requires you to be running plenty of non-Human creatures, but can turn the game around for you by drawing a hand full of cards or helping your token army dodge a low damage sweeper like Anger of the Gods or Sweltering Suns.
Esix, Fractal Bloom
Deekah, Fractal Theorist
Ruxa, Patient Professor
The cards that will most help build out our new list are definitely the new cards in this set. For our alternative commanders, Esix, Fractal Bloom is an excellent commander that deserves their own article just to explore how crazy you can get with this card. Deekah, Fractal Theorist is a powerhouse that will be leading the charge in a plethora of mono-blue Commander decks in the future, and, while we won't be playing them in our upgraded list, Ruxa, Patient Professor is a unique commander that can be fun in build-around decks.
For noncreature cards, Oversimplify and Perplexing Test are potential sweepers that let us keep something on board. Commander's Insight is an awesome draw spell as it scales with how much mana we pay into it and gives us a few bonus cards depending on how many times we've cast our commander from the command zone. The real stars, however, are the new artifacts and enchantment that give us more ways to create Fractals!
Geometric Nexus
Paradox Zone
Fractal Harness
Geometric Nexus, Paradox Zone, and Sequence Engine can give us plenty of value over the course of the game by making multiple fractals. While Fractal Harness only makes a single fractal, it is a Hydra's Growth that we can move from creature to creature to get the most out of it.
While this list is perfect for swinging out at opponents and making them figure out the math, our upgrades will be focused on adding cheap creatures that generate tokens when they enter the battlefield, ways to continually add +1/+1 counters to our creatures, and updated tempo cards so we can stall any opponents that try to "subtract" from our plans.
We've looked over our starting list, so now we can get into the upgrades and make math fun!
Lands
Littjara Mirrorlake
While our upgrades aim to take many of the "enters the battlefield tapped" lands out of our deck, a few of the tapped lands benefit our strategy and survive the initial cuts. Oran-Rief, the Vastwood and Llanowar Reborn offer some +1/+1 counter utility that makes them worth their tapped status, while Littjara Mirrorlake offers a copy effect at the cost of sacrificing the land. Since we are playing blue-green, we can afford to play a few tapped lands and compensate with land ramp effects.
Creatures
The creatures in the preconstructed list try to handle every part of the game plan on their own. For our upgraded list, we will want to cut out the slower token generators and bring in faster replacements, as well as some utility creatures that can be copied for additional value.
Skatewing Spy
End-Raze Forerunners
Avenger of Zendikar is a powerhouse all on its own, so including it in a deck built to generate value off of creating tokens is a no-brainer. We're including a few cards like Esix, Fractal Bloom that change what our tokens enter the battlefield as, so Master of Waves can get out of hand quickly with any number of cards. We've included a number of cards like Skatewing Spy and Gnarlid Colony that buff our creatures with +1/+1 counters by giving them evasion in the form of flying or trample, and we can drop End-Raze Forerunners onto a token-heavy board state to finish up the game!
Alongside these cards, we're also playing a few creatures that don't help our game plan, but can offer tools during the game. Eternal Witness is a great Regrowth effect that is a creature so it can stick around the board, while Scavenging Ooze offers our deck a form of graveyard hate and buffs itself at the same time!
Noncreature Permanents
Our stock artifacts and enchantments are pretty good for our game plan, so we won't be changing much.
Nissa, Voice of Zendikar
The Ozolith.
With our upgrade budget, there aren't a lot of noncreature permanents to add to our deck. Nissa, Voice of Zendikar is a less mana intensive version of Garruk, Primal Hunter that can make creature tokens or spread +1/+1 counters to our board. Panharmonicon offer more power to our already strong creatures by doubling up on "enter the battlefield" effects, and The Ozolith conserves our +1/+1 tokens so if our fractals leave the board, we won't be losing any power.
There are quite a few stronger noncreature permanents for this deck, but most of them don't currently fit our budget or are something to look into in future versions of the deck. Doubling Season, Primal Vigor, and Parallel Lives can all be absolutely incredible in this deck, but each carries a price tag over $50 so we won't be considering them at this time. Kasmina, Enigma Sage is a great planeswalker for generating more fractal tokens, but is probably a card to look for after the initial Strixhaven release window.
Instants and Sorceries
For our instants and sorceries, we'll be cutting a few of the slower spells and replacing them with ways to protect our board.
Once we cast Adrix and Nev, Twincasters, we want to keep them on board for as long as possible, so we want to play cards like Heroic Intervention or Simic Charm to make it even harder to cast a kill spell at us. We aren't going heavy into countermagic with this deck, but Spell Swindle does double work by countering a spell and creating Treasure tokens (which Adrix and Nev can double!).
Body of Research
Body of Research is our super-duper special, ace-in-the-hole. When you cast this card, you're more likely to receive a board wipe or kill spell in response so that your opponents don't have to worry about a 78/78 creature hitting them in the next turn. However, those turns when you get to untap with this creature and turn your opponents into fractions are what this deck is all about! For the low cost of three blue and three green, we can play a creature that has game-ending power—and even if it doesn't remain on board, The Ozolith can take in all the +1/+1 counters and you can try again on the next turn!
Now that we've finished dividing the parts of our deck, let's add the pieces together and see how much we multiplied our force!
Magic: The Gathering TCG Deck - Quantum Quandrix - Upgraded by Zach Herwood-Mussen
'Quantum Quandrix - Upgraded' - constructed deck list and prices for the Magic: The Gathering Trading Card Game from TCGplayer Infinite!
Created By: Zach Herwood-Mussen
Event:
Rank:
Commander
Market Price: $141.31
Cards
Magic: The Gathering TCG Deck - Quantum Quandrix - Just the Upgrades by Zach Herwood-Mussen
'Quantum Quandrix - Just the Upgrades' - constructed deck list and prices for the Magic: The Gathering Trading Card Game from TCGplayer Infinite!
Created By: Zach Herwood-Mussen
Event:
Rank:
Freeform (Casual)
Market Price: $109.63
Cards
Our list comes in just shy of our budget, which is great because there were so many other cards we could play in this deck! Token strategies in Commander have been around for quite a while, so there are a lot of cards available to make this deck work. It's all about what kind of token strategy you want to play. For me, this meant playing as many of the new Fractal tokens as possible, and it was easy to find cards that help out that strategy as well.
The best part about a toolbox commander like Adrix and Nev, Twincasters is that you can really make the deck your own by focusing on the parts of the game you want to play the most. Whether your favorite creature type is Snakes, Wolves, Squirrels, or Eldrazi, the twin professors will help you get the most out of your tokens. As we talked about above, Esix can make for even scarier boards with their ability, and Ruxa, Patient Professor is a deck that is certain to show up in almost any play group. No matter what type of Commander player you are, there are plenty of new things to learn in the Quandrix College!
Up next, we will be looking at upgrading the Silverquill Statement deck, so be sure to check back tomorrow as we continue our series. You can find me on Twitter @thezachkattack where I talk about all things Trading Card Game, including some of the cards we chose not to play in today's article!