The first-ever Remote Duel Invitational for North American competitors featured sixteen recognized duelists. Eleven competitors from the United States and five more Canada threw down in 4 Swiss Rounds cutting to a Top 4, and at the end of the weekend it was Canadian duelist Sam Arunnaveesiri, AKA TeamSamuraix1, who took the title of King of Games with Dinosaurs!
This week I had the honor of interviewing my fellow Canadians Bo Tang and Thomas Cheung. I wanted to ask them about their experience with the event: how they got everything set up for remote duels, the decks they played and their thoughts on the current format.
Bo Tang is a master duelist with numerous Top Cut appearances in Regionals, Nationals, and the Yu-Gi-Oh Championship Series. He even represented Canada in the 2011 World Championships! Tang's been playing Yu-Gi-Oh since the era of Dino Rabbit and Six Samurais, all the way through to Nekroz and most recently Sky Strikers.
Bo Tang's definitely one of Canada's best; here's the Dogmatika Nekroz deck he played at the Invitational.
Yu-Gi-Oh! TCG Deck - Dogmatika Nekroz by Bo Tang
'Dogmatika Nekroz' - constructed deck list and prices for the Yu-Gi-Oh! Trading Card Game from TCGplayer Infinite!
Created By: Bo Tang
Event: Remote Duel Invitational - 2020-08-23
Rank:
Advanced
Market Price: $585.31
Cards
Thomas Cheung is better known as Tombox from the MST.TV Youtube channel. He creates content covering rulings and card interactions to help players become better at the game, as well as lots of deck profiles. Having been a judge in the past Cheung's constantly studying, finding new ways to educate and entertain Yu-Gi-Oh players on Youtube and social media.
Cheung played an Adamancipator build with some of the weekend's big picks, like the Unexpected Dai engine with Angel Trumpeter and Beta the Magnet Warrior. Here's what it looked like.
Yu-Gi-Oh! TCG Deck - Adamancipators by Thomas Cheung
'Adamancipators' - constructed deck list and prices for the Yu-Gi-Oh! Trading Card Game from TCGplayer Infinite!
Created By: Thomas Cheung
Event: Remote Duel Invitational - 2020-08-23
Rank:
Advanced
Market Price: $449.76
Cards
Both of these players definitely have what it takes and deserved to be in the spotlight, helping to showcase Remote Duels. But unfortunately, they didn't get any of their games on stream. So let's dive right into the questions and find out how it went for them!
How were you invited to the Remote Duel Invitational?
Bo Tang: "I think I was selected based on my previous performance at events like the Yu-Gi-Oh Championship Series, WCQs, Worlds and Comic Con. This was a prestigious event and I'm proud I was invited as a player."
Thomas Cheung: "I got invited like anyone else via an email. I did make a couple Remoote Duel videos already, one of which was sponsored by Konami."
Was it hard to set up remote dueling on your desktop?
Bo Tang: "No, it was not hard at all. If you have a PC or laptop with Discord installed, a webcam to capture your field to your opponent, then you are good to go."
Thomas Cheung: "Setting up remote dueling is actually not that difficult because my standard Yugitubing set-up was like a fixture in my room already. It's the little details that make it difficult. A top-down camera is really all you need with a decent internet connection."
How did you choose your deck for the tournament?
Bo Tang: "I played Nekroz Dogmatika because Nekroz is one of my favorite decks. Nekroz is at full power and we now have three Nekroz of Unicore available again; I believe it has a good matchup against combo decks. In addition, my deck allowed me to search any cards I needed at any stage of the game. I wanted to take this opportunity to show people how good Nekroz is."
Thomas Cheung: "I was originally going for Dogmatika Synchro Eldlich, but through testing with many of my friends I came to a different decision. The deck is great, but only if you get two complimenting engines; the Synchro engine is much harder to use, and if you open poorly, any hand trap can turn your hand into a brick. I chose to go with a deck I was more or less comfortable with, Rock."
What was your mindset preparing for the event?
Bo Tang: "I predicted the metagame for the tournament would be 70% combo and 30% control, so I built my deck to beat combo with 14 hand traps in the Main and Side Deck, and sided backrow removal for control."
Thomas Cheung: "My mindset was to try to have fun and hope that everyone else also enjoys remote dueling. The goal for me was Top 4, but knowing that it was only sixtteen players, unlike most tournaments, you can't really even finish X-1 to make it. Realistically, Between working a 9-to--6 job and making videos, it was hard to find the time to practice. I was just hoping not to go X-4 against such a strong line of players."
How did you do? What were the highlights or your favorite moments in the event?
Bo Tang: "I did not perform too well. I lost to super unfair cards like a topdecked Block Dragon. But I still like my deck a lot. There was one game against Adamancipator where I had Nekroz of Unicore on the field and my opponent wasted a ton of resources to make a Borreload Savage Dragon just to try and attack over it. I followed up with a Nekroz of Trishula play and ended the game."
Thomas Cheung: "Round 1 was one of my highlights, even though I lost in time to Aaron Furman, I definitely gave him a scare in Game 3. I attempted to combo and then actually got disrupted with a Token Collector. I fell behind, but his follow-up wasn't too strong because his hand had a lot of Dogmatika cards and not enough Eldlich. He couldn't summon his Dogmatika Fleurdelis, the Knighted, because my Extra Deck monsters were all removed from the field. So I used Angel Trumpeter to regain some ground, eventually leading to a full recovery as well as being able to summon Accesscode Talker for an OTK. Unfortunately that was cut short in the Main Phase because time was called."
What changes would you make to your deck if you were to enter another event?
Bo Tang: "I would play three copies of Triple Tactics Talent instead of one, so that I would have more powerful cards in my Main Deck."
Thomas Cheung: "I'd main the Red Reboot, and swap the Infinite Impermanence for Forbidden Droplets or go above 40 for them. It isn't mandatory for the Rock deck to be at 40 cards. With Dogmatika in the mix, popping two cards is to be expected, and having Red Reboot against that can help make the board. Even if they aren't Dogmatika you can still use it against Infinite Impermanence, that provides a safety net during play.
"Forbidden Droplet great for stopping Dogmatika Punishment too, by removing the target and turning off big negators."
Dogmatika Punishment
I asked Bo Tang, is Dogmatika the way to go for Nekroz players? What was his opinion on the previously popular version with Impcantations or Deskbot combos?
Bo Tang: "I think the Dogmatika add a lot of consistency to the deck. Dogmatika Punishment is one of the best traps in the game right now. It gets rid of threats on the field, it recycles resources from the grave, searches from the deck, et cetera. Dogmatika Maximus also helps set up the Shaddoll Winda play by sending El Shaddoll Apkallone to the grave.
"I am not a big fan of Impcantations because they are too fair, and the only Ritual Monster I want to summon in the early game is Nekroz of Unicore. I have multiple ways to summon Nekroz of Unicore, so I don't need other redundant cards. Forbidden Droplet and Dark Ruler No More can easily shut down plays with Archlord Kristya or Vanity's Ruler too.
"I like the Deskbots. The downside is that they can be stopped by any hand trap. Since I wanted to make my deck as simple and consistent as possible, I decided to cut them. But it may be correct to play them as well."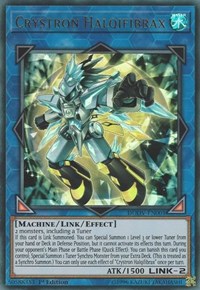 What do you think of the current format? Do you want a new Forbidden & Limited list?
Bo Tang: "The current format is diverse and in favor of combo decks. There are many decks that are abusing the Crystron Halqifibrax Mecha Phantom Beast Auroradon combo and it makes "unbreakable" boards way too easily. I think that is a problem and effect negations shouldn't be so free. Furthermore, I think Block Dragon should be banned. This card simply generates too much advantage."
Thomas Cheung: "I know people are talking about Block Dragon being unfair because it nets so much value when it works. Is it ban worthy? Maybe. I think the combos that exist need to be adjusted. Block Dragon searching for two or three Rock-types isn't that scary if there was no end goal for those monsters.
"I think Crystron Halqifibrax and Martial Metal Marcher should probably take a ban hammer. It affects all decks. Selene, Queen of the Master Magicians
combo, Rock's starting combo, Jet Synchron combos, Infernoble Knights... If you take away Crystron Halqifibrax, you'll see each of those decks start to focus on different strategies, maybe into making Red-Eyes Dark Dragoon.
That and Miscellaneousaurus, because Sam brought too much attention to it. Miscellaneousaurus and Animadorned Archosaur are just safe and consistent, it feels similar to someone setting up Koa'ki Meiru Guardian and Herald of the Arc Light, they get to combo for free."
Do you recommend people try out remote dueling with their friends? Any advice for other players setting up for remote dueling?
Bo Tang: "Yes, definitely! Anyone who has access to the equipment should try out remote dueling. This is real life Yu-Gi-Oh just like the game we used to play, and you can simply play it at home. The OTS stores who operate remote duel tournaments will help you out on any questions or technical issues."
Thomas Cheung: "Yes, I recommend doing remote dueling, I asked some of the players [and people agreed], if you have the right set-up, it's as close as you can get to dueling in real life. Basic software, just get Discord and OBS.
"Here are some equipment specs I'd recommend if you're on a budget: get a webcam like a Logitech C920 or just your smartphone. Use a cellphone clamp or a telescoping boom mic stand with a 3/8 to 1/4 thread adapter, so you can put your webcam on the mic stand. Adjust the top down and you're good to go."
Beta the Magnet Warrior
Do you have any shoutouts for people who helped you prepare for the event?
Bo Tang: "Big shoutouts to Ryan Yu and TeamSamuraiX1 for helping me perfect the deck and playtesting with me. Also shoutouts to Konami for hosting these events."
Thomas Cheung: "Shoutouts to all my friends for helping me test for that day: Justin, Dustin, Aron, Paul, and Darren for giving me some testing, and my soon-to-be-wife Hayoung for letting me practice, and Nishi for digging out the only copy of Beta the Magnet Warrior and running the channel while I was busy!"
(By the time this article is posted, Thomas Cheung will be already married! Congratulations to him and his wife!)
Did you have fun?
Bo Tang: "Of course! A lot of fun! It's great to be able to compete again during such difficult times!"
Thomas Cheung: "I did have fun. Would recommend 10/10."
And that concludes the interview! Overall it sounds like both players had a great time from start to finish. From setting up their Remote Duel rigs on their desktop, to preparing their decks and practicing, all the way to finding the cards they needed and competing.
If you're not convinced that you should try remote dueling yourself, then maybe seeing the sweet Remote Duel playmats that OTS stores are giving out will change your mind. Zach wrote an extensive article on remote dueling as well, packed with advice to help you get started.
Heck, even I'll try remote dueling once I've got it all set up! I'm still testing the waters right now, and I'm not too confident since Red-Eyes Dark Dragoon is now released. But the Remote Duel events are out there, and it's time to jump back into competition!